Today's non-clinical spotlight focuses on Dipti Joshi, an occupational therapist working from home as a pre-service coordinator with naviHealth.
---
What is your full name and title at your current job?
Dipti Joshi, OT
Pre-Service Coordinator (PsC) at naviHealth

Where did you go to OT school, and what year did you graduate?
University of Mumbai, G.S. Medical College of Occupational Therapy in India; I graduated in 1990.
What did you do when you first finished school?
I started volunteering summer before graduating in a hospital where I was interested in getting employed. As soon as I graduated, they hired me as they had seen my work ethic. I worked at The Children's Hospital of Mumbai as an OT in pediatrics. I treated patients with Cerebral Palsy, Down's Syndrome, Autistic Spectrum Disorder, and other diagnoses related to pediatrics.
What did you do after that, and for how long?
I worked there for two years while I was exploring options to go to USA. My OT school was part of World Federation of OT, so I knew I could come here and start working right away.
I interviewed for a company that was willing to do my legal paperwork to bring me here and in first attempt got a job offer. Back in 1992, there was such a shortage of therapists here that the employers were willing to go the extra mile to bring foreigners here.
I landed here in NJ with $20 in my pocket and lots of dreams. Gave my licensing exam and was working from day one (as NJ back then did not need a license to practice). The employer gave me advance on my first salary and paid for 1 month's rent. I was working in Skilled Nursing Facilities (SNFs) and it was an adventure. There are no SNFs in India, so I learned everything on the job!
I was driving 100 miles/day on most days and I was a new driver, working 7 am to 11 pm some days. I thought that was the American way to live. Little did I know that I was taken advantage of.
But, learned a lot and stayed with the company for two years as per my contract. I was one of the OTs the company started trusting in going in to a SNF and starting a new contract.
After that, I moved to Maryland and worked in an acute care setting, where I got promoted to OT supervisor. Then, I completed NDT certification. I moved into SNF again and started as an OT director and eventually director of rehabilitation.
I then had three beautiful children and chose to take a back seat in my career so I could raise them myself.
For about 19 years, I did PRN (per diem) work in acute, sub-acute, transitional unit, and SNF settings. Initially, the work was sporadic, and as my children got older, it became three or four times a week during school hours.
I enjoyed the fact that I had the flexibility to volunteer in my children's schools, be involved in PTA, go on their field trips and be available for them when they needed me while still working as an OT.
What did you enjoy about your early roles? What didn't you enjoy?
I enjoyed soaking in everything I was learning. I was new in the country at age 24, ready to make my dreams come true! I enjoyed getting my NDT certification and was very close to becoming a certified hand therapist, but had my first child and lost the desire.
I enjoyed how rehab is a team effort. I enjoyed teaching, too, and developed a Fieldwork Program for Level 1 and Level 2 for Towson State university and CCBC. I worked closely with a plastic surgeon and helped him develop the rehab program for his patients. I would custom make static and dynamic hand splints.
Once I had children, I did not want to work in pediatrics.
The only thing I did not enjoy was how insurance governed everything for my patients. I felt like I should have been a business woman/lawyer than an OT constantly justifying why my patients need therapy. I also did not care for cookie-cutter approaches for certain diagnoses.
When did you realize you wanted to do something non-clinical with your background, and why?
I enjoyed being a clinician for a while. Even when I was a supervisor/director, I wanted to always remain a clinician first. I had clause with the employers that I worked for, that I wanted to treat patients—no matter what my position. I knew that nobody can take that away from you and I did not want to be doing only admin things.
But in the last four or five years, I got tired of it and wanted to do something different.
I was getting tired of dealing with insurance companies, providing highest level of RUG to patients who did not need it, lazy coworkers, and departmental politics. I wanted to move away from it all without giving up my therapy knowledge. So, I started looking in to non-clinical occupational therapy roles.
What are you doing these days?
I am a Pre-Service Coordinator (PSC) for naviHealth, and I absolutely love it!
Are you still treating patients, or are you solely non-clinical?
I am solely non-clinical.
How long have you been in your current role?
Since May, 2019
How did you find your job? Did you apply or find it through a connection?
I was looking on my own for utilization review (UR) type of jobs for about a year or two, but was not finding anything interesting. Or if I found something, it was going to pay me peanuts. Most of the jobs out there also needed nursing degree.
So, I took a break from everything for a few months and had just started blogging for fun (not therapy related), and one month into it (in September 2018), I had a back injury and had to go for PT for four months.
As I was now in a patient role, I realized how much I missed being a therapist.
There went my idea of early retirement (way early), and I joined the non-clinical networking group for rehab professionals on Facebook. I enjoyed reading all the conversations and learned a lot!
I found my current job because of the networking group! People were talking about naviHealth and I got curious and applied on their website.
Did you do anything special to your resume and cover letter to land the job?
Yes, I did. I read the job description of a PSC. I had the skillset, so I just modified my resume using the job posting's verbiage and typed up a rocking cover letter.
What was the interview like for the role?
I did not hear from naviHealth for a couple months. I got discouraged and figured it must not be meant to be. I was still undergoing therapy, so I had a lot of free time on hand. I applied to all kinds of insurance companies online for UR roles, never to hear back.
But I did not give up. After the holidays, I applied again to naviHealth in January 2019. Another month later, I read on this group that someone was offered a PsC role with them and I reached out to her and Bill Daly, a denials coordinator with naviHealth.
I personally did not know anyone at naviHealth, nor was I really referred. But this woman from the non-clinical networking group was kind enough to give me the email of the person who she thought would be helpful. She was hired via Relode, but I got hired directly by NH.
I had a 15-minute interview on the phone first, then a 30-minute phone interview with a clinical manager and then an hour long Skype/FaceTime interview with a senior manager later. All of them were two weeks apart. I stayed on top of it by reaching out to them asking what the next step is.
They offered me the position in March. I also had to give an e-skills test and do a case study. Interviews were not difficult, as I had the experience they were looking for in terms of UR, discharge planning etc.
Did you get any special certifications or training along the way to help you get into your current role?
No
How have people reacted to you leaving patient care?
People only react based on how you relay the information. I am genuinely excited about this role. I think my brain is used more in my current role as I am constantly making decisions based on EMR.
Also, I can do my work honestly, as I don't have to meet any RUG expectations of minutes (which was encouraging fraud, IMO). People are happy and want to find out how I was able to leave patient care, but still stay in the healthcare world.
I love stories where networking works! Have you been able to pay it forward?
I was able to refer three of my close friends to naviHealth, and they all got hired. They did not have to wait like me, and some got hired with just one interview as a formality and the other with two interviews etc.
More and more people are reaching out to me, especially now with PDPM changing things for therapy. I have had only positive feedback.
What's a typical day or week in the life like for you? What types of tasks and responsibilities fill your time?
I am on one of the many Medicare advantage plans that we are contracted with.
I pick up authorizations from a queue. They are requests for SNFs or IRF/ARU admissions. The patients can be coming from a number of prior environments, including:
Home
Acute hospital
ALF
LTAC
Another SNF
Another inpatient rehab facility (IRF).
Sometimes we get a request for a transfer to a different SNF, IRF, or LTAC. I review the clinicals and sometimes have to call the provider for additional clinicals to process the authorization.
We require PT/OT/ST evals and then we require updated therapy notes, H&P, and updated physician notes when we process the paperwork. I use software program called nH Predict/Outcome.
If the patient does not appear to meet the level of care that is being requested, I have to send the case to our MD and if suggested by him/her call the provider and discuss the alternative options and offer a peer-to-peer call.
If the patient's treating physician agrees to the peer to peer, he or she speak with one of our medical directors and discuss the case. I also have to be in the phone calls queue to receive and answer calls from requesters, providers and health plan members.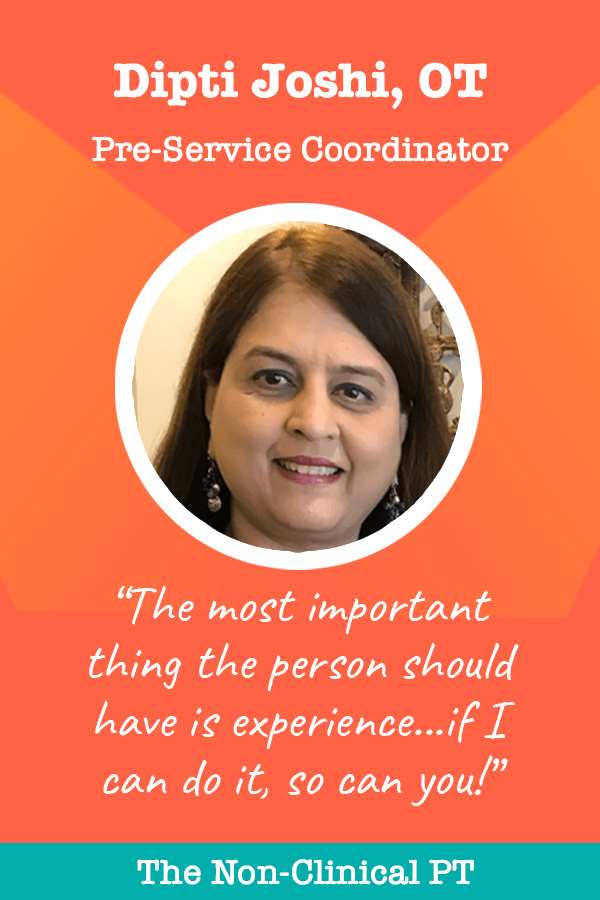 What are some of the challenges of your role? What are the rewards?
The challenges are:
Not receiving enough documentation on the case
Challenges getting in touch with the requesters
It's amazing to know that in today's day and age, people don't have secure voicemails where you can leave HIPAA relevant info.
I am on a health plan that's a new client for my company so we are super busy at all times—but I like it because time flies during my workday.
The rewards are:
I get to work from home
I still make very good money
I also get a lot of recognition for a job well done, not only from my managers but from my requesters and coworkers too
I get to help decide what is the best post-acute setting for the patient
Continuing education and license renewal are paid by the company
I get to be a part of preventing unnecessary spending of Medicare benefits
Roughly speaking, how are the hours and pay compared to patient care?
I work eight-hour days. No weekends and holidays (unless you want to make extra money and volunteer for those).
The pay is competitive and equal (or slightly more) to what I made in the clinic. It's a salaried position.
What type of person do you think would do well in your role?
The most important thing the person should have is experience. Acute, SNF, and IRF (acute rehab) experience is essential. I would say at least five years of experience.
If you are sensitive, get offended easily, easily get stressed, or don't like changes, this role may not be suitable for you.
Some of the qualities necessary are:
Detail oriented
Excellent communication skills
Flexible
Self-starter
Able to interact well with diverse individuals
A thick skin, as sometimes customers are not happy with denials
The ability to diffuse situations
Have strong understanding of customer and market dynamics, as well as transitional care best practices
---
Editor's note: MedBridge has great CEUs available that help you learn more about care transitions:
---
Do you work remotely or on-site?
Fully remote
Does your organization hire PT, OT, or SLP professionals into non-clinical roles?
Yes, they do. They hire for skilled inpatient care coordinator, appeals/denials coordinator etc. The jobs are listed on their website. They do not hire assistants due to licensing requirements of their clients.
Did you read any books, take any courses, or do anything special overall to get you where you are today?
No, learned everything from the non-clinical networking for rehab professionals group!
What is a typical career path for someone in your role?
It really depends on their interest. They can climb the management ladder or explore different aspects of what we do, such as:
What is next for you? What do you want to do with your career long-term?
I really enjoy impacting others and inspiring people; that's my calling. I love teaching and training and starting something good (that's why I was an eval hogger in clinics).
I am not sure what I want to do when I grow up yet. It has to be something that can help others and challenge my brain at the same time. I have never made any decisions in my life based on money.
What would you recommend to someone who is considering going into a role like yours? Do you have any special words of wisdom for the readers?
It's a plus to have utilization review experience. It does not have to be your title, but the experience should be listed on your resume.
I never held that title, but I was constantly involved with my patients and their families in terms of discharge planning from the time of initial evaluation. I was involved in their care plan meetings and discharge planning meetings, and worked closely with UR team and social workers.
Stay authentic; it always pays off.
What would you like to change most in your profession, and why? How would you propose doing so?
Let the clinician be a clinician, and don't try to make them a businessman/woman or lawyer. There's a reason they chose the profession they are in.
If you could give yourself one piece of career advice you wish you had in OT school, what would it be?
Align your fieldwork based on your interests, and volunteer a lot in different settings when you are a student.
If you could teach anything to today's graduate students in your profession, what would it be?
Do not start working in a SNF or Home Health setting as a new grad. Yes, the money is enticing, but you will feel stagnated soon.
Do you have any special advice for others who want to follow in your footsteps?
If I can do it, so can you!
Where can people connect with you?
I'm in The Non-Clinical PT's non-clinical networking group for rehab professionals.
---
Editor's Note: If you join that group, please ask questions publicly, rather than private messaging. It helps people who are generous with their time, like Dipti, help as many people as possible without answering the same questions via direct message all day 🙂
---
Thanks for your insight, Dipti!
---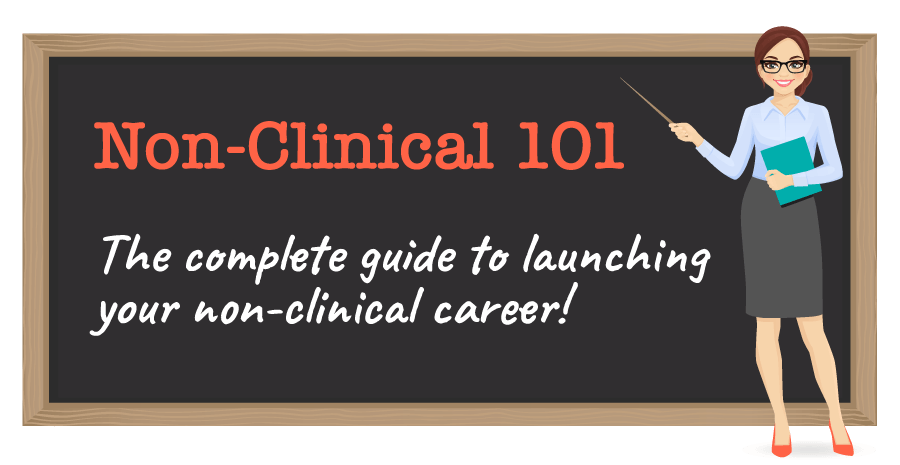 Don't spend months blindly sending out resumes and pursuing roles you know nothing about.
Take the tests and do the self-discovery exercises that help you decide what's next—AND how to get there!