About The Non-Clinical PT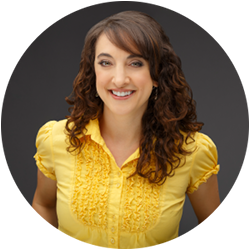 ---
Hi! I'm Meredith Castin, PT, DPT. 
I'm a physical therapist-turned writer, and I started The Non-Clinical PT to help other rehabilitation professionals use their experience and education to find fulfilling roles beyond patient care. 
I started my career as a graphic and web designer, way back in the early 2000s! I wound up hurting myself at the company party in the dumbest way possible, and found myself attending physical therapy as a patient. After making a miraculous recovery—what compliant 25-year-old doesn't?—I realized what I really wanted to do was become a physical therapist.
I attended University of St. Augustine at San Marcos (thankfully with a great scholarship) and graduated in 2010. Even though I spent some time during school worrying that maybe PT wasn't the right fit after all, I was excited to get started…I was ready to launch my dream career!
Or so I thought.
Fast forward three years, and I was already burned out.
It turns out that, despite tons of soul searching and research, I hadn't done enough informational interviewing or shadowing before deciding on PT. I didn't consider the physical and emotional toll patient care would take on my small frame and empathetic personality. And despite trying setting after setting, nothing was working for me.
So, I found myself at 34 years old with a DPT I had paid way too much for (even with the scholarship), and didn't want to use.
It was embarrassing and isolating. I realized I'd made a huge mistake, and there was absolutely no recourse. I felt I couldn't do anything else with my career! And I felt too ashamed to share my feelings with colleagues or former classmates.
Ever the optimist, I tried quite a few things to create a non-clinical career, but nothing seemed to fit. Even my graphic and web design training was too obsolete to get me hired. In 2015, everything changed. A coworker approached me to start NewGradPhysicalTherapy, a website devoted to helping newly minted PTs succeed. Despite having very little experience with writing, I found I loved it…and I even got to use my graphic design background!
Things were going great! I began freelancing, and landed impressive writing clients like WebPT, MedBridge, OT Potential, MD Revolution, and Breg—and by 2017, I had made a name for myself as one of the top writers in the physical therapy industry.
Here are just a few of them! (Cue fancy list of just a few publications for which I've written!)
People kept reaching out to me and asking me how they, too, could transition out of patient care. I realized there was a need for resources and blueprints for those of us who wanted to do something else with our careers, so I launched The Non-Clinical PT in October 2017. It has grown more quickly—and helped more people—than I ever could have imagined.
I'm honored and absolutely thrilled to help lead physical, occupational, and speech therapy professionals in our quest to move beyond the world of direct patient care. 
After all, we therapy professionals have the experience, insight, passion, training, and enthusiasm to make healthcare better for everyone.
Learn more by checking out these fantastic podcasts, all of which have been kind enough to host me as a guest 🙂 

The Non-Clinical PT Mission
Our mission is to change how physical, occupational, and speech therapy professionals are viewed by the medical community and general public. 
Instead of therapists being seen as replaceable cogs in the machine of healthcare—viewed as nothing more than billable units, and with nothing more to offer than trade-school level skills in the healthcare world—we are working toward a world where therapists are embraced for our clinical expertise and exceptional interpersonal skills. We are leaders and innovators, and we can do incredible things with the right opportunities.
The Non-Clinical PT aims to discover and create those non-clinical opportunities for rehabilitation professionals in the healthcare world—and to provide the tools and resources to enable physical, occupational, and speech therapy professionals to succeed in such roles. And, in the process, we aim to create pathways for rehab professionals to improve the way healthcare is delivered. 
Now that we've launched Non-Clinical 101 (the only comprehensive course designed to help you leverage your existing experience and education to land fulfilling non-clinical roles), we plan to create actionable guides to inspire grassroots efforts to change how our professions are viewed. From incorporating more non-clinical training into our educational programs to creating task forces within our professional organizations, we are seeking true positive change in the rehab world!