Welcome to The Non-Clinical PT!
If you're new here, you might be feeling pretty excited…and a little overwhelmed.
Maybe you arrived at this page thinking there was NOTHING you could do with that PT/A, OT/A, or SLP/A background, beyond simply treating patients. That's simply not the case, and this site was created to help you discover your options! 🙂
This page will help you discover some of our top resources, and get answers to the most frequently asked questions.
Non-Clinical 101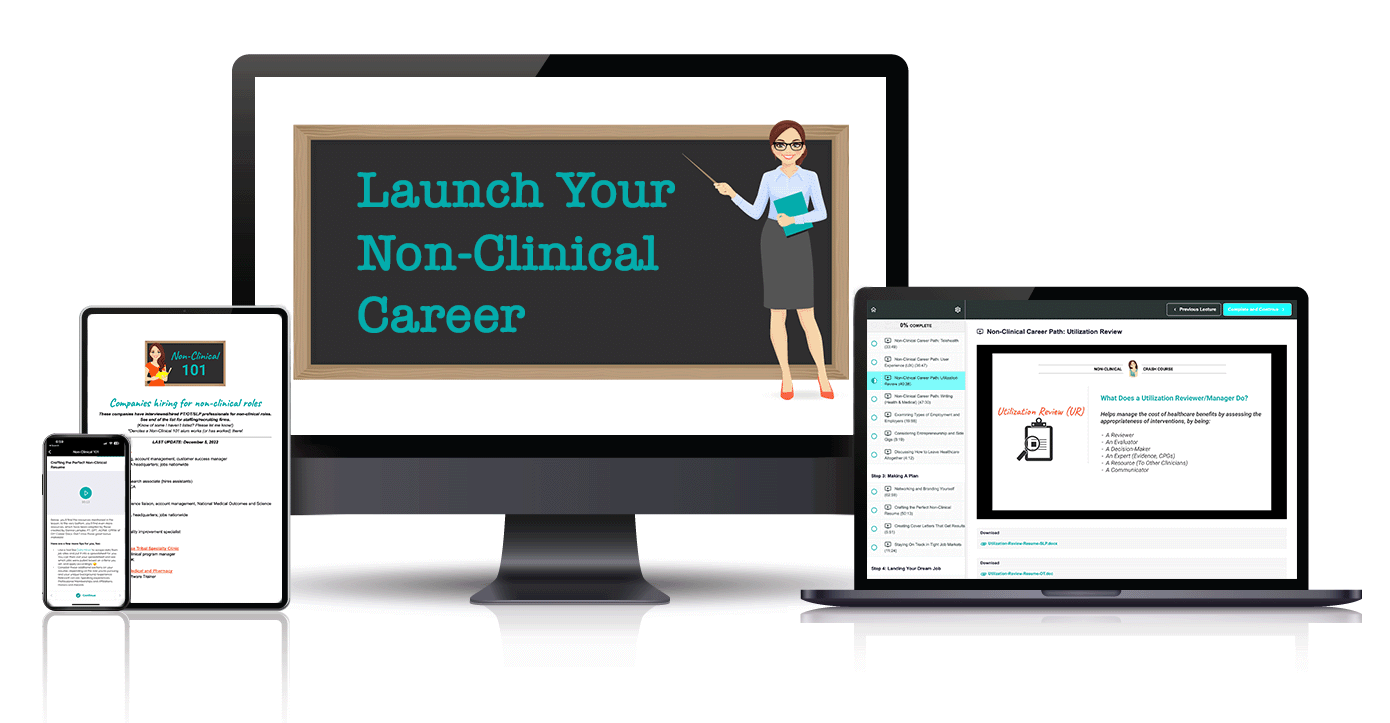 Non-Clinical 101 is the online career course that will help you discover the ideal non-clinical career path for you, tackle the job search with confidence, and finally transition into a job you love.
Free Resources
---
Additional Resources
If you're spinning your wheels a bit, don't worry because we've got your back! We have spent the last few years putting together a suite of premium resources that are exactly what you need to make the leap to a non-clinical career. 🙂
---
Technical Support
Having trouble logging in to access a course, product, or service we offer? First of all, thank you for your purchase!
If you're having trouble finding the Non-Clinical Academy login page, it is here.
If you forgot your password, and need to reset it, you can do that here.
If you've requested a password reset, but didn't get the e-mail from Teachable (the platform we use for courses/products), please check your spam/junk folder first before reaching out to us.
---
Frequently Asked Questions (FAQs)
I'm lost, and I need advice. Can you help me?
If you don't already have an idea of what you want to do next, we strongly recommend you take Non-Clinical 101. The course is designed to help people exactly like you. It's meant to be your sidekick on your journey, walking you through the discovery phase all the way through negotiating your first non-clinical salary. It is filled with insightful exercises to help you discover your true passions and inherent strengths, and match them with the right non-clinical careers.
I know exactly what I want to do, but I don't know how to get there. Can you help me?
If you know for a fact that you want to pursue a certain career path, consider our Non-Clinical Career Crash Courses. All of them are also included in Non-Clinical 101.
I just need help with my resume. Can you help me?
Non-Clinical 101 comes with 40+ ATS-friendly non-clinical resumes tailored for specific non-clinical career paths, which you can adapt to your own needs. We also offer resume reviews as an affordable paid upgrade to Non-Clinical 101 grads who want feedback before applying to specific jobs. If you KNOW what you want to do, there are ATS-friendly resume examples in each of our Non-Clinical Career Crash Courses. And, if you simply want a few nonspecific ATS-friendly non-clinical resume templates to get you started, you can get our General Non-Clinical Job Seeker Starter Pack, which comes with 2 templates, cover letter samples, job search terms, and an interview preparation packet.
Which companies hire PT/As, OT/As, and SLP/As into non-clinical roles?
We have a comprehensive list of these companies, with more added regularly, available exclusively to Non-Clinical 101 students as part of the course.
Should I keep my license active if I leave patient care?
Yes, you should 100% keep your license active, as many non-clinical roles require an active clinical license. That said, there are plenty of non-clinical roles that don't require a license! So, if you want to have as many options available to you as possible, it's best to keep your license.
I have started consulting! How should I price myself?
In Non-Clinical 101, we cover consulting as a career path AND have an additional bonus module all about positioning and pricing yourself as a consultant!
Where can I go for CEUs if I don't want to do patient care anymore?
That's a great question! We highly recommend MedBridge Education, as it's the most comprehensive and offers the MOST non-clinical CEUs. Best of all, you can use our affiliate discount code TNCPT for 40% off a membership!
I want to be a blogger, like you! Where do I start?
You're in luck! We teamed up with Chanda Jothen of Pink Oatmeal to create a comprehensive course called Therapy Blogging 101.
I can't afford your courses! Can you help me anyway?
We offer many free resources, and you can find them linked at the top of this page.
Giving away our premium resources has one effect: the recipients do not use them. When you have skin in the game, you take action. We have priced our courses in a way that reflects their value, as well as the amount of time and energy you need to commit to making a real change in your career. Be sure to join our free email list, as you'll be alerted when resources go on sale!
I'm a new grad! Can I land a non-clinical role?
Absolutely! In fact, you're better qualified for some roles than others, simply because you have more recent exposure to things like boards (think NPTE prep companies) or the latest in digital media/marketing. Non-Clinical 101 covers which types of roles work best for each person's background and experience.
My company is hiring, or I have a job posting to share! Can you post it for me?
To include your job posting in our e-mail blasts to subscribers, please go here to submit a job posting for consideration.