There was time—not so long ago—when the idea of pursuing non-clinical occupational therapy (OT) jobs was perplexing to most. OT was considered one of the best careers out there for so long…why would anyone want to leave? Well, with debt skyrocketing, reimbursement cuts, PPE shortages, and the slog of working with ungrateful managers during COVID, something snapped. OTs want out. And it's OK.
You're not a bad person if you feel drained by patient care. And you're not a sellout or greedy if you want a job with actual upward mobility.
Whatever your reason(s) for exploring non-clinical OT jobs, you'll be pleased to know that there ARE options. This article was designed to be your starting guide to the wonderful world of non-traditional, alternative, and non-clinical OT jobs.
---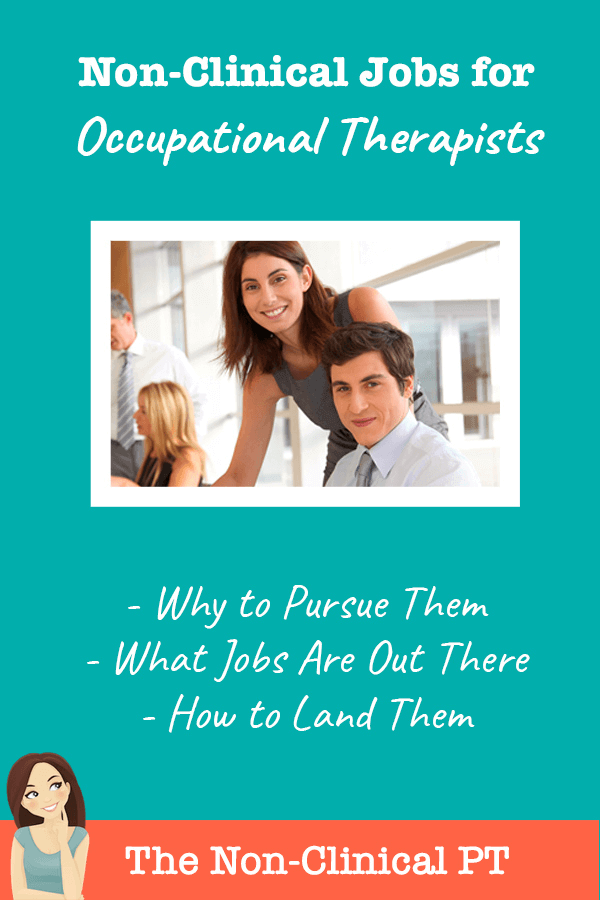 This post may contain affiliate links or codes. This won't increase your cost, but it helps keep TNCPT alive, and free of annoying ads! Thank you for your support. 🙂
Why OT/As make a great fit for non-clinical careers
I want to start by saying that occupational therapy professionals are some of the kindest, most truly good people I have ever known. The holistic framework and user-focused lens that they use means that OT practitioners are the ultimate problem-solvers. And they're also the ultimate collaborators—the glue that holds the healthcare disciplines together.
This natural tendency to collaborate and problem solve is part of why OTs excel so much in non-clinical occupational therapy jobs.
OTs are also incredibly tenacious; difficult patients and challenging productivity rules lead to extremely creative and efficient use of time, resources, and overall brainpower. And that's why—whether we're talking about case management, innovation and technology, process improvement, leadership, or any other important aspect of healthcare—OTs most certainly can excel and grow in non-clinical roles.
Think about it this way: without OT, patients are simply climbing stairs to climb stairs. With OT, that patient is climbing stairs to read his child a bedtime story.
Put an OT in a clinical informatics role, and she won't just say, "How do we move this data over there?" She will ask:
"Why are we moving this data?"
"Who needs this data next?
"How is that person used to seeing data presented?"
"What can we do to present the data in that way?"
I'm sure you see what I mean 🙂
And that's really why I wrote this article. To create a resource for OTs who want to do more to be able to do exactly that. So that when they crave change, they can embrace their OT roots and find fulfilling, meaningful work that blends their many talents with healthcare's biggest needs.
Whew, I was on a soapbox there!
Let's look at some of the reasons why OTs might opt to seek non-clinical work.
Why occupational therapy professionals look for non-clinical jobs
Career growth
Many OTs are looking to stretch their wings, learn more, and grow more. Perhaps you're seeking more recognition, more respect, or more opportunities when you consider unconventional occupational therapy jobs. All of these abound in the non-clinical world.
Financial opportunity
Many traditional clinical roles have glass ceilings, as far as income is concerned. You can only "see more patients to get more money" to a certain point. If you're looking to increase your earning potential, non-clinical OT jobs can be the answer.
Feeling bored with clinical work
Patient care can be a bit repetitive, especially for variety-seekers. Some OT professionals want to leave patient care simply because they crave a new challenge.
Dealing with OT burnout (emotional or physical)
The whole "see more patients to get more money" mindset in clinical care often leads to burnout—which, in turn, leads to OTs seeking non-clinical occupational therapy jobs.
Curiosity
Some people are just plain curious to learn more about what's out there! OTs tend to be a curious and motivated bunch, and the repetitive nature of patient care can lead them to seek greener pastures!
Without further ado, let's dive into the top non-clinical jobs for OTs.
The top non-clinical occupational therapy jobs of 2022
I'm going to share the most popular (and easiest to land) jobs for OTs in this list. I do frequently revisit articles, and will add and adapt as the professional climate evolves 🙂
1) Clinical/rehab liaison
A clinical liaison (or rehab liaison) is responsible for helping to fill up an inpatient rehab facility (IRF)/acute rehab unit (ARU) with appropriate patients for short-term rehab. It's a role that blends relationship-building, marketing, sales, and clinical expertise.
Your days will vary significantly when you're a clinical liaison. You might spend one day primarily evaluating (in a non-physical way) new patients, or you might spend another day working on insurance paperwork. Some other days might be spent in the field or in the community, trying to build referral sources.
In order to qualify for these non-clinical occupational therapy jobs, you typically need a few years of experience in acute and/or inpatient rehab settings.
A clinical/rehab liaison role is ideal for someone who is goal-oriented, outgoing, builds relationships easily, organized, and able to work both independently, and in a team.
Pros
You're still educating patients and working with people, but you're not in direct patient care or doing anything physical.
You're still directly using your license, and you can't do this role without experience and education as a therapist.
The pay can be on par with, or higher than, a standard therapist's salary.
Hours tend to be pretty flexible.
Cons
Sometimes, these roles are only available to therapists, not assistants. There are many exceptions to this, though.
You need to be a self-starter to thrive in these non-clinical occupational therapy jobs, and you often have quotas to meet.
There's limited direct upward mobility from these roles (though you can go into sales or marketing).

You occasionally need to stay late or work on weekends in these roles.
Here are some spotlights on clinical/rehab liaisons (or similar roles)!
2) Clinical educator/trainer
A clinical educator (sometimes called a sales trainer or clinical trainer or hospital educator) is responsible for training individuals or groups on the use of a software, service, or device. Clinical educators teach medical professionals how to operate equipment, use software (EMRs, etc.), and deliver services in specific ways. This is slightly different from roles like orthotic fitters/consultants, where the primary focus is more on selling vs. training. However, both types of roles do tend to have a sales component.
Occupational therapists will frequently work as clinical educators in hospital settings, as well as in field trainer roles, where they cover territories and teach patients or clinicians (or both) how to operate medical devices or assistive devices.
In order to qualify for these roles, you need to have some experience with teaching (being a CI or adjunct instructor counts), and you often need to have worked with the device, software, or service to some extent during your career
A clinical/hospital educator role is perfect for the OT or OTA who loves giving in-services and presentations, enjoys educating others, is organized, and doesn't mind travel (many roles do require it).
Pros
This is often considered a very fun and fulfilling role.
These roles generally pays better than clinical roles, as there is often a performance bonus.
Clinical educator roles are often very flexible.
Cons
These roles can sometimes require quite a bit of travel.
Many clinical educator roles go to nurses (think "nurse educator") unless we push for them.
Some of these roles require evening or weekend work (or evening/weekend travel).
Here is a spotlight on a clinical trainer!
3) Educator/professor
This one probably doesn't surprise you as much, because most non-clinical OTs wind up in the education or management space. But some students actually want to become occupational therapists because they want to become educators from day one!
While most people think of OT professors when they think of educators, those in academia can work in numerous capacities. There's higher education, working at an OTA program (as a program director or OT professor), and there are tons of options like teaching con-ed courses, working as an academic fieldwork coordinator, and more.
OTs and OTAs can work in the education space, provided they know which roles they are qualified to fill.
An education role is perfect for the OT or OTA who has niched down in his or her career, truly enjoys teaching others and watching them succeed, and has (or is OK with getting) the required degrees to qualify for the roles desired.
Pros
Educators tend to garner quite a bit of respect within their professional, and in the general public.
There is generally quite a bit of flexibility and time off awarded in the academic world.
Education can be extremely fulfilling, especially for someone who enjoys nurturing others' growth.
Cons
You generally won't have a normal 9-5 schedule usually. You might be grading papers at night or on weekends.
The pay varies wildly. You might make a lot of money as a tenured professor or program director, but you won't make much if you're trying to rely solely on teaching con-ed courses and that's it.
The world of academia can be political.
Here are some spotlights on OT educators: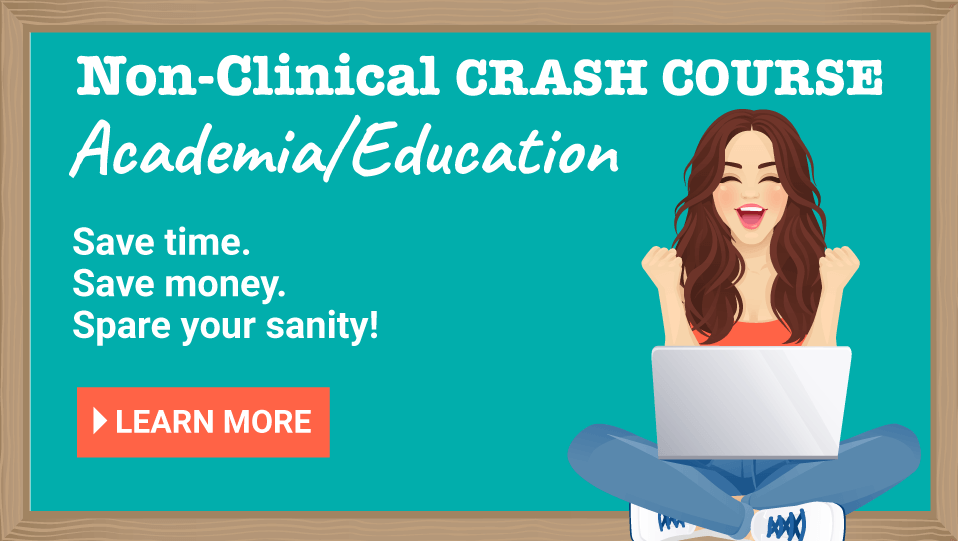 4) Clinical informatics specialist
A health informatics specialist or clinical informatics specialist role blends the worlds of IT and healthcare. OTs are already user-focused professionals who are excellent at problem solving and communicating. These non-clinical occupational therapy jobs are often a perfect match for the career-minded OT professional.
Clinical informatics professionals are tasked with all sorts of health information problems, such as improving processes, decreasing workflow in consideration to technology (yay, right??), and fixing the broken pile of unrealized dreams we call "electronic documentation" in hospital systems.
Clinical informatics is perfect for occupational therapists and assistants who are comfortable with technology, crave streamlining processes, and generally just enjoy solving problems.
Pros
These roles truly take what we're best at (problem solving) and marry it with a booming sector of healthcare. That booming sector happens to be broken, and can desperately use the OT eye!
Health informatics typically offers high pay with excellent growth potential.
The work is often very flexible, and some jobs offer some remote components.
You're kind of leaving the occupational therapy profession in that you're not really in rehab—but you're still working in healthcare and using many of your transferable skills.
Cons
These non-clinical occupational therapy jobs might require additional education. That often means going through a certification program, rather than a full master's degree, but it really depends on the role and your existing experience.
Given the types of problems you'll be tackling, some roles might have days with long hours.
You can sometimes be caught between two sides and have to act as a peacemaker between clinicians and the IT team.
5) Management and operations
Quite a few OTs go into leadership roles, but fewer ascend the ranks into upper management. That is likely because many of the roles that often do go to OTs and OTAs (director of rehab, etc.) often set rehab professionals up for failure, by requiring them to step in and treat patients when needed. Because "when needed" often translates into "every day," it's tough to accomplish the real tasks of the role, and OTs, PTs, and SLPs (and assistants) in these roles frequently find themselves facing a glass ceiling.
That said, we are very qualified to do what managers do: manage people. Do not shy away from management roles, because OTs have the brains to excel at upper management.
These non-clinical occupational therapy jobs can be in operations, human resources, and other specialties, or you can set your sights high and aim for CEO! If you enjoy systems, structure, and helping to grow other leaders, you might want to go into healthcare management!
Pros
By moving into upper management, you have the capacity to create true change in the broken system we call healthcare.
OTs in these roles can also elevate other rehab professionals into similar roles (through mentorship, providing informational interviews, etc.).
These roles generally offer extremely generous salaries, as well as other perks like flexibility.
Cons
You will often need additional education to move beyond director of rehab level.
It can be lonely at the top.
The more impressive your role, the longer hours you MIGHT be expected to work. It depends on the company culture.
Here are spotlights of OTs in leadership:
6) Telehealth
Telehealth occupational therapy refers to diagnosis, interventions, and education about OT being delivered over remote means. It's a huge trend in the occupational therapy world, and in the greater healthcare world at large.
Telemedicine (including telehealth OT and telehealth PT) is essentially the Wild West, so it's always best to check with your state regarding whether you can practice, whom you can treat, how you can collect payment, and other considerations.
Telehealth occupational therapy is a great option for those who enjoy patient care, but crave more flexibility and less physical burden.
Pros
You're very much still using your degree and education.
Telehealth is growing quickly, and if you're looking to niche down and have your own practice, now is a great time to beat the rush.
Hourly rates tend to be quite high if you're working as a contractor with a company.
Cons
If you don't enjoy patient care, you won't be much happier in telehealth; it's still patient care, minus the face time and physical components.
It's difficult to find a full-time, benefited role as a telehealth occupational therapist.
Teletherapy can be challenging for those who have grown reliant on their hands for achieving therapeutic outcomes.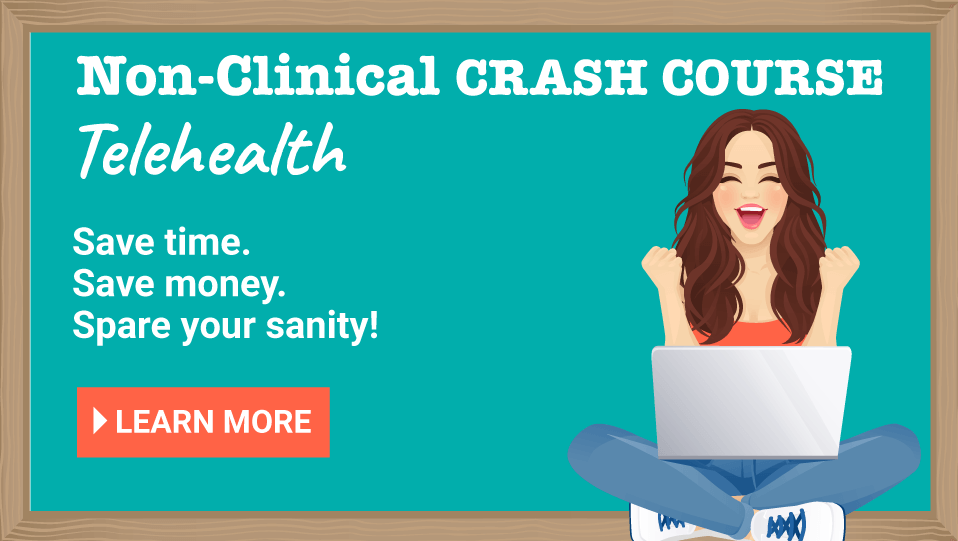 7) Utilization reviewer
Utilization review is a great career for someone looking to reduce waste in healthcare. However, there's no way to sugar-coat it. Reducing waste is good, but limiting visits can be bad. Utilization review (which is technically part of a broader term, utilization management), does involve finding that balance between awarding medically necessary visits to covered patients, and avoiding wasteful visits when therapeutic gains aren't being made.
Becoming a utilization reviewer is a perfect solution for the OT who is looking to see things from the other side. You can work at insurance companies, or at companies that contract out with insurance companies or hospitals.
If you're eager to reduce waste and fraud, and you're a detail-oriented, decisive person, you'll likely enjoy a career in utilization management.
Pros
You still need a clinical license to practice, so you can really feel like you're still using your degree and experience.
The schedule is often very flexible and, in some cases, allows you to work from home.
You will usually make around what you did as an OT.
Cons
Some UR companies don't hire assistants. Some do, though!
These roles can be productivity-based, though most are not. Those that are, USUALLY have very realistic chart reviewing quotas.
These roles do involve some calls with frustrated providers who argue over patient benefits.
Here's a spotlight on an OT utilization reviewer!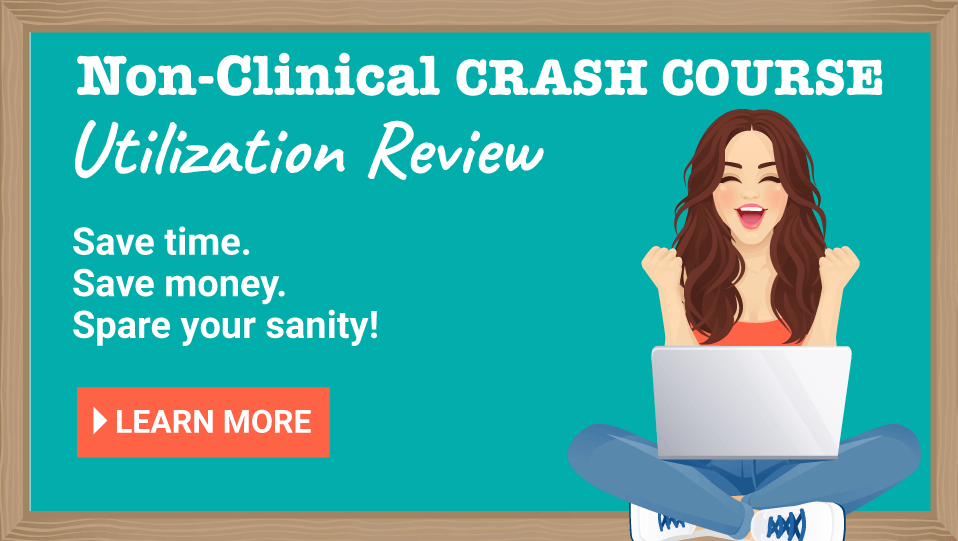 8) Ergonomic/industrial rehab/driver rehab specialist
Occupational therapists are perfect fits for many ergonomic and industrial rehabilitation roles. These roles vary quite a bit, but they make use of the OT skillset. While they're still sort of considered patient care, they're definitely outside the traditional model, so they're in this article! 🙂 I'm also including driver rehabilitation specialist in this section, because it similarly uses OT training and education, though in a more non-traditional way.
If you enjoy thinking like an OT, and you still want to work with clients, but you want to get out of the traditional clinical setting, these roles might be great for you!
Pros
These roles are still keeping you in a client-facing position, so they feel familiar vs. jarring when you make the transition.
These roles tend to pay well, or around what you'd make as an OT.
Once you specialize or niche into these roles, you have a unique skillset that you can take with you to many different locations.
Cons
Roles can be hard to find. There usually aren't many driver rehab programs in a given location, and you might need to wait for another OT to retire or move until you can have a shot.
Some of these roles are not full-time or benefited, or if they are, you have to do some time in patient care on top of the non-clinical work.
In some cases, you need specialized con-ed courses or certifications to stand out and land these roles.
8) Rehab tech/startup employee
There are lots of really cool technology, medical, and general innovation companies out there, and many of them would love to have some experienced OTs and OTAs on staff. Keep an eye out because I have some more content around these types of roles coming out soon! Generally speaking, you'll find a lot of OTs working for cool startup companies. You might work in UX (user experience), consulting, testing, processes, or other roles in these companies.
OTs who wish to work in fast-paced, analytics-driven environments with collaborative teams would love working in tech startups.
→ Here's a great article about how to land a role at a rehab tech startup as a PT, OT, or SLP!
Pros
These jobs are super exciting. You're not just finally getting to pee during the workday. You're building something new, and you're often involved in every part of the process.
Startup and tech jobs tend to be very progressive with flexible hours, vacation time, and remote work.
If you work for a larger company, the pay can be quite solid!
Cons
Startup roles often don't pay well. You might be offered stocks or equity in exchange, but given that many startups fail to be acquired, those shares could amount to nothing.
Lack of benefits and job security are sometimes a concern if you're working for a smaller startup.
Depending on the role, you might work long days.
Here are a few spotlights on rehab professionals who went the rehab technology route!
9) Entrepreneur
If you're still wondering, "What else can I do with an OT degree?" keep in mind that OTs make fantastic entrepreneurs. Here are some of the best ways that savvy OTs can leverage their skills outside of direct patient care.
→ Occupational therapy consultant
Consulting is a fantastic way to take your professional expertise beyond the clinical setting. You can consult as a side gig or as a main focus, but it does require that you do the following:
Identify a niche
Understand your target clients
Know how to be found (via the internet, word-of-mouth, etc.)
Are comfortable setting prices on your services
Are willing to sell yourself
Are comfortable with wide variations in pay across months
My flagship course, Non-Clinical 101, has a whole bonus lesson about getting started as a consultant!
Here are a few spotlights on OT consultants!
→ Home modifications specialist
Home modifications is a great option for entrepreneurial PTs, OTs, and assistants. There are lots of great courses out there to get you started, but networking an marketing are really key to succeeding in the world of home mods. To learn more, b sure to check out Traci Swartz's incredibly comprehensive article: Home Modifications Careers for OT and PT Professionals!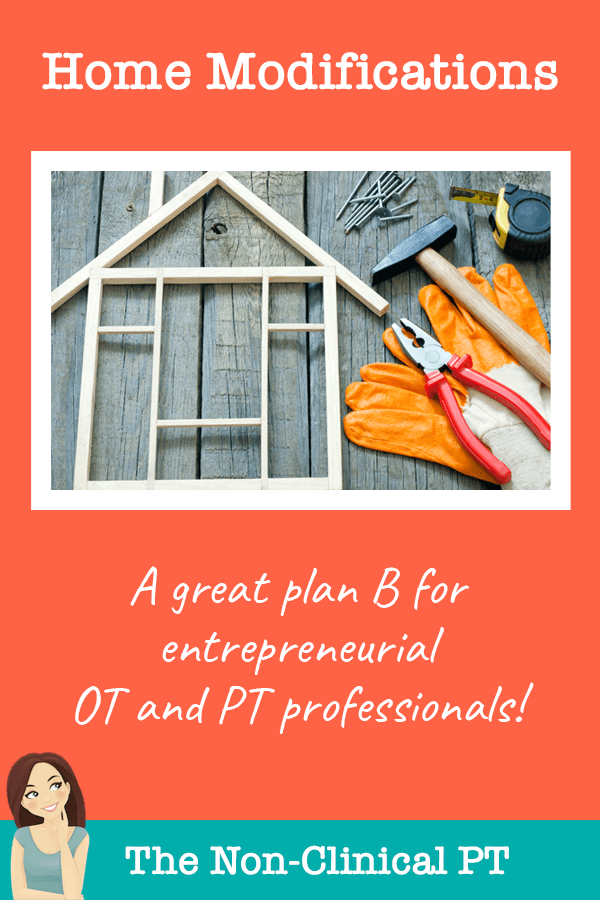 Here are a few spotlights on home mods professionals!
→ Blogger/Online OT entrepreneur
I can tell you right now that running an online business can be hard, but it pays off. When I initially wrote this article, I barely made anything from this blog. Now, it has replaced my full-time income and continues to grow. I recently teamed up with Chanda Jothen from Pink Oatmeal, and we've put together a FREE primer on the fundamentals of a successful blog. You can get that for free here!
If you want a dose of inspiration, check out the spotlights of these inspiring online business owners!

What other non-traditional/non-clinical OT jobs are out there?
There are SO many others you can pursue, but this article is already too long. Here are just a few other ideas:
These are just a few more of the 25 non-clinical career paths we cover in depth in my flagship course, Non-Clinical 101!
How to land non-clinical OT jobs
First of all, you have to look at this as your non-clinical OT career, not just a job.
If you want to switch gears, you've got a bit of work ahead, but it's all very possible! You'll want to explore what is right for you, and then be sure to search for the right jobs in the right places. The last thing you need to do is launch another career that you find unfulfilling.
A great place to start is with my flagship course, Non-Clinical 101. For each of the 25 non-clinical career paths we cover, you'll find numerous job titles and focuses, several non-clinical resume and cover letter templates, interviewing tips, and guidance on which skills and strengths best position you for the work. Plus, you'll find personalized assessments to help you determine your own superpowers, not to mention interviewing strategies and proven tips to negotiate a higher salary in your new job!
---
Parting words about alternative occupational therapy jobs
When you explore alternative occupational therapy career options, you're not abandoning OT as a profession, and you're not abandoning your patients. You spent a lot of time, energy, and money to get where you are, and just because you don't clinically practice, you are not any less of an OT.
You *can* use your experience in a new way, without leaving the occupational therapy profession altogether.
In a non-traditional occupational therapy job, you WILL still be using your valuable experience. Maybe you're sick of googling "I hate being an occupational therapist," or perhaps you simply want a new challenge. Regardless of your motivation, promise that you will continue to remain vocal and proud as an OT professional, no matter where you go with your career. You've earned it! 🙂