2020 has been quite the year, huh? Fallout from PDPM and PDGM has collided unceremoniously with the coronavirus pandemic, resulting in an unholy matrimony of clinical job shortages. Since this madness began, I've been getting countless emails from people who are wondering how they can make money while furloughed, laid off, or working with reduced hours. Luckily, there are options! In addition to the popular side hustles I wrote about earlier this year, another option that works for many is becoming a sales representative. More specifically, a commission-only DME sales rep.
This post may contain affiliate links or codes.
When used, The Non-Clinical PT may be compensated. For more, please read our disclosures.
Sales rep roles for PTs, OTs, and SLPs
Let's back up for a moment. There are all sorts of sales careers out there. There are straight-up sales roles, where your job is to sell, sell, sell. This spotlight on Allan Manuel sheds light on this type of role.
Then, there are account executive roles, where you are largely partnering with clients to ensure they have a good experience with a product or service—and part of your job might involve up-selling. (Learn how the spotlightee from that article is now director of enterprise client success!) There are clinical training manager roles (sometimes called clinical specialist or clinical manager), where you train patients and clinicians on how to use certain devices. And there are even rehab liaison roles (also known as clinical liaison or clinical rehab liaison), where you are selling patients on the idea of a specific inpatient rehab facility (IRF). These types of roles might fall under the category of "sales" and involve some selling and relationship-building—but your main role isn't necessarily to sell products.
Full-time, benefited sales roles
You're probably familiar with the types of sales roles where you earn a base salary, then get commission on top of that. These roles typically come with set territories, official titles, some form of stability, and benefits (like PTO, 401k, etc.). These roles can be found at small and large companies, and they often have formalized training, benefits, mentorship, and all that fun stuff.
Some companies are slow to hire full-time sales reps during this type of economy—but don't despair! There are plenty of commission-only DME sales roles out there and, for the right type of person, they can be great for your career. If you're in that gray area, where you have some income, but you want to have a little side gig to earn more, you might want to consider a commission-only sales role.
Commission-only sales roles
A commission-only role means that you are paid for the sales that you make. If you make zero sales in one month, you'll get zero dollars. If you make 10 sales, you'll get paid accordingly. While pretty much all sales roles have some sort of commission structure, some pay a base salary along with commission. Commission-only ones only pay you when you make a sale. But there are some good things about this setup!
Here's a spotlight on an orthotic fitter who works in a commission-only setup.
Pros and cons of a commission-only DME sales rep role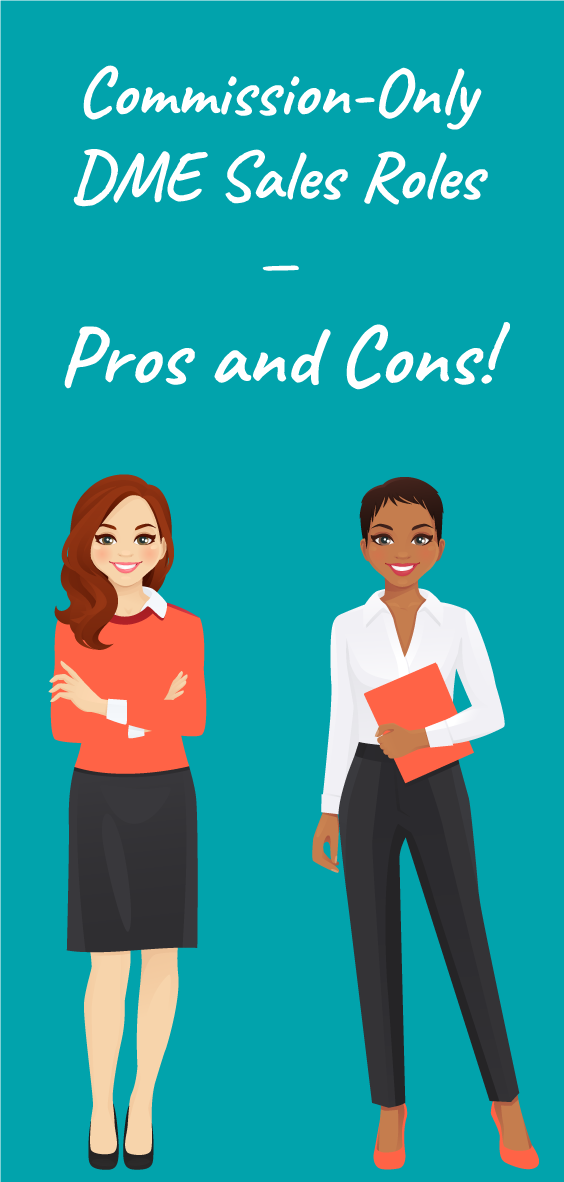 Pros
There are lots of pros to working in a commission-only role. Here are a few.
Greater financial upside. When you're only getting paid when you're making sales, companies can afford to be more generous with you when you do make those sales.
Flexibility. Don't quite want to give up your clinical gig? Building your own blog or cash-based business that you want to nurture while you make a little cheese on the side? A commission-only role is flexible enough to let you do both. Plus, it's perfect for someone who wants to work on their own schedule.
Independence. By nature, these roles tend to allow you to have more agency over your own sales style. While more formalized sales roles might dictate certain scripts or ways of speaking, a commission-only role is usually more yours to make your own.
Your ticket into the field. You might have been told you lack experience for those high-falutin' roles with the fancy titles, but if you can do well in a commission-based sales role, and show your numbers to prove it, it's an excellent foot in the door for more stable sales roles in the future.
Cons
There are also some clear cons to working in this setup. Here are a few.
Inconsistent income. This type of role is unlikely to replace a full-time therapist or assistant salary.
No benefits. If you need healthcare, PTO, and other perks, you generally won't find them in a commission-based role.
Less training. There are exceptions to this (see below), but many commission-only roles don't include training to help you succeed. If you're new to selling, or don't fully understand the product you intend to sell, you will need to ask a lot of questions!
Some tips for success in a commission-only DME sales rep role
Ask lots of questions in the interview
Be sure you understand what is expected of you. If you're signing up for tons of unpaid meetings and trainings, or you have to invest your own money at the outset, you could be inadvertently joining a pyramid scheme!
Understand what you're selling
If you don't understand (or, better, believe in) what you're selling, you won't do too well at selling it. Be sure to sign up with companies whose devices and products make sense to you, because your job is to convince others of why you think it's the best thing since sliced bread!
Seek out knowledge
Whether it's a mentor, additional training, reading materials, or podcasts, you'll be much better at your job if you make a point to learn everything you can about it. Here are a few sales-related resources that might help you on your journey.
Get started with DME sales
One of the reasons I've written this article is that I have partnered with Sandra Puerta of CSB Healthcare Solutions, Inc. She works with physical therapy professionals to help them prescribe TENS units, knee braces, and other types of DME that can provide relief to patients in between therapy sessions.
Sandy is always looking for independent sales reps for her suite of products, and she wanted me to spread the word to you all about teaming up with her!
Your role is to let patients know that these solutions exist (braces, TENS units, traction units, scooters, etc.) to help them understand where this type of product fits into their overall care plan. If you're comfortable discussing how patients' insurance plans cover these devices, you can do that. Or, you can work directly with Sandy and she'll help you with this part, because we all know insurance can be overwhelming! But, the point is that insurance does cover these devices, and many patients go without this type of interim relief because they don't realize this is a covered benefit in their plan.
Wait, isn't this a temporary fix to an issue?
We all know that throwing a TENS unit at someone and calling it a day is not skilled therapy. But, while we're in a pandemic, keeping patients comfortable and independent with their HEPs is critical. This is not intended to replace traditional rehab, though it does make a nice adjunct to in-person and telehealth visits. Remember, there are many patients who will give up on therapy unless they have some sort of passive relief at home. And if you don't give them a TENS unit, they might turn to something like opiates!
Why CSB Healthcare Solutions?
One reason that I decided to highlight Sandy's company is that she has 30 years of experience working in this industry. She is always willing to work with providers who don't want to learn the ins and outs of insurance, and help the patients get these devices covered. She has been through multiple rounds of physical therapy, herself, and uses a TENS device to manage her pain between sessions. She and I have had several conversations, and
If you are interested in getting started with Sandy, please reach out via the information below and let her know I sent you.
Sandy Puerta
813-597-4501 EST
sandy@csbhealthcaresolutions.biz