Anna Manor is a physical therapist who wanted to help neuro patients in a totally unconventional way. She was smart and strategic about her job search, and landed in a super cool DBS clinical specialist role, where she really uses her background and hard-earned NCS!
---
This post may contain affiliate links or codes. This won't increase your cost, but it helps keep TNCPT alive, and free of annoying ads! Thank you for your support. 🙂
What is your full name and title at your current job?
Anna Manor, PT, DPT, NCS
DBS Clinical Specialist at Boston Scientific
Where are you located?
I live in San Diego and cover San Diego, Orange County, and the Inland Empire.
Where did you go to PT school, and what year did you graduate?
Northeastern University, Boston MA. I graduated with my DPT in 2012.
What did you do when you first finished school, and for how long?
My first full time position was at Kessler Rehabilitation where I worked for about a year. I worked on the stroke/amputee unit.
What did you do after that, and for how long?
That year, I attended CSM in San Diego (2013) and presented the research I did my doctorate year; Exercise and HIV. I fell in love with San Diego and knew I belonged there. I planned to move to San Diego by summer 2013. I ended up moving to SD July of 2013.
What did you enjoy about your early roles? What didn't you enjoy?
I've always been extremely passionate about neurology and treating the neurological patient, but when I first arrived in SD, there weren't any neuro-based positions available, so I worked in outpatient ortho and had several per diem roles where I worked in outpatient pediatrics, outpatient ortho/neuro, and acute care. Eventually, I found a full-time position working in a hospital outpatient neuro facility, where I worked in both outpatient vestibular and outpatient neuro. I worked there for about four years.
I always loved the complexity of neurology and treating the neurological patient because the same diagnosis presented itself differently in patients. I also always appreciated the importance of understanding orthopedics and cardiorespiratory therapy and how those systems altered each patient's individual treatment. What I loved about my last role was that I had the privilege of providing 1:1 treatments for an hour in outpatient neuro and loved the relationships and rapport I built with my patients. I felt that this amount of time and attention was really required for the complexity of the diagnoses I treated, and so I really never felt rushed in that regard.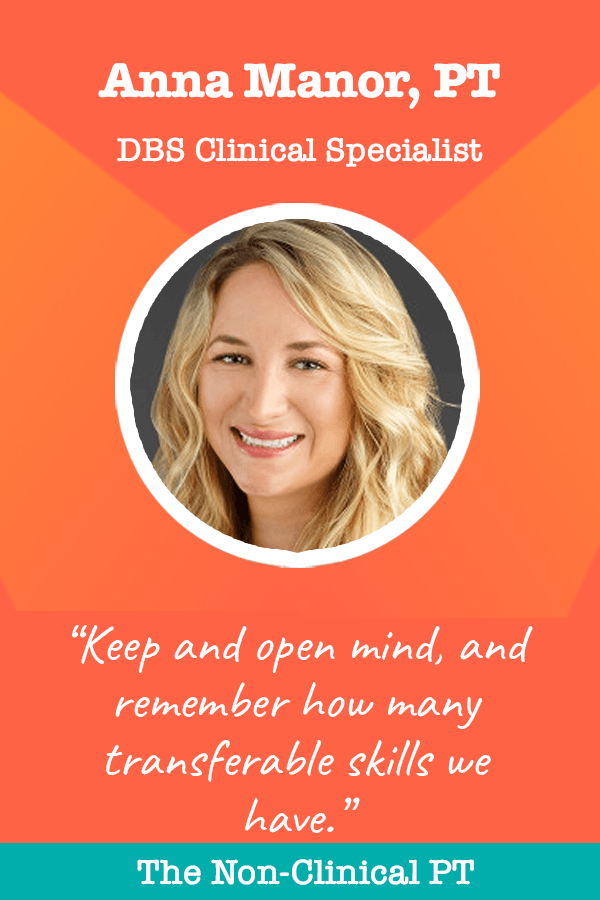 At what point did you realize you wanted to do something non-clinical with your background, and why?
I began to feel burnt out with patient care, both physically and emotionally. To be honest, besides the insurance/reimbursement changes that began to affect care, I also simply found myself not being stimulated in my role after a certain point.
The work felt extremely repetitive, and I also felt that excelling as a therapist in the hospital system from my experience was really mostly based on years of experience, rather than continuing education/obtaining specialty, etc.
I see you did get your specialization, though. How did that impact your career?
My long-term goal in my PT career was always to obtain my NCS, which I did in 2017. I knew that the hospital system didn't offer raises for obtaining a specialty, but I really wanted to obtain the highest level of certification I could in my field because I knew it would make me more marketable for a future role.
You say "future role." Did you mean in patient care?
I actually knew pretty early on in my career that I wanted to do something different than patient care long-term. I really felt that our education as physical therapists can lead us to a multitude of various roles and professions, as long as you keep an open mind.
I knew that I would be better in a role where I functioned autonomously and was pushed to think outside of the box, and rewarded for my productivity and efficiency.
I wanted more variety throughout my work day, but I also wanted a role where I could retain what I loved about my role as a neurological PT—improving patients' quality of life.
What are you doing these days?
My title is Clinical Specialist for DBS (Deep Brain Stimulation), which is an implant that improves the motor symptoms of Parkinson's Disease.
My role is to educate the community on DBS and Parkinson's Disease, as well as to provide support/training to movement disorder neurologists on Boston Scientific's DBS device. I do all of this while highlighting the differences from our competitors' technology, providing support during follow-up programming, supporting neurosurgeons during the DBS implantation procedure, and assisting sales representatives to develop new sales opportunities within our territory.
You can learn more about DBS here at DBSandMe.com!
Are you still treating patients, or are you solely non-clinical?
I am not treating patients in a PT capacity. I provide clinical support and education to the Parkinson's community.
How long have you been in your current role?
About a year and a half.
How did you find your job? Did you apply or find it through a connection?
At one point in my career, I had the privilege of attending Parkinson's rounds with neurosurgeons and allied staff. The rounds covered placement of the DBS device.
This was the pivotal point that piqued my interest in utilizing my clinical specialty at a medical device company.
Oooh, nice! How did you take action from that point?
After at least a year of deep-diving to figure out exactly what I wanted to achieve personally and professionally, I went online and typed in "DBS clinical medical sales" into Google and several job opportunities came up in San Diego. (Google is a fabulous tool 🙂 )
I read up on clinical studies that were done, and researched the differences between DBS device competitors—and I really felt that Boston Scientific's mission and culture aligned with me best, plus their technology was the most advanced, which really stood out to me.
Did you do anything special to your resume and cover letter to land the job?
The position qualifications were at least 5 years of clinical experience and preference for neuro surgical experience. I highlighted my neurological clinical specialty, as well as my experience in leading various programs and educating physician/allied professionals throughout my career.
Editor's Note: The Clinical Trainer/Specialist Career Crash Course is ideal for applying to roles like Anna's!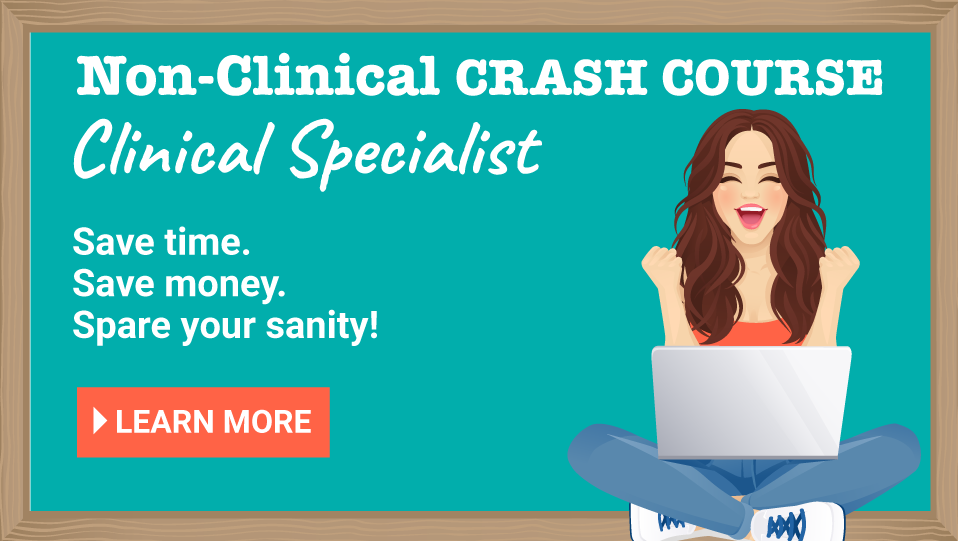 What was the interview like for the role?
The interview was different than any PT role I've had, because I had multiple interviews over several months. I had a phone interview with the Boston Scientific DBS recruiter initially then made it to the next phase where I met my manager, then flew to meet our area VP, and also interviewed with the rep in my area who I would be directly working with.
This made me even more excited about my new career because I could tell how selective and thorough the interview process was.
Did you get any special certifications or training along the way to help you get into your current role?
NCS
How have people reacted to you leaving patient care?
Most people were genuinely excited for me and welcomed the unique opportunity. I think there will always be some therapists that think "sales" has a negative connotation, but really this is the most gratifying role (both professionally and personally) that I've experienced.
What's a typical day or week in the life like for you? What types of tasks and responsibilities fill your time?
My day really varies, which I LOVE. Some days, I go to various movement-disorder neurologists' offices and provide support during DBS programming appointments.
Other days, I'm in the OR, and sometimes I am giving patient presentations at Parkinson's Disease support groups, attending events that we sponsor (such as community events or hospital symposiums centered on Parkinson's). Then, there are times when I am hosting dinners or lunches to educate and build relationships with physicians in our area.
Some days, I do all of the above!
What are some of the challenges of being a DBS Clinical Specialist? What are the rewards?
There are definitely some high-stress days out on the field— especially because DBS is a competitive field now. It's really important to be confident in our product line, as well as what sets us apart….and to be able to hold your composure in high-stress situations.
The most gratifying reward, both professionally and personally, is witnessing patients' lives improve once they get implanted with our device.
What is your favorite part of the job?
My favorite part of the job is witnessing patients post-implant. It is extremely rewarding hearing patients describe all of the activities that were difficult prior to DBS becoming easier. Patients become lighter and more confident once their motor symptoms improve, and this is the true gift of my career.
How do you think working as a PT prepared you to be a DBS Clinical Specialist? Which skills transferred?
My PT career has prepared me for a clinical sales position in many ways. First and foremost my clinical knowledge and speciality training has helped to set me apart when educating and speaking to patients throughout their DBS journey. I am always a patient advocate first and my experience in educating patients and communicating with various health practitioners has been very helpful in building relationships and rapport within the community.
Roughly speaking, how are the hours and pay compared to patient care?
The hours vary because it is not a traditional 9 to 5 role. The compensation is highly variable as well, since the DBS Clinical Specialist role is a sales role, but I will say there was a pay increase—and there is not a ceiling like there is in PT.
What type of person do you think would do well in your role?
The type of person that will do well in my role would have to be extremely flexible as the schedule may change hour to hour, autonomous, reliable, and empathetic to various personalities and peoples needs. There are so many different types of people that we interact with day to day including patients from various socioeconomic statuses, neurologists, surgeons, and other health care practitioners and so its important to what is important to each individual and meet their needs consistently.
Do you work remotely or on-site?
I am either working from home or on the field (attending various hospitals/offices in my assigned territory) Mostly the latter.
Does your organization hire PT, OT, or SLP professionals into non-clinical roles? If so, what type of roles?
Yes,many. It really depends on your individual experience, as well as sales experience.
Did you read any books, take any courses, or do anything special overall to get you where you are today?
We had a very extensive sales training program upon being hired. It went over clinical research and disease states, as well as role-playing to practice sales calls—so I truly believe that, even if you don't have traditional sales experience, we therapists have the skills to sell. 
I love the book Lean In by Sheryl Sandburg and the Go Giver by Bob Burg. Lean in is a great novel about pushing yourself as a woman outside your limits and taking charge of your career in a world where there is still some level of gender bias.
Go giver is a great story that emphasizes that your priority should be to give and the rest will follow. I live by both of these messages and have instilled them in the way I function in my professional and personal life.
If you could give yourself one piece of career advice you wish you had during your PT school program, what would it be?
I think its important to get work experience throughout your program, and maybe explore medical device companies because there are many avenues that aren't traditionally explored.
Do you have any special advice for other PT/OT/SLP/assistants who want to follow in your footsteps?
I think it's important to keep an open mind and be confident in how many transferable skills we have as clinicians—not only clinically based, but also general soft skills. Sometimes we underestimate how important it is that we have experience in communicating with so many different types of people.
I think we, as therapists, sometimes don't realize how vital that is because it comes so naturally to us. But, we have to remember that this isn't a natural skill for many, and it is useful in SO many different types of career paths.
Thanks for your insight, Anna!
---
Not sure what the heck you want to do, much less get there? Get ALL of my Non-Clinical Career Crash Courses for FREE—along with guidance, community, and the tools you need to succeed—when you enroll in Non-Clinical 101!