Medical sales careers are a natural fit for rehab professionals. PT/OT/SLP clinicians already have a natural knack for working with all sorts of personality types. We learn to negotiate (cajole patients into participating in therapy), sell ("if you do this exercise, your knee won't hurt"), and consult ("let's figure out the best approach for your schedule") when we work as clinicians.
The hardest part is selling *ourselves* to companies when we move into sales!
That's where a sales training program comes in. Formal training, resume reviews, mock interviews, and—perhaps most importantly—industry connections are what you need to land the best jobs in sales. I'm a fan of comprehensive career building programs because they quickly and efficiently teach career changers exactly what they need to get where they want.
Evolve Your Success offers one of these medical sales career training programs, and we had the opportunity to review the course. It's called Medical Sales Career Builder, and it's incredible. The program is well-paced, packed with great information, and ideal for helping clinicians move into medical sales careers. In case you're curious, medical sales careers include:
Clinical specialist – note that many licensed healthcare professionals wind up in this path because of their strong existing clinical backgrounds!
Pharmaceutical sales
Surgical sales
Medical device sales
Medical equipment sales
Biotechnology sales
NOTE: You might have noticed that EMR/EHR/software sales are not listed. Electronic medical/health record sales fall under the tech or SAAS (software as a service) sales category. Check out this article for more information about launching a tech/SAAS sales career!
Mention The Non-Clinical PT to claim your discount!
This post may contain affiliate links or codes. This won't increase your cost, but it helps keep TNCPT alive, and free of annoying ads! Thank you for your support. 🙂
About the Medical Sales Career Builder program
The Medical Sales Career Builder is a comprehensive, informative, and holistic training program that helps you identify the right type of sales for your interests and experience, and gives you the tools to land your dream medical sales job.
You'll learn about all of the different types of medical sales careers out there, including pros and cons of each.
You'll create an extremely attractive application package for the path that appeals to you.
You'll supercharge your resume and LinkedIn page and receive 1-1 feedback on your materials.
You'll get mock interviews from industry experts, and you'll access an unbelievably robust network of medical sales professionals, managers, recruiters, and talent experts!
I have never seen a program quite like this, and I'm thrilled to share this review!
Why did we review the Medical Sales Career Builder?
In other words: why review someone else's career course???
We're always looking for what we like to think of as "201-level courses" to go along with Non-Clinical 101.
Non-Clinical 101 is truly a 101-level course. It's designed to help you discover what you want out of a non-clinical career, explore what's out there, and make steps toward getting there.
Plenty of clinicians get where they want with Non-Clinical 101 alone—but others want additional help and guidance pursuing non-clinical career paths. That extra help and guidance is especially helpful when pursuing competitive, high-paying careers like sales.
My definition of a "201-level non-clinical course" is: a program that goes even more in depth regarding a specific career path that is appropriate for a rehab clinician.
If I consider something a "201-level course," it will include some 1-1 guidance, personalized feedback on application materials, and the opportunity to network and/or practice skills alongside seasoned industry professionals.
Medical Sales Career Builder fits all of these criteria.
Mention The Non-Clinical PT to claim your discount!
Is medical sales really that competitive of an industry?
Unfortunately, YES. Sales happens to fall into the category of "competitive non-clinical field."
Sales careers offer tons of upward mobility, and the pay is practically unlimited. With student debt hanging over so many clinicians' heads, there are many career-changers vying for the same high-paying and growth-oriented clinical sales jobs.
Thus, it's probably no surprise that competition for sales roles has become fierce among PT/OT/SLP professionals (as well as other healthcare providers who want better financial opportunities).
So, this is why we're always on the lookout for comprehensive sales career courses—specifically, ones we can feel confident recommending as 100% worth the investment.
You may already KNOW you want to do sales, so you might feel perfectly comfortable starting at the 201 level with this type of course. Or, if you aren't sure what type of non-clinical career works for you, you might want to start with Non-Clinical 101 to get a full idea of allllll your non-clinical options before deciding where to focus.
VERDICT: Medical Sales Career Builder is the 201-level sales course we've been searching for
Medical Sales Career Builder is the real deal, and we are beyond impressed.
We, at TNCPT, were able to go through this program ourselves to truly gauge whether it could take us to a place where we'd feel 100% confident applying for, and LANDING, coveted sales roles at the major medical device companies out there.
That's the goal, right? We want the best possible clinical sales jobs! The last thing any career-changer wants is to move into a dead-end job in a different industry.
We've had the opportunity to take a few other sales courses in the past, and they were *great* for the price, but…
Medical Sales Career Builder is truly INCREDIBLE if you know you want to enter the field of medical sales. This is one of the best courses we've ever taken! We legitimately feel like this is the 201-level sales course we have always wanted to find.
And, while we've reviewed other sales courses and been impressed, Medical Sales Career Builder stands alone because it's a premium, white-glove sales course. Yes, it costs more than some other programs out there—but you get what you pay for.
Medical Sales Career Builder is comprehensive and strategic, and it has ALL the ingredients you need to land a role in medical sales.
We bet you want details, though 🙂
Mention The Non-Clinical PT to claim your discount!
Who runs Evolve Your Success (the company behind Medical Sales Career Builder)?
Samuel Adiyenka Gbadebo is the founder of Evolve Your Success (EYS), and he's the one who created this course. Samuel is a medical sales professional by trade, as well as an ICF-certified career coach and host of The Medical Sales Podcast. Before creating Evolve Your Success, Samuel was a sales professional and coach in the pharmaceutical and biotech industries for many years.
What we love about Samuel is he really, really knows the medical sales industry, and he really, really wants people to break into the field and find success. He set this course up to ensure that you get your money's worth.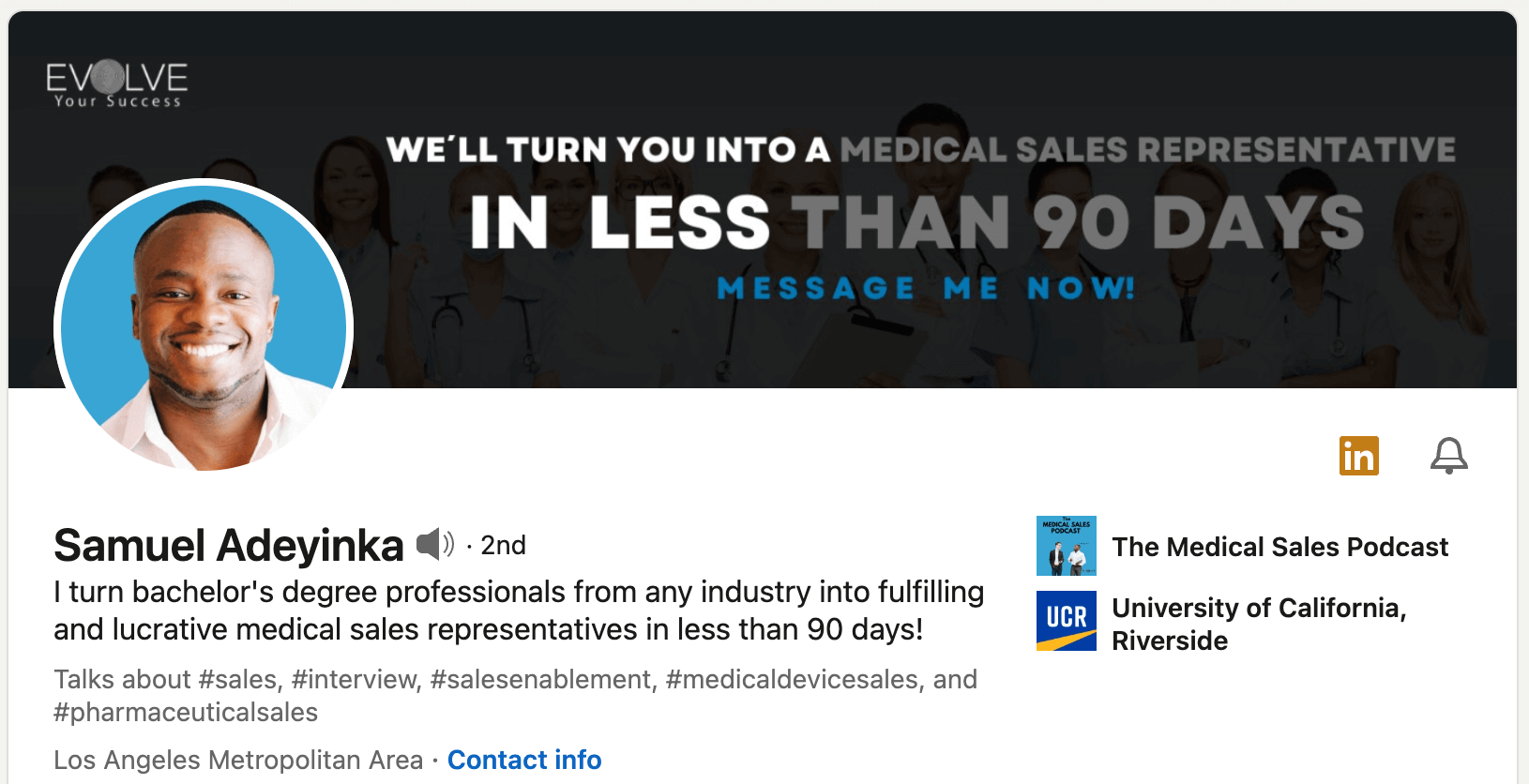 OK…what, exactly, is the Medical Sales Career Builder?
By now, you probably want to know what actually comes in this program.
Medical Sales Career Builder is a six-month course that is taught online by Samuel. You can take things at your own pace to a certain degree, but much of it is paced in a way to keep you moving.
It's divided into six sections with educational video content, each of which comes with its own workbook or activities, as well as action items you cannot avoid.

Additional components to the course include:
Resume review by an extremely accomplished industry leader within medical sales
LinkedIn review by industry experts
Membership in LinkedIn sales group, where you'll ask questions and share jobs
Weekly live sales trainings every (they are recorded and stored if you cannot attend)
Mock interviews provided by sales professionals at companies like Stryker, Lazarus, and more.
Sales can feel intimidating! But confidence comes from talking the talk and knowing you're prepared to walk the walk. It's much easier to sell yourself in interviews when you've gone through formal sales training. We highly recommend upskilling and working with the sales mentors at Evolve Your Success.
Their Medical Sales Career Builder program has a 100% satisfaction rating and 90% placement record! Mention that The Non-Clinical PT sent you to get $800 off!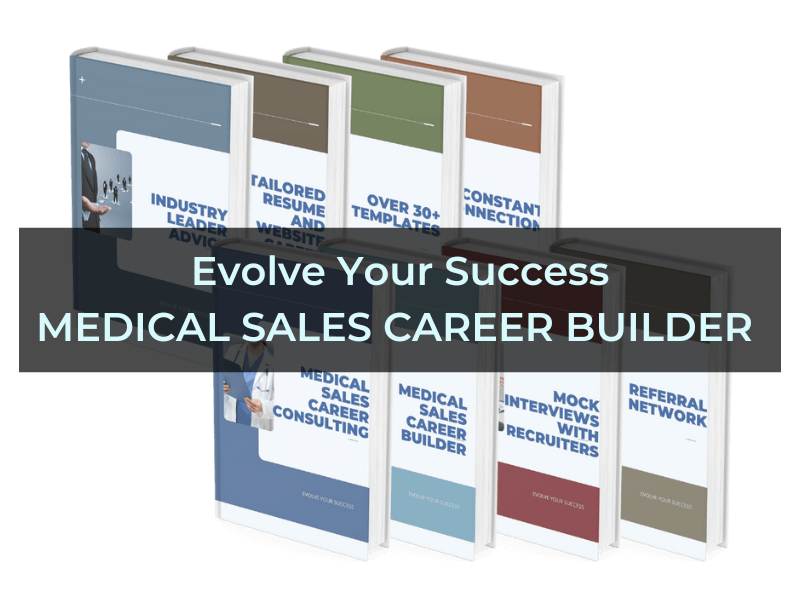 Why do we 100000% recommend Medical Sales Career Builder?
Honestly, because it's incredible. It's designed specifically for career changers, and it has everything you need to be successful. Here are some specific reasons we recommend it.
Customer service and 1-1 mentorship
From the moment you enroll in the course, you are supported and mentored. You have access to materials you need to get started, and you are guided through the process in an organic way that gives you agency and confidence to make this move. Each student is assigned their own customer success agent, too, so you'll have a point of contact for questions as you work through the course.
Just some of the aspects that make the customer service shine include:
You get a free resume strategy session with sales director at a major medical device company
You get 3 months of free access to a portfolio development platform
You get MULTIPLE free calls with a mentor
You get multiple opportunities to have mock interviews with industry experts
Anytime you have questions, you'll get the answers you need very quickly, and the team is extremely dedicated to ensuring you're successful on your journey. It's incredible!
You have to apply
This program is not for everyone, and that's why we like it. Before you're invited to enroll in the Medical Sales Career Builder program, you'll go through a free application process with the Evolve Your Success (EYS) team.
Why?
The Medical Sales Career Builder (MSCB) program has a 100% satisfaction rate and a 90% job placement rate. These impressive numbers exist because the EYS team vets every student beforehand, ensuring that they have the right background, attitude, and transferable skills to succeed in the sales profession.
Evolve Your Success does not simply want to take your money and run. It's EXTREMELY important to the EYS team that they retain their impressive numbers, as that's how they are able to get the best companies to hire MSCB graduates. So, they are very careful about who they accept into the program. This program is designed for serious career changers devoted to pursuing medical sales roles.
Note that many PT/OT/SLP professionals, as well as nurses and other licensed clinicians, will opt to pursue clinical specialist roles. The MSCB program is designed to help each student determine which medical sales career path is best for them—clinical specialist or otherwise—and provide the tools, network, and support to make it happen.
How much does Medical Sales Career Builder cost?
Medical Sales Career Builder costs $3497 + 5% of your first year's salary. Don't forget, if you mention The Non-Clinical PT, you can save $800 because we are proud to be affiliates for this program. (Yes, we took the course to ensure we believe in its quality before we wrote this review!)
We'd like to note that there are tons of budget sales courses out there.
We recommend budget courses for those still deciding whether sales is the right career path for them, as well as for people exploring the different types of sales. In fact, we really love Aspireship Unlimited (we reviewed it here) for people who are considering careers in tech (like tech/SaaS sales, customer success, and even software engineering), because the program lets you explore several career paths in tech before committing to more intensive training.
Medical Sales Career Builder definitely falls in the more premium tier of courses, but the cost is still very reasonable! Premium-level medical sales courses typically cost wayyyy more than this one. We feel this is the best possible blend of quality and affordability for a top-tier medical course. You don't need a $10,000 sales training course (yes, sales courses exist at this price point) when you already have so many natural sales skills from your days as a clinician.
For example, you already have:
The ability to educate others, including medical personnel
The ability to get along with just about any personality type
Familiarity with medical terminology and how the healthcare world works
A level of comfort being in hospitals and medical facilities
Even without our $800 discount, Medical Sales Career Builder offers an exceptional price for a premium program. While you might do a double take about the concept of Evolve Your Success taking 5% of your first year's salary, here's why we think it's worth it:
You'll land a salary that is higher than normal simply because you're being supported by the team at EYS, receiving guidance as you negotiate compensation.
Most bootcamps of this caliber are pricey (we're talking $5,000+) to enroll or they take a large chunk (10% or more) of your first year's salary. These programs are expensive because legitimate high-level sales professionals are being paid to help you create a powerful resume, make a compelling LinkedIn presence, practice interviewing, and lock in the best possible salary. So, you'll pay somehow, and Samuel was kind enough to create a price structure that doesn't feel like a massive gut punch on the front end or the back end.
Please Note: This is a special discount for PT/OT/SLP professionals, as well as PTAs, OTAs, and SLPAs who have bachelor's degrees. If you have an associate's degree, you'll want to reach out to Evolve Your Success to discuss your options to see if the program is right for you.
Mention The Non-Clinical PT to claim your discount!
Structure and content
Having created our own courses, we can be tough critics when reviewing other courses. We strongly favor programs that have a great structure with informative content (no fluff!). Nothing like lack of structure or wasted time to make a student lose momentum.
Medical Sales Career Builder is extremely well structured and paced to be challenging, yet manageable. You'll find:
Coursework delivered at an appropriate cadence to facilitate taking action
Tons of downloads to keep you on track
Heaps of action items to propel you toward your goals
Insightful and thought-provoking exercises to hone your focus
An ideal timeline to produce results without rushing or dragging things out
Mock interviews with sales professionals at big-name companies
Engaging content that keeps things moving without sacrificing detail
Weekly live sessions by industry experts who legitimately know their stuff
Lots of focus on strategic networking, complete with template examples
Resume and cover letter examples with walkthroughs using career-changer info
Focus on career changers like you
Downloadable resumes to adapt to fit your own experience
Opportunities to network and get feedback along the way
Mention The Non-Clinical PT to claim your discount!
Is Medical Sales Career Builder a scam?
Nope. We get why people ask about this, as there are plenty of jerks out there who are perfectly happy to snatch your money and run. This course is the real deal, and we are 100% confident recommending it to any clinician switching to a medical sales career.
Does Medical Sales Career Builder work?
(In other words, will I get a medical sales job?)
We only recommend products, courses, and services that we feel 100% confident will help you in your non-clinical career journey.
Yes, the Medical Sales Career Builder program works and, as long as you put in the work and do what Samuel and his team recommend, you should be able to land a medical sales job.
In fact, as Samuel likes to say, "Together, we will not stop until you get a job." The certainty comes from you putting the work on your end to apply the principles you learn in the program, and they will be there to support you until you land that medical sales job!
The program is designed to help you land a medical sales job within 120 days.
Here are a few reviews from happy students who have taken this course:


What's included in the Medical Sales Career Builder program?
Online course covering types of medical sales careers and how to land jobs in each type of niche
Four months of weekly training on Wednesdays provided by seasoned sales professionals
In-depth training on personal branding to demonstrate your expertise during your job search
Access to LinkedIn messaging medical sales community (networking and jobs)
Direct contact with industry leaders at leading companies in the medical device world
Monthly guest sales reps, hiring managers, and recruiters
Group Q&A sessions with industry experts
Interview hot-seat Q&A sessions
Personalized LinkedIn training to elevate your brand
Strategies to attract recruiters and appeal to hiring managers
Dedicated client success manager to help you identify ideal companies and positions
Done-for-you medical sales resume + three revisions
Three graded and recorded mock interviews with recruiters and hiring managers + feedback
Guidance on creating a website-based career portfolio (brag book)
One-one-one career development mentorship and interview insight strategy calls
Do I need this course to land a medical sales job?
(Can't I just figure this out on my own?)
Yes, you can figure out how to launch a medical sales career all on your own. Or, you can get step-by-step guidance—complete with:
Mock Interviews – with scoring, feedback and coaching by actual healthcare sales managers
Dedicated Medical Sales Mentor – with 6 private coaching sessions to develop your career skills
Personalized LinkedIn Review – with actionable feedback to attract the right recruiters and hiring managers
Weekly Live CLASS Trainings – with industry insiders' Q&As and hot seats so you can apply what you've learned
Custom Medical Sales Resume – done for you with three revisions so you can target specific companies and roles
Dedicated Client Success Manager – who works with you directly to keep you on track as you make your leap into sales
Career Portfolio Website – where you can customize your online presence to make yourself shine for any role
Matching Service – where the Evolve Your Success team will match you to the right medical sales career path
Medical Sales LinkedIn Community – with jobs and networking with clients, alumni, hiring managers, and recruiters
Personalized Recruiting Service – where EYS helps you find great companies and jobs, and contact the right people
Weekly Live Medical Sales Workshops – with experts in medical sales sharing insider sales, negotiation, and salary tips
It's always possible to DIY your way into a new career path, but the question is how much time, energy, money, do you want to spend in the process? And how much frustration and rejection are you willing to endure before something sticks?
It's extremely tempting to give up during a career change, and having 1-1 mentorship is priceless.
It's also extremely competitive out there right now. Just a few years ago, we were seeing far fewer career changers. These days, teachers, nurses, PTs, OTs, SLPs, assistants, physicians, baristas—just about everyone—are all looking for careers with better upward mobility and more respect.
You've got a great background that you can leverage to make this switch—but taking this course gives you the tools, network, preparation, and MENTORSHIP you need to confidently get where you want to be.
How do I get started with Medical Sales Career Builder?
We are so happy you asked! The orange button below will take you to a page to get started. There are 4 steps to getting started with the Medical Sales Career Builder program.
STEP 1: APPLY
You will be promoted to enter your contact info, upload your existing resume, and complete an online application (be sure to mention The Non-Clinical PT so you get your discount!)
STEP 2: INTERVIEW
The Evolve Your Success team will review your application and contact you for an initial interview for the program. This step is important to help determine whether you're a good fit for the Medical Sales Career Builder program.
STEP 3: TRAINING
Once you have completed your interview, if you're a good candidate for the program, you will receive an invitation to enroll in the MSCB program. Remember, if you mention The Non-Clinical PT, you will save $800!
STEP 4: HIRED
You're on the way to getting hired! You'll begin the MSCB program with your onboarding call, and you'll be on your way to a new career path with endless possibilities…
---
YES, it's possible to use your clinical background while working in a job that rewards your hard work with high pay and upward mobility! Stop doubting yourself and get started on a dynamic, lucrative medical sales career!
Mention The Non-Clinical PT to claim your discount!