At first glance, you might not see a lot of similarities between tech sales (aka SaaS sales) and rehab. If you're a PT, OT, or SLP professional, you might wonder how therapy could possibly translate into work where you're selling software. It seems so foreign, right?
As it turns out, physical, occupational, and speech therapists (and assistants!) have incredible skill sets for the world of tech sales. In fact, with just a bit of additional training and some help landing that first job in the tech world, this type of work can launch a clinician's career into places they never thought possible.
This post may contain affiliate links or codes. This won't increase your cost, but it helps keep TNCPT alive, and free of annoying ads! Thank you for your support. 🙂
Before we get started, what is tech sales (or SaaS sales)?
SaaS stands for Software as a Service. In simple terms, it's a way of using the internet to provide services to people. Software doesn't need to be installed or maintained by the end user, since everything exists in "the cloud." Google Drive and Zoom are great examples!
Roles in the SaaS industry often have the title of Sales Development Representative, Business Development Representative, Account Executive, and Account Manager.
What type of salary can I expect in tech or SaaS sales?
You can expect a wide range of salaries in the tech and SaaS sales world. Unlike the clinical world, you can move up quickly in this type of career.
Most SaaS companies have a base + commission compensation structure, offering high earning potential and fast career progression if you are hitting quota, putting in the work, and constantly upskilling. While "commission" turns many off to sales, it allows for lucrative earning opportunities for those who are up for the challenge, and determined to succeed.
As you can tell, the SaaS world offers a lot in terms of career growth: lots of job options, high earning potential, flexibility, and the excitement of working in a growing sector.
Here's a quick peek at the types of growth you can expect in a SaaS sales career.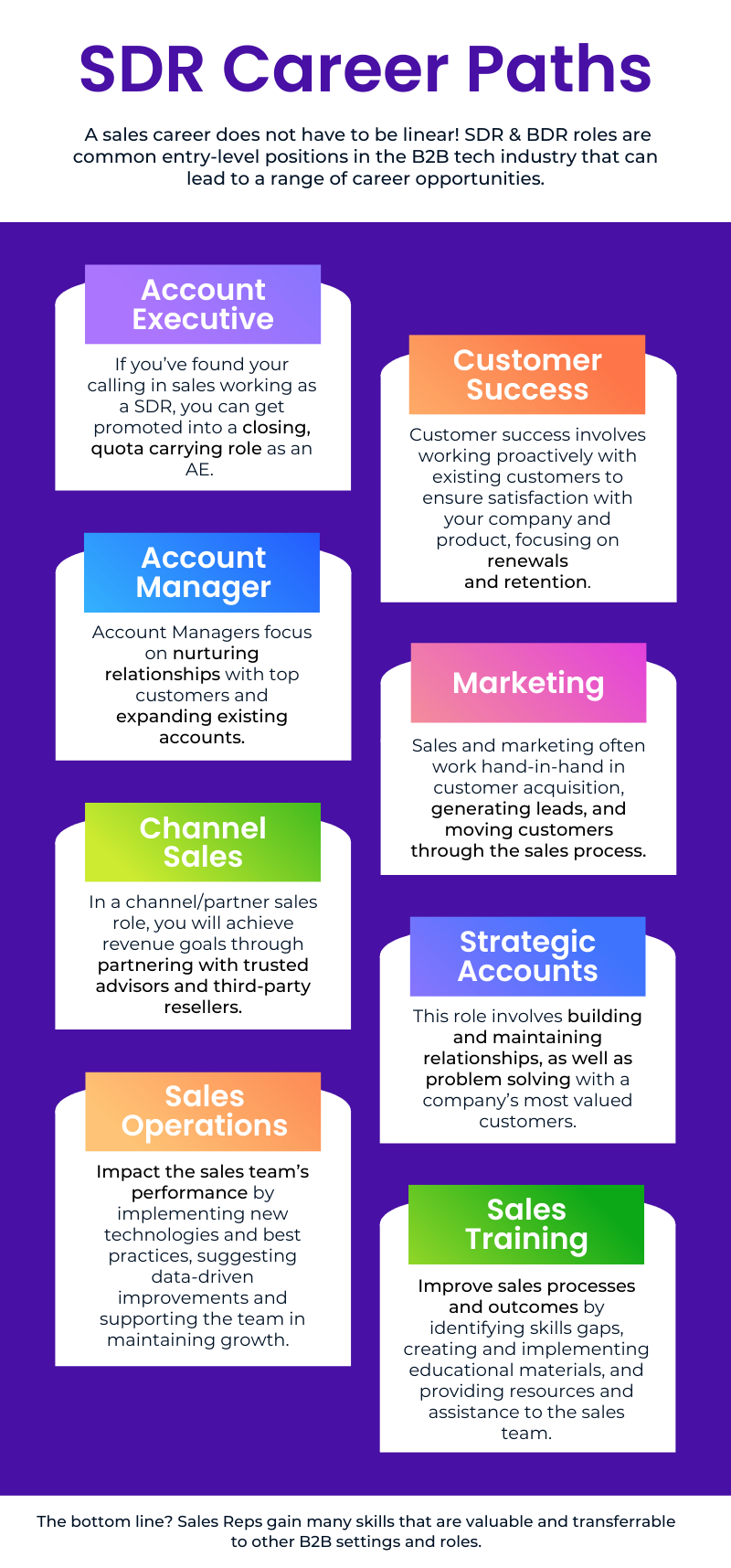 Still, you might wonder how you could possibly make the leap from direct patient care into this fancy tech space. It's honestly not that hard when you have the right tools. Let's start by covering what you already have to make this transition!
If you want to cut right to the chase, and learn how to get started in tech sales, click here!
Here are 11 transferable skills for the SaaS/tech sales world!
Flexibility and adaptability
Clinicians MUST be able to think on their feet. Our patients' safety and our own licenses depend on it! When someone no-shows, you still need to be productive. So, you might take a patient from someone else's schedule. Maybe your patient is having more pain than expected after their last visit, and it's up to you to adapt their treatment plan. If your facility is overstaffed, you might have to float to another building.
Many of us take our ability to be flexible and adaptable for granted. We have to demonstrate these skills so often on the job that it's easy to forget that some people would REALLY struggle with landing on their feet.
In fact, one of many reasons why travel physical therapists (and OT/SLPs!) do especially well in tech sales roles lies in their ultra-high levels of adaptability and ability to work with all personality types!
Coachability
We therapy peeps are also malleable and eager to learn. We are used to taking continuing education to upgrade our skills and thought processes.
This willingness and eagerness to learn is HUGE in the tech sales world. After all, with so many different software platforms out there, you must be the type who can take initiative and learn quickly.
Luckily, we therapy professionals love learning—and we are coachable by nature. After years of school, therapy rotations, and working in clinics, we have had to adapt to different workflows, clinical approaches, and managerial styles.
Plus, we do all this with a smile, which makes us incredible assets to the SaaS sales world!
Time management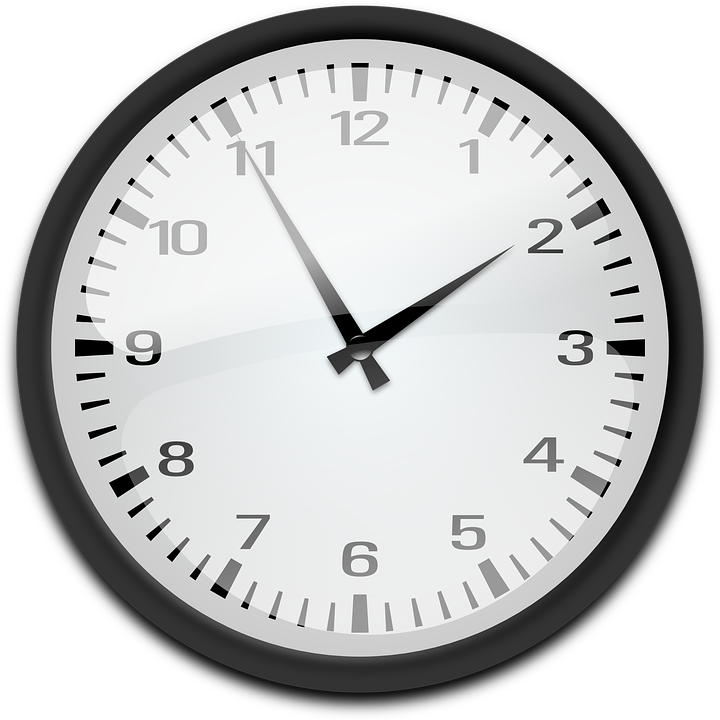 I'll be honest. Time management has never been my strength. I was NOT born with the gift of productivity and efficiency. Yet, once I became a physical therapist, I really had no choice but to work on that skill. Now, I can confidently say I do pretty well being productive on a tight schedule. I might not like it, but I sure can do it. 🙂
From learning to study efficiently during PT school, to juggling multiple patients during a scheduling flub, we have learned to manage our time efficiently. We are trained from day one to spend our lunch breaks typing notes with one hand while documenting our morning patients' SOAP notes with the other.
Many clinicians find that the pace of non-clinical jobs—yes, even sales!—is surprisingly mellow, given how productive we've learned to be in the clinic!
Empathy and active listening
We learn to see the world through our patients' shoes from the first day of PT school. All the goals we set revolve around their values, and all of the care they receive is tailored to their own unique needs.
We don't just magically come up with this stuff, either. We listen to our patients and their families, and then we take what they tell us and use it to help them achieve their goals.
This is what you will do in the sales world. You will be listening to your clients' needs, demonstrating empathy for their current struggles, and offering solutions to help make their lives easier. Sounds pretty familiar, right??
Organizational skills
If you've worked as a rehab therapist, you've had no choice but to develop organizational skills. From keeping track of patients' chart updates, progress notes, and the million forms required for insurance—to updating physicians, nurses, and other care team members about status changes—we've all created our own systems over the years to stay organized.
As a SaaS/tech sales professional, you'll use many of these same skills. Instead of keeping track of things in an electronic medical record (EMR) system like MEDITECH, though, you'll be using other types of software. These could include anything from project management tools like Trello, Asana, or Monday—to customer relationship management software like Salesforce or Hubspot.
Before you get scared away by those names, though, remember: you've learned all sorts of EMRs and various clinical processes over the years—so learning new tech will probably be easy for you!
Collaboration
What is one of our main superpowers as clinicians? Being team players, of course! We are so used to interdisciplinary collaboration, and we often look for any reason to team up with other clinicians. From co-treating to program creation, therapists are at our best when we are putting our heads together with others, creating the best possible outcomes. That's our jam!
Turns out collaboration and team-player skills are critical to the tech/SaaS sales industry. You'll be collaborating on numerous fronts: with clients, with others on your sales team, and with members of other departments.
Being a team player isn't something that is easily taught. This is yet another reason why our many years of working in the clinic make us so perfect for tech sales roles!
Problem solving
Therapy professionals don't have the luxury of giving up when things aren't going well. If a patient isn't responding well to treatments, we can't just discharge them. Instead, we have to use our noggins and creatively problem-solve.
Our problem-solving skills extend beyond clinical care, though. How many times have we managed difficult discharge plans, stepping in at the last minute to address new concerns or hiccups in the plans?
When you work in sales, you'll often need to put on your problem-solving cap. Clients' needs are rarely one-size-fits-all, just as patients' needs are always unique. This is where our "anything but cookbook therapy" nature comes into play. We are truly made to go into sales!
Consultation
As therapy professionals, we are consultants. We consult with patients regarding their physical and mental health. We consult with physicians regarding patients' appropriateness for rehab. We'll consult with case managers and nurses on patients' ability to leave the hospital and care for themselves. We'll consult with family members regarding their ability to care for their loved ones. We also consult with DME providers and patients to ensure the right equipment winds up in the right hands.
Honestly, that's just scratching the surface. The amount of consulting we do in our daily lives as therapists is staggering. Yet, most of us wouldn't think to list consultation as a soft skill on our resumes.
When you work with clients in SaaS sales and tech sales, you're consulting with them. You know your suite of offerings, so it's your job to call back on that active listening we discussed above, understanding their pain points and serving as a consultant to help them pick the right solution from what you offer.
Partnership
One of the most important soft skills for anyone in the sales or client success world is partnership. Seems so simple to us, right? We literally spend all day, every day, partnering with patients and their families to help them achieve their goals.
For those who haven't worked in clinical roles like ours, partnership might not come so naturally. We have been groomed to see things from our clients' and patients' perspectives since the moment we started school to become therapists/assistants. This is not the case for so many other professionals.
When you're in sales or client success, so much of what you do involves partnering. Your clients will see you as their bridge to your company, and your job is to be their partner as they navigate life using your products and services. We are naturally going to excel at this type of work, given that it's what we've done nonstop since day one of being in therapy!
Communication, negotiation, and, well, sales
So much of what speech-language pathologists do is communication. We already know that! But occupational therapists, physical therapists, and rehab therapy assistants can ALL be considered communication experts. After all, we spend so much of our time communicating with patients and their families to help them reach their goals.
It doesn't end there, though. There is usually some amount of negotiation in sales, even in the most consultative of roles. And there is going to be some actual selling. Don't let this scare you, though. You've been negotiating and selling for years.
When you convince a patient to do a home exercise program (HEP), you need to sell them on the efficacy of HEPs. When you try to convince somebody inactive to start doing some exercise, you negotiate the amount so that everyone feels happy. You already know how to do this, so you really just need to figure out how these natural skills will fit into a more tech-oriented SaaS role.
---
OK, I know I have the soft skills for tech and SaaS sales. But I still don't feel ready to sell software! What now?!
Let's step back a bit. I hope this article has convinced you that we already have honed the soft skills you need to be successful in SaaS and tech sales. Soft skills are harder to teach, and our experience as clinicians has honed these skills to a perfect point!
That said, you'll be a much more appealing candidate for tech and SaaS companies if you also have some hard skills under your belt. Hard skills involve those more strategic SaaS sales techniques mentioned above, as well as specific use of CRM software and other forms of tech that are used in non-clinical roles.
Sure, many of these skills can be learned on the job, but you're much more marketable to employers if you've already learned these skills. Also, let's be real…you'll be MUCH more confident and poised when interviewing for sales roles if you've had some formal training under your belt.
Let's discuss and review Aspireship, which will help you gain these skills!

A review of Aspireship Pro: sales skills and tech to make you more marketable
Aspireship is a reskilling and job placement platform that is designed to help professionals from all backgrounds and experience levels learn marketable skills AND find work in the tech sales and SaaS industry. This company is unique in several ways.
Getting started with the Aspireship SaaS training program is FREE. You'll get a portion of the course, and lifetime access to a video library with 70+ hours of additional training for FREE. You can unlock the full course and a number of valuable perks for a small one-time investment to join Aspireship Pro. To sweeten the pot, Aspireship will e-mail you a code for over 50% off their Pro offering when you sign up through The Non-Clinical PT landing page on Aspireship!
Quick results. The vast majority of Aspireship grads land a job in tech sales within 60 days of completing the free program!
100% online. No pricey travel or textbook needed. You can learn everything you need from the comfort of your own home.
Efficient, self-paced training. The SaaS Sales Foundations training course is roughly 20-30 hours worth of content. It's in your best interest to set aside a month and plow through the training, though. The course can be completed in as little as five hours per week, for four weeks or less! In fact, most students are able to finish within two to four weeks, and you'll have lifetime access to the course for reference.
Aspireship does NOT take any of your salary when you're hired. Many of these training programs seem too good to be true because they are. You either pay a fortune in fees or find that when you're hired, the program takes a huge chunk of your salary as thanks for your training. Aspireship does the opposite! Upon accepting a role with an Aspireship hiring partner, you'll get a full refund of your investment, or can choose to pay-it-forward through a scholarship to give free access to another candidate.
Interactive education. I get it. You're a clinician and you aren't used to watching endless videos. If the whole "self-paced" thing scared you, never fear! You won't be falling asleep during endless boring lectures. The Aspireship program is structured to include live and on-demand expert interviews, quizzes and assessments, and virtual job simulations. You'll truly be prepared for this type of work upon completing this free training.
Training for high-paying roles. One of the main reasons people want to leave patient care is for upward mobility in terms of salary. SaaS sales roles can pay anywhere from $60k – $120k/year, depending on the job you land. Between your existing niche knowledge of the healthcare space and the training Aspireship offers, you have a good chance of landing on the high end of those numbers!
More opportunities. Aspireship is recognized by the US Department of Labor as a Registered Apprenticeship as of May, 2023! This means that employers can hire from their network 100% for free! So, that's more opportunities for YOU as a member of the Aspireship platform!
Additional career exploration and training included. In the time since we initially published this review, even more foundational training courses have been added to Aspireship Pro. For one flat price, you can now learn and upskill in the areas of: customer/client success, sales management, revenue operations (RevOps), and even software engineering!