A career in medical sales might feel like the polar opposite of clinical care.
In fact, the mere idea of sales seems to be extremely intimidating to rehab clinicians! For whatever reason, physical therapy, occupational therapy, and speech language pathology professionals seem to think that they just don't have what it takes to succeed in sales.
This just isn't true.
Clinicians make incredible sales professionals! We already have the core skills needed to do a great job—and one can even argue that sales is a type of helping profession. Quite a few Non-Clinical 101 alumni hold sales jobs, and it's just not as hard to make the leap as people imagine.
This post may contain affiliate links or codes. This won't increase your cost, but it helps keep TNCPT alive, and free of annoying ads! Thank you for your support. 🙂
WHY do clinicians do so well in medical sales jobs?
There are all sorts of reasons why healthcare professionals do so well in sales roles. Just a few come to mind, including:
We sell EVERY DAY in our clinical roles
Whether you're a PT, OT, SLP, or any other type of clinician, you're selling each and every day. You're selling a transformation, and you're selling the possibility of a problem solved.
You've probably said things like:

"If you use this special spoon, you can go back to cooking Thanksgiving dinner for your family."
"If you do your home exercise program, your knee pain will decrease and you can jog again."
Clinicians are experts at "selling the transformation," which is a key type of selling. We are also excellent at consultative sales, which involves taking a very problem-solving approach to tailoring solutions for clients' needs.
For example, if someone doesn't have the funds for a certain piece of DME, you can help them find one that is covered by their insurance, or at least within their price range. This is consultative selling.
PTs, OTs, and SLPs know how to build trust (with just about anyone)
Relationship-building is critical in sales. As healthcare professionals, we are experts at initiating communication and building trusting relationships. Compare this to another would-be sales professional, who might have only worked in an office environment, surrounded by peers of roughly the same age, socioeconomic status, cultural background, etc.
Our experience working with a breadth of patients and fellow providers helps us feel comfortable building relationships with basically anyone—including the most skeptical, cranky, distracted, and overwhelmed folks around 🙂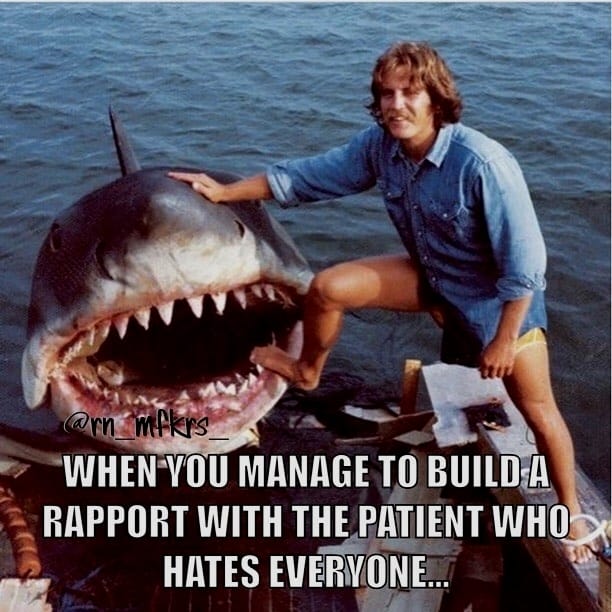 We are expert problem-solvers
A good sales professional knows how to recommend the right solution to a client's problem.
Clinicians already understand how to get into someone's brain, figure out their pain point(s) and provide solutions that will help them solve their unique problems.
We know how to convince our clients that a medication works, or that removing a throw rug will reduce a fall risk. We understand that the fall isn't the scary part. The scary part is breaking a bone, winding up in the hospital, getting a secondary infection, and getting weak, or even dying.
Healthcare providers understand how to tap into people's hopes, dreams, fears, and desires to get them to understand the importance of what we're selling—whether that's a medication, an exercise, a dietary change, or purchasing something from us when we take on a role in sales 🙂
We already understand the concept of account management
A big part of sales is staying organized and communicating with key accounts/clients. Some sales roles hold the title of "account manager" or something similar. This simply means you're nurturing the accounts (clients/patients) under your care, ensuring they get what they need. (And they are receiving the solutions to their problems.)
In healthcare, we are already used to knowing who's on our schedule, and who dropped off. We reach out and contact no-shows, and we provide follow-up reminders and other tips to ensure our clients continue to work with us as long as it's indicated.
While the terminology might look different — expect to learn terms like CRM and book of business — much of what you'll do in a given day relates to what you already know from the clinic.
Rehab therapists have excellent time-management skills
No convincing is needed on this one. Anyone who has worked in healthcare realizes that time management is essential. Especially in this new era of productivity pushes, we are used to carefully allotting our time so that we can get all our work done in a timely manner.
We are used to meeting quotas
Speaking of time management, we understand another concept: quotas. Meaning that you need to meet certain sales quotas if you work in sales.
This probably makes you think of productivity…blech!!
Productivity, in many ways, is the scourge of healthcare—and one could argue that it's been the root of the downward spiral of the rehab professions.
Sales quotas are different, though, because the right company will set you up for success, rather than burdening you with something unrealistic like 100% productivity in a SNF.
Now, just like there are good clinics and bad ones, there are good sales organizations and bad ones.
But, while many healthcare orgs seem to *want* you to be underproductive (to justify not paying you money they claim not to have), sales companies *want* you to over-perform. They will often have contests, incentives, commission boosts, and other perks just to get their sales reps to do even better.
PTs, OTs, SLPs, and assistants are spectacular at documentation
SO MUCH of sales is documentation—and not everyone is inherently great at documentation.
But we are because we've spent tons of hours writing patients' notes in EMRs! If you play this up and note, "If it wasn't documented, it didn't happen," you'll definitely impress your interviewer 🙂 Point out that your documentation skills will help the customer success department's job easier and you understand the importance of a seamless communication experience between sales and client success!
Do medical sales professionals have to travel?
It depends.
Whether you have to travel (and if so, how often) really depends on the role. If you pursue a SaaS (software as a service) career, you might wind up doing something like selling EMR software for a company like WebPT or MEDITECH. You can likely work remotely and only travel on occasion, if at all. (This type of work is typically called "SaaS sales" or "software as a service sales.")
On the other hand, if you opt to take a role at a company like ReWalk or Stryker, much of your work will likely be done "in the field," where you'll visit facilities to run demos and presentations. (This type of job is typically considered "medical device sales.")
There are all sorts of other companies out there. Some of them want you working trade shows constantly, while others want you making cold calls. There's a HUGE variety of sales roles out there, and not all of them require much, if any, travel.
What is the average medical sales salary?
It's SO hard to put a number on what you'll earn in sales. That's because you can land a 1099 sales role, or you can land a W2 sales role. You can work for a small startup or a large company. You can work on commission only (this is not ideal), or you can have a base pay + commission or bonus structure.
Sales is wildly unpredictable in pay. If you're not performing that well, you might not make more than a clinician. Perhaps less. But if you're successful, you can eclipse your therapy pay by 3-4x…at least.
You'll see a lot of entry-level sales roles hovering in the range of $60-90k/year, depending on base pay, bonus structure, commission, etc.
If you're doing really well, you can pull in upwards of $450,000/year. Yes, I'm serious. If you get in with the right company and you move up the ladder, you can make BANK.
That said, the highest paying roles tend to have the highest visibility, so if you do want to earn the big bucks, you probably won't be doing so working in your PJs. You'll be traveling, doing high-stakes presentations, and working long hours.
And it's also important to mention that there are some pretty shady companies that will underpay or make you work on commission only. Be careful with these roles.
Would medical sales be a good career for assistants? (PTAs, OTAs, and SLPAs)
YES!
I love that many sales roles don't require a bachelor's degree. And nearly all of them give zero cares if you have a "full clinical license" like PT/OT/PT vs. if you're an assistant.
Frankly, so much of sales is interpersonal relationships. Last time anyone checked, a BA or BS is not required to create such bonds. An associate's degree is often perfectly plenty to set someone up to do extremely well in sales. See Jack Scott as a perfect example!
Do I have to be pushy or aggressive to go into sales?
NO! This is such a frustrating overgeneralization.
You don't have to be a slimy, skeezy, opportunistic snake to do well in sales. Sure, there are sketchy sales professionals out there, just like there are sketchy healthcare providers who give a bad name to any clinical field.
There are plenty of companies out there that take an authentic approach to selling—and these companies LOVE hiring clinicians because we know how to sell without being pushy or creepy.
"But I have no experience!!!"
But, but but…
We know what you're thinking.
You have no real sales experience. You have no idea what a CRM or a book of business means, what a P&L report is, or what XYZ sales jargon you keep reading in those job postings even means.
So many of these jobs want formal sales experience, and it's one thing to know you have the passion and drive, and another to convince a company to throw you into a brand-new type of job where you have no work experience.
It's that chicken vs. egg conundrum that brings us to…
How to go from physical/occupational/speech therapy to a clinical sales career
Honestly, this career leap can feel a bit challenging, specifically because of our inherent self-doubt. So, here's an approach we recommend (and it's helped lots of folks make the switch):
1) Determine what type of sales interests you (and explore companies whose missions align with your values)
Do you want to stay in healthcare? Want to work remotely, selling software? Do you prefer to be field-based, selling and demonstrating complex medical devices?
Once you have a better idea of the type of what types of sales you'd like to do, you can explore companies that have products or services that align with your goals. Find companies that you believe in. No sense in applying to shady, fly-by-night companies whose products you'll feel really weird about promoting.
2) Prepare a baseline sales resume based on your clinical one
You'll want to create a "kitchen sink" baseline resume where you've quantified as much of your clinical experience to be sales-friendly. This means focusing on numbers and accomplishments and growth. You'll find great editable and ATS-friendly sample sales resumes in my Sales/Business Development Crash Course. You will also learn the basics of what's involved in a sales career, what types of hard and soft skills you'll need, how to interview effectively, and more.
Speaking of your baseline resume, keep in mind that you WILL have to tweak this basic sales resume to fit the types of jobs you're pursuing. A SaaS (software as a service, like an electronic medical record or EMR) sales role will look very different from a medical device role. You'll need to reword to reflect the skills, responsibilities, and core competencies you'll need to reflect what is highlighted on the job postings of the medical sales jobs you pursue.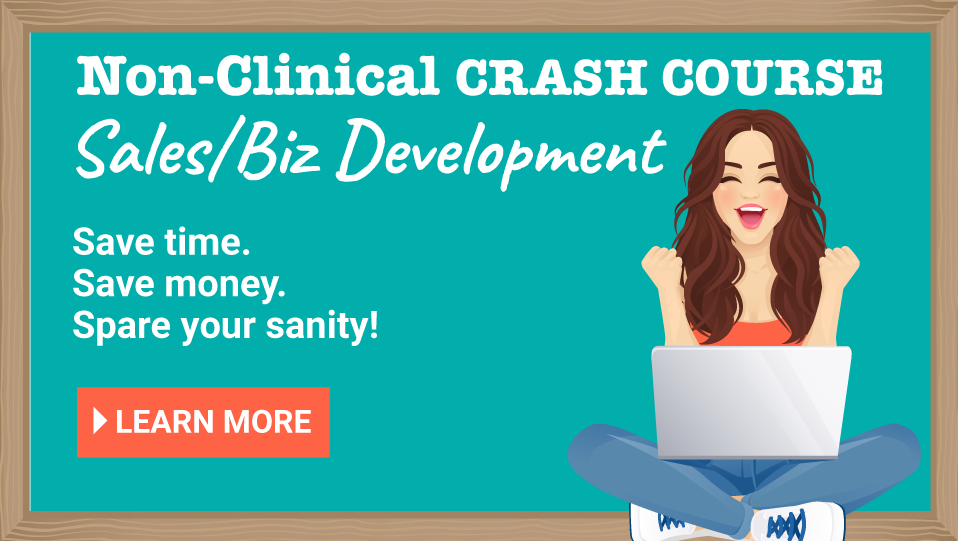 3) Upskill and get formal training as needed
You have all the soft skills you need, but many companies prefer candidates who have had formal training in the way of sales or sales tech. This is especially true for career-changers.
You can start by taking a few low-cost courses that help you learn where to focus your efforts. You might find you need to learn Salesforce or Hubspot or some other type of CRM (Customer Relationship Management) system. Udemy and Coursera offer some great courses.
You might need to take a formal course on sales itself. Reputable companies will be able to provide this training as part of your onboarding, but that can make it harder to land roles at such companies. They prefer to hire experienced professionals who have already shown they'll do well once trained.
Here are a few lower-cost sales courses that can be helpful on your journey:
And here are some books that can help you immensely:
If you want to do software (EMR) sales, use Aspireship Unlimited
SaaS (software as a service) sales is a great option for a career-changing clinician. As we mentioned earlier, a great SaaS sales role would be selling software (like WebPT or Cerner) to clinicians.
If you're looking for more traditional medical sales careers (pharmaceutical sales, medical device sales, etc. where you'd work for a company like Stryker or Medtronic), scroll to the next section.
Software companies typically offer remote (or at least hybrid) work options, and there's a lot of growth potential in the tech industry.
If you go the route of software sales, we strongly, strongly encourage you to enroll in an upskilling platform like Aspireship Unlimited. You'll want to choose the unlimited option vs. the free option so you have lifetime access and all the extra perks like skills tests, job placement assistance, and interview preparation services.
Remember, you already have the foundation to be good at sales—but a formal training program will give you the confidence to get out there and interview with poise, negotiate a great compensation package, and hit the ground running by doing an incredible job from day one.
Aspireship Unlimited is my #1 recommendation for this transition, especially if you want to work in software sales (think EMRs). This platform has been specifically designed for career changers who want to move into sales.
Here's what comes with the Aspireship Unlimited:
In-depth career training. Honestly, this is the meat and potatoes of the platform. You will learn the ins and outs of sales and how to get there. This program prepares you to do well in the sales industry.
Self-paced and learn from home. Healthcare professionals have crazy schedules and hours, and sometimes the work is EXHAUSTING. Aspireship's platform lets you learn from wherever and do it whenever. This is so crucial, as other training programs have set times that you need to attend.
Unlimited access. It's so annoying to enroll in a program and only have access for a limited time. I love that Aspireship's platform is unlimited AND affordable.
Interview preparation. Sales interviews can be notoriously tough. Aspireship does mock interviews and actively prepares you for what's to be expected when you apply for jobs.
Assistance with job placement. Speaking of which, sales jobs are a dime a dozen, but there are some sketchy companies out there. Working with a company that has established contracts with solid companies is key. Aspireship has lots of contracts, with more coming all the time.
No sacrificing wages as payment. We love that Aspireship doesn't make you sacrifice a certain percentage of your pay as a tithe for working with them. What's also really cool is they offer a pay-it-forward deal where you can apply what you paid for your Aspireship Unlimited platform to someone else, helping THEM enter the world of sales.
More opportunities. Aspireship is recognized by the US Department of Labor as a Registered Apprenticeship as of May, 2023! This means that employers can hire from their network 100% for free! So, that's more opportunities for YOU as a member of the Aspireship platform!
Opportunity to explore foundations of numerous tech careers. One of our favorite parts of Aspireship Unlimited is that it's not just limited to sales. Your unlimited membership means you can also access coursework and upskilling content on revenue operations (RevOps), customer success, and even software engineering. We love this platform because it's designed to help career changers identify the type of software/tech career that is the best fit for their own interests and skills!
SAVE 20% on Aspireship Unlimited when you use our affiliate link
If you want to do medical sales, use Evolve Your Success' Medical Sales Career Builder program
If you know that what you really want is a true medical sales career, we strongly recommend you go straight for Evolve Your Success' Medical Sales Career Builder program.
This program is more of an investment, but it will pay off in spades because you will:
Gain access to medical sales opportunities at the best companies in the industry
Receive mock interviews and resume reviews by industry leaders
Negotiate with confidence to get the best possible salary, with the Evolve Your Success team guiding the conversations
We went through this program personally, and it's the real deal. From receiving your own customer support agent to keep you on track, to benefiting from community practice sessions—and from receiving LinkedIn audits by experts to practicing interviews with people doing the actual hiring in their own sales roles—this program prepares you to enter the field feeling valuable and confident in what you bring to the table.
We are so confident that you will get what you want from this program, that we negotiated a big discount off the program's normal price. Be sure to mention you heard of it through The Non-Clinical PT so you get your discount!
Sales can feel intimidating! But confidence comes from talking the talk and knowing you're prepared to walk the walk. It's much easier to sell yourself in interviews when you've gone through formal sales training. We highly recommend upskilling and working with the sales mentors at Evolve Your Success.
Their Medical Sales Career Builder program has a 100% satisfaction rating and 90% placement record! Mention that The Non-Clinical PT sent you to get $800 off!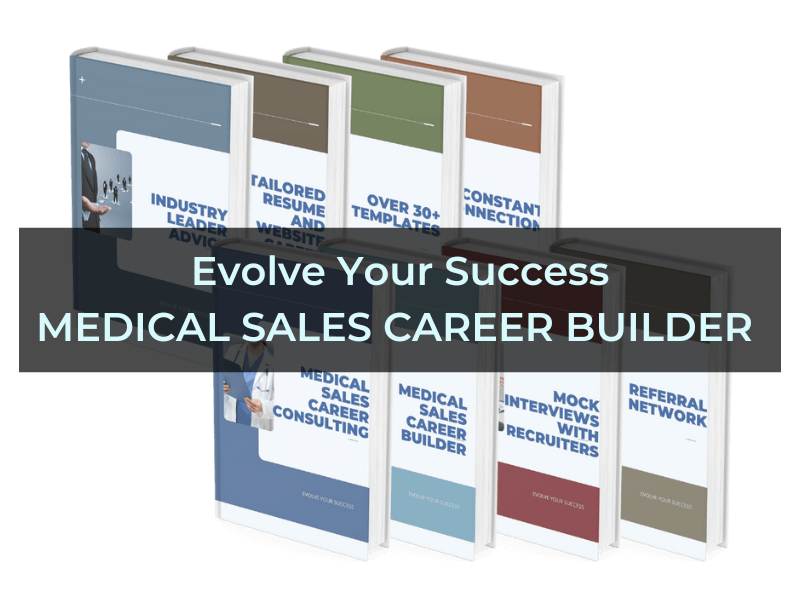 How do I find medical sales jobs?
Medical sales jobs are everywhere! You can find them through networking, job websites, and even internal postings from your current employer. If you're actively looking to get into sales, we highly recommend you join our free email list, as we send out non-clinical jobs nearly every week. Quite often, there are really great sales roles in the list 🙂 If you're a Non-Clinical 101 student, you get early access to these jobs!
Keep in mind that if you join Aspireship Unlimited or enroll in the Medical Sales Career Builder program, you'll also gain access to these companies' own job networks. We highly recommend enrolling in one of these programs to give yourself the best possible opportunity to land the job you want with the salary you deserve.
---
Hopefully, this article proves that sales careers really are within reach for those of us with clinical backgrounds. With some help from our crash course and a platform like Aspireship, you'll be well on your way to a high-paying, flexible, and fun career in no time!
---
Are you a physical therapist, occupational therapist, speech language pathologist, or assistant that works in sales? We'd love to hear more about you and how you got where you are! Please comment below!