This week's spotlight is on Ariana Adler, PT, DPT, a Non-Clinical 101 graduate who now works as a Success Manager at WebPT!
---
This post may contain affiliate links or codes. This won't increase your cost, but it helps keep TNCPT alive, and free of annoying ads! Thank you for your support. 🙂
What is your full name, title, and company name for your current, primary role?
Ariana Adler, PT, DPT – Success Manager at WebPT
Where are you located?
Just outside of Boston, MA.
Where did you go to PT school, and what year did you graduate?
I graduated with my DPT from Simmons University in 2020.
What did you do when you first finished school, and for how long?
I graduated during the peak of the pandemic, so I initially spent seven months trying to land a PT job. I applied to well over 100 jobs, which was exhausting.
In November of 2020, I landed a full-time role as a PT at a SNF outside of Boston. I stayed there for five months, then continued with occasional per-diem work for the company for a few more months.
What types of patients did you treat?
My initial role was in a SNF with mix of long-term and short-term care patients. I saw a variety of medical diagnoses and some post-operative care patients who couldn't return home after being discharged from the hospital.
What did you enjoy about your early roles? What didn't you enjoy?
While I learned a lot about working with limited resources at my first job, it was not something I saw myself doing long-term. I had no prior clinical experience in a SNF and had not planned on working in the setting post-grad. The department was not equipped to mentor a new graduate PT.
I was supervising PTAs for the first time and had supportive coworkers who taught me a ton, but ultimately I didn't feel that I was going to become the best clinician that I could be at that initial job.
I found it challenging to work in an environment that I wouldn't want to send my own family members to. While I aimed to provide the best care I could, there were many challenges, such as short-staffing, that were out of my control.
What else have you done since then, prior to your current role as a success manager?
My next role was in outpatient orthopedics. I saw a post for a small but growing practice that was run by a single provider. The role would involve building a caseload and helping out with other areas of the business as needed.
I was very excited for this as I got to work 1-on-1 with patients and spend my free time marketing in the community, helping with insurance authorizations, and doing various other non-clinical roles. I knew this would be great preparation for later transitioning to a non-clinical role.
During this time, I also took on a social media and marketing internship with a company called Ware•ologie (which I found out about through a connection I met in the Non-Clinical 101 course group!). Ware•ologie is a startup medical equipment company that is developing magnetic button adaptors as well as portable parallel bars on wheels. My role mostly involved posting on the company's social media pages to get the word out to patients, caregivers, clinicians, and suppliers.
When and why did you decide to do something non-clinical?
I saw people discussing non-clinical careers in a few PT Facebook groups around the time I was graduating from PT school. At the time, I was frustrated with the job market and was spending my time learning about creative ways to use my degree outside of patient care.
I started reading all of The Non-Clinical PT spotlights and was fascinated with the opportunities out there. While I definitely wanted to work in patient care for some time, I knew I wanted to learn more about non-clinical work. I think I pivoted to a non-clinical job much quicker than I initially expected due to the first part of my career being affected by the COVID-19 job market.
If you asked me a few years ago where I would be working when I graduated school, I would have said an outpatient orthopedic clinic with athletes, or at a large teaching hospital in Boston. Since neither of those happened right away, I started researching other opportunities.
Additionally, my outpatient job was not as busy as I was hoping and I spent a ton of time alone at the clinic, which was not good for me as a new graduate and extrovert. I found myself more anxious than I would have liked, and decided I needed to make a change sooner rather than later.
Before I made the jump into non-clinical job applications, I started seeing a new therapist to discuss what I really wanted in my life. I couldn't even tell anyone what I thought would make me happy, because I truly had no idea. I experienced pretty severe anxiety during PT school, and was frustrated that I was still feeling similar post-grad.
Are you still treating patients, or are you solely non-clinical?
I am solely non-clinical.
How long have you been in your current role as a success manager?
I have been in my current role since March, 2022.
Did you get any special certifications or training along the way to help you get into your current role?
I took the Non-Clinical 101 course, which was essential in helping me figure out what I wanted to do with my career and how to land a job in that role. I did not take any other courses.
How did you find your job? Did you apply or find it through a connection?
I went through the Non-Clinical 101 Alumni LinkedIn Group and looked for where other customer success managers were working. I then reached out to those people and applied to some of the companies I thought looked interesting.
Since I used WebPT's EMR in the clinic, I was familiar with the product and the company. I did not have a referral when applying to WebPT, but I did ask a few questions to people who I met on LinkedIn who worked for WebPT.
Did you do anything special to your resume and cover letter to land the job?
I used a template from the Non-Clinical 101 course and tailored it to make it my own. I don't think I would've gotten an interview if I had submitted my clinical resume. You have to show employers that you have transferrable skills.
After reading a job description, I would copy and paste it into a Google doc and then I would highlight key words and figure out how I could write bullet points to demonstrate my skills.
What was the interview like for the role?
The interview was a lot longer than any clinical interview that I had. Initially, I had a 15-minute phone screen with a recruiter. Then, I had a Zoom call with my current manager. After that, I met with two members of the customer success team at WebPT for a peer interview. Finally, I had a mock executive business review presentation.
Everyone who I interviewed with was great! The interviews felt like conversations rather than super formal meetings.
How have people reacted to you leaving patient care?
Overall it's been very positive. My close friends and family are especially supportive.
Initially, I did have some people who wondered why I would leave patient care so quickly, but by the time I landed a non-clinical role, I was 100% certain I was making the best choice for myself so any questionable comments didn't bother me.
What's a typical day or week in the life like for you as a success manager?
A typical day involves me logging onto work around 8:30-9:00am and reviewing my tasks for the day. I'll check and respond to emails and Slack messages, then get into the main part of my day.
Every day is different, but I am often doing product adoption reviews where I am auditing member accounts and suggesting ways to improve their workflows. Other times, I may be reaching out to new members to learn about their businesses and how I can help them achieve their goals in practice.
When I'm not meeting with members, I may be on internal meetings with my coworkers or supervisor, working on our quarterly goals, learning more about the WebPT products, or working on member escalations. A specific project that I worked on last quarter was creating a short, recorded webinar detailing how to use WebPT's patient relationship management product, Reach.
What are some of the rewards of your role? What are the biggest challenges?
One of the challenges is learning who to contact for certain questions. There are many department within WebPT and it is tough to learn who everyone is and what they do–especially in a virtual environment. However, everyone I've met is extremely helpful and nice and will always try to redirect me if they are unable to assist with with a question I have.
How did your clinical background prepare you for this role? Which skills transferred?
So many of my skills from being a clinician transferred over. As clinicians, we are essentially patient success managers. We have to:
Build rapport with patients
Get to know their goals and potential obstacles
Consider best practices versus what may be realistic for a their lifestyles
Deal with escalations
Work with various teams to accomplish mutual goals
Additionally, because I work for a rehab EMR company, I am able to relate to my members on a personal level. I'd say I discuss my PT experience on a daily basis with members. And finally, having some experience with the product I am working with now prior to applying was a helpful (but not necessary) background to have.
Roughly speaking, how are the hours and pay compared to patient care?
My hours are much more flexible than in patient care. I really struggled with the alternating schedule in outpatient, and truly never felt rested. Typically I work ~8:30am-4:30pm EST but I have the autonomy to switch it up if needed. I am able to schedule appointments during the work day when needed. My boss is so respectful of PTO, and really tries to protect his direct reports' work/life balance.
As far as pay goes, it can vary greatly in customer success. I did take a small pay cut from my new grad PT salary, but am already back to making about what I did in clinical care. From my experience, working in customer success is more lucrative in the long-run compared to patient care. There are many opportunities for both financial and professional growth.
I think a benefit of switching to a non-clinical role so early on in my career was that I didn't have to take a large pay cut. I do feel it is a privilege to be able to take the pay cut, as I know not everyone can afford to do so.
What type of person do you think would do well as a success manager?
I think you have to be comfortable having tough conversations. This is something my boss has us role play from time to time, because we can all improve on how we handle these conversations.
Just like being a clinician, there is always more to learn. Someone who can take constructive feedback and work to elevate others around them is going to do well. You must also be able to manage a number of accounts and keep detailed notes on your interactions with these customers in a CRM (customer relationship management) platform such as Salesforce or Gainsight.
Do you work remotely or onsite?
I work remotely! I have traveled to a few in-person events with my team, but these have always been optional.
I'd also like to share a bit about my experience working remotely. As I mentioned before, I am an extrovert and like to interact with others throughout the day. My fiance also works from home, so just having someone else nearby has been very helpful.
Additionally, having a flexible, normal schedule allows me to attend social events, travel to see family, and overall make the most of my life outside of work. This alone has been extremely fulfilling!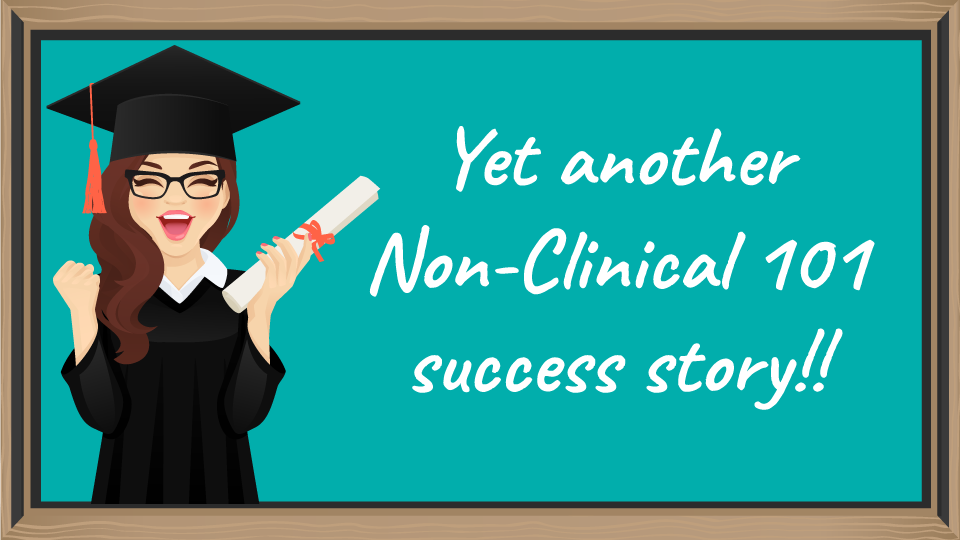 Does WebPT hire PT, OT, or SLP professionals into non-clinical roles?
Absolutely! WebPT was founded by a PT, and greatly values the clinician perspective. We have clinicians working in a number of roles across the organization.
Did you read any books, take any courses, or do anything special overall to get you where you are today?
I read "So Good They Can't Ignore You" by Cal Newport and "The Defining Decade" by Meg Jay. Neither of these were directly related to customer success, but provided me with some clarity around finding a career I enjoy.
What is a typical career path for someone in your role?
In customer success, accounts are often segmented into different tiers depending on the size of the accounts. A more junior position will typically be a CSM who manages a large number of small accounts. At WebPT, this would be our small business team, which is the team I am on.
Then, you can progress to mid-market and enterprise. Enterprise CSMs will only manage a few accounts, but the accounts are very large. You can progress to managing larger accounts, or you can manage a team of CSMs.
What is next for you? What are your high-level career aspirations?
I am excited to mentor new team members. I want to get really good at my job and be able to contribute to improving processes within the company. Long-term, I'm not sure where I will end up, but for now I am happy to be working with many other rehab professionals both internally and externally with my customers.
What career advice would you give yourself that you wish you had during school?
I would tell myself that it is okay to make decisions that others don't agree with.
When figuring out what I wanted to do after patient care, I really had to separate what other people's expectations were of me from what I wanted. I'd also say to not be afraid to ask for opportunities. Just because you have a DPT doesn't mean you can't do an internship on the side to gain experience.