Today's non-clinical spotlight focuses on Heidi Jannenga, who went from physical therapist to co-founder and chief clinical officer of WebPT.
---
This post may contain affiliate links or codes. This won't increase your cost, but it helps keep TNCPT alive, and free of annoying ads! Thank you for your support. 🙂
What is your full name and title?
Dr. Heidi Jannenga, PT, DPT, ATC
Co-founder and chief clinical officer, WebPT

What year did you graduate from PT school, and where did you go?
I earned a master's in physical therapy from the University of St. Augustine Institute of Physical Therapy in 1996. I also completed Evidence in Motion's Post-Professional Doctorate of Physical Therapy Executive Program in Private Practice Management in 2014.
What did you do when you first got out of school?
I had received a scholarship for PT school from Novacare and worked in their rehab hospital in Melbourne, Florida for six months. After that, I moved to Phoenix to pursue my sports medicine and outpatient orthopedic career.
I had never lived in Phoenix and didn't know anyone prior to moving, but I took a chance on a great opportunity and have never looked back.
In what setting did you work, and what types of patients did you treat?
I worked in the private practice setting, where I treated a wide range of patients, including athletes (adolescents all the way up to professionals). I served as part of the sports medicine teams for the Ladies Professional Golf Association (LPGA), Phoenix Roadrunners, Chicago Cubs, Anaheim Angels, and Tempe Union High School District.
The work I did during those years was incredibly fulfilling and rewarding.
After all, I first became interested in the PT profession during my undergraduate college years, where—as a scholarship athlete on the UC Davis women's basketball team—I experienced a potentially career-ending injury.
But, thanks to a great physical therapist, I was able to return to the court without surgery.
It was at that point I decided I wanted to pursue PT as a career, and working with athletes enabled me to help them just as my therapist had helped me.
How long were you in that role?
I worked for two years as a staff therapist at my first job in Phoenix. I was then asked to help start an innovative clinic concept inside a community college that would serve both the college's athletes and faculty.
I successfully ran that practice for three years, when I was recruited to one of the premier sports medicine practices in Arizona.
I became clinic director of that facility and successfully replicated the clinic inside a college at Arizona State University.
What did you do next in your career?
I was extremely passionate about what I did, and I got really good at it. In 2000, I became the clinic director of one of the largest sports medicine practices in Arizona. As part of my job description, I had profit and loss responsibilities with bottom-line revenue goals.
After identifying dictation and transcription as two of the practice's biggest expenses, I began looking for a more cost-effective documentation solution, but couldn't find exactly what I needed for my practice.
That's where the idea for WebPT—which is now the leading software platform in outpatient rehab therapy—was born. And it ended up being a major turning point in my career.
Co-founding a software company definitely came with its own set of challenges. Transitioning from the PT world to the tech space was a big shift for me. I originally got into PT because I wanted to help people. That's what I loved to do, so it was hard to move away from patient care.
But over time, I came to realize that by pursuing the vision I had for WebPT, I had the opportunity to help even more people—and empower fellow therapists be more effective in their roles.
When I was a PT, I focused all of my attention on my patients. Now, I focus my attention on my peers and the PT industry.
How was WebPT started?
While working as a clinic director, I wanted to find a more cost-effective and efficient documentation solution, so I enlisted the help of a seasoned technologist to help me find a PT-specific, web-based documentation system.
As it turned out, there wasn't anything on the market that fit my needs. So, we teamed up to build a software from scratch that initially was supposed to be just for my clinic. But after completing market research, we found that 80% of physical therapists were still using pen and paper for documentation.
That's when we knew we had stumbled onto something big.
I continued to work full-time as a clinician and clinic director while we developed and tested WebPT. My co-founder, a tenured technologist, shadowed me during clinic hours. We'd meet in the evenings to plan, and I would run quality assurance on the work we completed. This cycle continued for nearly nine months. By the 10-month mark, we had our beta product.
Once I actually started using the application in the clinic, we gathered feedback from my staff and talked about how we could alter or enhance the product for a larger audience.
In February 2008, we launched WebPT, selling to five clinics in our first month. Fast-forward to today, and we're one of the fastest-growing software companies in Arizona and one of the fastest-growing EMR companies in the country. We now serve more than 83,000 providers and 12,000 clinics.
What is your role like at WebPT?
As president and co-founder, I lead the overall product and company vision, and I work closely with our Culture Captain to nurture WebPT's unique company culture.
I also advocate for the physical therapy profession on a national scale by writing and publishing contributed articles, speaking to student and professional organizations throughout the country, and participating in industry events like PT Day on the Hill.
Outside of PT, I also regularly speak as a subject-matter expert at local and regional technology, entrepreneurship, and leadership events.
As WebPT has grown and expanded, my role has evolved to focus on my greatest strengths and what I'm most passionate about. So today, I'm focused on building and reinforcing WebPT's commitment to Conscious Capitalism (a people-first business philosophy), nurturing our stellar company culture, and informing our product roadmap.
Did you get any special certifications, or have any special training, along your journey to this role?
I became a certified product manager after completing product management training through Pragmatic Marketing. I also found the DPT program from Evidence in Motion extremely valuable, because in addition to clinical coursework, it included education in business and management—sort of like a mini-MBA.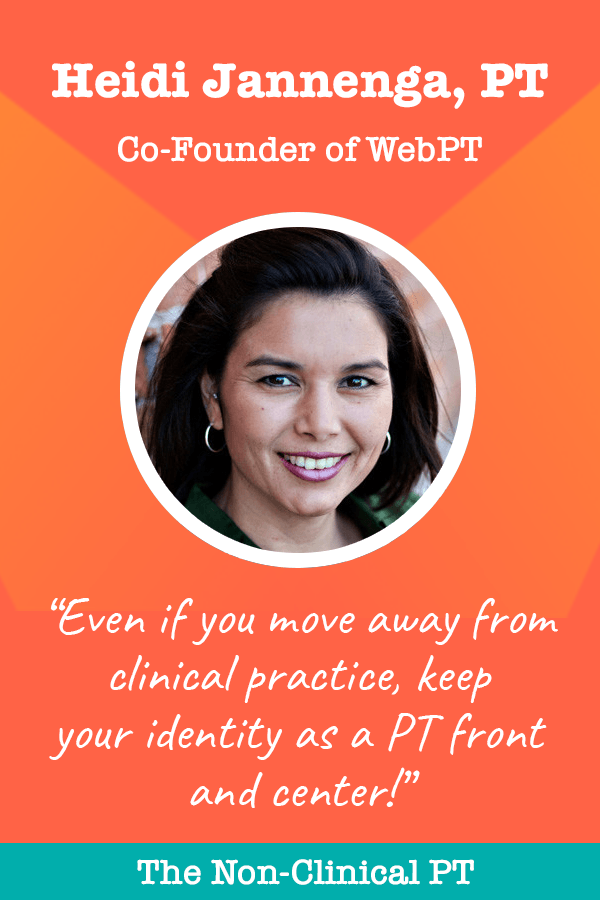 What skills from working in PT helped you in this role?
Being a PT means the I am the SME—that is, subject-matter expert—at WebPT. As a clinic director, I gained a lot of experience on the business operations side of PT.
Understanding compliance, financials, and budgeting was instrumental in helping me launch and lead WebPT.
Additionally, my experience with the hiring and interview process showed me the importance of hiring for cultural fit—something that has helped shape WebPT into the successful company it is today.
What is a day or week in the life like for you?
I wake up around 5:30 a.m. and work out with a trainer, focusing on strength training three days a week. Other mornings, I catch up on emails or do some blog writing. After I drop off my daughter at school, I head into the office.
Every day is different, but it can include syncs with department leaders, speaking engagements, and strategy meetings.
After work, I head to yoga two to three days per week. On days with back-to-back meetings, especially, I'll try to take some time for myself with my Headspace app. Once I get home, I have dinner, do homework, and have bonding time with my daughter, who is in second grade. I'm in bed by 10:30 so I can get a good night's sleep before the next day.
What have been the challenges and rewards of this move?
The biggest challenge for me was making the transition from PT to full-time software executive. Yes, there were challenges associated with acquiring the new skill sets necessary to run a tech company, but the bigger challenge for me was coming to terms with leaving a profession I was deeply passionate about.
When I realized I'd be able to help even more people through this mission-critical piece of software, however, it was easier to justify the switch.
It's also been rewarding to watch WebPT grow into a thriving company. Over the past 10 years, employees have created careers here, and it has been amazing to see how WebPT has impacted their lives in positive ways. Some of our employees have been here since the beginning; I've watched them elevate their careers and grow their families. It's been an incredible privilege to be a part of their lives.
Do you still treat patients, or are you fully immersed in the tech world?
I am fully immersed in WebPT, but I remain credentialed and always complete my continuing education coursework.
I don't treat patients, per se; however, sometimes my office feels like a clinic.
A couple times a week, an employee will come into the office with an injury or pain that I'll take a look at. I also make it a point to visit Member clinics on a regular basis. That way, I can stay close to our mission of helping PTs achieve greatness in practice.
What would you recommend to someone who is considering going into a non-clinical role?
If someone were considering a non-clinical role, I would ask that person, "What attracted you to the profession?" Similarly, "What discouraged you from your original goal?" Keep those thoughts in mind when you choose your next path.
Continue to be proud of your profession. Even if you move away from clinical practice, keep your identity as a PT front and center.
It's so important for the physical therapy profession and brand to be visible—even outside of the clinic. You've likely gained many skills as a PT that will continue to be useful in non-clinical healthcare jobs. For instance, PTs have to be adept in problem-solving and leadership, as well as adjusting to different communication styles. These are all transferable skills that bring tremendous value to other professional pursuits.
Do you have any books, courses, podcasts, or anything else you'd recommend? Anything else you'd like to share?
StrengthsFinder by Tom Rath can help you identify your strengths. When you know and spend time nurturing your strengths, it can help guide your career path and find success.
I also recommend: Rework by Jason Fried, Dare to Lead by Brene Brown, and Conscious Capitalism by John Mackey and Raj Sisodia.
---
Please note that by purchasing the above books through the links on this page, I make a small commission, at no extra cost to you. Thank you for supporting The Non-Clinical PT!
---
Thanks for your insight, Heidi!