Today's non-clinical spotlight focuses on Nancy Beckley, who went from recreational therapist to rehab compliance superstar and entrepreneur.
---
This post may contain affiliate links or codes. This won't increase your cost, but it helps keep TNCPT alive, and free of annoying ads! Thank you for your support. 🙂
What is your full name and title?
Nancy Beckley, MS, MBA, CHC, Former Recreational Therapist
President at Nancy Beckley & Associates LLC
Where did you go to school, and when did you graduate?
1975 – MS in Therapeutic Recreation at University of Illinois at Urbana Champaign
1989 – MBA at University of South Florida
How did you start out your career?
When I first finished school, I took job at Wilford Hall USAF Medical Center in San Antonio, working as a recreation therapist. I worked on the SCI floor and ortho floor, and wound up being taken under wing of a physical therapist named Valerie.
I then went back for an MA in therapeutic recreation, then I worked at Hillcrest Medical Center's inpatient rehab hospital in Tulsa, OK. It was originally a polio hospital, and my husband started a head injury day program at this facility.
These were the glory days of PT, and my husband and I met lots of interesting people. He previously worked in southern California and was involved in the birth of the head injury rehab movement, and worked with many from the glory days of the beginning of the head injury rehab movement, including Rancho, Sharp Rehab, Casa Colina, Santa Clary Valley, etc.
My experience in Tulsa was in the heyday of SCI work, and I really got to be innovative. It was a time when people were starting lots of wheelchair sports racing programs, as well as aquatics programs…all for SCI patients. There were tons of options.
Because of all of these programs I was running, I became really chummy with the hospital's risk manager! It was a fun time. We did fundraising and got two 10-passenger vans for wheelchair transit, etc.
What did you do next?
I went with my husband to Florida so he could open a head injury transitional living facility. I opened a work hardening program and it was really novel for the area. I had a 10,000 square foot warehouse with job simulations, etc. It was novel, but I didn't really like the clientele as much.
I found that my heart and soul was in actual rehab—I really liked working with people who wanted to learn and get better. So, I kept getting courted by Tampa General Hospital. Eventually I went there did that after two years of being pursued!
How did you get into the rehab compliance world?
I wound up doing work at Tampa General Hospital. I worked with the managed care and business development teams. I also did SCI admin work.
Doing this type of work was a great opportunity to start work with insurance companies and explain what we did at Tampa General. I could help convince the companies that they didn't have to send patients to Denver for rehab; they could come to Tampa General instead.
When I would be on with these insurance companies, I started negotiating individual case rates.
So you transitioned into more and more rehab compliance roles?
In that case, yes! After that, I was then spotted by Tampa General's CFO to come over and run the hospital's managed care department when that position opened. It turns out that I was the only one to have the experience they needed.
What did you do next?
In 1995, I had an opportunity to just start a consulting/speaking firm, and I wound up back in the PT world. I have truly spent most of my career working with PTs, despite not being one!
I started consulting by helping PT clinics get credentialed with managed care plans. I would develop the individual therapist credentialing applications and negotiate the reimbursement.
I did that until the Balanced Budget Act of 1997 kicked in with the therapy cap, and then spent awhile in Washington DC with the APTA, AOTA and ASHA to work with all them to find out the big issues in Medicare. During that time, I directed my consulting efforts in outpatient therapy and rehab compliance.
I was a founding member of national rehab caucus, and just really enjoyed the experience.
I came home and realized that I wanted to be an expert in outpatient therapy, despite my background being in inpatient rehab. I realized that big consulting firms worked with big rehab hospitals. But I was a smaller consulting firm, and I wanted to work with smaller clinics and therapy providers.
What is your current role?
I currently run Nancy Beckley & Associates, LLC, a rehab compliance consulting firm. We consult with outpatient therapy providers regarding compliance, due diligence, and auditing. We also do audit and investigation support for those clinics who are audited.
I work with people when they need to get an attorney because they have a rehab compliance problem.
I don't work with people who have deliberately committed fraud; I work with people under investigation because they made an honest mistake.
What are examples of these mistakes?
Billing for something they shouldn't have, using PTAs unlicensed or incorrectly, using a bad NPI or billing 1-1 when it wasn't 1-1.
Honestly, helping people recover from honest mistakes is my favorite part of my work.
There's lots of detective work and analytics to figure out what went wrong, and why. I've had opportunities to be involved with people under investigation by the Department of Justice and the Office of the Inspector General!
What are some emerging career options for therapy professionals in the compliance world?
IT security for telehealth/telesecurity is a really big one! If you're interested in clinical informatics and information technology, consider leveraging your clinical background and getting involved in IT security for telehealth!
I must ask, do you ever hire therapy professionals onto your team?
Most of the people who work on my team have their own businesses. I will collaborate with them, and they'll work with me as independent contractors. I do have some regulars who will work with me when it's not a conflict of interest.
For example, I have a compliance officer colleague who works for a large therapy company.
I make sure that anything she might do for compliance for one of my clients would never pose a conflict of interest with her existing employer.
In your opinion, what types of therapy professionals should go into these roles?
Those who have attention to detail and enjoy structure and rules.
What do you recommend to people who wish to get into compliance?
Start by taking inexpensive compliance courses on MedBridge, as they have a really good set of courses that come free with your online unlimited course membership.
If you find that the material interests you, you'll want to start networking, gaining experience, and getting Certified in Healthcare Compliance (CHC). I recommend that you attend the national conference, too.
There are lots of compliance certifications out there, but CHC is definitely the one I'd recommend.
I also recommend that you join the Healthcare Compliance Association. It costs $300/year. I write a bi-monthly column for their journal, along with professional articles.
Getting into the compliance field requires understanding laws and regulations; it's not just about auditing charts.
I also write professional articles on compliance therapy issues, and doing so is a great way to get your name out there on the topic. At the very least, go to a regional compliance conference or the compliance institute.
What should people expect at these events?
You'll hear things about the law, not therapy. If you are a person who needs to hear therapy info, you won't like these events. But compliance conferences are a place where many professions converge on this one issue.
You'll see lots of hospitals have a presence at these events, so they're a great way to network.
You mentioned social media for networking. Any tips?
Participate in messaging boards for therapists, particularly on Facebook. It's a great opportunity to read articles on compliance topics and get a better feel for whether it's for you.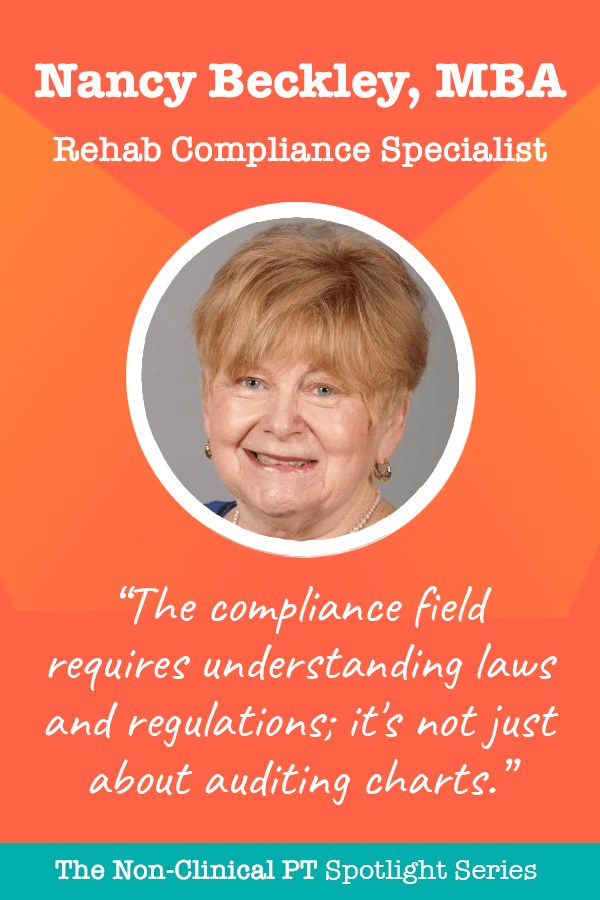 What do people not understand about compliance?
Compliance is NOT just about chart review and audits. Compliance is so much more. I will say, part of what we do at my business is teach people how to audit charts. So I guess you could say we audit auditors!
Compliance is not just documentation. It's much more advanced with additional rules and regulations.
What are some ways to get experience in compliance while still in a clinical role?
If you work for a small practice, volunteer to hold quarterly chart review meetings, or volunteer to run a compliance committee. If your practice has not started a compliance checklist, put one together.
For example, if minutes don't add up to what's being documented, make a note. If a plan of care is not certified, take corrective action. Doing something like this is a great place to start.
Is there anything else you can do with a compliance background?
Yes, you can go into utilization review/management with this background, too.
What is some advice you can give non-clinical therapy professionals, now that you have worked in both sides?
Be very careful how you enter the field of telehealth. I have seen a lot of companies out there who are not on the up and up with billing, medical coding, and documentation, and many are not HIPAA-compliant.
Sure, there are plenty of teletherapists out there who are in compliance. The Hartford Healthcare system in CT has its PT department offering some telehealth. And these types of systems are generally compliant; within a large hospital structure, there is generally legal vetting. The program is great.
But I've also seen people getting into telehealth where the purpose is to supervise students, and that really complicates things because of all the compliance factors.
I see lots of people trying to promote their platforms, and everyone is citing the PT compact, which really is exciting. But, stepping back, what anyone should do is—no matter if you're covered entity or not (if you're billing electronically)—you need to make sure you've got secure data.
Any attorney practicing in area of HIPPA will tell you this: it's not just about being a covered entity. You can't say, "Well, I don't bill electronically so I'm not a covered entity."
What it means if you're not a covered entity, you might not have certain obligations under HIPAA, but you have inherent obligations to secure your data.
In any case, the average Joe must understand networks, systems, data transmissions, and all that fun stuff, and most PTs aren't thinking about that when they set up a telehealth practice.
But wouldn't working with HIPAA-compliant telehealth platform make that a non-issue?
Unfortunately, that's not the case. Just saying, "Well, I signed a business association agreement with a HIPAA-compliant platform," isn't enough.
It's YOUR job to have your HIPAA REQUIRED policies and procedures in place and a way to annually review/audit what the platform is doing.
Because if they're messing things up, it's your problem, and you are responsible for any data breach and understand how to report it to the various authorities. If they have a data breach, it's still on you as the provider.
Geez, you're scaring me! Should we just hold off on telehealth?
Telehealth physical therapy is uncharted territory right now. I'm not saying not to get in there, but you should definitely get an IT security person to do a required security risk analysis for you on your setup before you dive in head first. An OCR (Office of Civil Rights) audit is terrible.
Therapists often feel inoculated because they've never had anything like that happen to them, but telehealth will open all sorts of new areas where PTs can get themselves into trouble if they're not careful.
What would you say is the hottest compliance issue these days?
Other than telehealth, I'd say it's cash-based practice and how to bill Medicare.
There are consistent laws around doing this, but people are so excited about cash-based care, that they will often look for someone who supports their opinion, rather than actually understanding the law.
Gwen Simons, an attorney in Maine, who is also is a PT, has done legal research and says PTs can accept Medicare beneficiaries that pay cash. But four legal opinions by the APTA last year say you can't. Gwen makes a compelling argument, and I recommend therapists interested in a cash practice vet both sides of the equation.
Interesting. Lots of gray areas. Speaking of gray areas, what can you tell us about wellness?
You can collect cash for wellness services if, say, a 68-year-old patient comes to your clinic after a hip replacement, looking for a massage or additional strength training for golf following an episode of therapy. It's fine to bill cash for that because those services are not Medicare-covered.
But not when you take cash for Medicare-covered services, like joint mobilization, gait training, etc., you're in hot water.
Any books, courses, or podcasts you'd recommend for budding compliance people?
I recommend the Great Women in Compliance Podcast and the book Compliance 101
---
---