Larissa Pauly is yet another Non-Clinical 101 success story! She's a non-clinical occupational therapist who works at Signify Health as a STEM (Special Teams Episode Manager). Her work supports that of Jodie Norwood, a Post Acute Operations Specialist (PAOS) we're also featuring this week. Learn more about how they work together!
---
The views expressed on this spotlight are that of the spotlight participant, Larissa Pauly, MS, OTR/L, and do not reflect the views of her employer.
This post may contain affiliate links or codes. This won't increase your cost, but it helps keep TNCPT alive, and free of annoying ads! Thank you for your support. 🙂
What is your full name and title at your current job?
Larissa Pauly, MS, OTR/L
Post Acute Network Operations Specialist(PAOS)*/Special Teams Episode Manager(STEM) at Signify Health
*I was hired under the role Post Acute Network Operations Specialist (PAOS) role—and this is how I'm identified by facilities externally because they know and understand this role. Internally, I'm known as a Special Teams Episode Manager (STEM), and my job is very different from typical PAOSs within the company.
I initially applied to the PAOS role; however, they offered me a different (and new) position where I could help build and create my role, scope, and responsibilities.
Where are you located?
I'm currently outside of Philadelphia, PA. However, I have lived in Ithaca, NY, Liege, Belgium, Annapolis, MD, and Raleigh, NC. We are hoping to relocate back to MD soon.
Where did you go to OT school, and what year did you graduate?
I did my combined BS/MS at Ithaca College in Ithaca, NY.
I got my BS in 2010 and my MS in 2011.
What did you do when you first finished school, and for how long?
I have a really diverse background, which I love, and I think it really allows me to look holistically at situations and think outside the box.
Every position I've held in my career has laid the groundwork and lead me to where I am today.
I began my career at Anne Arundel Medical Center in Annapolis, MD—it is now known as part of Luminis Health—when they expanded to include Doctors Community Hospital in Maryland. I'm so thankful and grateful for the position I held there for 8 years because I was able to gain such a wealth of diverse experiences. This allowed me to build strong hard skills needed for non-clinical work.
I initially began as a staff therapist in acute care, and my first week at the hospital was when LEAN rolled out hospital-wide. I was quickly able to jump in and begin participating in various departmental quality and performance improvement projects.
Were you there for awhile?
Yes! Over the years, I worked my way up the career ladder from Staff OT to Staff III OT, where I gained increased roles and responsibilities, including:
Patient scheduling
Chart audits
Attending rounds for various units
Process improvement
Program development
Sitting on various departmental and hospital committees, including our hospital's LGBTQIA resource group and departmental wellness committee
Sounds like you had a lot of opportunity to build non-clinical skills on the job!
This is true, and I also met many great people.
During my time in acute care, I was able to network with a wide array of people in various departments, which increased my ability to reach out to and include them in any QAPI projects or program development initiatives that I was working on at any given time. This, in turn, built my working relationships across the hospital.
Wow! How were you picked for these non-clinical opportunities? Can you share more?
Initially as a new grad, I was a floating therapist who provided coverage to all units. This helped me to get a really diverse and solid basis for hospital OT.
I then became primary therapist for the emergency department and OBS units, then progressed to the ACE (acute care for the elderly), and finally the large joint and spine unit that the hospital had become known for.
Over the years, I developed a passion for orthopedics and women's health. During this work, I got to know many of the surgeons and their physicians assistants, which allowed me the ability to participate in program development at the hospital. (I was so lucky that our hospital and department really valued OT's role and branching out into new service areas within the hospital.)
Because I was working so closely with surgeons and I was attending monthly pathway meetings, rounds, etc., I had met and networked with much of the preop- to outpatient teams, including our outpatient therapy director.
At the time, they needed assistance with staffing their hand therapy team and it was perfect because we had identified a gap in care with the transition between inpatient care to outpatient treatment.
To promote continuity of care, I worked with my inpatient supervisor and director as well as outpatient director and HR. With them and the support of the surgeons, I was able to create a hybrid position splitting my FTE between inpatient and outpatient hand therapy. With this position, I would split my hours working three days (MWF) in acute and then two days (TR) in outpatient.
This allowed me to see patients inpatient, and then seamlessly transition them to my outpatient schedule for follow up when appropriate as determined by ortho. I truly loved this job and had so much fantastic professional growth and opportunities during that time.
I had such a wonderful group of experienced therapists, both inpatient and outpatient, who made me the well-rounded therapist I am today.
Very cool! What did you do next?
In 2018, I had my daughter and wanted to spend more time with her.
My husband had a job opportunity in Raleigh, NC ,which resulted in my resignation so we could pursue that opportunity out of state.
Just before I left the hospital, one of my coworkers invited me to the Non-Clinical Networking Facebook Group (back when the group was only 2k vs. 21k, as it is today!).
I knew I wanted to do something new and different with my OT brain, and I spent our time in Raleigh researching non-clinical occupational therapy positions and being a stay at home mom (SAHM).
My husband's job then brought us to outside of Philly, where we currently are. At the beginning of 2020, I decided to "get back out there," and return to the work force. I quickly learned that markets were so different from what I was used to, and I spent much of that time piecing together PRN positions and trying to gain hours.
What did you do to jump back into the employment world?
I accepted an EI position covering a friends maternity leave and was browsing the non-clinical jobs group when a saw a listing for DME-CG (now Periscope) and applied for a consulting opportunity in my area.
The pandemic hit, and my EI caseload crashed for obvious reasons. I then picked up a position with a therapist-owned company called Full Range Health Services, which provides an array of services from home health, to Medicare Part B house-call services, to health and wellness visits.
Unfortunately, the pay per visit (PPV) payment structure didn't bode well for maintaining a steady income so I was continually applying for full-time non-clinical jobs.
I applied to Signify Health in late March/early April of 2021, and was hired in June and began in July 2021.
Side note: I love the Periscope team! Can you tell me a bit more about working with them?
I found my job for Periscope/DME-CG through The Non-Clinical PT!
It was such a fun and unique non-clinical experience, and I really think it was an amazing stepping stone into the non-clinical world and my current non-clinical position.
Periscope is truly a wonderful side gig for allowing therapists to get their foot in the door working with health plans, Medicare criteria and making DME/ home modifications recommendation reports without direct treatment being involved.
It's a fee-for-service model where you get pinged based on your geographic location to the health plan member that requires an evaluation. In my market, we work with PA Health and Wellness' LTSS program to recommend various pieces of DME or home modifications to ensure the "right fit" for the member.
Sometimes the patient lives home with their family and is requesting an item or modification and we use our expertise to make sure what they're requesting they truly need and will work for them in their given situation. We are the eyes and ears of the health plan, helping them determine if the requested item is medically necessary and closes a gap in care.
Have you done anything else with Periscope?
Yes, I've also completed several nursing home transitions, where the patient is in long-term care (LTC) in a nursing home/SNF setting, and they want to transition home for a variety of reasons.
In these cases, I call the SNFs and have a conversation with the patients' therapists to determine their current level of function, and then I go out and perform home assessments for the requested items to determine what larger pieces of equipment they will need to safely transition home with their families.
While this isn't a traditional full-time or part-time job, I've been able to learn so much about Medicare criteria, different levels of wheelchairs, and various home modifications that I hadn't been exposed to in my prior hospital-based setting.
Shout-out to Hilary Gans for teaching me so much and always answering a million questions and being a great sounding board. She deserves a spotlight because her wealth of knowledge is astounding.

(Editor's Note: We will be featuring Hilary soon!)
What did you enjoy about your early roles? What didn't you enjoy?
I loved my hospital job because I had so many opportunities for professional growth and a diverse patient population experience. I was able to figure out what patient populations I liked and then complete program development to grow that service line within the health system. One of the things I miss most about my traditional roles is co-evaluating and co-treating with PTs, because it's always fun having that group dynamic with the patient.
I didn't enjoy working late, weekends and holidays, but really who does. It was hard to really specialize in the hospital because you must cross cover other floors when a therapist is out so you're never truly just in your niche. I also hated productivity even though the way my hospital calculated it was very different than most places and, even though it was easy to meet productivity, it was an added stress that I hated being anxious about.
We based our productivity on expected RVUs per FTE on a budgetary level, which resulted in productivity being calculated as hours over/under an expected target. If you had a lot of evals, which you do in a hospital, it was easy to make productivity and then balance it out for the week or month if you had a lot of project time or meeting time for QAPI or program development projects.
At what point did you realize you wanted to do something non-clinical with your background, and why?
I would say when I left my hospital job after eight years and had my daughter.
I realized that physically, it would be difficult for me to do this job my whole career. No matter how much I enjoyed the work, you can't expect such a physically demanding job to be done until retirement, and I figured I should begin looking at how to use my skills in different ways.
As I mentioned before I was also really burned out because our hospital census was high for a really long time, and it felt like we were constantly going through the day at a sprint while trying to keep up with our non-clinical responsibilities.
I felt like I just needed to breathe, and no amount of mindfulness meditation, exercise, or reframing was going to help. It got to the point where I felt myself losing my compassion and empathy, which I hated, given my personality—and it's part of what brought me into therapy in the first place.
I figured if I was going to find a new job, I didn't want to start at the bottom rung of another hospital ladder and rework the last eight years of my career. I wanted to be able to use my skills in a new and exciting way and grow and learn new things.
I'm diagnosed with ADHD, and I'm constantly chasing that dopamine rush by searching for new challenges and ways I can learn more—and I knew if I had to start over again, I was going to be bored. So, I took some time to think about what I really wanted in a career, and it came down to the fact that my ultimate goal is to be able to help make a meaningful and thoughtful impact on healthcare further up the chain, and to make sure therapists have a voice at the table where decisions are being made.
I've seen the struggles our patients face when services aren't covered or valued, and I really want to shine a light on what's important from a therapist's perspective in the patient's experience within the world of healthcare.
What are you doing these days?
I am full-time for Signify Health as a STEM/PAOS. I do work a few hours as able PRN to keep my clinical brain going, and to maintain my clinical hours for my license.
In addition to my non-clinical work with Signify Health, I still carry a small caseload with Full Range Health Services because they're such a wonderful therapist-owned company, where I PRN and can accept a patient or two at a time as I have availability. I really feel like I can provide the services the patients need within their homes at whatever level of care I feel is appropriate.
I enjoy being a combination of therapist and case manager, and getting to determine how to best care for my assigned patients. I also love being the patient's only therapist (not having to share them with an assistant or another OTR) and building those relationships within my community. It's very refreshing to work for a company that values quality above metrics to the best of their ability in our current health care climate.
With Full Range, I am able to carry a caseload of 1-3 patients at a time and see them on my own time.
I have also remained with DME-CG/ Periscope, and they ping me for an eval when there is a request in my town. I no longer do the long drives to see members, and have requested to stay locally only, so the volume at which I complete these consults is very low—but I'm happy to help out the team whenever there is something in my area.
Are you still treating patients, or are you solely non-clinical?
As I mentioned above, I see patients at my own leisure as my schedule allows. Honestly, I think carrying a small caseload and not feeling like I'm in this race to see more patients and do more with less makes me a better therapist.
The company I PRN for (Full Range Health Services) is also all about doing what is best for the patient, and I'm able to spend an hour (or longer) with them if I wish, doing exactly what I want and providing the patient with exactly what they need vs. having to rush to the next patient to keep up with productivity.
If you're still treating patients, about what percentage of your time is spent clinically vs. non-clinically?
I'm probably 90% non-clinical and 10% clinical between my three jobs.
I know that three sounds like a lot, but it's really not, given how flexible my schedule is and the time commitment of the two PRN jobs. It's a good balance.
My full-time job is typically 9-5 (it can range anywhere from 8 – 5:30, give or take, depending on the day and what I need to get done) without a commute. Thus, I can see a patient who prefers early treatments before I start my day or after work if they prefer…whenever works best for them. I rarely work weekends, and if I do, it's to see a Periscope eval, which will only take an hour and is usually only 10 mins from my house.
How long have you been in your current role?
I started with Signify Health in July, 2021.
How did you find your job? Did you apply or find it through a connection?
I found my Periscope consulting position through The Non-Clinical PT in 2020. I got that job because I was very familiar with DME from my time at the hospital and recommending equipment before and after surgeries.
While being active in the non-clinical networking group, I became more aware of Signify as an option for a job. I had seen Signify on LinkedIn, but the roles I saw at the time were for RNs.
I had watched the company for awhile to see if something a therapist could do would pop up, and that's when I saw Jodie Norwood discussing her role with Signify Health in the networking group, and we connected to discuss her experience with the company.
>>>(Don't forget to check out Jodie's spotlight, too!)
We spoke several times over the course of a few months on various topics, and for me this was basically to determine if this was a company I was going to keep watching for opportunities or not. Jodie confirmed that Signify does hire PT/OT/SLPs for various roles within the company, and they really value a diverse background and skillset with their employees.
After that, I just kept checking back for positions that were either remote or in my area. Finally, a PAOS position became available in the Philly market and I applied. It was a lengthy interview process over the course of several months where I was still communicating with Jodie for pointers on how to tailor my story to the role appropriately.
I started with an initial screening phone call, and then had several 30-minute video interviews with various managers and directors, including one where I had to give a presentation.
I think it was more than two months from my initial email requesting a phone screening to when my offer was extended!
I appreciated the long interview process because it allowed them to get to know me as a candidate and me to learn more about the company and their culture and values. When the executive called to offer me the position, it wasn't the traditional PAOS position I applied for but they felt I was a strong candidate and wanted to bring me into the special teams role to help develop a new out of network process.
I jumped at this opportunity because it allowed me to blend so many of my prior experiences into this new role.
Did you do anything special to your resume and cover letter to land the job?
I don't think I would be where I am without the group, networking, and Non-Clinical 101 to help me with my resume.
I used the templates from Non-Clinical 101 and I believe I used the resume template under the UR section for my resume with Signify. Of course I tailor all my resumes for each job, as specified in the course.
For this role I pulled in my ability to save health plans money with Pericope for the right care/fit for the patient, calling nursing homes and communicating about patient status for their nursing home transition patients. I also heavily relied on my lean training and QAPI/ LEAN background from the hospital and working with difficult personalities to ensure that patients got what they needed despite challenges the communication silos can present between healthcare settings.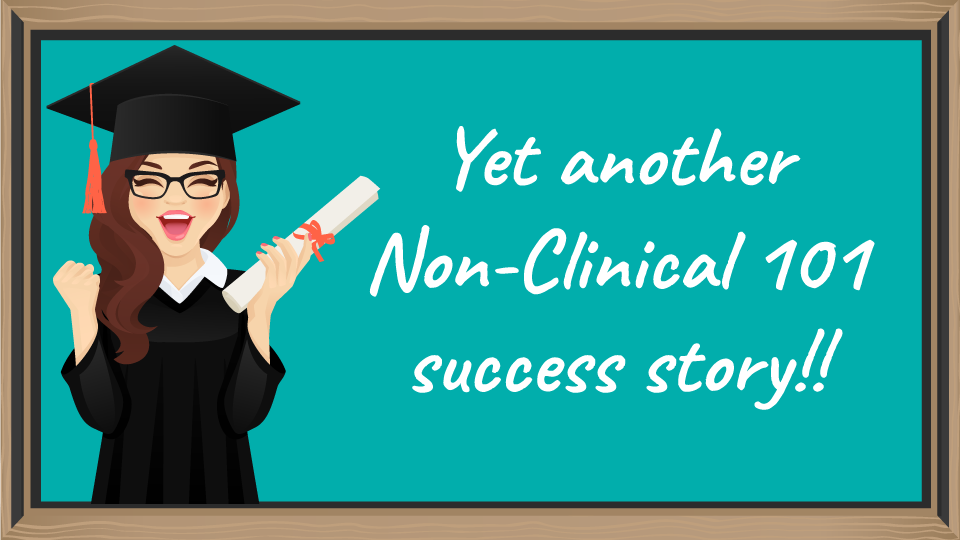 What was the interview like for the role?
For Pericope, it was just a quick chat with my reviewer Hilary over the phone. It was very informal and just chatting to make sure I understood the role and that we had good communication.
For Signify: It was honestly a really long process.
I had an initial phone screening with HR.
Then, I had a 30-minute video interview with the hiring manager.
Next, I had a panel interview with my current OL (Operations lead) and another OL and an acute optimization lead. During this one, I had to give a quick PowerPoint presentation to show that I was able to teach to a certain topic, and I ended up using one of my presentations I did for my alma matter on non-clinical roles in OT and my work with Periscope.
Unfortunately, due to technical issues, my PowerPoint would not broadcast to the group, but I rolled with it in the moment and continued to present on the topic and discussed what my slides entailed. I think they appreciated that I could think quickly on my feet and not be flustered by common technical difficulties and still manage to be engaging.
Then, I had a third video interview with the new hiring manager (there were a lot of promotions and shuffling around of positions at this time.)
My final interview had scheduling difficulties and had to be rescheduled twice and that after the second time I thought they may have moved forward with another candidate so I started interviewing for other positions.
About a week later, I received a call from the hiring manager offering me a different job.
She explained that they were restructuring several positions, and that the position I applied for was no longer available—but they were in the process of creating this new position that wasn't fully developed yet, and since the team really liked me and I seemed like a good fit, they wanted to extend this offer to even though details weren't completely worked out yet.
I jumped at this opportunity because it blended so many of my skills into one role and allowed me to have input in building out this new out-of-network process.
Did you get any special certifications or training along the way to help you get into your current role?
No, and I asked my OL the other day if there was anything I should look into getting to help elevate this role but I already have so much LEAN experience and my OT credentials that we couldn't think of anything else at the moment.
How have people reacted to you leaving patient care?
I've had mixed reactions.
Several people are very surprised that I took this step since I was a strong and passionate therapist. There have definitely been some comments of "Oh won't you miss patient care?" or "Are you really ready to leave the field?"
On the other hand, I've also had a ton of support and coworkers asking how I was able to make the transition and if I can help them do the same.
My family is happier that I'm less stressed and I don't have to worry about piecing together hours to make enough money for the month.
I really feel like my team and OL value my perspective and what I bring to the table, so it's nice to be valued so much.
I like that I'm still in healthcare and can have those clinical conversations, but I do miss the social aspect of the of the hospital and seeing my coworkers daily.
Our line of service is mostly virtual due to being located all over the country, so I mostly see my coworkers through Google Meets or Slack. I did get the opportunity to go to one of the corporate offices a few weeks ago and it was nice to finally see some of my coworkers in person.
What's a typical day or week in the life like for you?
So, my role is low-volume, out-of-network management. I follow and track patients who are in a Medicare BPCIA bundle and have discharged from the hospital to a SNF that does not receive many bundled patients. These bundle patients are followed for a 90-day window, and I'm responsible for updates while they're in an out-of-network SNF.
This is to assist the local PAOSs like Jodie so they have more time to focus on their network facilities to assist in reducing readmissions and improve communications between facilities. In the beginning, there were only two of us STEMs for the entire country, and we've since expanded to three—and we will probably grow in the future.
In terms of day-to-day life…
I mostly log in every morning and download my new patients, and then I add them to a tracker I created to help me keep everything organized. Then, I spend time calling SNFs and talking to the care teams to receive updates and keep the bundles accurate.
Once the patient discharges from the SNF, I give them back to the local PAOS for continued management.
What types of tasks and responsibilities fill your time?
I typically start my day around 8 or 9 am, depending on whether I have any late meetings scheduled for the day. I start by downloading my new patients list.
I then begin reaching out to my SNF contacts and receiving updates on patients. This essentially feels like going to rounds all day. I love when I get to have clinical conversations with therapists that I support.

After I've communicated with the facility, I then document what is going on with the patient in their chart. This documentation is mostly writing a note about the patient and discussing their PLOF, CLOF, d/c disposition and anticipated transition date. I also discuss any barriers the facility is having to discharging this patient and offer resources to them.

I attend virtual meetings within the organization since our Episode Management line is service is virtual. The bulk of my phone calls need to be made around 10 am – 3 pm, and I save emails and meetings for the beginning and endings of my days as much as possible.
I do love my job's flexibility in that if I need to run out for a doctors appointment or anything else, I can block my calendar as needed. I typically end my day around 4:30-5:30 depending on the day, what meetings I have, and when I started.
You noted that you played a key role in creating how this job works. Can you share more about your role in building the Special Teams Episode Manager position?
I really enjoy that I was able to help build this role from the ground up. One of my big accomplishments was that I designed a tracker in Excel, where we could export our patients lists to sort by facility, pull in contact info that the PAOSs provide, and really help manage and triage our lists each day.
On average, I have about 200 patients I manage across the country, with more coming in every day. Once the patient discharges from the SNF, I note where they go and what services they use, and then I hand the patient back to the main PAOS for that region for additional management if needed.
Documentation is so much better than it is for therapists. After I speak to the facility, I write a brief update note in the patient's chart and document any transitions that happened. This can range from a few sentences to a paragraph and takes me anywhere from 2-5 mins per patient. I attend meetings rolling out this process to the various teams and educating them how to implement this new workflow properly.
As the process grows and expands, I've been working with my manager on how to improve different pain points in the process, as well as create standard work for the role. This helps everyone on the team understand exactly what we're doing and how we're doing it, and it improves our communications with the local teams.
What are some of the rewards of working as a Special Teams Episode Manager (STEM)?
I think one of my biggest successes in this role was when a social worker reached out to me to assist with an issue they were facing during a discharge. The patient I was following was from out of state.
Discharge was nearing, and the facility was having difficulty finding a home health company in the patients' hometown. Since I covered both regions, I was able to connect with the local PAOS and find several options for home health companies in the area and relay that back to the social worker.
This allowed for the patient and their spouse to discharge on time without delay and ensured continuity of care in that they had therapy waiting to go by the time they got home.
Internally, I feel that my insights and suggestions coming from a clinical OT background are really valued. Everyone on our team has a different background with different ways of thinking of things—and it's nice to work for a company that values diversity in education and experience when hiring for roles.

I remember applying to so many jobs in the past that I was qualified for, but only would consider applicants with an RN degree, which was beyond frustrating. I'm hoping in the coming years more companies will recognize therapy's worth outside of the traditional clinical role. We have so many translatable skillsets that companies could benefit from.
I love the flexibility of my job.
If I need to block an hour to go to a doctor's appointment I can do it. Or if my daughter is sick, I am able to be home with her.
I also love the culture of Signify.
Everyone is very warm and welcoming and doesn't hesitate to collaborate on a project, which is vastly different from some experiences I've had in the past.
I also love that I'm spending less on gas and I'm not adding mileage onto my car like I was in previous roles. I'm able to do chores around the house if I have a quick break, so I have more time to myself on weekends. For example, I was able to vacuum, start a load of laundry, and prep dinner during my lunch break the other day.
If I want to go around the corner to the park on my lunch break and sit outside and enjoy the nice weather, I'm able to do that. If a snowstorm or bad weather blows through, I don't have to worry about leaving my house or shoveling out my car to get to work on time.
What are some of the challenges of your role?
My biggest challenge—and I think OTs will appreciate this—is that I have to spent a lot of time educating on my role and BPCIA to SNFs. A lot of places who don't receive many bundled patients (or don't have any experience at all) need education on what the program is and why I'm calling. I've had to shift my elevator speech from what OT's role is to what BPCIA is.
Another challenge for me on a personal level is that I'm generally a very physically active person, and I struggle with not walking 6 miles a day like I would normally in the hospital. I'm currently working on getting a standing desk with a treadmill* under to help with this to burn off some of the excess energy I have.
Note, the above Amazon affiliate link points to the treadmill closest to what I (Meredith of TNCPT) have. I couldn't find my exact model, but this one is the closest to what I have, from what I can tell. Mine has been going strong for about 3 years. I LOVE my under-desk treadmill!!!!
How do you think working as an OT prepared you for this role? Which skills transferred?
There are so many ways that my OT role benefited me in this job. One is that I can have those clinical conversations regarding plans of care (POCs), discharges, and next site of care because I lived it for so long as a therapist.
I understand the therapists' struggles, and it helps me brainstorm with the facility regarding potential solutions to challenging patients that they have.
Secondly, task analysis really benefited me when assisting in developing this STEM process for the organization. I'm really good at identifying patterns and inefficiencies and knowing what needs to be improved upon to create a sustainable process.
Roughly speaking, how are the hours and pay compared to patient care?
I would say it's comparable to a therapist's salary, but my financial situation is way better since I don't really have to spend money on scrubs, clothes, gas, hospital food/coffee, or much else because I work remotely. Plus, I have the potential for a bonus on top of my salary.
If I have to be on camera for a meeting, I just throw on a nice top for the meeting and wear normal clothes for the rest of the day.
Overall, I'm taking home more money because of my decreased expenses.
What type of person do you think would do well in your role?
You have to be someone who's no afraid to speak on the phone and explain your role and why you're looking to connect with them.
For OTs, explaining our role is second nature to use because we constantly have to educate people on how we're different than PT.
Many SNFs are used to operating in their own communication silos, so they can be surprised that the hospital wants an update on their patient.
I would say you also have to be good with time management and triaging work. I have a lot of patient volume to get through, so if I get distracted, I can fall behind on the goal I set for myself in terms of what I want to accomplish that day.
Do you work remotely or on-site?
This is 100% remote OT role, and they provided all equipment I need.
I think I only bought a mouse because they forgot to include it in my onboarding equipment delivery. I've got a laptop, two 32-inch monitors, a headset, and a keyboard.
There are offices in NY, CT, TX, and most recently OK. I've only had to go to the CT office once.
Does your organization hire PT, OT, or SLP professionals into non-clinical roles? If so, what type of roles?
Post Acute Operations Specialists, Acute Operations Specialists (who work with the hospital themselves with their bundled patients), Clinical Executives, Client Success Executives.
Honestly they're so open to therapists it's refreshing. If you see a job you think you're qualified for, apply!
Did you read any books, take any courses, or do anything special overall to get you where you are today?
I took Non-Clinical 101, and it was SO WORTH IT.
I participated in a lot of lean training in my prior hospital. This sounds silly, but I also found a lot of HR specialists doing job coaching on TikTok and I always used them to prep for each interview. I get nervous so I would write notes out in prep for each of my interviews and then have it up on a split screen to refer back to during my video interviews.
What is a typical career path for someone in your role?
It's a new role, so nothing is typical yet. My counterpart in this role was a music therapist for a hospital prior to becoming a traditional Acute Operations Specialist with Signify!
What is next for you? What do you want to do with your career long-term?
I'm very happy with the niche I'm in at the moment, so I honestly have no plans to leave. The only thing I could see myself advancing to is a leadership job within Signify—or, if I had to leave the company completely, I'd look toward work with the Centers for Medicare and Medicaid Services (CMS).
I lived in the DMV before we moved to Philly. We plan to move back, and I have friends that work for CMS and love it.
In reality, I will be happy wherever I am able to make a positive impact in healthcare. I firmly believe that therapists should have a seat at the table of where decisions are being made, so we can make changes to benefit the patients we serve.
We all know the problems and challenges in the current healthcare environment, and I want to be a part in changing that for the better.
What would you recommend to someone who is considering going into a role like yours? Do you have any special words of wisdom for the readers?
Honestly, my role is so new and unique that I really feel like I was in the right place at the right time.
I had applied to 100s of jobs during the pandemic because my caseload dropped and I struggled with hours. I had gone on so many interviews that, by the time I got to this one, I was able to showcase my skills and personality, and also show my worth to the company on what an OT can bring to the table.
I believe that two factors helped me:
Restructuring in the organization made things fluid with hiring
I was a strong candidate in general and interviewed well
Signify actually offered me my current role when they weren't initially technically hiring for it yet! I'm glad they thought of me for it.
>>> Learn how to interview for non-clinical roles with Non-Clinical 101!
I guess this gives you some words of wisdom for those still in the trenches of job application hell…
Yes! To anyone who is going through the struggle of rejection after rejection…KEEP GOING. I've been rejected from countless roles with companies like Navi, Magellan, and Kindred for clinical liaison and utilization reviewer positions.
Some days, I felt like giving up and figured I'd never break out of the traditional therapist role—but I eventually did. At the end of the day, looking back on all the roles I applied to, I think this was the best fit for me.
What would you like to change most in your profession, and why? How would you propose doing so?
This is a difficult question, but I would say mostly that our OT programs need to stop relying so much on theory and instead work more on developing hard skills and how to uniquely market ourselves outside of the traditional practice setting.
I think healthcare is changing rapidly, and academia needs to keep up with the changing environment of healthcare. There's so much therapists have to offer, but we need to learn how to market ourselves better.
If you could give yourself one piece of career advice you wish you had during OT school, what would it be?
Take the classes that have the most long-term benefits, even if they're the most difficult.
Every therapist has something that they specialize in, even if they don't have the advanced certifications for it. Take time to learn from them because you never know what will pique your interest.
I had spent a lot of my time taking peds courses because I thought I was going to be a peds therapist, only to discover that it didn't resonate with me as much as I expected during my clinicals.
Diversify your coursework, and focus on becoming well-rounded because you never know what you may like. I also wish I concentrated on hand therapy more because that was such a fun area to work in.
Lastly, every therapist has something that they specialize in; whether they have an advanced certification for it or not, there is something clinically they gravitate towards. Find out what that is and learn everything you can from them.
If you could teach anything to today's graduate students in your profession, what would it be?
I actually give several ad hoc lectures at my alma matter for students and I tell them to always be thinking about the next step.
Learn and expose yourself to as many things as possible and network network network!! You never know what you're going to like or who you will meet that could bring about new opportunities in the future.
I knew I couldn't do the physical aspect of an adult OT job forever, so I took on roles and responsibilities to be able to pivot when I needed to.
I also recommend continually educating and demonstrating your value whenever you can. You're never going to stop growing and learning, so figure out which direction you want to grow into and break down the steps to take that path from there. You never know who you will meet that may open a door for you later down the road because of the groundwork you laid in the past.
Do you have any special advice for others who want to follow in your footsteps?
Get involved in what you like. Find something that sparks your passion, and just keep rolling with it. I started my grad year of college creating a networking group for OTs of my alma matter—and I just kept networking my whole career.
You never know what opportunities will come your way because of your networking.
---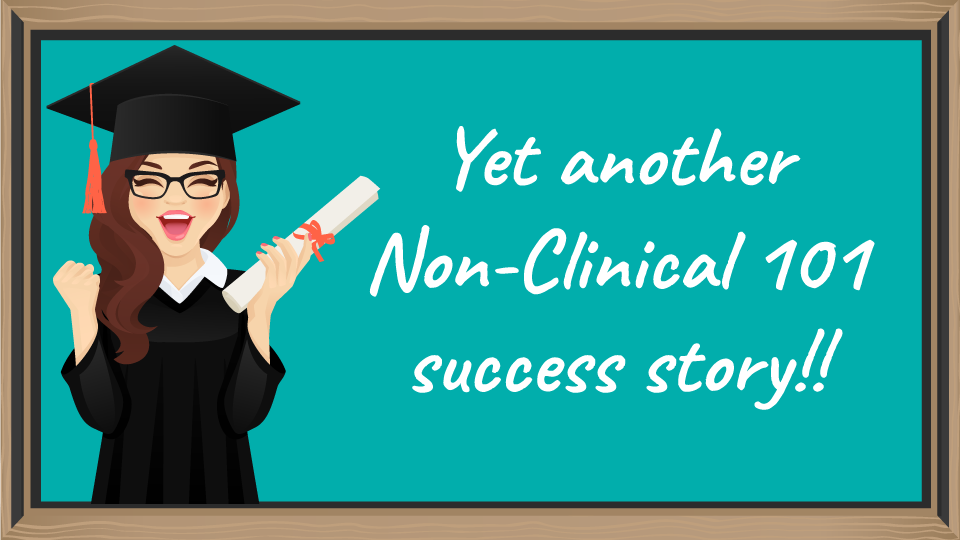 Curious how your own skills can translate into the non-clinical world? Feeling overwhelmed by all the options? Explore your options in an organized and strategic way with Non-Clinical 101: the comprehensive and FUN course that Larissa took to help her land her current role!