I recently became a utilization reviewer, and my hands-on clinical skills are no longer being used daily—or even weekly. But this does not mean I'm no longer an occupational therapist. In fact, I believe I'm a better clinician now than I've ever been.
As it turns out, my clinical knowledge is being used in full force at my job, every single day.
Reviewing cases and documentation with a wide variety of complexities brings each aspect of my clinical and medical knowledge to the forefront. That's why I feel that becoming a utilization reviewer has helped me see the big picture of what it means to be an OT.
This post may contain affiliate links or codes. This won't increase your cost, but it helps keep TNCPT alive, and free of annoying ads! Thank you for your support. 🙂
What is a utilization reviewer?
For those who are not familiar with the role of a utilization reviewer, I will summarize the main point of my role.
I complete OT clinical reviewer tasks for acute and sub-acute rehabilitation stays. These reviews span the entire state of New York, as I work at a New York-based company.
It is my job to view the full picture of a patient's situation and determine whether medical necessity has been met. This then translates into a determination for each patient.
So, how do I feel that becoming a utilization reviewer strengthened my clinical knowledge? There are a myriad of factors to consider when reviewing any given case. Becoming a utilization reviewer led to:
1. More effective documentation
A good clinician knows how to write clear and concise documentation.
The main take-home message I got from my OT documentation class was that therapy notes need to be understood by other professionals. Specifically, another therapist should be able to read those notes and replicate the intervention.
This similarly applies to a clinical review specialist like me—we review tons of charts to determine medical necessity.
If a therapy reviewer reads a note and sees that a patient is supervision and/or modified independent in all activities of daily living (ADLs) and functional mobility, that reviewer will wonder whether there is a true need for skilled therapy.
We all know, though, that there are patients with moderate cognitive deficits who remain able to complete ADLs at the level of supervision. These patients can benefit from skilled intervention to improve safety with ADLs.
In order to keep justifying the need for skilled services with such patients, it remains important to factors like the following as justification for keeping the patient on for more therapy:
Impulsivity
Impaired safety awareness
Deficits in short-term recall
Working in utilization review has been a fantastic way to continue honing my documentation skills, as well as my overall perspective on demonstrating medical necessity.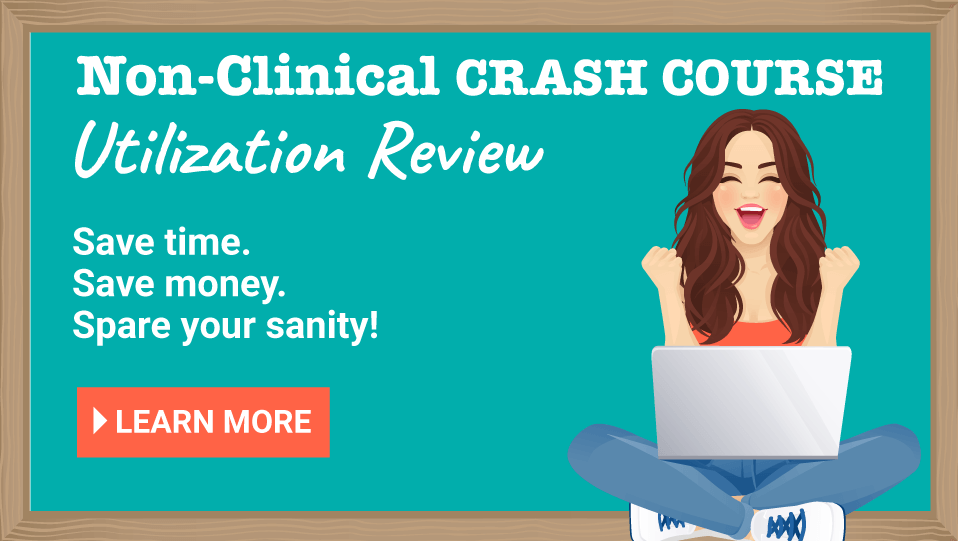 2. A healthy consideration of occupational profiles
A key component of therapy is rapport-building—this provides both a personal touch and a comprehensive view of a patient's situation.
Reviewers require a multi-factorial summary, including aspects such as:
Discharge plans
Prior level of function
Social, financial, and community supports
Home accessibility
Prognosis
Co-morbidities
Risk factors
Leisure & activity levels
Progression in physical & occupational therapies
Each factor, whether small or large, assists in gaining a full picture of each patient's current status and propensity to further progress.
The occupational profile, as it is referred to in OT, has a large impact to reviewers, despite their outside perspective.
Without knowing the patient in person or treating them directly, profiles summarizing a patient's occupational profile become even more important.
Working in UR continually reminds me to keep every patient's occupational profile in the forefront of my mind.
3. Increased focus on providing community resources
Connecting patients with resources is a large part of achieving a successful discharge.
Examples of community resources can include:
Education on a diagnosis
Instruction on an exercise program
Adaptive equipment for use at home
Recommendations for certain procedures or lifestyle modifications
On a larger scale, it is important for less fortunate patients to be even more well-connected to ensure success. This usually refers to inpatients having a safe or accessible place to discharge.
While social workers or case managers often manage home assessments and referrals, therapists can certainly participate and ensure patients' needs are addressed long after leaving the hospital.
Editor's note: In fact, I think we therapists are built for these case manager, rehab liaison, and clinical care coordinator roles!
Simply because we can help with aspects of discharge planning, it doesn't mean we often do it. In fact, many of us are guilty of dashing from patient to patient to meet productivity, so we don't even think to spend time providing community resources.
Being removed from the day-to-day direct patient care often affords utilization reviewers the big-picture view of a patient's situation, making red flags or at-risk patients more visible.
Reviewers are able to bring this to the attention of a facility at any time. We can take steps to encourage practitioners to provide improved discharge planning and increased attention to providing community resources.
A combination of the aforementioned factors and skills can improve the insight a therapist has regarding patients' needs.
There is emphasis placed on different parts of a therapist's knowledge base when reviewing, but judgment and clinical decision making skills are used in equal parts as those treating therapists.
This is why reviewers are typically clinicians with five to seven years of clinical experience; however, taking part in chart audits and similar tasks is valuable to a therapist at any point in their career.
Any non-clinical therapy role can strengthen the skills of a therapist, provided the therapist seeks such opportunities. I strongly encourage each therapist to volunteer for, or seek out, roles to strengthen their skills in new ways!