This week's spotlight features an occupational therapist who now works as a Care Coordinator for Friends Life Care!
---
This post may contain affiliate links or codes. This won't increase your cost, but it helps keep TNCPT alive, and free of annoying ads! Thank you for your support. 🙂
What is your full name and title at your current job?
Kiersten Dortone, OT
Care Coordinator for Friends Life Care
Where are you located?
Springfield, Pennsylvania
Where did you go to OT school, and what year did you graduate?
I went to Temple University for OT and graduated in 2013.
What did you do when you first finished school?
When I finished school, I worked in a small, local hospital in the inpatient rehab unit. I would occasionally float to the acute care floor as well. I primarily treated adults with many diagnoses, including CVA, TBI, amputations, orthopedic surgeries and fractures, cardiac conditions, and trauma including injuries such as gunshot wounds and motor vehicle accidents.
I was a level II student at this hospital and was thrilled to have been offered full time employment after completion. I worked in this setting for 2 years.
What did you do after that, and for how long?
I then transitioned to a continuing care retirement community (CCRC) to better manage my work-life balance as a new mom.
The hospital setting was a very demanding schedule, and I didn't feel it allowed me to be present with my newborn son.
I worked in the CCRC setting for about a year. After my time in a CCRC, I was hired by a large hospital system in my area and worked as an Advanced Clinician for a little over 4 years in home care and hospice.
What did you enjoy about your early roles? What didn't you enjoy?
In my early roles, I absolutely loved the exposure to so many different diagnoses. I truly feel like this exposure allowed me to become a well-rounded occupational therapist.
However, I didn't enjoy the demanding schedule, the "red-tape" of insurance companies, and the politics of hospital administration.
When I moved on to the CCRC, I enjoyed the flexibility and getting to know the community. I decided to leave this position because I did not agree with, nor would I participate in, the things I was being asked to do by therapy management.
When and why did you realize you wanted to do something non-clinical with your background?
It was during my home care tenure that I realized I wanted to do something non-clinical with my background.
It was hard for me to juggle my time in this setting. Treatment time was limited because of travel and extensive documentation requirements. I felt like I couldn't help people like I wanted to be able to because of the restraints placed on therapy in relation to productivity.
It was during my 3rd year in this setting that I realized I was experiencing burnout and that I needed a change.
What are you doing these days?
I am a Care Coordinator for Friends Life Care, a non-profit company that provides a unique approach to long term care and planning.
Friends Life Care offers an affordable selection of membership plans designed to support asset protection, combined with the resources necessary for true independent aging.
Customized plans provide comprehensive care coordination and home care, along with special opportunities to help improve and maintain independence.
What do you do in your role as a Care Coordinator?
I manage a caseload of approximately 50 members who are either "at-risk" of needing caregiving services or who are already receiving caregiving services in their homes.
I use my occupational therapy background to anticipate my members' needs and resolve their issues—and not just during a health crisis.
As a Care Coordinator, I focus on arranging, scheduling, and overseeing care through our network of providers.
Here are some of the tasks that fill my days:
Designing and overseeing my members' personal care plans
Assessing potential health risks and conditions going forward
Arranging and supervising required care as it evolves
Scheduling in-home care services as needed
Keeping track of members' medical conditions, advance directives and other important information
Coordinating outside healthcare services
Helping members navigate through the complex healthcare system
Evaluating and recommending home safety measures
Serving as liaison with family members so they are not burdened with filling the difficult caregiver role
Are you still treating patients, or are you solely non-clinical?
I am solely non-clinical and work fully remote.
How long have you been in your current role?
9 months
How did you find your job?
I found my job on Indeed. I searched daily for non-clinical roles in my area using terms that I learned in the Non-Clinical PT Facebook group.
Did you do anything special to your resume and cover letter to land the job?
Yes! I used one of the resources (utilization review) from The Non-Clinical PT to overhaul my resume and cover letter.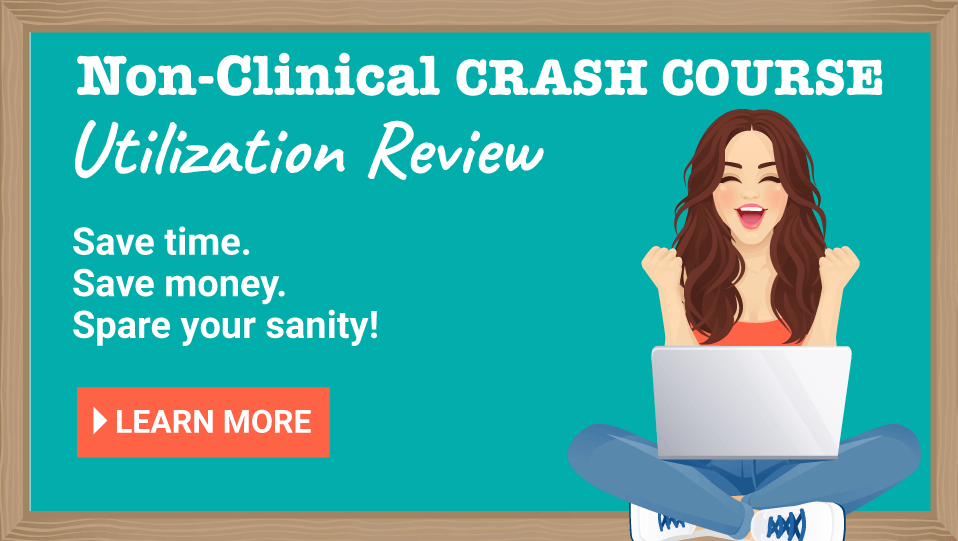 What was the interview like for the role?
The interview was intense! It was 3 separate interviews that progressed over a series of 2 months with different levels of management.
COVID happened right as I applied for the position, which delayed the interview and hiring process. The interview required completing a case study and presenting it to senior management.
Did you get any special certifications or training along the way to help you get into your current role?
Since beginning OT school, I always had an interest in home modifications. My passion for aging in place was fueled by my experience working in the CCRC. It was in this role that I realized I wanted to be able to facilitate safe aging at home and that was my path as an occupational therapist.
I have my Certified Aging in Place Specialist (CAPS) certification from the National Association of Home Builders. I also completed the Executive Certificate in Home Modifications through University of Southern California and hold a graduate certificate in Gerontology from West Chester University.
How have people reacted to you leaving patient care?
When I began talking to my colleagues and peers about transitioning into a non-clinical OT role, the number one question I got was "won't you miss patient care?"
The easy answer was "no" because I knew that in my new role, I would still have the ability to develop meaningful relationships with clients and help them work toward the goal of remaining in their homes until their last days.
My role is unique in that I am not providing "patient care," but I am utilizing my education and experience as an occupational therapist every single day.
I feel like the only thing I left was the strict productivity requirements and regulations of insurers/administration.
What's a typical day or week in the life like for you? What types of tasks and responsibilities fill your time?
There really isn't a typical day or week for me because my members' needs are so fluid.
I usually start my day by reviewing emails, voicemails, etc. I prioritize anything urgent including hospitalizations, falls, and caregiver schedule changes. I have a contact schedule that I maintain with my members so I will see who needs to be contacted during the week and develop a schedule to make those calls.
Normally, my role would require in-person contact with my members but because of COVID those visits have been halted.
Every day is different so I never feel like I am bored in my role.
Some days can be nonstop with phone calls, emails, family members concerns and some days I can get done everything I had planned with no interruption.
What are some of the challenges of your role? What are the rewards?
Some of the challenges of my role are persuading my members to accept recommendations for care or safety measures. And, of course, being fully remote, technology can be challenging at times. If the network server goes down or there is an outage it limits my ability to complete my tasks and access crucial information.
The rewards of this role far outweigh any of the challenges. The #1 reward in this role is coordinating care for members that allows them to safely remain in their homes. Another reward is getting to develop long term relationships with my members.
There is no visit limitation or pressure to discharge. My members are assigned to me for their life!
How do you think working as an OT prepared you for this role? Which skills transferred?
I wouldn't be successful in this role if it weren't for my OT experience working as an OT for 7 years. The job posting was recruiting for an OT specifically.
I feel that, as an OT, the approach to treating the whole person really transferred into this position. I am able to look at all of the factors impacting my members and how to best address them in the home.
Also, being able to anticipate how a diagnosis may impact function can help me to plan for the long term with my members.
Roughly speaking, how are the hours and pay compared to patient care?
My hours are 8-4:30 daily M-F. We have an answering service that handles calls that come in during non-business hours. If the call is urgent in nature, an on-call care coordinator will respond.
The pay is comparable to patient care, although I am earning slightly more than I did when in a clinical role. I am a salaried employee, which is really the only big difference from patient care.
What type of person do you think would do well in your role?
The ideal person for this role has to be comfortable with autonomy. Working remotely, there is no one in the cubicle next to me that I can quickly rely on for assistance. Being comfortable with seeking assistance when needed is important.
A person that is able to flourish with developing their own schedule and has excellent time management and organization skills would be ideal.
Also, being comfortable with general insurance terminology and understanding of different policies that members may have purchased is crucial.
Do you work remotely or on-site?
I work remotely (work from home).
Does your organization hire PT, OT, or SLP professionals into non-clinical roles? If so, what type of roles?
Yes, Friends Life Care hires therapy professionals into non-clinical roles. Other team members include nurses, social workers, and exercise physiologists.
Did you read any books, take any courses, or do anything special overall to get you where you are today?
Yes, my training in home modifications helped me to get this role. (CAPS and ECHM.)
---
Check out these MedBridge CEUs below! They'll help prepare you for this type of work while fulfilling most CEU requirements 🙂 Use code TNCPT to save 40% on your subscription!
---
What is a typical career path for someone in your role?
Most coordinators that I work with have been in this role long term.
It is my understanding that because of the personal relationships we are able to develop with our members, most coordinators don't want to give that up! There are opportunities to grow within the organization, should you choose.
What is next for you? What do you want to do with your career long-term?
Anything is possible! I look forward to having a long-term career with Friends Life Care and helping the organization to develop and grow the home assessment and safety aspect for our members.
What would you recommend to someone who is considering going into a role like yours? Do you have any special words of wisdom for the readers?
DON'T GIVE UP! You are ultimately responsible for taking the next step in your career. No one else is going to do it for you. Look everyday for job postings, be persistent, apply to jobs that might not be an exact match, and don't ever doubt yourself.
And don't be afraid to ask questions, join and network in the Non-Clinical PT Facebook group, and step outside of your comfort zone. You can do this!
What would you like to change most in your profession, and why? How would you propose doing so?
The productivity requirements! Do I need to explain why? I don't have a solution for this but I know that many, many therapists that don't necessarily want to leave patient care—but they would love to leave all the "extra" behind.
If you could give yourself one piece of career advice you wish you had during your OT school program, what would it be?
Success is measured in more thea just your job title and earning potential. You have to find what makes you happy.
One of my instructors at Temple was kind enough to give me this framed quote as a present and it still sits on my desk today: "To laugh often and much; to win the respect of intelligent people and the affection of children; to earn the appreciation of honest critics and endure the betrayal of false friends; to appreciate the beauty; to find the best in others; to leave the world a bit better, whether by a healthy child, a garden patch or a redeemed social condition; to know even one life has breathed easier because you have lived. This is to have succeeded!"― Ralph Waldo Emerson
If you could teach anything to today's graduate students in your profession, what would it be?
I would encourage today's graduate students to remember their "why" for choosing a therapy career and to never lose sight of that.
Days will be exhausting, patients will be challenging, you may be frustrated with politics in your setting, but don't ever forget the reason why you are sitting in this classroom today! And don't pretend to know it all as a new graduate…be open to mentoring!
Do you have any special advice for others who want to follow in your footsteps?
Be persistent in your job search! Seek out specialty certification that may set you apart from other candidates.
---
No idea how to get sales experience? No clue where to start? Not even sure you want to do sales?