My first non-clinical healthcare job was "rehab liaison" at South Bay Rehabilitation Center (in National City, CA). I was also called called an "admissions liaison" or a "clinical liaison" or an "intake liaison," depending on the day and depending on the person 🙂
The role itself reflected the titles. There was tons of variety, I was continually switching gears, and I never got bored. I was there a few years as a PRN, and I would have gladly stayed long-term if a full-time had opened.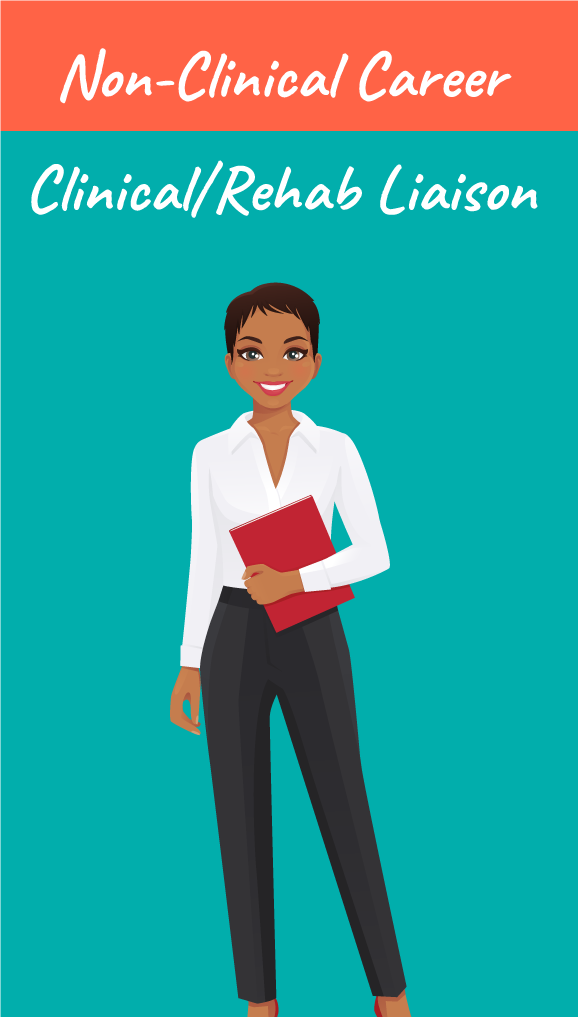 This post may contain affiliate links or codes. This won't increase your cost, but it helps keep TNCPT alive, and free of annoying ads! Thank you for your support. 🙂
What is a clinical or rehab liaison?
A rehab liaison (or clinical liaison) is the person responsible for finding potential patients for an acute rehabilitation facility (ARF)—which is also known as an acute rehab unit (ARU) or inpatient rehab facility (IRF)—and then screening those patients to see if they're good matches.
This is a very basic idea of what makes someone appropriate for acute inpatient rehab.
Neuro diagnosis – TBI, MS exacerbation, CVA, etc.
Trauma diagnosis – MVA with multiple injuries, etc.
Marked functional decline – For example, someone was Min A with transfers and is now Max A.
Needs 24 hour medical care – Can this patient recover just as well in home health or outpatient rehab?
Will benefit from 3 hours of intensive therapy per day – If the patient can't tolerate, or won't benefit from it, they're not appropriate.
Has active insurance that covers inpatient rehab – Sad, but true.
Bear in mind that the role itself requires adherence to a much stricter set of criteria. Some facilities apply Medicare criteria to all patients, while others require liaisons to know specific admission criteria for specific insurance carriers.
If these patients are good matches, you'll often run insurance, work with case managers, collaborate with the rehab team during rounds, and work with the rehab MD at your facility to follow that patient.
What does a successful rehab liaison look like?
Successful rehab liaisons are:
Outgoing – You're going to have to initiate conversations with complete strangers and really sell your program to everyone, from physicians, to marketers, to patients and their families.
Goal-oriented – You're going to need to meet census quotas and if too many beds in your facility are empty, it will likely be on you to explain why. That said, some facilities are more firm about their quotas than others.
Communicative – You're going to need to explain how you're different from a nursing home to many different types of people with different educational levels. You will also have to break news to patients whose insurance won't cover their stays, and you'll need to work between facilities to ensure vital patient records (and the patients themselves!) are transferred in a timely manner.
Organized – You're going to be neck-deep in paperwork, and you'll meet so many different people in your role, keeping their names straight will be an art form. Insurance plans are also frequently changing, so you'll need to have a system to stay organized and understand how these changes will impact both your facility and your patients.
Compassionate – You're going to be working with people who need acute inpatient rehab. They've just had some serious issues take place in their lives. Just like a treating clinician needs to be compassionate and respectful of his or her patients, a good rehab liaison is understanding, patient, and kind.
Experienced – You're going to want to really understand what rehab prognoses look like in this role. If you've worked in acute inpatient rehab or acute care in the past, you're an excellent fit for the role, while you might struggle a bit if you've only worked in outpatient or pediatrics. While new grads can certainly make good rehab liaisons, it might be a steep learning curve.
Connected – You're going to be working with tons of physicians, case managers, assisted living facilities, and more. If you already have a relationship at a few large facilities in the area, you'll be at a huge advantage in this role.
Detail-oriented. You're going to be working with lots of insurance companies. Be aware that if you're the type who constantly spells Aetna wrong on paperwork, you'll make your department look bad.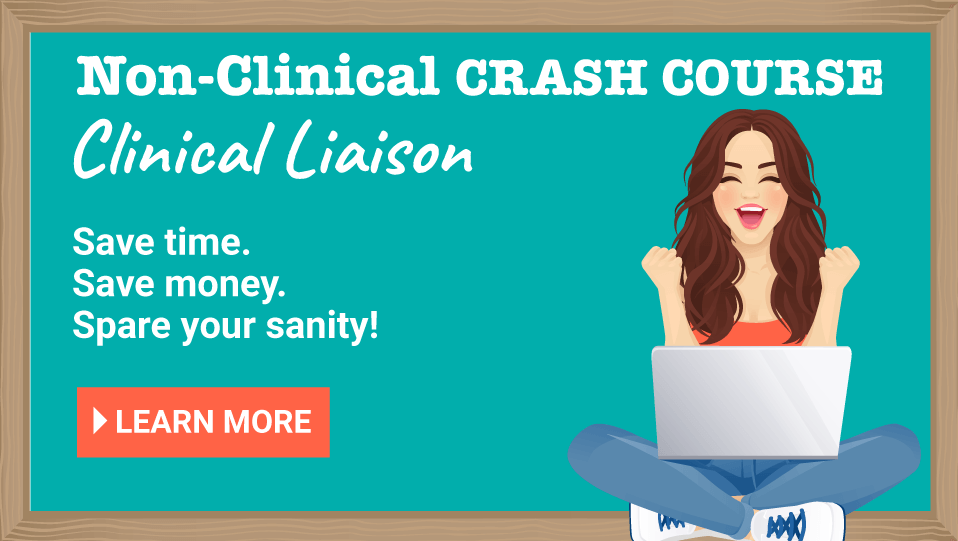 What does a day in the life of a rehab liaison look like?
A slow day:
A slow day in the life of a rehab liaison can range from sitting in the intake office, screening candidates for appropriateness (based on active referrals, the census at the hospital – if your ARF is located within a larger hospital), printing out copies of intake paperwork, following up with some ongoing cases, creating flyers and brochures for facility events, or even decorating the rehab unit!
A busy day:
You might spend the morning offsite, seeing patients at 2-3 facilities around town. You'll fill out preliminary paperwork or worksheets, then present these cases to the rehab MD at your facility. If you're on your own, you might even run the insurance for these patients and fax notes to/from the patients' insurance case managers.
You'll then return to the ARF and attend rounds, reporting on all the patients you brought into the facility. You may then fill out intake paperwork for patients that your rehab MD accepted and work with insurance case managers to get authorization for your patients' stays at the facility.
Your day will wind down with you completing outstanding paperwork, ensuring a smooth transition for any admitting patients, and preparing an end-of-day report.
A "markety" day:
Some days in intake are focused on analytics, especially if referrals are sparse. You might sit in front of a spreadsheet, poring over how many of your referrals actually converted into patients in beds.
Other days might be spent actively marketing. This might involve attending mixers and facility openings, dropping off materials to physicians' offices, or swinging by case managers' offices around down to schmooze.
Some facilities have very strict rules about drop-ins, though, so this aspect of the job will vary greatly.
Examples of clinical liaisons:
I've spotlit a few rehab liaisons on TNCPT!
How much money does a rehab liaison make?
If you are curious about the average clinical liaison salary, you're not alone. It's important to know that these jobs can be salaried or hourly—and some roles include a bonus structure. That's why average pay is tough to really pin down. You can expect anywhere from around $60k-90k per year, depending on the pay structure, whether you meet quotas and milestones, etc.
How to launch a clinical liaison career:
Becoming a rehab liaison is actually fairly simple if you've worked in inpatient rehab and/or acute care. It's even simpler if you're well-connected around town. Sometimes, RNs are preferred for these roles, but that's pretty rare. In fact, OTs, PTs, and SLPs are often considered vital parts of liaison teams. Some companies will hire COTAs and PTAs, but others won't.
1. Adapting your resume for a rehab liaison job
It's all about making that non-clinical resume shine. Make sure to use the right keywords and highlight the right experiences in your resume.
Ensure that you play up your experiences with working on multi-disciplinary teams, especially if you've participated in rounds, acted as point/lead therapist, or cultivated unique relationships with case managers and/or physicians.
2. Adapting your cover letter for a rehab liaison job
A good cover letter should always show that you understand what the job is, what your role would be, and why you'd make a great fit, all while flattering the organization if possible. Make sure you really study the job description and understand the problem the hiring manager is looking to solve by hiring someone into this role.
3. Interviewing for the role of a clinical liaison
Rehab liaisons are expected to be persistent, friendly, informative, and detail-oriented. Be sure you present that persona in the interview.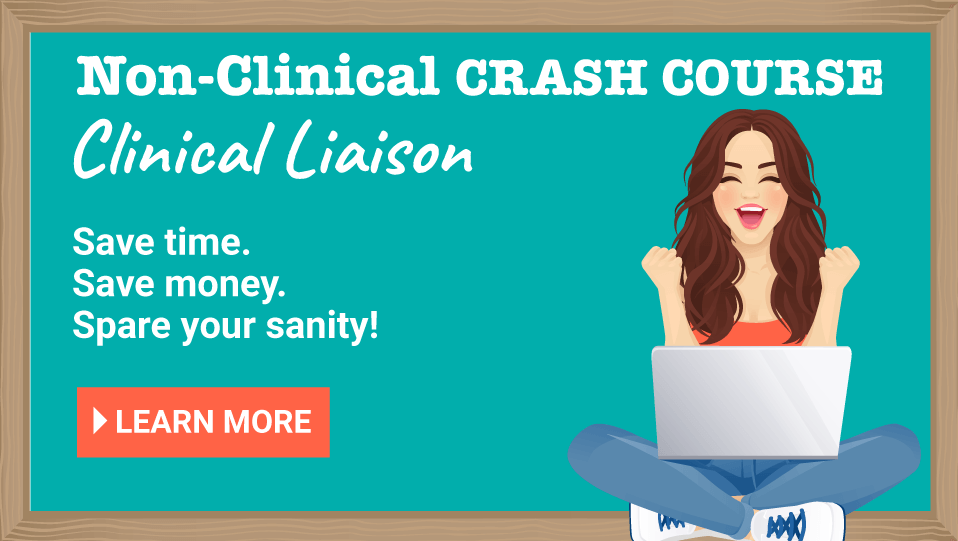 Additional education needed
None. If you're a licensed PT, OT, SLP (sometimes) or RN, most acute inpatient rehab facilities (also known as ARFs or ARUs) will consider you for the role of a rehab liaison. In fact, some facilities will consider PTAs and OTAs for these roles, too!
Where can I find rehab liaison jobs?
You can sign up for my free email list here. I send out clinical/rehab liaison jobs quite frequently. Job search engines frequently yield results, as do companies' websites.
Want to learn more?
Check out my Non-Clinical Crash Course: Clinical/Rehab Liaison!