Today's spotlight is on Megan Umberger, PT, DPT, a Non-Clinical 101 alum who now works as a Clinical Rehab Specialist for St. David's Rehabilitation Hospital!
---
This post may contain affiliate links or codes. This won't increase your cost, but it helps keep TNCPT alive, and free of annoying ads! Thank you for your support. 🙂
What is your full name, title, and company name for your current, primary role?
Megan Umberger, PT, DPT, – Clinical Rehabilitation Specialist for St. David's Rehabilitation Hospital.
Where are you located?
Austin, TX
Where did you go to PT school, and what year did you graduate?
University of Texas Medical Branch at Galveston in 2013.
What did you do when you first finished school, and for how long?
I started in a general outpatient therapy clinic for a year, treating anyone from high school athletes trying to return to sport, to patients recovering from a CVA.
Then, I moved into a dual acute and inpatient rehabilitation therapy role for the next seven years, with a focus on patient with orthopedic diagnosis on the acute side, and treating patients with anything from hip fractures to CVA to amputations while in inpatient rehabilitation.
What did you enjoy about your early roles? What didn't you enjoy?
I enjoyed the variety of patient demographics and diagnoses that I was able to treat over those years.
When and why did you decide to do something non-clinical?
I was ready to move away from one-on-one patient care into a role that would allow me to help on a more community level.
What are you doing these days?
Now, I have transitioned to a clinical rehabilitation specialist role, also known as a liaison.
My role allows me to work with a variety of patients, utilize my strong documentation skills, and educate and promote inpatient rehabilitation to my community.
Are you still treating patients, or are you solely non-clinical?
I am solely non-clinical.
How long have you been in your current role?
Since May of 2021.
Did you get any special certifications or training along the way to help you get into your current role?
I took the Non-Clinical 101 course!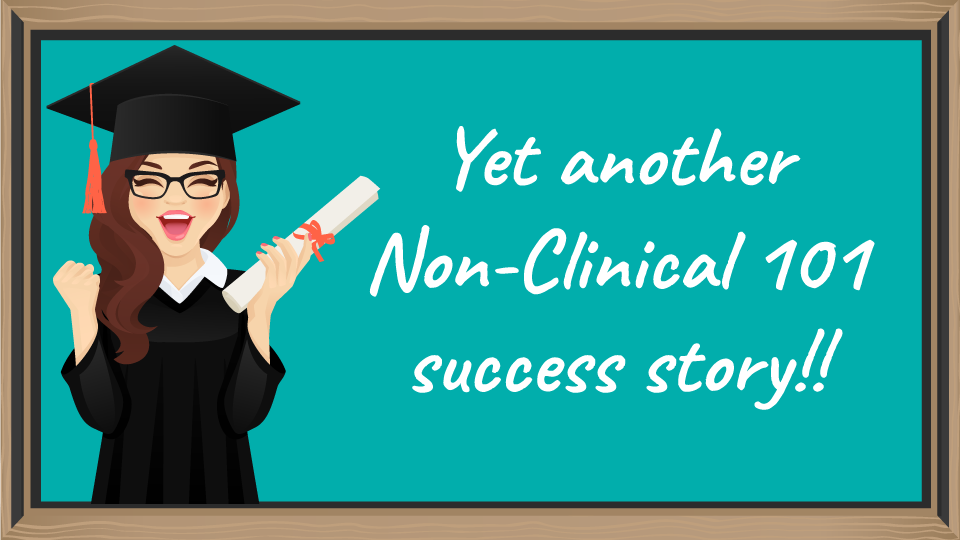 How did you find your job? Did you apply or find it through a connection?
I found my current position through a job posting on LinkedIn.
Did you do anything special to your resume and cover letter to land the job?
I utilized the recommendations from Non-Clinical 101 to tailor my resume. I made sure to highlight how my skills and experience would translate to the clinical rehabilitation specialist role.
How have people reacted to you leaving patient care?
Overall everyone has been supportive, while still verbalizing their disappointment.
What's a typical day or week in the life like for you?
I work Monday through Friday, with typical 8-5 days, working with referral sources to assess potential IPR candidates. Other duties include reviewing cases with physicians, and preparing documentation for insurance companies and IPR admissions.
What are some of the rewards of your role? What are the biggest challenges?
It's incredibly rewarding to be able to help patients admit to IPR after advocating for them with medical directors and insurance companies.
The biggest challenge in this role is navigating the denial process with a patient or family member when their case does not meet criteria for IPR admission.
How did your clinical background prepare you for this role? Which skills transferred?
Having the experience of working in acute care and IPR has given me the personal knowledge to properly address questions asked by patients and families.
What type of person do you think would do well in a clinical rehabilitation specialist role?
To succeed as a clinical rehabilitation specialist, you have to be comfortable working with a wide range of people: patients, families, physicians, case managers, and insurance representatives.
Do you work remotely or onsite?
I work onsite.
Does your organization hire PT, OT, or SLP professionals into non-clinical roles?
Yes, it does! PT, OT, and SLP.
What is a typical career path for someone in your role?
Moving up through leadership roles, as well as transitioning to other roles with in IPR administration.
What is next for you? What are your high-level career aspirations?
Looking into the future, I'd like to possibly advance toward a director role in IPR admissions.