Today's non-clinical spotlight focuses on Allison Solari, who went from physical therapist to Clinical Liaison at Encompass Health.
---
This post may contain affiliate links or codes. This won't increase your cost, but it helps keep TNCPT alive, and free of annoying ads! Thank you for your support. 🙂
What is your full name and title at your current job?
Allison Solari PT, DPT
Clinical Liaison at Encompass Health

Where did you go to PT/OT/SLP/A school, and what year did you graduate?
I graduated from Chatham University in Pittsburgh, PA in 2014 with a Doctorate in Physical Therapy.
What did you do when you first finished school, and for how long?
After graduation, I worked for two years at an acute care hospital that was a level-1 trauma center and certified stroke center.
During this time, I worked closely with orthopedic and neurosurgery patients. I also provided per diem coverage at a local skilled nursing facility on weekends.
After relocating with my family, I transitioned to a smaller, community hospital. I grew fond of the cardiovascular ICU, and provided as-needed coverage to the inpatient rehab unit.
At what point did you realize you wanted to do something non-clinical, and why?
My first realization that I needed change was when I found myself feeling unmotivated at work. I could not stay in a position where I did not feel that I was giving my patients my best effort.
I think for awhile, I suppressed the idea of "not liking" clinical care because I felt guilty. I've actually had people ask me how I could "throw away" seven years of education.
When I found myself dreading leaving for work in the morning and feeling anxious, I knew I had to make my mental health a priority. I wanted to find a job where I felt motivated and excited to go in each day.
That started my year-long search for a non-clinical role.
What are you doing these days?
As a clinical liaison (also sometimes called rehab liaison), I manage the transition of patients from referral sources to our inpatient rehab hospital.
This includes completing pre-admission screens and meeting with each patient and his or her family. Because our patients are admitted from a variety of locations, I may travel between hospitals, nursing facilities, and patient homes.
In addition to these responsibilities, I also assist with marketing activities for our facility and build relationships with referral sources.
Are you still treating patients, or are you solely non-clinical?
I do not treat patients in my current role, but the position does require a clinical license. While I am no longer providing hands-on care, I still spend most of my days in healthcare facilities.
I also meet with patients prior to their admission, and still get to witness their progress.
How long have you been in your current role?
I have only been in my role for about six months!
How did you find your job? Did you apply or find it through a connection?
My job search was a journey! I found my position by searching various online job boards.
I interviewed for my current position FOUR times between their various locations. I live in a highly saturated market, so I applied to full-time, part-time, and PRN roles.
I eventually landed a PRN role just hoping to get my foot in the door. On my first day of orientation, I was offered a full-time position!
The entire process took well over a year from when I submitted my first non-clinical application.
Did you do anything special to your resume and cover letter to land the job?
Each time I interviewed with this company, I learned more about the position and their expectations. I used this knowledge to go back and highlight specific skills on my resume—and I also used those skills as talking points during interviews.
I came prepared with examples of my previous work that aligned closely with their goals. Having this prepared ahead of time allowed me to really solidify why I was qualified for the position.
What was the interview like for the role?
While I technically interviewed four times for this position, it was at various locations and with four different hiring managers.
The first three were very similar, with the manager or other staff reading pre-established questions directly off a sheet of paper. The questions were very generalized and impersonal, such as, "Tell me about a conflict you had at work."
The interview that eventually landed me the job was a much different style. I met with the director of business development and senior clinical liaison.
We spent a lot of time talking about my experiences as a clinician and the challenges I faced getting my patients to rehab facilities. We discussed the responsibilities of the position in depth, as well as my comfort level with each role.
The business director asked about my networking skills and specific examples of how I'd reach new referral sources. The process flowed more like a smooth conversation, rather than a question-and-answer session.
Did you get any special certifications or training along the way?
I do not have any special certifications. However, I do believe that my experience in acute care is what gave me the skills needed for this role.
I already had a thorough understanding of the discharge process and various levels of care. My ability to complete complex chart reviews and interpret medical data also contributed to the seamless transition between roles.
What types of tasks and responsibilities fill your time?
Every day with this position is different.
Because we have the capability to work remotely, many liaisons start their mornings at home updating pre-admission notes and making phone calls to social workers or family members.
I may next head to a local hospital or nursing facility to meet with patients and complete their pre-admission documentation. This involves chart reviews, as well as phone calls to physicians and insurance companies.
We can also admit patients from home, so some days I complete in-home evaluations.
Marketing plays a large role in this position as well. Liaisons may visits doctors' offices or therapy clinics to provide educational in-services and try to stir up new referral sources.
I've called bingo at senior centers, and manned sponsors' tables at charity 5k runs. The variety is endless!
What are some of the challenges and rewards of the role?
The most obvious challenge of this role is the never-ending battle with insurance companies. It is a daily fight to obtain authorization for an inpatient rehabilitation stay. You can spend all week working on a case for a really deserving patient, all for it to be denied at the highest level of appeal.
We are also expected to meet monthly admission budgets. This can be frustrating when there are so many variables in healthcare that are out of your control.
The rewards are very similar to those of clinical care. While I am not specifically providing the care on our rehab unit, I can still witness the progress of my patients. The job itself provides physical rewards, as well, such as bonus opportunities and flexible scheduling.
How do you think working as a PT prepared you for your clinical liaison role?
Working as an acute care physical therapist effectively prepared me for this role. Not only did I have experience identifying the patients who qualified for inpatient rehabilitation, but I witnessed most of the process for that transition.
My physical therapy assessments were already tailored toward proving medical necessity for rehab. The liaison documentation includes a lot of this data and information.
Working in the hospital environment gave me the confidence to effectively interact with physicians and other healthcare staff, too, and this is one of the most important skills in my new role.
Additionally, having firsthand experience of rehab care allows me to better educate and connect with patients and families interested in coming to our facility. It allows for a better "sale."
How are the hours and pay compared to patient care?
The hours are significantly more flexible than my old patient care positions. There is an occasional late evening if you get swamped with referrals, but for the most part I make my own schedule throughout the day.
I work about one weekend day every two months.
My base pay is pretty comparable to a clinical therapist. However, as a clinical liaison, I have the opportunity to earn bonuses when goals are met.
What type of person do you think would do well in your role?
The best type of person for this role would be flexible.
Some days, I am sitting by myself, completing documentation on a computer for hours at a time. Other days, I am driving from hospital to hospital, meeting new patients and doctors.
Our liaisons often do in-services where we are presenting to groups of people, so you need to be somewhat outgoing. Individuals that require structured days would not be a good fit for this position.
Do you work remotely or on-site?
Both! We have the capability to complete all of our work remotely.
Our admissions office is located inside the rehab hospital, but we only report there as needed. The rest of my work is completed on-site at my acute care hospital or where ever my referral is located (this could be a nursing facility or patient's home).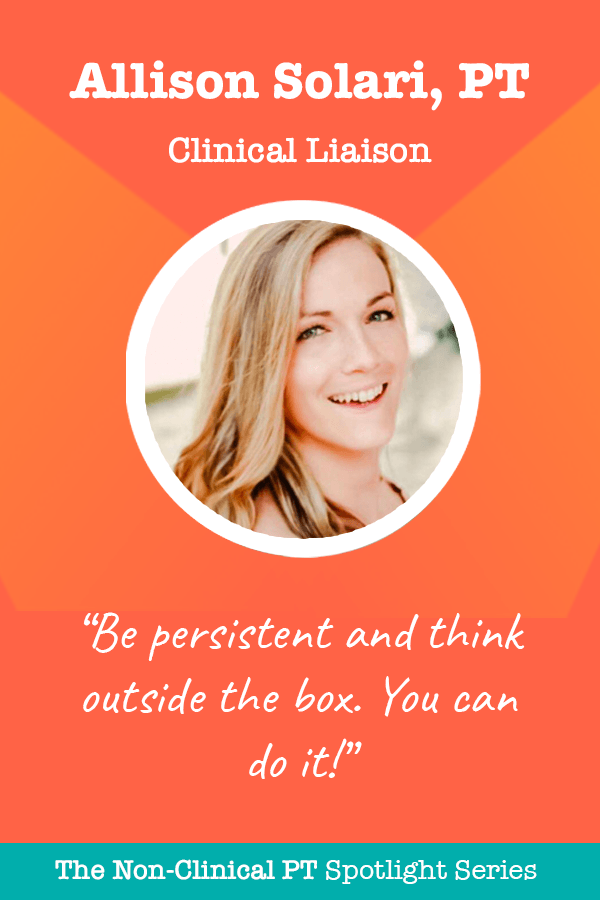 Did you read any books or take any courses to get where you are?
Nope 🙂
What is next for you? What do you want to do with your career long-term?
Right now, I am just enjoying my relatively new role! I am already taking on some extra responsibility with marketing activities, and really trying to immerse myself in my business territory.
What would you recommend to someone who is considering going into a role like yours?
I would advise him or her to have a clear understanding of what their expectations are for the position. The day-to-day activity can be so variable, and it can even change depending on the healthcare market in your region.
I was lucky to have a wonderful mentor through my orientation, who helped me learned how to organize my days and weeks.
Do you have any special advice for others who want to follow in your footsteps?
Be persistent and think outside the box! I live in an extremely saturated rehab market. It took me over a year, four interviews with the same company, and accepting a PRN position to get my foot in the door. You can do it!
---