This week's non-clinical spotlight features yet another Non-Clinical 101 success story! We're spotlighting an SLP who now works as a clinical liaison at NYU Langone Health!
---
This post may contain affiliate links or codes. This won't increase your cost, but it helps keep TNCPT alive, and free of annoying ads! Thank you for your support. 🙂
What is your full name, title, and company name for your current, primary role?
Jessica S. Alves, M.A CCC-SLP, CBIS. I'm currently a clinical liaison at NYU Langone Health.
The information provided in this spotlight is my personal view and not a statement on behalf of NYU Langone Health.
What additional roles do you currently have?
Adjunct Professor, Department of Communicative Sciences & Disorders, New York University
Where are you located?
New York, NY
Where did you go to school, and what year did you graduate?
I attended St. John's University and graduated with my B.A in 2012.
In 2014, I got my M.A in Communicative Sciences and Disorders.
I then went on to obtain a diploma in Healthcare Informatics from NYU in 2019.
What did you do when you first finished school, and for how long?
Immediately after graduation, I began working part-time in a sub-acute rehabilitation facility during my clinical fellowship year.
I was extremely drawn to working in acute care and acute inpatient rehabilitation, and with a supportive supervisor, I was able to shadow and observe in these settings in the healthcare system that I worked for at the time.
Eventually, a full-time position opened up, which led me to apply and transition into working in my dream setting.
In what setting(s) did you work, and what types of patients did you treat?
I have experience working in sub-acute rehabilitation, inpatient acute rehabilitation, acute care/ICU, and outpatient.
Working for a Joint Commission Stroke Center/Stroke Rehabilitation Center and Level 1 Trauma Center, I predominately treated patients with aphasia, cognitive-linguistic impairments, and dysphagia following stroke, traumatic brain injury, and various acquired neurological conditions.
What did you enjoy about your early roles? What didn't you enjoy?
In my early roles, I really enjoyed the rapid learning curve and further application of my graduate coursework from a medical perspective. I was drawn to the fast-paced environment, continuous learning (even outside my field), and interdisciplinary collaboration with various medical professionals.
As I advanced in my career, I realized that the role of the speech-language pathologist in the medical setting was crucial to many parts of patient care, but not every medical professional knew this.
I often found myself advocating for consults for patients that would benefit from more than just an aphasia evaluation after a stroke, or a clinical dysphagia evaluation due to aspiration pneumonia, and encouraging team members of the medical team to look at the overall clinical picture of a patient's needs from their diagnoses. Especially in acute care, we want to ensure that a patient has all of the appropriate referrals that they need prior to discharge.
At times, it was exhausting, but it came along with supportive management who helped address these concerns by involving me in various work-groups and interdisciplinary trainings that turned into competencies for other disciplines (i.e RNs, CNAs, etc).
When and why did you decide to do something non-clinical?
A few years into my career, the hospital that I was working for underwent a new EMR implementation to align with the greater healthcare system we were part of.
An opportunity to become a "super user" for the rehabilitation department was presented to me by my manager, and I was eager to get involved.
A super user is someone who is considered an end-user with extensive knowledge of the workflows, applications, and documentation as well as the "go-to" person in their department.
I was able to sit in several intensive trainings with the EMR's trainers prior to go-live, help build our department's documentation templates alongside management and senior rehabilitation staff, and collaborate with staff across other hospital campuses. I played an integral part during our go-live in troubleshooting and articulating any issues with IT professionals.
For the next several years, I continued to serve as the department's go-to for all things EMR related prior to going to IT. I also participated in an EMR Steering Committee across the healthcare system for the department of rehabilitation, and contributed to the orientation and onboarding of new rehabilitation staff related to our EMR system.
This easily became one of my favorite parts of my job, which eventually inspired me to obtain a certificate in healthcare informatics.
As I reflected on this experience, and saw the need for clinicians on the other side of the tech/EMR spectrum, I was inspired to pursue a non-clinical/alternative SLP career.
What are you doing these days?
Currently, I work as a clinical liaison. In my role, I work on the pre-admission screening program for all inpatient acute rehab facilities (IRFs) across the healthcare system I am part of.
I collaborate with physiatrists and members of the interdisciplinary acute care team to make appropriate recommendations for potential admissions. Part of my job involves ensuring that patients are medically stable and ready for the intensity of service we provide.
I also work closely across multiple departments system-wide, including (but not limited to) patient access, bed management, and revenue cycle operations to ensure the transition from acute care to acute inpatient rehab is coordinated safely and smoothly.
My familiarity of working in various clinical settings, chart reviewing, and a strong medical knowledge base has been crucial in being able to succeed as a clinical liaison.
Additionally, I have a marketing piece in this new role, where I am responsible for recruitment of patients and educational marketing of the institute at referring facilities.
Recently, I've also taken on a position as an adjunct professor/instructor, teaching a class once per week in the evening. As a practicing clinician, I absolutely loved the supervisor-student clinician relationship and education piece. Having recently moved non-clinical, I did not want to lose touch with my strong clinical knowledge base and wanted to stay relevant.
This opportunity has helped me bond with students, share my clinical experiences, and remain motivated to learn and stay clinically relevant for my upcoming lectures.
Are you still treating patients, or are you solely non-clinical?
Currently, I am solely non-clinical. I want to take the time to build competency and ensure confidence in both of my new roles.
How long have you been in your current role?
Since March of 2021.
Did you get any special certifications or training along the way to help you get into your current role?
During my time exploring various career opportunities, I took the Non-Clinical 101 course!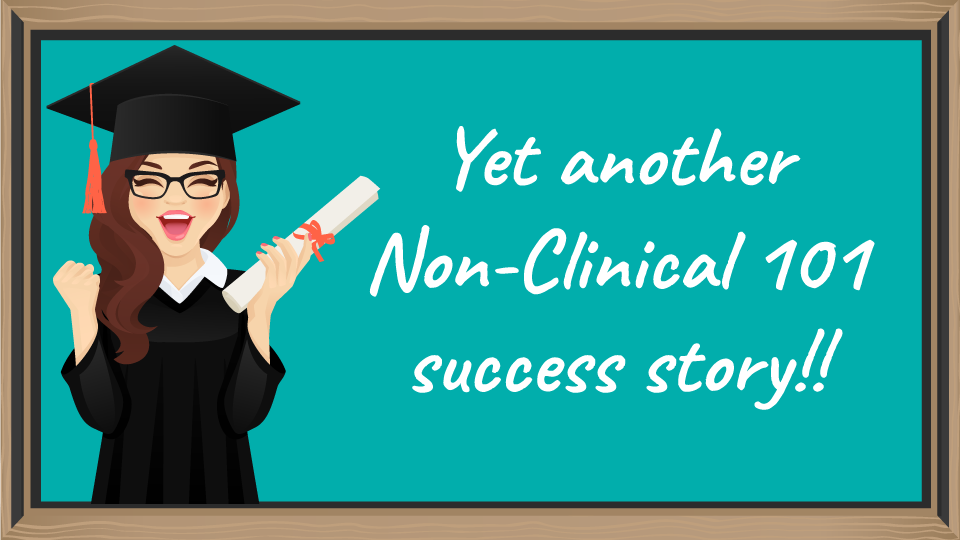 Prior to seriously considering and being proactive in applying for non-clinical roles, I obtained a Certificate in Healthcare Informations from the NYU College of Professional Studies and a Lean Six Sigma Green Belt Certification after being exposed to an EPIC implementation.
How did you find your job? Did you apply or find it through a connection?
I found my current role internally with the help of my previous director, and working with the HR department's Steps for Success program, a program for employees looking to grow internally into new roles.
Did you do anything special to your resume and cover letter to land the job?
I revamped my resume, utilizing many tips and template ideas from the Non-Clinical 101 course!
What are some of the things you did to stand out, take initiative, and advance in your career?
I advanced within the healthcare system that I worked for. I strongly encourage that if such an opportunity exists, it is important to reach out to your internal human resources (HR) specialist, and reach out and network with individuals currently in the role.
It may seem hard to do so, and may not work for everyone, but I found that being open and honest with my current supervisor was very important. I shared my career goals and aspirations and how I was feeling about the SLP field as a whole.
She was extremely supportive, provided me with networking suggestions, offered to look over my resume, and served as a professional reference.
How have people reacted to you leaving patient care?
However, I cannot stress the amount of overwhelming support I have received in leaving patient care from my colleagues, family, and friends.
Mental health and happiness take precedence over everything if possible!
What's a typical day or week in the life like for you? What types of tasks and responsibilities fill your time?
On a typical day, I spend time:
Collaborating with my team on bed management
Collaborating with insurances and insurance authorization
Chart reviewing internal and external referrals to ensure appropriate inpatient acute rehab candidacy and medical stability
Collaborating with medical teams, patients, and their families in discharge planning
Composing extensive pre-admission notes for documentation in medical records
What are some of the rewards of your role? What are the biggest challenges?
The greatest reward is being, as the job title says, the liaison that helps facilitate putting the pieces together to get your patient to the most appropriate level of care on their road to rehabilitation and recovery.
Some challenges often lie in dealing with insurances and denials, managing patients', families', and/or various clinical teams' expectations when patients do not meet inpatient rehab criteria. However, with a strong and supportive interdisciplinary team, these challenges can be overcome successfully by collaborating to make sure that a patient will receive the best patient care regardless of some initial disappointments.
How did your clinical background prepare you for this role? Which skills transferred?
My clinical background in working in inpatient acute rehab is essential in understanding the criteria for meeting inpatient acute rehab criteria.
Additionally, being the first SLP on my team has been a great experience. My knowledge base of dysphagia, speech, language, and cognition has been extremely valuable.
I've been able to use my existing skills and experience to ensure that all that my work captures patients' true need for acute inpatient rehab—and I can also make recommendations for alternative care settings when appropriate.
What type of person do you think would do well in your role?
In order to succeed in this role, a candidate would need to be extremely detail-oriented and organized, especially when it comes to managing multiple patients, performing thorough chart reviewing, and making appropriate candidate recommendations.
Do you work remotely or onsite?
My role is traditionally onsite. Currently, due to the COVID-19 pandemic, I work in a hybrid environment where several colleagues and I take turns rotating in and out of the office on a schedule, helping us to maintain precautions and safety in the office.
Does your organization hire PT, OT, or SLP professionals into non-clinical roles? If so, what type of roles?
My team is composed of nurses, physical therapists, occupational therapists, and now a speech-language pathologist! I was the first SLP to be hired into this position.
Did you read any books, take any courses, or do anything special overall to get you where you are today?
Aside from my health informatics program and Non-Clinical 101, I really enjoyed taking the Lean Six Sigma Green Belt Certification. It's great for anyone interested in understanding various management principles used in healthcare.
A book that really helped me with confidence building and starting to explore my true potential was You Are a Badass: How to Stop Doubting Your Greatness and Start Living an Awesome Life, by Jenn Sincero. Highly recommend it!
What is next for you? What are your high-level career aspirations?
I still have a lot to learn in my current role. I have been lucky to have a mentor that I can lean on, even after my orientation process.
In the future, I hope that I can take my clinical skill set and experience with EMR and transition into more of a healthcare management position or consulting role. I truly enjoy the education piece behind making things work to their best potential.
As a speech pathologist, I am also extremely passionate in how technology integrates with communication and therapeutic practice (i.e AAC, Application Development, User Experiences, etc).
What would you recommend to an SLP who is considering a clinical liaison job? Do you have any special words of wisdom for the readers?
Network, network, network. Did I say network?
This was the SCARIEST thing for me to do at first! I painted a false picture in my head that the clinical field was way different, and that networking wasn't a thing. False!
I reached out to several connections, and those informational interviews, e-mails, and interactions were all even more positive than I had ever imagined.
What would you teach to today's graduate students in your profession, if you had the opportunity?
I teach at the graduate level in the Speech Pathology program at NYU. I teach the clinical practicum course associated with the students' final externships, working with the adult population.
In this course, I am extremely proud in the fact that we dedicate a few lectures on resumes, interviewing, and future professional development (CEUs, what are they). I find this so incredibly valuable today, as this was not discussed when I was in graduate school.
I loved providing feedback on students' resumes, going over mock SLP-related interview questions, and highlighting the importance of networking. Incorporating information that I learned from my own clinical transition led to extremely positive feedback!
---
Inspired by Jessica's story, but not sure how to start your non-clinical career?