Creating a non-clinical resume takes some finesse. You need to show that you can perform the duties of the job you want—but you ALSO need to prove that your clinical background has provided you with the ability to do exactly that.
Oh, and you need to do all that without confusing the hiring manager as to why on earth you're applying!
The first thing you need to do is step back and look at your standard clinical resume. Realistically, it probably looks pretty impressive if you're a clinician or healthcare recruiter. If you're a corporate recruiter or talent acquisition specialist, not so much, though. In fact, your clinical resume, with all its specialized jargon, will likely confuse, not captivate—unless you're careful!
You absolutely have to look at your resume from the eyes of the hiring manager of the job you want, not the job you have.
Therefore, each resume you create will be tailored to a specific role.
This post may contain affiliate links or codes. This won't increase your cost, but it helps keep TNCPT alive, and free of annoying ads! Thank you for your support. 🙂
Let's say you're going for a rehab liaison role in this example. Let's create your non-clinical resume for this role.
Step 1: Examine the job you want.
If you want to become a rehab liaison, chances are, you'll see a job description with things like this:
Recognize barriers to admission, respond appropriately and follow up on admissions variables.
Represent our company in community-related activities.
Assist with coordination of the referral-to-admission process.
Use territory market analysis data to identify potential new business opportunities.
Develop census as defined by targeted goals of the business plan.
Build referral relationships within an assigned geographic territory, emphasizing face-to-face contact.
Provide in-services and professional presentations for referral sources, community groups and others regarding our services, programs, and outcomes.
While those tasks are certainly within your purview, you will need to show that you are capable of performing them. And you'll also want to echo the language in the job posting itself. Make note of the use of phrases like "develop census" or "build referral relationships." You've likely done these things in your prior roles!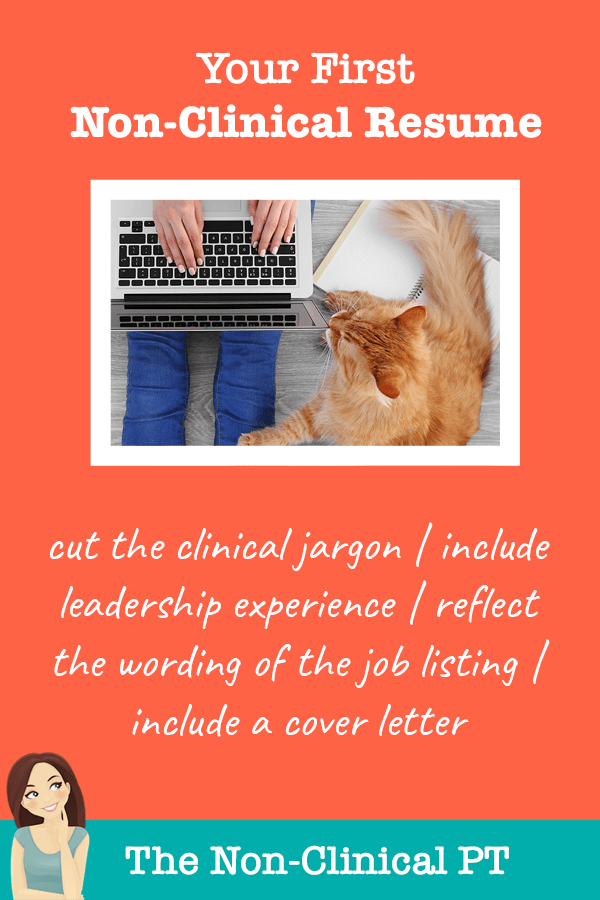 Step 2: Prune your clinical resume & replace filler content with relevant content
Your resume needs to be free from confusing language that might turn off a hiring manager. It's going to be painful to do resume surgery, but you have to make some cuts if you're going to replace that resume real estate with valuable content that relates to the role you want.
That advanced spinal mobilization course you took?
It's not relevant to a rehab liaison role, and it's stealing space from something more important you should highlight on your resume. Delete.
The women's health patient population you served? The diastasis recti con-ed course you took?
Impressive, but not relevant to a rehab liaison job. Delete.
The point here is that we're cutting the words that will only distract a hiring manager from the qualities he or she is seeking. The good news is that you're going to get to play up lots of cool things you've done that you never really thought mattered.
Captain of your kickball team?
Awesome. That shows you have leadership skills. Add it to your resume.
Kicked booty on your productivity each month?
Don't get me started on productivity (grrr), but that's great that you can meet quotas. Keep it!
Always wound up giving the new PTs a tour of the hospital?
Perfect! You have experience with on-boarding new talent and building relationships. This is a valuable skill for a liaison role.
Got a knack for blogging?
This is fantastic, and shows that you're a clear communicator. Make sure to list your blogging experience!
Managed therapists' schedules when your supervisor was out?
Awesome; this shows that you have great time-management skills.
Belong to Toastmasters (or another networking group)?
Excellent. Your job is all about networking as a rehab liaison, so keep this on your resume! Bonus points for holding leadership roles.
Took a really cool non-clinical CEU or course where you learned skills that apply to this role?
Perfect. It belongs on your resume!
Step 3: Create a catchy summary.
At the top of every resume is a summary. Don't use an objective; it dates you. This is the very first thing a recruiter or hiring manager will see about you. Make it sizzle. And try to include some keywords from the original job posting.
Here's an example of a summary:
"I'm an enthusiastic, flexible, and outgoing physical therapist with stellar communication skills. I have a doctorate in physical therapy with two years of clinical experience in an inpatient rehab setting, and I have helped with scheduling, relationship-building, and interdisciplinary communication. I am passionate about marketing and am eager to join a team as a rehab liaison, where I can help share the value of inpatient rehab to other medical professionals, and to the community at large."
This says it all! You have the experience they want, you've got a great personality, and you have a passion for marketing.
Step 4: Make sure you have some pizazz, but in the RIGHT ways.
Absolutely include volunteer activities if you have the space, even if they're not relevant to the role you're pursuing. If you volunteer for a women's empowerment organization, a female hiring manager will kvell.
If you work in animal rescue or volunteer at a shelter, point it out. An animal-loving recruiter will be feel compelled to push your resume forward.
If you have room, you can also to include a reference to personality test results! I often include mine, and they've made great talking points over the years!
Pizazz you don't want includes:
Fancy fonts (stick to the basic ones, like Calibri, Garamond, or Arial).
Fancy formatting or images (they can trip up resume-scanning software.) Keep the layout basic.
A picture of yourself. I'm sure you're super sexy, but some employers toss resumes with pictures so they're not accused of agism, gender/race preference, etc.
Step 5. Keep the length reasonable.
Depending on how much you've put on your resume, and how long you've been working, your resume can start to get really loooooooong. Too long.
Two pages is typically plenty to highlight your best skills that are applicable to the role.
Remember, be ruthless in slashing your clinical skills unless they directly relate to the role. And don't be afraid to highlight experiences that aren't from your clinical days, but are still relevant to the role you want.
Step 6: Proofread that thing! Over and over.
You'll want to make sure that the resume lists the title of the role you're pursuing on it. Hopefully somewhere up at the top, just under your name—but in the summary works, too.
You'll also want to make sure the resume is free from typos, grammatical/syntax errors, and misspellings. If you wind up including a link to a facility or company where you've worked, such as https://impactcaretherapy.com/, be sure it's spelled correctly! (Side note: most people do not link directly to websites of companies where they've worked, unless there's a good chance of confusion with another facility, and such confusion would rob you of cred from the "better" facility!)
Most importantly, make sure the resume reads like it's meant for the role you're pursuing. For example, if the role requests that you "demonstrate flexibility by working with patients and families at multiple sites," be sure that you make one of your bullet points say, "demonstrate flexibility by working with physicians, case managers, and nursing staff, patients, and families in collaborative environments, including care navigation sessions."
Additional tips for going non-clinical.
Do NOT skip a cover letter. Your cover letter is your chance to explain all the questions a recruiter or hiring manager might have about your resume. It's your resume's job to answer what you have done in the past that makes you qualified for the role. You're flexible. You're good with people. You have excellent communication skills. It's your cover letters' job to answer why you're making this move, and why the hiring team should take a chance on you. Look for an article about your first non-clinical cover letter soon!
Do NOT underestimate the power of networking. Networking is very possible online these days! Check out my free networking Facebook group!
Make a plan. Like anything else in life, you'll have greater success if you KNOW what you want to do, and then take actionable steps to get there. If you're not sure where to start, check out Non-Clinical 101: The Complete Guide to Launching Your Non-Clinical Career!
---