Today's non-clinical spotlight focuses on Molly Miller, a physical therapist working as a Quality and Outcomes Specialist role!
---
This post may contain affiliate links or codes. This won't increase your cost, but it helps keep TNCPT alive, and free of annoying ads! Thank you for your support. 🙂
What is your full name and title at your current job?
Molly A. Miller, PT, COS-C
Quality and Outcomes Specialist at Encompass Home Health and Hospice

Where did you go to PT school, and what year did you graduate?
Barry University – 2005. We were the second of three classes to graduate before they closed the program. It was a "first of its kind" crossover program for PTAs to become PTs—we went to school on the weekends, and were required to work at least 20 hours per/week during the program.
What did you do when you first finished school, and for how long?
I started working for the family-owned clinic that I worked in while going to school. I started teaching PTAs when my daughter was born, thinking that summers off would be a good thing, then I opened my own niche practice (TMD and Women's Health) and eventually drifted into home health.
What did you enjoy about your early roles? What didn't you enjoy?
I LOVED patient care, especially the education part. There's nothing like that moment when a patient gets it—and you see the light bulb turn on.
I actually quit doing home health early on because of the OASIS documentation we were being required to do. And I really disliked the bureaucracy of health care.
When and why did you decide to go non-clinical?
I have always loved teaching—it is the one thing I am probably more passionate about than treating patients—and I have always wanted a travel position.
This opportunity was posted on our internal job board the week my daughter graduated from high school, and I knew I had to go for it because I had such a desire to travel!
What are you doing these days?
I am teaching clinicians and local branch leadership how to document and navigate some of the bureaucracy—especially how to understand (and maybe love, a little) the dreaded OASIS document.
After I left home health years ago because of my dislike of OASIS, who would have thought I'd wind up in this role?
I travel three to four weeks a month, and although I am mostly from airport to office, I make a concerted effort to get some time OUTSIDE to explore wherever I am.
Are you still treating patients, or are you solely non-clinical?
100% non-clinical.
How long have you been in your current role?
Just over two and a half years.
How did you find your job?
A coworker told me when she saw it on the internal job board.
Did you do anything special to your resume and cover letter?
Yes! When it was posted, a friend called me to tell me I would be perfect. I read the job description and thought, "Oh, too bad; I am not qualified. "
But as I drove to my next patient, I thought to myself, "Wait—I am UNIQUELY qualified, and I am super passionate about education, so this is my dream job!"
So, I redid my resume, highlighting all of the education and in-services I have done, and sent it off.
What was the interview like for the role?
A bit scary—it was all phone interviews, and not even video calls! I never saw the people who hired me until they offered me the position.
One thing I really love about Encompass is they do everything they can to eliminate biases. That explains the phone interview part! And Encompass hires for attitude; they look for the best person with the right attitude for the role. You can teach the skills, but it's hard to train a good cultural fit!
I was only given around a day to prepare! It felt like a pop quiz because my interview was literally the day after I found out. I had to be prepared to do a 30-minute presentation over the phone!
It worked out because I had just put together an OASIS presentation for the Tampa office, so I had it in my back pocket. But, of course, there was still the question of how to convey the visuals over the phone.
I wound up taking my next-door neighbor's daughter to lunch to learn how to use Prezi, which allows you to put on remote presentations! I had the interviewer download the app and did a Prezi presentation.
Partway through the interview, I asked a question—my interviewer didn't answer, so I said, "Kim, that wasn't rhetorical!" I was kicking myself afterward, thinking no way am I getting this job!
In any case, the interview was the day before I moved my daughter into her dorm, which was in mid-August, and I didn't hear anything until very end of October. Incidentally, I got the news when I was walking into an OASIS certification course; I had decided to lean into learning OASIS better, regardless of whether got the job!
What do you think landed you the job?
I had a very appropriate background, and I feel like I did really well in the interviews.
I guess it could have been my scolding, but I doubt the interviewer remembered that part! Perhaps it was when I asked, "Why did you decide to interview me?"
Also, I didn't go in with an air of desperation, and I didn't bring that feeling of emotional or internal pressure. My attitude was very optimistic and focused on being myself, which I think was very helpful.
How did your manager react to your desire to go non-clinical within the company?
Local leadership at the Tampa branch, where I was a field clinician, was super supportive of my move.
Did you get any special certifications or training along the way to help you get into your current role?
I had to be COS-C certified (Certified OASIS specialist – clinical). I decided to take course regardless of whether they'd hire me, though, because I knew it would help me in my career.
One of my favorite things about this job is that all of the alone time in hotels gives me opportunities to geek out and learn more.
I just passed my Geriatric Clinical Specialty exam, and have started an online transitional DPT program.
How have people reacted to your non-clinical career path?
Nobody was negative, except my dog—she still does not know how to act when I leave, or when I get home.
Really, people were very encouraging; this position is the perfect fit, and those who know me, recognize it.
What types of tasks and responsibilities fill your time?
I spend a lot of my time analyzing outcomes trends, and trying to determine what kind of education is needed.
When I am in a branch, my role shifts from educator to coach pretty quickly. Some of what I do is one-on-one with clinicians or branch leadership, sometimes it is education for whole offices of clinicians, or key clinicians.
I do a lot of chart audits, and either educate on specific items, or educate whole offices on trends. I spend A LOT of time answering emails.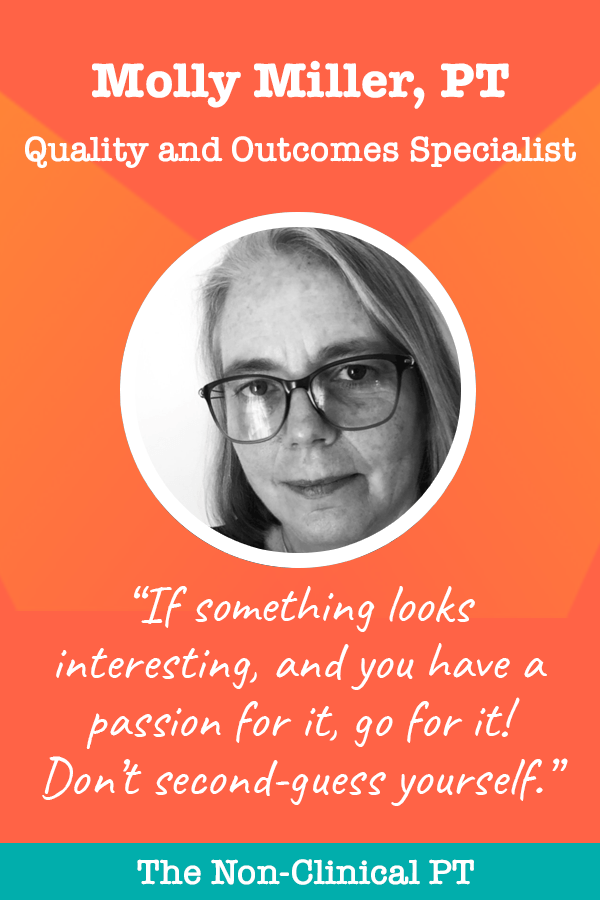 Because my job has zero supervisory function, I present myself as a resource; this way, clinicians and branch leadership feel comfortable asking me questions.
And I love that—I love being a resource for people to help them understand and navigate the hardest part of their job, which is usually documentation.
What are some of the challenges of your role? What are the rewards?
Because of the way CMS reports outcomes in healthcare, any positive impact we make won't be reported for a very long time—so keeping the clinicians positive about their progress when Medicare is reporting negative outcomes that are a year old can be VERY frustrating.
The rewards are watching the outcomes trend up, or getting an email from a clinician that was able to streamline their documentation to the point that they were able to enjoy their family and embrace a work-life balance—I love that!
How do you think working as a PT prepared you for this role? Which skills transferred?
The skill that transferred the most are:
The ability to educate and care
The ability to hold people accountable, like I had to with my patients.
The skill of getting people to do really unpleasant things for their own good was definitely transferable.
Roughly speaking, how are the hours and pay compared to patient care?
It was a roughly lateral move for me. However, I get to keep all of my air and hotel points—so the travel is a HUGE perk for me!
What type of person do you think would do well in your role?
Someone who is detail-oriented and thick-skinned would do well in this role. I get a ton of pushback from clinicians at first, and they like to challenge me at times.
To be honest, though, if they are not challenging me, I feel like they are not engaged.
Also, someone who is kind would do well in this role. I do not consider myself a kind person, but I am working on it.
Healthcare is changing constantly and the stakes are high. Many of my clinicians have been doing what they do for a very long time, and it has always been good enough, and I am asking them to change whole paradigms about how they look at patient care and the career they love.
It is a challenge, and I am learning to be kind.
[Editor's note: I have been interacting with Molly during this whole spotlight process, and she is beyond kind. And she is one of the most effervescent and upbeat people I have met in this role. Don't believe her when she says she's not kind ;)]
Do you work remotely or on-site?
Both. Video conferencing is my friend!
Does Encompass hire other PT, OT, or SLP professionals into non-clinical roles?
We do. This organization has PTs and OTs at all levels of management, except where restricted by state practice acts (some states have verbiage that require an RN in specific branch leadership roles).
But yes, there are tons of growth opportunities for therapy staff from the C-suite down, in both sales and clinical leadership.
Encompass usually promotes from within; they will initially advertise the job internally, then post externally. For this specific role I'm in, most folks come from Encompass' HH team.
Can you clarify these Medicare rules?
There are state-specific and federal Medicare rules. Some say that an RN must hold a specific role, which is why some companies won't even entertain the notion of therapists in those roles. You can Google for more info on this!
---
Editor's Note: Please check out my Advocacy page on my website. I link to planning groups in our professional organizations where we are trying to fight to change these Medicare rules!!
---
Did you read any books, take any courses, or do anything special overall to get you where you are today?
So many! I am an avid reader and follow the 4 Disciplines of Execution from The Covey Institute.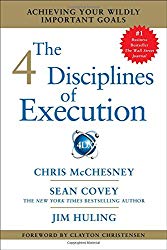 I also just enjoyed Radical Candor by Kim Scott.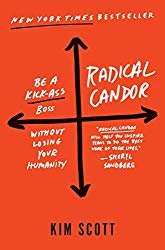 What is a typical career path for someone in your role?
Everyone on our team had a slightly different career path (we have RNs, PTs, 2 OTs, and an SLP) before landing this role at Encompass. I came straight out of the field, but others were in non-clinical supervisory roles first, and a few were in sales before landing this type of role.
What is next for you? What do you want to do with your career long-term?
My position recently changed, so I am traveling to more places, and right now I am super content with what I am doing. There are opportunities in our company to help with developing clinical education and other special projects, and I do jump on those opportunities whenever I can.
If you could give yourself one piece of career advice you wish you had during your PT program, what would it be?
Don't be so focused on what you think you want that you lose sight of all the opportunities available to you.
I thought I was going to concentrate on neuro while I was in PTA school, and I ended up finding a job I loved in ortho. When I graduated from PT school, I never wanted to do anything but ortho, but I ended up loving women's health, and then geriatrics became my favorite.
If you could teach anything to today's graduate students in your profession, what would it be?
That documentation is your friend. It is not a necessary evil—instead, it is the most effective means of communication you have for your team.
Especially with EMRs—we have everything we need for our patients in our hands, as long as it gets done in a timely fashion. Great, timely documentation improves patient care.
Do you have any special advice for other PT/OT/SLP/assistants who want to follow in your footsteps?
Love what you do, but leave yourself open to opportunity.
Do you have any special words of wisdom for the readers?
If something looks interesting, and you have a passion for it, go for it! Don't second-guess yourself. Our clinical skills translate into so many other aspects of life, and if the time is right, don't be afraid to make a change.
---
Thanks for your insight, Molly!
---
---