This week's non-clinical spotlight features a PT who went into the wonderful world of quality assurance/improvement, holding the title of System Rehabilitation Program Coordinator at Northside Hospital, Inc.
---
This post may contain affiliate links or codes. This won't increase your cost, but it helps keep TNCPT alive, and free of annoying ads! Thank you for your support. 🙂
What is your full name and title at your current job?
Brandy Wilkins, PT, DPT, CPHQ
System Rehabilitation Program Coordinator at Northside Hospital, Inc.

Field Reviewer at The Joint Commission

Where are you located?
Metro Atlanta, GA
Where did you go to PT school, and what year did you graduate?
I received my Master of Physical Therapy from The Ohio State University (2004) and my Doctor of Physical Therapy from MGH Institute of Health Professions (2007).
What did you do when you first finished school, and for how long?
I started working in acute care and hospital-based outpatient right after graduating with my MPT, and I also did some PRN work in subacute (SNF) and long-term acute care (LTAC). I did that for about three years.
In 2008, I started doing travel therapy in NC, SC, and GA for about four years in acute care, freestanding outpatient clinics, and inpatient acute rehab.
In 2012, I took a full-time staff position in an acute care hospital.
What did you enjoy about your early roles? What didn't you enjoy?
I really enjoyed being a generalist with an ability to see patients with any diagnosis and use my skills in different settings.
The way I thought as an outpatient PT was different than as an acute care PT and I valued the differences in clinical decision-making.
At what point did you realize you wanted to do something non-clinical, and why?
I wanted to be able to impact patients on a larger scale and with a big-picture perspective. With a non-clinical role, I could impact more patients than just the ones I would personally interact with.
In the therapy world, there are known paths for being a clinical specialist, or moving into rehab management, or even academia, but I did not know that PTs could be involved in quality and risk management.
In fact, many of those roles have been reserved for registered nurses (RNs). However, as rehab professionals, we bring a unique skill set that is also valuable in the quality and compliance spaces.
Once I realized that quality and compliance was something of interest to me, I decided to pursue that path.
Even when I applied for my position with The Joint Commission, the job posting requested an RN, but I applied anyway. I felt my skills matched the role, and thankfully the hiring team agreed.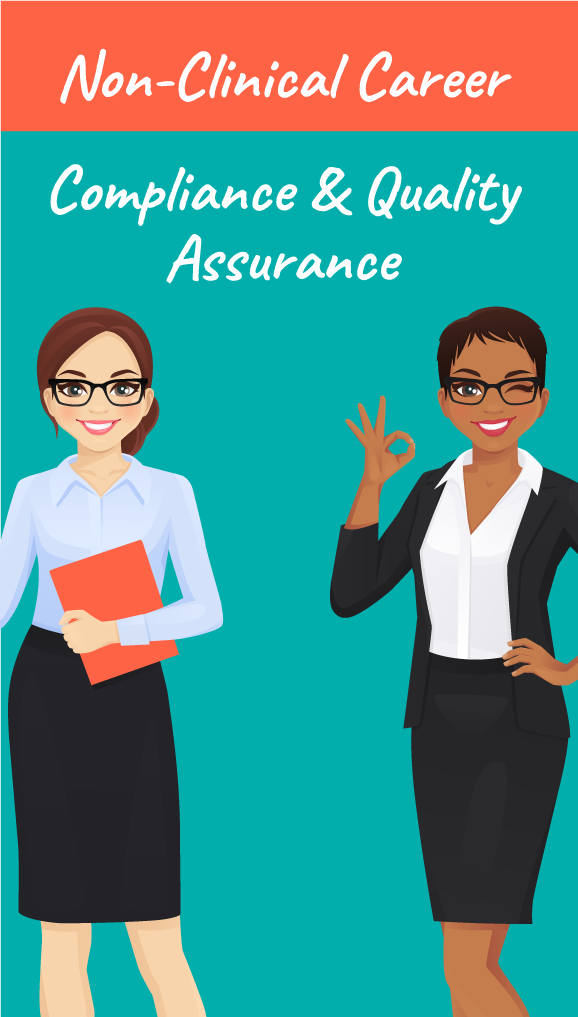 What are you doing these days?
I work full time in a multi-campus hospital system as a program coordinator in the rehab department.
Much of my role relates to quality and patient safety, compliance, survey readiness, and data management. I am also involved in staff education and managing our clinical student program. 
In another role, Field Reviewer for The Joint Commission, I travel nationwide and review hospital and ambulatory surgery center orthopedic programs nationally for quality and patient safety.
I also do some freelancing as a course advisor for a Rehab Administrative Certificate program.
Are you still treating patients, or are you solely non-clinical?
I am solely a non-clinical physical therapist.
How long have you been in your current role?
I have been working as a Program Coordinator since 2014.
How did you find your job? Did you apply or find it through a connection?
It was an internal promotion to a newly created position.
Did you do anything special to your resume and cover letter to land the job?
I highlighted my desire to work with data and my passion for quality. I had been involved informally in quality projects prior to this role when I was a bedside provider.
Did you get any special certifications or training along the way to help you get into quality assurance?
Not to get me into my current role but to help me succeed in my current and future roles. Here are a few that I've taken:
Project Management for the Unofficial Project Manager by Franklin Covey
Yellow Belt Certification – Joint Commission's Robust Process Improvement
Basic Certification in Quality and Safety through the Institute for Healthcare Improvement (IHI)
Certified Professional of Healthcare Quality (CPHQ) through the National Association of Healthcare Quality
Did you read any books you have found especially helpful?
How have people reacted to you leaving patient care?
People ask me if I miss patient care. In some ways, I do. I miss being hands-on and seeing patients progress from being immobile to ambulating without assistance.
But I really enjoy using my skills in a different way while still having a positive impact on the patient experience. In my current roles, I can assist, and hopefully inspire, others who are in direct contact with the patient.
What's a typical day or week in the life like for you? What types of tasks and responsibilities fill your time?
There's no typical structure to my day or week. The amount of time spent on various components of my job responsibilities fluctuates based on the season and segment of the fiscal year.
Additionally, I travel once or twice a month (pre-COVID), so that changes the flow of my week.
What are some of the challenges of your role? What are the rewards?
As a Program Coordinator, nobody directly reports to me, which can be a pro or a con.
I don't manage personnel issues, but it can be challenging to influence change with those whom you don't have direct authority over and who may have conflicting priorities.
However, it is certainly rewarding to inspire others who directly impact the patient experience. To be a part of something bigger than myself and help improve the way we provide care is worthwhile and fulfilling.
How do you think working as a PT prepared you for this role? Which skills transferred?
Working as a PT helps develop the interpersonal, collaborative skills required for the role I'm in. It also helps to develop the patient-centered skills to see things from the patient's perspective, as well as the ability to tell a story through your clinical documentation.
In my role as a Program Coordinator, I have the opportunity to paint a picture about clinical data and how to make the data meaningful to those who use it to make clinical and operational decisions.
Roughly speaking, how are the hours and pay compared to patient care?
The pay difference is not substantial. Really, you take the role for the experience and professional/personal growth. My full-time role is a salaried position, so pay comparisons can be misleading depending on the number of hours actually worked. 😊
The pros to being salaried are related to flexibility and autonomy.
What type of person do you think would do well as a Rehab Program Coordinator?
You should be organized, show attention to detail, enjoy working with numbers and graphs, be highly collaborative (you must create change through influence as opposed to authority), and be able to work with frontline staff, mid-level leadership, and executives.
Do you work remotely or on-site as a Rehabilitation Program Coordinator?
Both, mostly on-site especially for my full-time role and remote in my other roles.
Does your organization hire PT, OT, or SLP professionals into non-clinical roles? If so, what type of roles?
Absolutely. Leadership (clinical or non-clinical) in the rehab services department, as well as quality improvement, admin, and marketing. I have a colleague who is a PTA and leads a team of clerical staff.
What is a typical career path for a Program Coordinator?
I don't think there is a typical career path.
You can start anytime and with any rehab clinical background. I do think you should have a couple of years' experience in patient care first to truly understand how the healthcare system works.
If you could give yourself one piece of career advice you wish you had during your PT program, what would it be?
Flexibility is key. Keep an open mind to new career opportunities when they present themselves. Stay current on, and even ahead of, what the industry is doing.
Do you have any special advice for other rehab professionals who want to go into QA?
Gain some solid clinical experience, and then go for it!
Get involved in clinical projects to expand your skills while you gain clinical experience.
Network and take the risk to apply for positions that you may not match the qualifications 100%.
Showcase your transferable skills and passion for the new role.
Take CEUs related to Quality. The Institute for Healthcare Improvement (IHI) has some great courses in their Open School and the National Association of Healthcare Quality (NAHQ) also has some good content to explore.
---
Editor's Note: You can also take some compliance/QA/performance improvement courses through MedBridge!
MedBridge Compliance/QA Courses
(use promo code TNCPT to save 40% on unlimited CEUs*)
---
What do you want to do with your career long-term?
That is a great question! I love quality and data, and facilitating performance improvement teams, so I definitely want to continue doing that. I just don't know exactly what it will look like moving forward, and/or what opportunities will present themselves in the future.
---
Thanks for your insight, Brandy!
Compliance/quality assurance is just one of the 25 career paths covered in Non-Clinical 101. Plus, NC101 students get exclusive access to a 45-minute bonus video where Brandy goes even deeper into how to land these roles like hers!