This week's non-clinical spotlight features Carol Barr, an occupational therapist and Non-Clinical 101 alumnus who now works as a program coordinator for The Rehab Center, Inc.
---
This post may contain affiliate links or codes. This won't increase your cost, but it helps keep TNCPT alive, and free of annoying ads! Thank you for your support. 🙂
What is your full name and title?
Carol H. Barr, OTR/L
Program Coordinator for The Rehab Center, Inc.

Where are you located?
Charlotte, NC
Where did you go to OT school, and what year did you graduate?
Boston University, 2017.
What did you do when you first finished school, and for how long?
I worked in acute care at a level I trauma center for a little over four years.
In what setting(s) did you work, and what types of patients did you treat?
I treated a wide range of patients, though toward the end of my time at the hospital I worked primarily in the intensive care units.
I treated in the neurosurgical ICU, the cardiothoracic surgical ICU, the cardiology ICU, and the surgical-trauma ICU.
What did you enjoy about your early roles? What didn't you enjoy?
My first job was a great environment for new graduates, with built-in mentoring and learning opportunities. I had a great group of coworkers who all started their careers around the same time as me, and I am still close with many of them. I also loved the complexity of the patients.
That being said, I was beginning to get frustrated by being on the "reactive" side of medicine, meaning that we were helping people after an often preventable illness.
Opportunities for career advancement that were truly meaningful (i.e. a leadership role versus simply completing a "career ladder") were difficult to come by. We also worked a very demanding schedule of 12-hour shifts, with three days on every other weekend.
My work-life balance was terrible.
When and why did you decide to do something non-clinical?
I did not think our upper management handled the pandemic well, and I no longer felt safe or supported at work.
The stress (and the fact that I had two separate COVID diagnoses) was taking a serious toll on my mental and physical health, and I knew I needed to take a step back from patient care.
What are you doing these days?
I am the program coordinator at a small industrial rehabilitation clinic in Charlotte called The Rehab Center.
My role is to recruit and manage new patient referrals, seek authorizations from insurance companies, and facilitate patient enrollment and successful completion of our Functional Restoration Program (a 20-day multidisciplinary rehab program for chronic pain patients).
Are you still treating patients as a program coordinator?
I am solely a non-clinical OT, though I do interact with patients after their initial program evaluations and during weekly rounds.
I help ensure that authorizations are complete, any additional treatment or evaluations they need are scheduled, and that they are on track to discharge from the program successfully and on time.
How long have you been working as a program coordinator?
About six months!
Did you get any special certifications or training along the way to help you get into your current role?
I did Non-Clinical 101!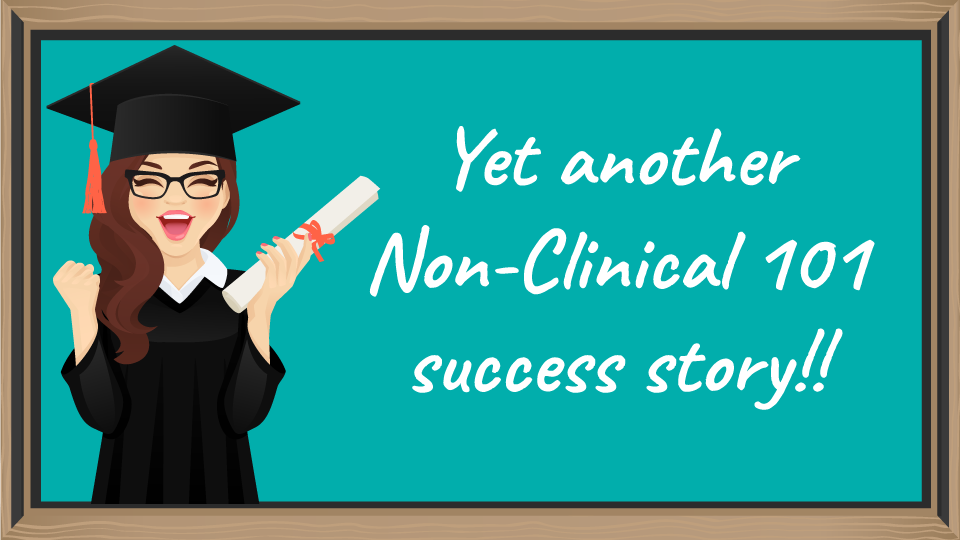 How did you find your job? Did you apply or find it through a connection?
I found it on Zip Recruiter.
Did you do anything special to your resume and cover letter to land the job?
Yes! I spent a lot of time using the Non-Clinical 101 sample resumes and cover letters to find the best wording to show that my clinical skills were transferrable to a non-clinical role.
I wrote a completely new resume that focused less on the patients I used to treat and more on my assessment skills, time management skills, and interpersonal skills.
What was the interview like for the program coordinator role?
As The Rehab Center is a fairly small business, my initial interview was actually with the owner and director of the company! He couldn't have been more pleasant and we saw eye-to-eye on a lot of issues.
I was then invited to the office for in person interviews where I met with three out of the other four providers.
How have people reacted to you leaving patient care?
My coworkers were very supportive, as were my managers. I think a few coworkers may have even been slightly jealous haha.
My family and friends were over the moon, as they saw the toll patient care was taking on my body.
What's a typical day or week in the life like for you? What types of tasks and responsibilities fill your time?
My new hours as a program coordinator are 8-5 (with a true lunch hour!).
Most mornings are spent either in staff meetings or in rounds with patients and case managers. My role in these is to provide updates on authorization status for recommended services and to ensure that current patients are on track to meet their goals.
In my afternoons, I am processing new referrals, submitting insurance authorizations, or working on establishing new clinic/provider relationships to increase referral volume.
What are some of the rewards of your role? What are the biggest challenges?
The consistent schedule and improved work-life balance are honestly the biggest rewards for me right now. I do enjoy the amount of writing I get to do, and feel fulfilled when a particularly difficult case gets services authorized because of something I did or said.
I like being the person responsible for facilitating these services, because when I was a staff therapist I never knew why my recommendations were denied. However, seeking these authorizations can often be challenging, as insurance reps are not the most communicative and do sometimes still see only the "bottom line."
How did your clinical background prepare you for this role? Which skills transferred?
My training as an occupational therapist taught me to emphasize function, which is a core element of The Rehab Center's philosophy as well.
When writing referrals or authorizations, I am able to explain very clearly how an illness or injury is impacting this patient, and why our services are required.
The organizational and communication skills necessary for acute care also transferred well, as I spend a lot of time on the phone and sending emails!
Roughly speaking, how are the hours and program coordinator salary compared to patient care?
Like I said, the hours are infinitely better! My pay actually increased slightly but is still comparable to what bedside therapists in my area are making.
What type of person do you think would do well in your role?
Very organized, outgoing, and an efficient communicator.
Do you work remotely or onsite?
I currently work on-site, but could work from home for a day or two if needed.
Does your organization hire PT, OT, or SLP professionals into non-clinical roles? If so, what type of roles?
I'll speak more generally here because my company is such a small business.
I think that small, outpatient clinics can truly value from the insight and skills that a therapist has to offer. They typically had nurses in this role, and were genuinely excited to have an OT transition into this role for the insight I could provide for recommendations and even (very occasionally) treatment plans for the patients.
I encourage people to take chances when applying for jobs- this job description was relatively vague but once I had the interview I knew I would love it!
Did you read any books, take any courses, or do anything special overall to get you where you are today?
I read Playing Big by Tara Mohr as recommended in Non-Clinical 101.
What is a typical career path for a program coordinator?
I honestly don't know yet! The previous person in this role is now working fully remotely for a different company. Part of what excites me is that I have the flexibility to turn this role into whatever I may want it to be.
What is next for you? What are your high-level career aspirations?
I think eventually I want to branch into a role in public health. I want to address social determinants of health and increase healthcare access to underserved areas.
What would you recommend to someone who is considering going into a role like yours? Do you have any special words of wisdom for the readers?
I said this earlier, but I would really recommend being creative with your job search and taking chances with applications. You can't really know what a job will be like until you have an interview!
---
Carol took Non-Clinical 101 to help land her job! Check out the 25 non-clinical career paths we explore in Non-Clinical 101 to discover what is right for you! I created NC101 to help you skip the confusion and overwhelm so you can land the job you want!