Today's spotlight is on Brianna Fullenkamp, DPT, a Non-Clinical 101 alum who now works as a Performance Improvement Specialist for OSF HealthCare!
---
This post may contain affiliate links or codes. This won't increase your cost, but it helps keep TNCPT alive, and free of annoying ads! Thank you for your support. 🙂
What is your full name, title, and company name for your current, primary role?
Brianna Fullenkamp, DPT – Performance Improvement Specialist for OSF HealthCare
Where are you located?
Peoria, IL
Where did you go to PT school, and what year did you graduate?
I went to Bradley University for my DPT, and graduated in 2017.
What did you do when you first finished school, and for how long?
I worked as a treating PT at a SNF for a little over a year, and treated all different types of patients including post-op, chronic illness, chronic pain, neurological, and more.
What did you enjoy about your early roles? What didn't you enjoy?
I enjoyed the variety of cases, seeing my skills improve, and connecting with patients to improve their quality of life.
At times, the productivity was challenging and the limited flexibility was something I did not enjoy about the role.
What else have you done since then, prior to your current role?
I took a position with an ENT clinic to start a PT program. I was able to work on projects to get the PT program up and running. My focus was vestibular rehab.
I then went to work in home health as a PT case manager where I developed more non-clinical skills.
Please refrain from contacting our spotlight participants on social media. There are thousands of readers just like you out there. 🙂 Please ask your questions in the comments on this blog post.
If you're a Non-Clinical 101 student, you can network with many of our spotlight participants in the alumni groups!
When and why did you decide to do something non-clinical?
When I was working on creating the PT program at the ENT clinic, I realized that I enjoyed project work. Working behind the scenes and having an impact on more patients was intriguing.
I knew at that point that I wanted to do something non-clinical, so I started researching the different options and skills I needed to develop to break into the non-clinical world. I found The Non-Clinical PT and took the Non-Clinical 101 course and got some one-on-one coaching as well.
This allowed me to understand what direction I wanted to go, and I decided to go to a bigger company with more opportunities. That is why I decided to be a home health PT case manager to continue to gain non-clinical skills. During that time, I was able to be a team member on a RIM project that exposed me to performance improvement roles.
What are you doing these days?
I am currently a performance improvement specialist, and I just got a promotion! For almost a year, I was a PIS at a specific hospital within my organization.
As a PI specialist, I lead different projects to improve patient experience/outcomes, employee satisfaction, and look to improve cost savings for the organization. I interact with many different employees, from front line to executive leadership, working on improvement projects. I use Six Sigma tools and methodologies to support the project work.
Are you still treating patients, or are you solely non-clinical?
I am solely non-clinical.
How long have you been in your current role?
Since February, 2022.
Did you get any special certifications or training along the way to help you get into your current role?
I took Non-Clinical 101 before landing my role, and Lean Six-Sigma Black Belt training during my time as a PI specialist.
How did you find your job?
I was working at OSF Healthcare in home health, and I found the job on the OSF career site.
What are some of the things you did to stand out, take initiative, and advance in your career?
I think having a non- clinical goal helped me move through the organization. I was looking for ways to show that I could do non-clinical work.
During my home health time, I was a team member on a RIM project. I also initiated an opportunity to improve the balance treatment in the home health setting, which helped when I interviewed for my current position.
How have people reacted to you leaving patient care?
People have been very supportive. My family knew my career goal, and have supported me throughout it all.
What's a typical day or week in the life like for you as a performance improvement specialist?
I usually have weekly meetings with my different project teams to keep the work moving forward. I prepare powerpoints, documents, and presentations for team meetings or sponsor/executive leadership report outs.
My work week is flexible, and I can adjust my schedule as needed. I typically work 7:30-3:30 because that works best for me with my daughter in daycare. However, that can vary depending on what is going on.
I also have coaching meetings for my projects to ensure we are on the right track or to ask questions. Overall, I spend my time either in meetings or preparing for meetings.
What are some of the rewards of your role? What are the biggest challenges?
The greatest rewards are working with different people for a common goal, seeing outcomes, and navigating challenges.
I enjoy the flexibility in my schedule. For example, I am able to block time for an appointment if needed, or even take the time to heat up lunch–which wasn't always the case as a treating PT. Having flexibility gives me more integrity to be successful in my role.
I am dedicated to achieving goals and improving my skill sets.
The biggest challenges I have faced include change management. Change is hard for everyone, and being able to be the leader and foster the attitude of positive change has been difficult.
I have been able to work with others who have helped me address these challenges in ways with different teams.
How did your clinical background prepare you for the PI specialist role?
Communication is an important skill when leading meetings and projects. Being able to clearly state what our goals are and controlling the meetings have helped keep projects on task.
Roughly speaking, how are the hours and pay compared to patient care?
The hours are better. I work around 40 hours each week, mainly during the day. As a PT, I would need to work in the evenings when completing documentation or setting my schedule in home health.
I took a 5% pay cut, but has been worth it for my stress levels and work life balance. I am able to take off around holidays without rules of limited number of PTs off at once.
What was the interview like for the performance improvement specialist role?
I had three interviews:
The first one was a video screening
The second was a panel interview where I prepared a presentation about a time I initiated a change
The third interview was with executive leaders
However, the interview process has changed since then, and now requires only one interview.
What type of person do you think would do well in your role?
Someone who is organized, not afraid of failing, and eager to learn as much as they can.
Do you work remotely or onsite?
Hybrid: 3 days in the office, 2 days remote.
Did you read any books, take any courses, or do anything special overall to get you where you are today?
I took Non-Clinical 101!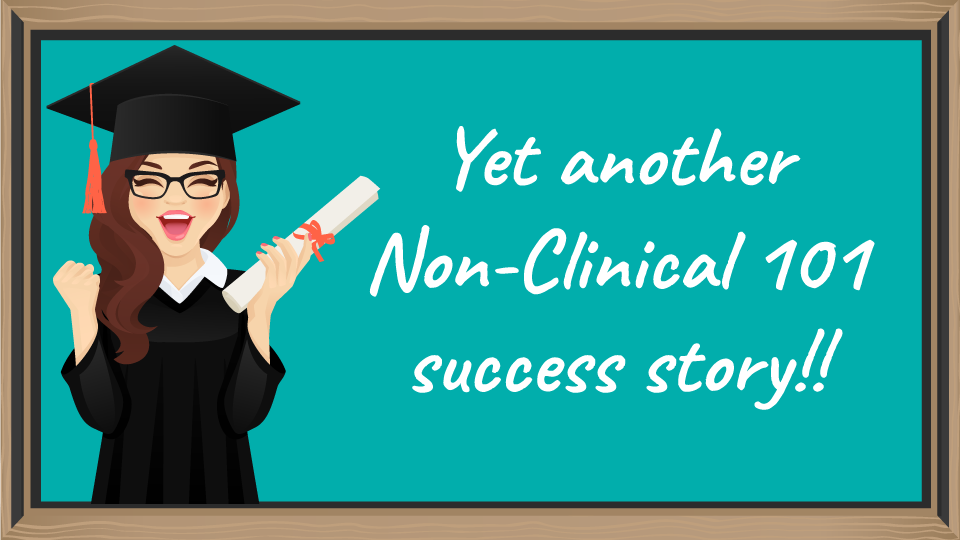 What is a typical career path for someone in your role?
Most people in this role eventually go on to manager roles (strategic program managers, project managers in other departments), directors, and so on.
What is next for you? What are your high-level career aspirations?
Consulting intrigues me right now. If I am able to gain experience and build relationships, I may want to do consulting work. However, I am also very happy in my current role, so may strive for a strategic program manager role where I will be able to coach performance improvement specialists.
What would you recommend to someone who is considering going into a role like yours?
Get involved in some sort of project in your current role. It doesn't need to be a big project, but try to find something to work on!