Today's non-clinical spotlight focuses on Bryce Williams, who went from physical therapist to Home Health Quality Review Specialist.
---
This post may contain affiliate links or codes. This won't increase your cost, but it helps keep TNCPT alive, and free of annoying ads! Thank you for your support. 🙂
What is your full name and title at your current job?
My name is Bryce Williams, PT, GCS, CEEAA, COS-C
I am a Home Health Quality Review Specialist at Providence St. Joseph Health
Where did you go to PT school, and what year did you graduate?
I graduated from Florida A&M University in Tallahassee, FL in 2000. I got my Bachelor of Science in Physical Therapy.
What did you do when you first finished school, and for how long?
I was hired at a small community hospital at which I rotated as a PT student. I split time between general acute care, outpatient, and wound care.
I was there for less than a year, and then got the itch to leave my hometown of Miami to go see the rest of the country.
What did you do after that, and for how long?
I began working as a traveling PT, which ultimately landed me in the Pacific Northwest, where I currently reside.
I've been in this general area for the last 16 years, working in a variety of settings. I settled exclusively into home health for the last 10 of those 16 years.
At what point did you realize you wanted to do something non-clinical, and why?
I've considered it intermittently over the last several years, but more seriously in the last one to two years.
I just started to feel that I could have a larger impact with my knowledge and experience than I was having by seeing one patient at a time.
I was also getting burned out with the exponentially worsening paperwork and productivity demands.
What are you doing these days?
I am working full-time as a Home Health Quality Review Specialist. I also moonlight as a contractor, doing occasional DME assessments for a DME consulting company.
My favorite side project that I'm working on, however, is a blog about running. This is inspired by my journey into the world of Masters Track and Field.
Are you still treating patients, or are you solely non-clinical?
I am not treating patients at this time. I am 100% non-clinical.
How long have you been in your current role?
About seven months or so. I started as a Home Health Quality Review Specialist in the first full week of January of 2019.
How did you find your job? Did you apply or find it through a connection?
I found the opportunity on the career site in my organization. Every once in a while, I'd get an alert if a job was posted for which my qualifications were a potential fit.
Did you do anything special to your resume and cover letter to land the job?
I pulled all of my home health experience over 10 years to the forefront of my non-clinical resume and I made sure to add that I'd recently passed the COS-C OASIS certification exam, which is a requirement for the position (to be eligible for the job, one must have the OASIS certification OR obtain it within six months after hire).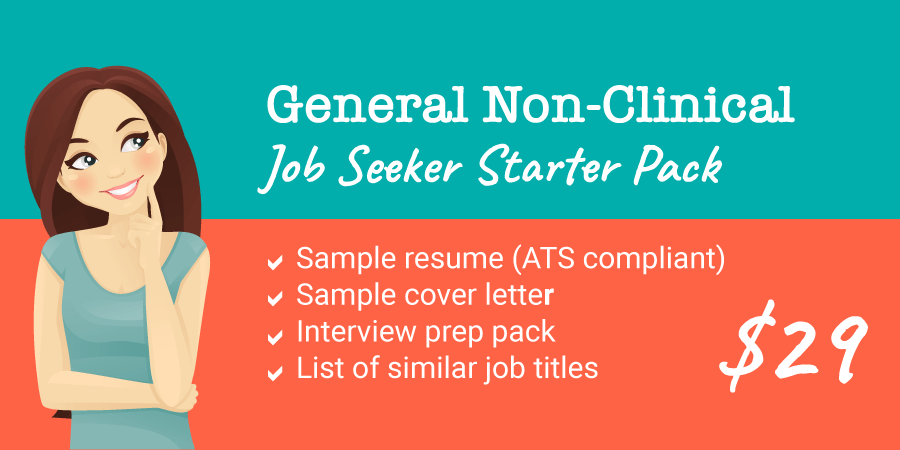 What was the interview like for the role of Home Health Quality Review Specialist?
There were two interviews.
The first was an informal phone interview/screen with the Talent Acquisition Manager in HR.
The next step was an in-person interview, which was a peer interview with all of the members of the team that I'd be joining upon hire.
In reality, the in-person part was only applicable to two of the team members, as everyone else involved were on conference call. There were seven or eight total people conducting my interview.
Did you get any special certifications or training along the way to help you get into your current role?
I got certified as an OASIS Specialist (COS-C).
How did people react to your unconventional career path?
Actually, I had a lot of people quietly asking me how I managed to snag such a role.
A lot of folks, as you well know, are seriously looking for these different opportunities, but they don't know where to start.
What's a typical day or week in the life like for you? What types of tasks and responsibilities fill your time?
I spend most of the day standing (or sitting) at my desk in my home office (which also doubles as my toddler's play room in the evening) reviewing clinicians' OASIS documentation. Our productivity standard is 25 reviews/day.
Other duties include:
Responding to emails/phone calls from clinicians regarding changes that I've made and/or recommended.
Attending weekly check-ins/meetings with my team via Skype.
Traveling (on occasion) to Northern California to do OASIS training with the clinicians that I support remotely from Washington State.
What are some of the challenges of your role? What are the rewards?
It can be challenging to deal with defensive clinicians. Sometimes, they don't like reviewers changing their OASIS responses, even though any changes that we make are backed with evidence (usually their own words in the documentation).
The clinicians are always given time to review the changes and request that they be rescinded if they disagree agree with our changes.
On the other hand, it is rewarding to be viewed by your peers as an expert and being seen as a resource to ease their way, rather than being seen as an adversary.
How do you think working as a PT prepared you for this role? Which skills transferred?
Many years of home health experience helps make it easier to put myself in the clinicians' shoes and to ultimately develop a stronger alliance with them.
Roughly speaking, how are the hours and pay compared to patient care?
The pay is pretty much on par with what I made as a clinician. In my case, I got a bit of a raise over what I was making hourly + mileage.
Since this is a salaried job, the hours can occasionally get long.
Having said that, I can get my work done whenever I want. It makes for great flexibility to work on other projects, or to manage when there's sick child at home.
Disclaimer: I can only speak for my personal experience within my organization. I'm not privy to compensation standards typically set by other companies that staff for this kind of role.
What type of person do you think would do well in your role?
A good fit for this role would be flexible, independent, organized, and have good communications skills (written and verbal). Being comfortable with technology is important as well.
Do you work remotely or on-site?
I work remotely from my home office.
Did you read any books or take any courses to get you where you are today?
I got certified as a GCS (Geriatric Certified Specialist) last year, and I feel that the preparation for that (through MedBridge) helped me tremendously as a home health therapist (and now Quality Reviewer). I also listen to tons of podcasts and audiobooks (Audible) for personal development.
What is next for you? What do you want to do with your career long-term?
I'm taking this non-clinical time to see what (if ever) I think a return to a clinical role should look like for me. I'm potentially interested in exploring a hybrid practice of health/wellness coaching and cash-based PT.
What would you recommend to someone who is considering going into a role like yours?
Make sure to have significant clinical experience in home health (my organization requires at least 3 years).
Work on getting OASIS certified.
Reach to your clinical manager and volunteer to do chart reviews when census is low.
Be cordial to your reviewers because you never know: they could end up being your colleagues/teammates one day—or they can potentially be in a position to affect whether you get the job or not.
What would you like to change most in your profession, and why? How would you propose doing so?
I wish that we were collectively more supportive of each other and supportive of ideas that challenge the status quo, rather than tearing down those that are doing things differently.
We, as a profession, need to think outside of the box rather than continue with 20th-century solutions to 21st-century problems in healthcare.
If you could teach anything to today's graduate students in your profession, what would it be?
Utilize technology to your advantage. Now, more than ever, the sky is the limit for finding/creating "out of the box" opportunities.
Also, find mentors in areas of interest (clinical, business, etc.).
Do you have any special advice for others who want to follow in your footsteps?
Establish and maintain good relationships wherever you're working (i.e. don't burn bridges), but always keep an eye out for what's out there—especially within your own organization.
---
Thanks for your insight, Bryce!