Today's non-clinical spotlight focuses on Lauren Souders, who went from occupational therapist to Clinical Manager at NeuroLutions, Inc.
---
This post may contain affiliate links or codes. This won't increase your cost, but it helps keep TNCPT alive, and free of annoying ads! Thank you for your support. 🙂
What is your full name and title at your current job?
Lauren Souders, MOT, OTR/L, CBIS
Clinical Manager with NeuroLutions, Inc.

Where did you go to OT school, and what year did you graduate?
What did you do when you first finished school?
When I first finished school, I began working at my first Level II Clinical Site at The Rehabilitation Institute of St. Louis as an occupational therapist in their outpatient neurological rehab clinic.
I primarily evaluated and treated individuals who had the diagnoses' of stroke, brain injury, concussion, brain tumors, Parkinson's Disease, Multiple Sclerosis, ALS and a variety of other neurological diagnoses.
What did you do after that, and for how long?
While continuing to see patients and carry a caseload at The Rehabilitation Institute of St.Louis, I also assisted as Adjunct Faculty at Saint Louis University.
I assisted in their Adult Rehab and Neuro Rehab courses—and I also evaluated and treated patients in Independent, Assisted Living and Skilled Nursing Facilities.
I also served as a clinical research specialist for Washington University in St.Louis – Department of Neurology.
At what point did you realize you wanted to do something non-clinical with your background, and why?
To be honest, I never at any point in my career wanted to walk away from patient care.
However, the environment and trend of healthcare and patient care I could see the writing was on the wall.
I knew I wanted to continue to put my patients first, and serve my patients. Fortunately, it fell perfectly into place for me. I was presented an opportunity to continue putting patients first by working for a startup company whose mission aligned with my own.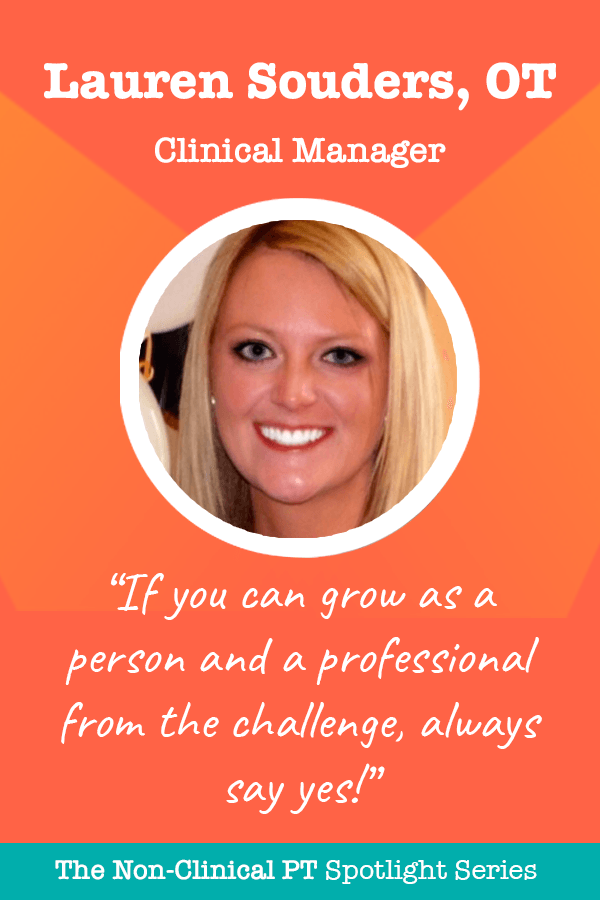 What are you doing these days?
Currently I am the Clinical Manager for NeuroLutions, Inc.
It's a startup company that utilizes brain-computer interface technology to leverage upper extremity motor rehabilitation for individuals who have had a stroke.
I have been working for NeuroLutions as needed since 2012 and as a full-time employee as of 2018.
Are you still treating patients, or are you solely non-clinical?
I am continuing to treat patients, but as a non-clinical occupational therapist. 🙂
Currently, I work with patients who enroll in our clinical trial. I am able to see and treat them according to our approved IRB protocol.
If you're still treating patients, about what percentage of your time is spent clinically vs. non-clinically?
10% seeing patients
How long have you been in your current role as clinical manager?
I have been clinical manager for NeuroLutions since 2015.
How did you find your job?
I fell into this role when I was a clinical research specialist at WashU in St.Louis. I was the leading occupational therapist on a protocol in which initially was sponsored by NeuroLutions.
After the clinical study was over and I was no longer working for WashU, I continued management of clinical affairs for NeuroLutions.
Did you do anything special to your resume and cover letter to land the job?
I didn't have to. I was able to build networks through the positions I held.
What was the interview like for the role?
You could say as I worked as an OT at The Rehabilitation Institute of St. Louis, I was recommended for the Clinical Research Specialist, which then landed me at NeuroLutions.
So in all, my entire career path has been an in-process interview, and still is.
Did you get any special certifications or training along the way to help you get into your current role?
Yes. In 2018 I received my CBIS (Certified Brain Injury Specialist). I am currently seeking my CSRS (Certified Stroke Rehabilitation Specialist).
I think it is very important to always keep learning, staying current on best practice and current evidence so you can best serve the patient population.
How do people react to your unconventional career path?
I think many clinicians assume my role is "just a therapist pushing another device," which is so far from the truth.
I am not in sales. I am not in marketing. I am a clinician guiding the industry to best serve the patient population.
I want to help answer some of those tough questions relating to neuro rehab.
What's a typical day or week in the life like for you as Clinical Manager?
That's a loaded question. In the startup tech world, I wear many hats.
A week in my role generally consists of some combination of the following:
Gathering current evidence for stroke rehabilitation
Writing clinical reports
Guiding engineering and software engineering to design platforms that cater to the specific limitations of the patient population
Assisting marketing in clinical evidence
Managing clinical trials, IRB submissions, device support, clinician support, patient support, and protocol development
What are some of the challenges of your role? What are the rewards?
I view challenges as learning opportunities and opportunities to grow professionally.
Personally, I love challenges.
One of the biggest challenges I have in the present role is that there aren't many clinicians who serve this role. When there are not many clinicians in this role, there isn't someone you can easily bounce ideas off of, or be mentored by.
It is merely a learning experience every day. So, in a way it's a good thing, and that's a big reward!
How do you think working as an OT prepared you for this role? Which skills transferred?
I had the best luck in the world. While working at The Rehabilitation Institute of St.Louis I worked with some of the best, most highly skilled clinicians I have ever seen. I was able to learn so much from my colleagues that I have to credit them in helping me grow professionally.
Most importantly, I learned so much from working with my patients. Building a rapport and listening to what their goals were, and being an active part in facilitating them to achieve their goals was the best learning experience of all.
There is not one patient that I was not able to learn something from. And because of them, I was able to advocate for their goals and needs in my current position.
Roughly speaking, how are the hours and pay compared to patient care?
The hours are busy. The days are busy. I tend to fill my days with as much collaborative work as possible— while continuing to work off hours. I try to make myself readily available whenever needed. In startup, you HAVE to be flexible.
What type of person do you think would do well in your role?
I think someone who has the following traits would succeed in my role.
Flexible
Comfortable serving a variety of roles, including ones far outside their comfort zone
Has thick skin
Able to collaborate with others who have different perspectives (meaning they might not have clinical backgrounds)
Do you work remotely or on-site?
I work anywhere and everywhere. I could be working in my office in St. Louis, my home office, the office in Santa Cruz, California, or even on an airplane. 🙂
Does your organization hire PT, OT, or SLP professionals into non-clinical roles?
Yes! The roles open up very rarely, but they do open. We generally don't post job openings.
If you're interested in working in a startup, best way to get started is reach out to the company directly, expressing your interest. That direct contact will get noticed, and will be thoroughly taken into consideration.
Did you read any books or take any courses to get you where you are today?
I am an absolute nerd at heart, meaning I will leisurely read textbooks to further my education independently. This is aside from the reading of research articles and journals to stay up-to-date on current evidence.
Overall: Learn from everyone who work and collaborate with. There is something to be learned from each individual you come into contact with.
What is next for you? What do you want to do with your career long-term?
I want to continue to grow professionally in industry with a mission to provide the best rehabilitation options for everyone who may need them—while allowing access for all who may benefit.
That's a large goal, but you have to start somewhere. 🙂
What would you recommend to someone who is considering going into a role like yours?
Network, network, and network some more!
What would you like to change most in your profession, and why? How would you propose doing so?
I would like the most for the profession of OTs/PTs/SLPs and COTAs/PTAs to be able to practice and treat their patients without the stressful demands of productivity measured by billable time.
How do I propose we do so?
Well, for one, AOTAs code of ethics number 1 is to PUT YOUR PATIENT FIRST. This means, you don't put your employer first (by first focusing on productivity, billable units, etc..). You always put the patient first.
Therapists need to stop conforming to high productivity demands.
We all know where this whirlwind sends therapists: burnout. It's time to stand up to the realities of what is unfolding in healthcare. This way, we can best serve our patients in the way we all intentioned to when we decided to go into our careers.
If you could teach anything to today's students, what would it be?
Remember why you wanted to become a therapist. And live by that every day.
Do you have any special advice for those who want to follow in your footsteps?
When presented an opportunity, even if it is out of your comfort zone, take it! If you can grow as a person and a professional from the challenge, always say yes!
---
Thanks for your insight, Lauren!