Today, we're featuring a PT who made the switch into a non-clinical role as a Care Specialist at Penumbra.
---
This post may contain affiliate links or codes. This won't increase your cost, but it helps keep TNCPT alive, and free of annoying ads! Thank you for your support. 🙂
What is your full name and title at your current job?
Denae Maniaci MS, OTR/L
Care Specialist/Territory Manager at Penumbra

Where are you located?
Grand Rapids, MI
Where did you go to OT school, and what year did you graduate?
I went to Michigan State University (Go Green!) for undergrad and Grand Valley State University for OT school.
What did you do when you first finished school, and for how long?
My first job out of school was in acute care working PRN. I loved the fast pace and variety of diagnoses I saw. We'd see everything from joint replacements to CVAs, auto accidents, etc.
I worked this particular PRN job for approximately 4 months before adding a few others to my workload.
What did you do after that, and for how long?
In my area, full-time OT jobs are tough to come by. In addition to my PRN acute care job, I picked up a PRN homecare and PRN outpatient position and did these 3 for a year before getting my first full-time position in homecare.
While working full-time, I kept my PRN acute care position and worked that on the weekends.
What did you enjoy about your early roles? What didn't you enjoy?
I really enjoyed the variety of settings; no day was the same and, as a new grad, it was nice to get a feel for which type of setting I enjoyed most.
It was challenging at times, though. Juggling 3 positions as a new grad was difficult. I tried my best to schedule my weeks so that I was getting as close to 40+ hours as possible.
Despite strategically scheduling, something always seemed to happen and patients would cancel, or census would be low, so I'd get called off. It really played with my mind and I was constantly in a "I need to work" mode.
I don't think I took a planned day off for the first year and a half or so of working. It was exhausting.
At what point did you realize you wanted to do something non-clinical with your background, and why?
When I was working my full-time homecare job, I started seeing articles or posts online from therapists talking about their positions that were outside of the typical clinical realm. I became interested and joined some non-clinical therapy groups on Facebook to do more research. I knew I still wanted to be able to use my therapy skills in whatever role I took on next but didn't really know what that role looked like.
The reason I felt the need to shift was because I no longer felt valued in my position. I also felt like I had hit a ceiling and wanted to be challenged more.
What are you doing these days?
I'm working as a Care Specialist with Penumbra, and specifically with the REAL System – a virtual reality device for therapy.
Are you still treating patients, or are you solely non-clinical?
Solely non-clinical.
How long have you been working as a Care Specialist?
I've been in my role since March of 2020 – it was super interesting starting a non-clinical position right as COVID hit.
How did you find your job as a Care Specialist?
I was taking Meredith's Non-Clinical 101 course and had just re-done my resume and LinkedIn profile when I was contacted by a recruiter about the position via LinkedIn.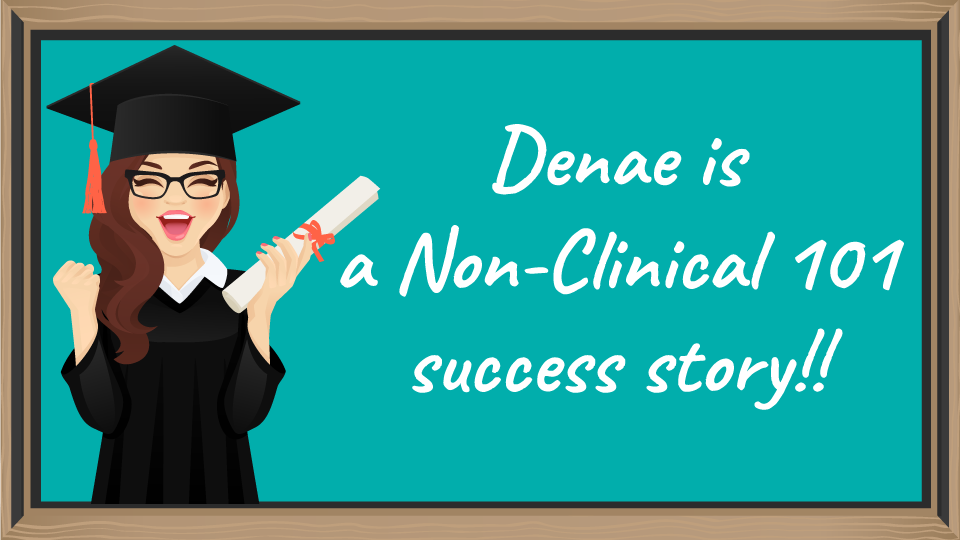 Did you do anything special to your resume and cover letter to land the job?
I basically re-did the whole thing! Haha.
Non-Clinical 101 gave a lot of great tips and examples; there are things that I would have never thought of doing prior to taking the course because I was looking at everything with such a clinical mindset.
I had to completely change how I was viewing my accomplishments as a clinician and format it in a non-clinical way.
What was the interview like for the role?
I spoke with the recruiter first to make sure I was interested and fit the general criteria. Then I had three phone interviews with different folks in the company and one in-person interview with my now manager and her manager.
Did you get any special certifications or training along the way to help you get into your current role?
I did not. I think having experience in multiple therapy settings was helpful but not required.
How have people reacted to you leaving patient care?
Overall, the response was incredibly positive. I think most people were just happy to see me so excited about my new role and others really interested in the REAL System and what it can do for patients.

What's a typical day or week in the life like for you? What types of tasks and responsibilities fill your time?
Every day is pretty different, which I love.
REAL is a new product within an established company, so I wear a lot of different hats.
I'm in charge of spreading the word that REAL is something available to therapists as another tool in their arsenal. The region I cover spans the state of Michigan so if therapists are interested and want to learn more or bring REAL in, I do all of the following:
Present in-services
Perform installations
Train therapists
Lead one-on-one patient sessions as needed
We also work closely with internal teams for development, marketing, and any other purposes as needed.
What are some of the challenges of your role? What are the rewards?
I think the biggest challenge has been tackling not only a new position, but an entirely new career track. And this is all on top of launching a new product in the middle of a pandemic and dealing with all of the complications that presents.
I think the biggest reward is seeing and hearing the patient success stories with the REAL System. REAL really takes the patient out of the clinic environment and allows them to escape their reality while simultaneously allowing them to work on their therapy goals, which I think has helped a lot of patients during this tough time.
How do you think working as an OT prepared you for this role? Which skills transferred?
I think the skills I developed as a therapist transferred really well into this role. Our ability as therapists to see a problem and offer a solution, develop rapport, prioritize tasks, and adapt to a constantly changing environment are just some of the skills that I use every day as a Care Specialist.
Roughly speaking, how are the hours and pay compared to patient care?
I work more now than I did with clinical care, as I have more responsibilities compared to my last position.
I'm also making more now than I did with patient care. I know it's different for every state based on cost of living, settings, etc., but Michigan is pretty saturated, so I think the pay for therapists is lower overall compared to other states.
What type of person do you think would do well in your role?
For this role, some of the key characteristics include building rapport with every personality type, educating others, and prioritizing/forecasting future tasks.
Do you work remotely or on-site?
Both! I spend a majority of the time out in the field, but I also work from my home office when needed.
Does your organization hire PT, OT, or SLP professionals into non-clinical roles? If so, what type of roles?
Yes! Everyone on my team is a therapist by trade. ☺
Did you read any books, take any courses, or do anything special overall to get you where you are today?
I took Meredith's Non-Clinical 101 course.
I also read lots and lots of posts on FB groups, as well as a lot of self-help books to see what I wanted for my future and what I wanted my career to look like. I also reached out to people who were in non-clinical positions to see what they did to get where they are.
What is next for you? What do you want to do with your career long-term?
Honestly, I'm not sure! I'm really happy with my position and can't wait to see how the REAL System transforms the world of rehab.
I think I'll always enjoy working in the non-clinical OT space so that I can still help patients in a non-traditional way.
I've started a blog, and you can read more about why I made the switch to a non-clinical career!
What would you recommend to someone who is considering going into a role like yours? Do you have any special words of wisdom for the readers?
Utilize LinkedIn if you don't already.
Network!!! People like to help people, but no one will know you're looking for a change if you don't tell anyone.
Do your research on how to tailor your resume/cover letter to whatever position you're applying for, and yes you should adapt it each time you apply for a position.
If you could give yourself one piece of career advice you wish you had during your OT program, what would it be?
Broaden your mindset.
As a student and even as a recent grad I thought that direct patient care was the only option. Our skills as therapists are applicable to a lot of positions, and there's so much we can do with our degrees. It's just not discussed all the time.
If you could teach anything to today's graduate students in your profession, what would it be?
Within our profession, whether you're a treating therapist or in the non-clinical space, the learning never stops. Always keep challenging yourself to be the best you can be at whatever position you choose to pursue.
---
Take the course that helped Denae land her Care Specialist job!