Today's non-clinical spotlight focuses on Christina Connors, who went from occupational therapist to semi-clinical OT, running Child Inspired and the Get Well Map Foundation.
---
This post may contain affiliate links or codes. This won't increase your cost, but it helps keep TNCPT alive, and free of annoying ads! Thank you for your support. 🙂
What is your full name and title at your current job?
Christina Connors, Occupational Therapist and Owner of Child Inspired, LLC, and President and Founder of the Get Well Map Foundation 501c3.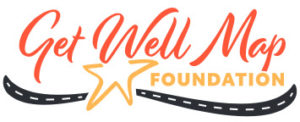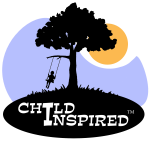 Where did you go to OT school, and what year did you graduate?
I graduated from the Occupational Therapy Program at Towson University in Baltimore, Maryland in 2002.
What did you do when you first finished school, and for how long?
When I first finished school, I worked in a school-based residential setting at Sheppard Pratt in Towson, MD with children and adolescents with autism and other emotional disturbances for two years, until moving out of state to the Delaware beach region.
After moving to Delaware, I began working in an acute inpatient rehabilitation setting. I have always maintained an equal love for working with pediatric and adult clients, and have maintained my skillset with both populations throughout my career thus far.
With over 16 years of clinical experience, I have worked to enhance the function and independence of children and adults with various physical, cognitive and developmental conditions across acute inpatient rehabilitation, home health, acute care, outpatient, and educational settings.
I have collaborated with parents and educators to enhance the function and educational success of children and adolescents with autism and developmental delays, and have helped to optimize the recoveries of children and adults with brain injury and other neurological conditions across settings.
Utilizing a family-centered care model, I now work to collaborate and consult with clients, caregivers and interdisciplinary professionals, and develop child-centered products and programming that facilitate the identification and tracking of meaningful goals, as well as the use of positive communication to encourage individuals to reach their fullest potentials.
At what point did you realize you wanted to do something non-clinical with your background, and why?
Approximately five years ago, my son Andrew (who was five years old at the time) was hospitalized unexpectedly when he developed bilateral pneumonia and H1N1 flu that led to respiratory failure.
Despite my professional background in healthcare, nothing had truly prepared me for the primal state of fear and vulnerability you feel as a parent on the brink of losing a child due to a medical emergency.
Thanks to the advanced medical care Andrew received, he is a thriving 10-year-old boy who adores his dog and loves to play baseball 🙂 But it was during and following this medical crisis, that we experienced the effects of PTSD and PMTS (Pediatric Medical Trauma Stress), and the intense behavioral outbursts that caused many challenges in our efforts to reintegrate our son back to school and home routines following his physical recovery in the hospital.
This experience had ripple effects beyond our son, with his (then 9-year-old) sister and parents trying to cope in a household with poor emotional regulation and disruptions to our daily lives.
I began to have trouble working in traditional acute and subacute settings where my anxiety would be triggered by code alerts, ventilator alarms, etc. And my son and I both needed some time to seek our own therapeutic interventions to develop healthy strategies in this emotional phase of our family's recovery.
I saw a need for a child-centered tool that would help children and families visualize their progress towards meaningful goals (ie, discharge home, reintegration back to school/friends, etc.), as well as a strategy that could help adults connect with children (and their interests) in a way that would facilitate developmentally-appropriate communication during periods of setbacks in progress.
So, I began to focus my attention on developing tools that would help healthcare professionals and educators in their work with children and families. At the time, I didn't really view my work as "non-clinical", but a cathartic and therapeutic outlet that helped propel our family's continued "road to recovery."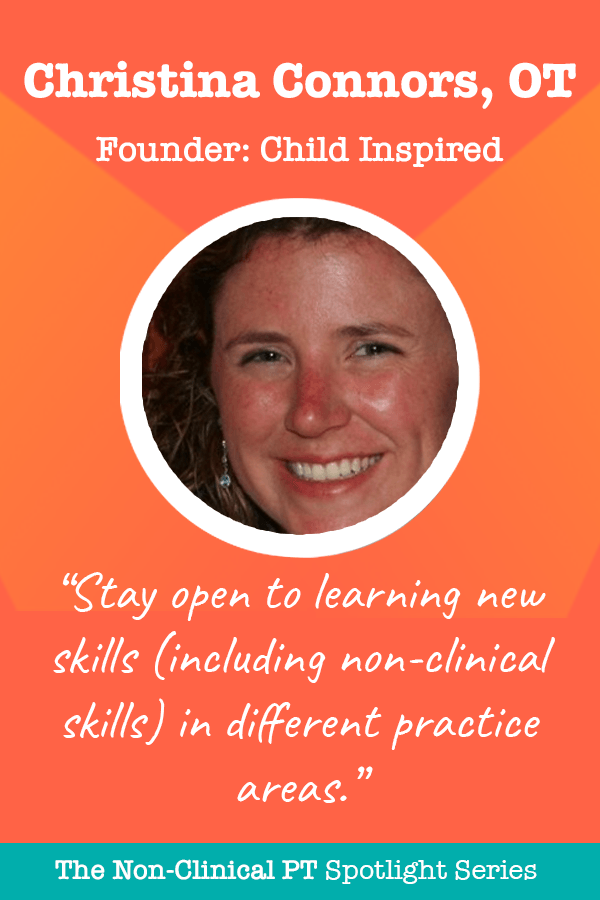 In retrospect, it was Andrew's experience that caused me to pull away from some of the more traditional, clinical roles I had previously held.
I began to approach my work differently; seeing a direct correlation between my background as an OT and as a parent advocate.
In both clinical and non-clinical roles, I now utilize a patient- and family-centered model that allows me to more effectively empathize, understand, and then unravel the anxieties, triggers, behaviors and other dynamic, complex layers that are often preventing individuals from reaching their potential following medical or traumatic life events.
What are you doing these days at Child Inspired?
I am working with Get Well Map Foundation's newly formed Board of Directors to seek grant funding and sponsorship opportunities to help provide our resources and trainings to more pediatric healthcare organizations.
In addition, I am working to enhance the therapeutic services, workshops and educational products that Child Inspired is developing and offering.
Partnering with an artist, John Donato, has been a highlight of this role, as he brings our concepts to fruition with bold, playful art that is both meaningful and engaging to children. It also helps to lighten some of the "heavy" feelings that us adults can get bogged down with when providing care to others facing difficult life challenges.
Are you still treating patients (semi-clinical), or are you solely non-clinical?
I am treating clients approximately 40-60% of my work week (varies weekly). I continue to collaborate with other clinicians, and am actively recruiting OTR and Child Life subcontractors to enhance our program development, training capabilities and therapeutic services. With the addition of other clinical and non-clinical support, my goal is to reduce my direct patient care to 20% of my work week.
How long have you been in your current role?
This journey began five years ago for me and continues to evolve steadily 🙂
Did you get any special certifications or training along the way to help you get into your current role?
In addition to my required continuing education requirements, I have attended multiple courses in the areas of Marketing and Business Planning/Development. I also am a Family Advisor for Nemours A.I. DuPont Hospital for Children's Family Advisory Council (FAC) in Wilmington, DE.
Although my involvement in the FAC is not a special certification, it has provided me with valuable experience navigating the complexities of pediatric healthcare from a system-wide perspective, and opportunities to collaborate with both hospital administrators and fellow families through a Family-Centered and Patient Experience lens.
When did you start your business?
Officially, Child Inspired was established in 2014, however, our first Get Well Maps were not released until 2015. Since that time, there has been a steady evolution with Child Inspired.
At this time, Child Inspired is providing Therapeutic Services and Educational Maps in school settings. The recent formation of the Get Well Map Foundation 501c3 allows us to better drive our mission with the Get Well Maps forward to reach more children and families facing medical challenges.
What is your business, and what types of products or services do you offer?
Child Inspired is providing Therapeutic Services, including small contractual and consulting services, Therapeutic Intervention Workshops, and Educational Maps for teachers and parents.
Get Well Map Foundation 501c3 creates and distributes child-centered Get Well Maps, and it also provides collaborative trainings to pediatric medical teams in order to integrate these medical education tools into pediatric discharge planning pathways and improve positive patient outcomes.
How did people react to your unconventional career path? If people were negative about your decision, how did you handle it?
There were various reactions! Everything from "You need to be on Shark Tank" to "Can you make that work? You won't have paid leave."
It is scary to be an entrepreneur, so if people are negative about my decisions, I am honest about the fact that I have considered their reservations and share a similar fear in the uncertainties of being a business owner.
But I also share that I feel "led," compelled, inspired, impassioned to this "job," and would love their support in spreading the word about the work we are doing.
What's a typical day or week in the life like for you?
Combination of direct patient care, documentation, phone calls, emails, research and development, and meetings with subcontractors that assist with a variety of tasks and production.
What are some of the challenges of your role? What are the rewards?
My greatest reward, hands down, is when I receive anecdotal feedback from a child or adult that shares the positive impact that one of our Therapeutic Maps has had on their child's medical recovery or educational progress!!!
In addition, and ironic as it may be, one of my greatest challenges is also one of my rewards. The lack of structure and predictability is often my greatest challenge, but the flexibility with my work schedule is also a valuable reward.
I am able to rearrange my schedule fairly easily to accommodate things that come up in our family's busy lifestyle, including my kids' school and sports activities, which is important to my sense of connection to their unique inspirations and goals.
How do you think working as an OT prepared you for this role? Which skills transferred?
I love the field of Occupational Therapy, both in clinical and non-clinical roles. I think that Occupational Therapy's original roots in mental health, combined with my professional experience in pediatrics and physical medicine prepared me for this role.
Working with children with communication systems, behavior intervention plans, and sensory needs transferred directly to this work. But being inspired by my child's medical experience was the unique ingredient that positioned me for this non-clinical role.
Understanding Andrew's physical recovery needs were just the tip of the iceberg in our experience. Understanding how trauma can have lasting impacts on the neurological system and long-term health risks was beyond the traditional training of an OT (or at least it was 20 years ago).
However, the blend of physical, cognitive/emotional and developmental training I obtained by working as an OT provided a solid theoretical foundation that aligns with the current research in mental health and pediatrics.
Roughly speaking, how are the hours and pay compared to patient care?
At this time, I am still learning how to derive part of my income from non-clinical work. It is a different mindset that does not come naturally to a clinician that has spent most of his/her career in a direct patient care role. I could probably learn tips and tricks from many of you!!!
My consulting and contract work is comparable to competitive rates in direct-patient care (but with more flexibility in my schedule)!
What type of person do you think would do well in your role?
Someone that is organized and detail-oriented with excellent clinical judgement would do well in my role. They need to be able to work independently, but still have strong communication skills with a variety of interdisciplinary team members, and of course maintain a strong moral and ethical compass to guide their decisions.
Do you work remotely or on-site?
Both. When providing direct patient care in a consulting or contract role, I work on site in local schools or a client's home. All other work with Child Inspired and Get Well Map Foundation is done remotely via phone/video conferencing and email/web.
Does your organization hire PT, OT, or SLP professionals into non-clinical roles?
Stay tuned…Hoping to expand and be able to offer other clinicians the opportunity to share this professional journey.
Did you read any books, take any courses, or do anything special overall to get you where you are today?
I participated in a Business Development course at our local community college, that concluded with presenting at a 1 Million Cups event.
I've learned it is easier for me to explain my business to other clinicians because we already "talk the same talk," but in the business world, it is often corporate investors, philanthropists and the non-clinical community that needs to understand what you are trying to accomplish.
Learning to push past my comfort zone and step outside the shelter of our therapeutic umbrella is still a work in progress, so…courses, trainings and business networking opportunities are imperative in helping to keep me inspired.
What is next for you? What do you want to do with your career long-term?
Long term, I would like to focus my full attention on our Therapeutic Maps and programming, so that our resources could reach more children and families facing various life challenges.
I would like to be able to train and collaborate with interdisciplinary team members in pediatric nursing, social work and therapy fields full-time, and travel to some new places along the way.
If you could teach anything to today's graduate students in your profession, what would it be?
Work hard to develop strong clinical reasoning skills, but also be intentional about diversifying yourself. Even if you are completely unsure whether or not you may ever wish to enter a non-clinical role, it stands to benefit you if you keep yourself versatile.
I had no idea I might need to know about web design, accounting, business management, etc. when I was a young graduate focused on a career as a clinician. You don't need to know everything about everything as a new graduate…but stay open to learning new skills (including non-clinical skills) in different practice areas.
I wasn't necessarily intentional about working in different settings when I was a new professional. I only chose that path because I loved several different areas in the OT field, various opportunities were available, and I was fortunate enough to be able to pursue the employment opportunities that worked best logistically for my family when my children were really young.
Looking back, I realize that working in multiple settings has helped me understand the continuum of care better, and has also helped me think creatively and outside-the-box because of my ability to understand and problem-solve the needs of patients, families and providers quickly and effectively in various environments.
Do you have any special advice for other clinicians who want to follow in your footsteps?
This may sound cliché, but truly…Follow Your Heart.
If you are inspired, determined, resilient, and willing to ask for help from mentors and others…You can reach your goals. Try not to let fear of the unknown or your insecurities keep you from learning something new or carving out a unique role for yourself.
I often relate my own journey to our Get Well Maps. The road to my professional goals often feels similar to driving through fog. I can't always clearly see where I am going or if I may encounter an obstacle in my path, but with patience, faith and perseverance, the road ahead clears just enough to keep this moving forward.
Sometimes it will feel like you aren't making progress, but when you glance back, you realize how far you have come, how many milestones you have achieved along your journey, and how inspired you remain to reach your goals.
---
Thanks for your insight, Christina!