Jessica Gere is a physical therapist who now works as a Sales Trainer at NuVasive. Learn more about how she made her career transition into this non-clinical role!
---
This post may contain affiliate links or codes. This won't increase your cost, but it helps keep TNCPT alive, and free of annoying ads! Thank you for your support. 🙂
What is your full name, title, and company name for your current, primary role?
Jessica Gere, DPT – Sales Trainer at NuVasive

Where are you located?
San Diego, CA
Where did you go to PT school, and what year did you graduate?
University of Connecticut, 2010
Please refrain from contacting our spotlight participants on social media. There are thousands of readers just like you out there. 🙂 Please ask your questions in the comments on this blog post.
If you're a Non-Clinical 101 student, you can network with many of our spotlight participants in the alumni groups!
What did you do when you first finished school, and for how long?
I did one travel contract in Cape Cod, then moved out to San Diego and worked in outpatient orthopedics for seven years.
In what setting(s) did you work, and what types of patients did you treat?
Outpatient orthopedics, skilled nursing, home health, and assisted living.
What did you enjoy about your early roles? What didn't you enjoy?
Initially, I loved outpatient ortho. Most patients really appreciated my expertise and it was really rewarding helping them return to sport or just be able to walk pain free without a device after a joint replacement.
Eventually, I did not like that I saw so many patients a day (15+), and it was really difficult being "on" for 40 hours a week doing direct patient care. In skilled nursing, home health and assisted living there were still patients that were appreciative, but a lot of the time I was trying to convince them why they would benefit from PT and I got tired of it.
When and why did you decide to do something non-clinical?
I started to get burnt out around 2016/2017 and thought changing settings would help. It helped initially, but once I had tried almost every setting, I realized I just needed a break from direct patient care. The pandemic amplified all of the negative aspects of working in healthcare. I started applying for non-clinical jobs a little over a year ago.
What are you doing these days?
I am a Sales Trainer for NuVasive, a medical device company for spine surgeries.
Are you still treating patients, or are you solely non-clinical?
At this time, I am solely non-clinical.
How long have you been a Sales Trainer at NuVasive?
One year.
Did you get any special certifications or training along the way to help you get into your current role?
I did not take any courses, but I did use recommendations from the Facebook group resources and group members on how to adjust my resume and cover letter.
How did you find your Sales Trainer job? Did you apply or find it through a connection?
I found the job on LinkedIn and applied independently.
Did you do anything special to your resume and cover letter to land the job?
I tried to use keywords in my resume for the jobs I was applying for. I wrote a cover letter for each position explaining how my 11+ years of physical therapy experience would help me be successful in the role.
What was the interview like for the role?
I had 5 interviews…yes FIVE…over the course of 2 months. They were all virtual: video calls and phone calls.
---
Need help launching your own non-clinical career? Discover what's out there—AND how to get there!
How have people reacted to you leaving patient care?
Everyone has been very supportive. Friends and family are especially happy for me since they saw how burned out I was the last few years. My PT colleagues are also happy for me, and many are asking for advice on how to do it!
What's a typical day or week in the life like for you as a Sales Trainer at NuVasive?
As Sales Trainers, we are responsible for maintaining and creating the content that our sales reps have to learn for their training. They go through a rigorous training that takes about 12 months to complete. This includes spinal anatomy and pathology, as well as learning about the NuVasive products and the surgical procedures they are used in.
A lot of the training is virtual and involves online tests that we are required to grade and sometimes review with them. Once they complete the online training, they are eligible to come to San Diego for the week-long in-person training that happens quarterly. The sales training team organizes these trainings and works with the product teams to help make the schedule of events and the presentations and assessments that will be delivered.
Sales can feel intimidating! But confidence comes from talking the talk and knowing you're prepared to walk the walk. It's much easier to sell yourself in interviews when you've gone through formal sales training. We highly recommend upskilling and working with the sales mentors at Evolve Your Success.
Their Medical Sales Career Builder program has a 100% satisfaction rating and 90% placement record! Mention that The Non-Clinical PT sent you to get $800 off!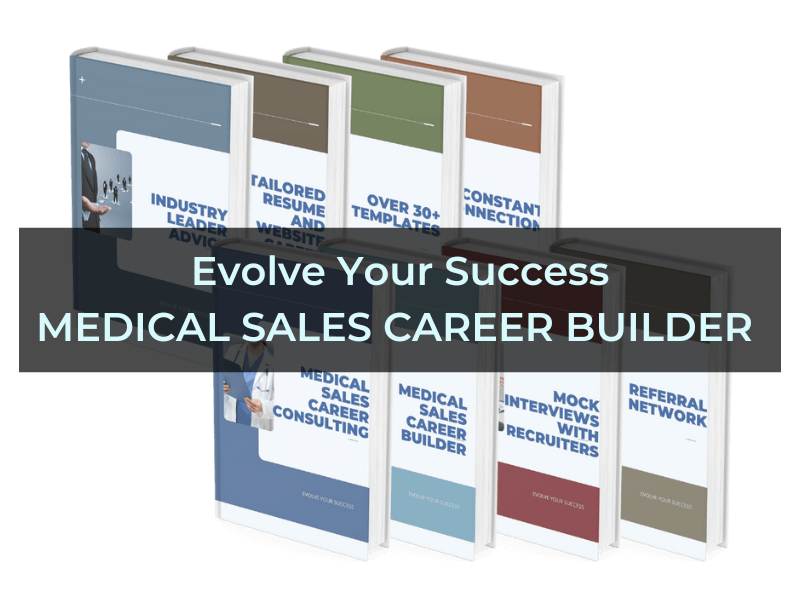 What are some of the rewards of your role? What are the biggest challenges?
It is rewarding to help prepare the reps for their assessments and certifications and watch them put the work in and perform well. They are very appreciative of our help.
The most challenging part has been doing the training myself. The spinal anatomy and pathology comes easier with a PT background, but learning all of the products and procedures is challenging. The more exposure I have to it though, the more familiar I become with it.
Over the last year, I have been spending more time in cadaver labs with surgeons and product managers, which is very helpful in learning the NuVasive portfolio.
How did your clinical background prepare you for this role? Which skills transferred?
My knowledge of anatomy and pathology have helped me tremendously. Also, working in healthcare with patients and the interdisciplinary teams has helped me with my communication skills. I also had become very time-efficient in all of my PT jobs, which will always help in any job.
---
Roughly speaking, how are the hours and pay compared to patient care?
The hours are similar Monday-Friday 9-5ish, but they are more flexible. We do not work holidays, and typically do not work weekends except for the quarterly training sessions.
I did take a pay cut compared to the home health setting. The pay is about the same as an outpatient ortho PT job in San Diego, but NuVasive is a large company with great benefits and the hybrid aspect of the job cannot be given a monetary value in my opinion.
I am also eligible for bonuses and raises which had not been happening recently in my PT jobs.
What type of person do you think would do well in your role?
There are a lot of moving parts to the job so being detail-oriented and organized is a must. You must also be confident with public speaking as we are presenting to the reps and product teams, and have frequent calls with them.
Do you work remotely or onsite?
It is a hybrid position. We go into the office on Tuesdays typically, and we are in the office every day when we are running in-person trainings.
What is a typical career path for someone in your role?
You can be advanced to senior sales trainer with experience, and there are many other areas within the company that you could transition to.
What is next for you? What are your high-level career aspirations?
Right now I am just focused on this current position. Once I have the experience, I would be interested in advancing with the company, but I would like to stay with NuVasive for the long term.
What would you recommend to someone who is considering going into a sales trainer role?
Don't give up! I applied to 50+ jobs and only got called for interviews with two companies. Network with people, and reach out to past employers or coworkers. It is good to never burn bridges, because you never know when someone might be able to hook you up in the future.
All it takes is one company to believe in you.