Rehab practitioners looking to move into less physically demanding roles will find it helpful to focus on the core skills they already have. One significant non-clinical skill we gain in traditional settings is education; we advise people on how to improve their lives every day we're in the clinic—and that's why becoming a driver rehabilitation specialist (DRS) is such a natural transition.
A major part of living in modern society is getting around the community via automobile.
The ability to safely drive, however, can be hindered by injury, disability, or the effects of aging. Yet, despite patients' strong desire to maintain their independence, driving assessments and interventions are often overlooked in typical rehab or hospital settings—and this leaves patients feeling disconnected from their communities. This is where driver rehabilitation (DR) comes in.
---
This post may contain affiliate links or codes. This won't increase your cost, but it helps keep TNCPT alive, and free of annoying ads! Thank you for your support. 🙂
What is driver rehabilitation?
Driver rehabilitation aims to improve a person's function and independence behind the wheel. A DR program will first evaluate the basic skills of a client that are needed for driving.
These basic driving skills include:
Attention
Reaction time
Visual acuity
Scanning
Decision making
Endurance
Sensation
Judgment
Aside from physical abilities like strength and range of motion, the driver rehabilitation specialist will also assess driving history, current medications, and hearing.
A DRS will then conduct an on-the-road test to see the client in motion and help determine his or her "fitness to drive." From here, the instructor can offer trainings or further suggestions for safety. Perhaps a client needs to improve his or her hand-eye coordination to use the gear shift and turn signals; a driver rehabilitation specialist can help with this.
A DRS can also help find alternative modes of local transportation for those who can no longer drive.
Vehicle modifications are a large part of driver rehabilitation (DR). Modifications can be as high-tech as a computer system or as low-tech as adding a lumbar support pillow.
Further solutions in DR include adding the following modifications:
Seat cushions
Additional mirrors
Brake hand control systems
Pedal extensions
Joystick controls
The purpose of driver rehabilitation systems is to improve safety and overall well-being by implementing new strategies and/or setting up special equipment in the car.
---
Where do driver rehabilitation specialists work?
Driver rehabilitation specialists can work anywhere they have the proper supplies, space, and funding.
Common places of employment include:
Hospitals
Driving clinics
American Automobile Association (AAA) centers
Private practice
Physical rehabilitation centers
For the more entrepreneurial-minded driver rehab specialist, the American Occupational Therapy Association (AOTA) website also outlines how to develop your own program in the community.
---
What is the average driver rehabilitation specialist salary?
It's difficult to pinpoint an exact salary for a driver rehab specialist. The average salary in New York for an OT in this position ranges from about $59,246 per year for "Rehabilitation Specialist" to $30.34 per hour for "Intervention Specialist."
Another estimation is that OT/Certified Driver Rehabilitation Specialists earn an average of $72,227 per year. As with any career, pay rate changes with experience and location.
---
How does one become a driver rehab specialist?
Knowledge and experience are certainly helpful, but there doesn't seem to be a standard definition of requirements to practice in driver rehabilitation. The AOTA practice statement of 2016 indicates that advanced training is required. Most agree that advanced education, including hands-on training is a must for anyone entering the field from a therapy provider status. In addition, mentorship is strongly encouraged.
If an employer requires formal certification, there are some options available, which we will discuss shortly.
---
Is driver rehabilitation just for occupational therapy professionals?
There are nearly 750 workers who identify as driver rehabilitation specialists. They mainly come from an allied health background or traditional driver education background. Physical therapists (PTs), occupational therapists (OTs), and assistants can all potentially work in driver rehab.
OTs most commonly wind up becoming driver rehabilitation specialists, as the professional scope and values of occupational therapy seem to fit closely with driver rehab.
However, any PT, OT, PTA, or OTA can train as a DRS and learn the ways to best keep a person active in his or her community.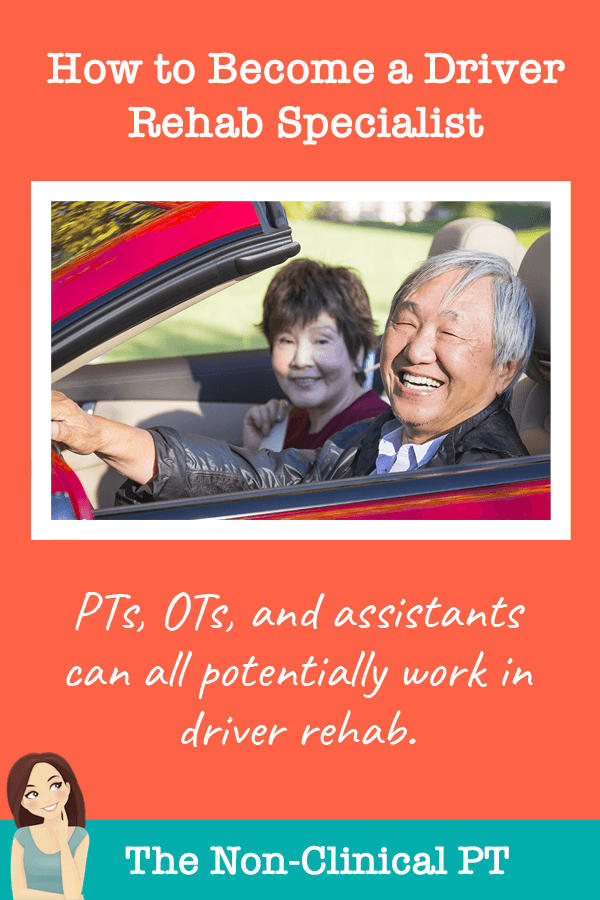 ---
Ways to get experience in driver rehab
As with any career pivot, it's always wise to get some experience before investing tons of money and time. In order to get a better understanding of driver rehab, I recommend reaching out to any known driver rehab professionals in your area to see if you can shadow or volunteer. Taking any educational class about driving would be also an appropriate way to gain experience.
Volunteer with CarFit
Another option is volunteering with CarFit, which is a program that ensures a vehicle is properly adjusted for its specific driver and their needs. They offer volunteer positions and chances to become technicians or event coordinators.

---
Driver rehabilitation specialist certifications and coursework
As noted above, sometimes employers will look for certain types of certification on your resume. If that's the case, here are some options for you. Let's start with the free/low-cost ones.
Adaptive Mobility Services

Adaptive Mobility Services, LLC is an OT-run company. Susie Touchinsky, OTR/L, SCDCM, CDRS created courses to give a very rehab-focused approach to driver rehab, while earning the credits you need to designate yourself as a DRS. She also offers a range of free mini course offerings online for therapists interested in driving rehab. Courses include fundamentals of driver rehab, as well as documentation and goal setting for driver rehab.
AARP driver rehab course
AARP offers a free online course called We Need to Talk, which covers elderly driving safety and skills. Attendees receive a certificate and toolkit to then host their own educational seminars for families or for clients. This is a nice starting point to boost a resume.

ADED courses and certification
The Association for Driver Rehabilitation Specialists (ADED) exists to support driver education professionals on training and equipment modifications for people with disabilities. ADED hosts two-day introductory courses on driver rehab, as well as a few online courses through its partnership with MedBridge (see below for the courses).
ADED also offers two certifications: Driver Rehabilitation Specialist (DRS) and Certified Driver Rehabilitation Specialist (CDRS).
1) DRS (Driver Rehabilitation Specialist)
Becoming a formal driver rehabilitation specialist (DRS) has fewer requirements than the full CDRS® certification. Those with the formalized designation of "DRS" after their names can still implement all driver rehab services without having obtained the "expert" certification of CDRS©.
According to ADED, a DRS must still be specialized in driving and have received continuing education credits. If you do not have this designation, it is probably wise to refer to yourself as a "driver rehabilitation OT/A" or "driver rehabilitation PT/A."
2) CDRS® (Certified Driver Rehabilitation Specialist)
A CDRS® is the superior ranking, indicating advanced experience and expertise in diverse areas within driver rehabilitation, and is considered the "gold standard." In order to sit for the formal exam, you must have documented evidence of 1,664 practice hours in driver rehab and pay an exam fee of $550. In order to maintain the CDRS® credential, you must also take 30 hours of continuing education per three-year cycle.
AOTA's courses and certifications
Another route for professional recognition is the AOTA's Specialty Certification in Driving and Community Mobility (SCDCM). Applicants must have 600 documented working hours as an OT promoting driving and community mobility.
AOTA also offers a self-paced course Occupational Therapy's Role with Driving & Community Mobility Across the Lifespan.
MedBridge driver rehabilitation courses
If you're already a member of MedBridge Education (or are considering joining—you can save 40% on unlimited CEUs with my code, nonclinicalPT), there are currently two courses available that you can take online. They'll look great on the resume, plus they'll give you a taste of driver rehab without the financial investment of more expensive, in-person courses.
Conclusion
Driver rehabilitation offers a modern and client-centered path to improve people's independence. Areas for growth seem very open in this line of work, as it will be changing often and with new technologies.
On Monday, you may be interviewing bus companies about their disability policies, and by Friday you could be installing a one-handed steering wheel knob. Your daily grind will be what you make it, starting with broadening your knowledge on what alternative jobs and courses are out there. Happy hunting!
Here's a spotlight on someone who started her own driver rehab practice!