Today's non-clinical spotlight focuses on Brittany Ferri, a non-clinical occupational therapist with a really unique career story. She has built an impressive career as a content coordinator and freelance health content writer, and she also runs a side business where she provides copywriting and consulting services. Brittany is hard-working and a serious go-getter, and her story will inspire therapists and assistants looking to move into the writing space.
---
This post may contain affiliate links or codes. This won't increase your cost, but it helps keep TNCPT alive, and free of annoying ads! Thank you for your support. 🙂
What is your full name and title at your current job?
Brittany Ferri, MS, OTR/L, CCTP
Content Coordinator at Acadia Healthcare
Founder of Simplicity of Health, LLC


Where did you go to OT school, and what year did you graduate?
Class of 2016 from Quinnipiac University in Hamden, CT
What did you do when you first finished OT school, and for how long?
My first full-time clinical job was in an assisted living facility (ALF) while I was also doing per diem coverage in behavioral health. I worked in both roles for about a year and a half.
I got my first taste of non-clinical work during my second full-time role as lead therapist at a state psychiatric facility.
This was technically a clinical role, but I got my feet wet with things like:
Program development
Multidisciplinary committees
Quality control
Statistical reporting
I was doing these non-clinical things while also supervising therapists and treating patients. This role really opened my eyes to all that an OT can do outside of patient care.
At what point did you realize you wanted to do something non-clinical with your OT background, and why?
About a year into my second full-time job, I was feeling equally as burned out as I was in my first job. I started looking for anything leisure-wise to get my mind off the stress.
I remembered my past love for writing and figured there must be a way I could incorporate therapy into that.
I did a little research, which turned to a lot more research, and decided to try a few guest posts on therapy and health-related topics. I received good feedback from my first couple of posts on NewGradOccupationalTherapy (NGOT)—now Covalent Careers—and decided to expand from there.
What are you doing these days?
My current full-time role is as a Content Coordinator at Acadia Healthcare. I am also the founder of Simplicity of Health, LLC, where I offer consulting, health copy and copyediting, efficiency and productivity strategies, and individual holistic OT sessions. I am also an independent contractor for a teletherapy platform.
Are you still treating patients, or are you writing full-time?
I am currently only treating on a case-by-case basis, as I receive new clients through word of mouth.
I work full-time in my content coordinator role, while writing and consulting for my regular clients in my spare time.
Can you tell us a little bit about what it's like as a health content writer?
I really enjoy freelance writing. I hoped picking up clients and charging an hourly rate wouldn't change the effect writing has on me and, luckily, it hasn't!
I still find it relaxing to write simple pieces for my personal benefit and I love the challenge that comes with having to assume a different style and target different audiences.
I can claim topics or pitch topics of my choosing, so it truly can be structured according to my own needs and availability.
How long have you been writing?
I have been writing professionally for two years.
How do you find your clients?
It helps to know about relevant and popular therapy websites, health and wellness forums, and which therapists are writers, since there are many opportunities through those mediums. Building relationships that way really helps.
I also browse job boards for contract positions on occasion.
You mentioned being full-time at your content coordinator job…do tell!
I have been at my content coordinator job for about three months, and am enjoying how much of a change it was between my last role and this one.
How did you find your job? Did you apply or find it through a connection?
I found my current job on Indeed during one of those times when I was searching for additional writing roles. I wanted a role where I could reach a bigger audience, and this role certainly provides that.
Did you do anything special to your resume and cover letter to land the content coordinator job?
In my resume, I made sure to highlight the non-clinical duties I had held in past roles.
Being lead therapist at two facilities was a huge selling point, as it highlighted writing responsibilities such as chart reviews, development of policy and procedure, and creating/providing in-services.
It was also helpful to highlight my freelance writing experience, as well as my academic and freelance writing samples. Doing so showed my versatility, knowledge base, and ability to research topics I am unfamiliar with.
It is great to show you have this experience, as these responsibilities are often a large part of non-clinical roles, especially those in content creation.
What was the interview like for the role?
My supervisor made sure to emphasize how different this role is from one in patient care (e.g. it being a largely sedentary role, not as much importance placed on productivity, but rather quality).
Most other questions were similar to those in an interview for a clinical position, such as "How do you deal with conflict between coworkers?" and "What did you do when approaching a difficult patient?"
My supervisor was also interested to know what made me seek opportunities outside of patient care.
What type of person do you think would do well in a writing role?
A self-directed person, who is highly organized with good time management and critical thinking skills, would thrive in a content coordinator role. This is also the case for a writing role (or any role) where you are your own supervisor, as I am in for my business.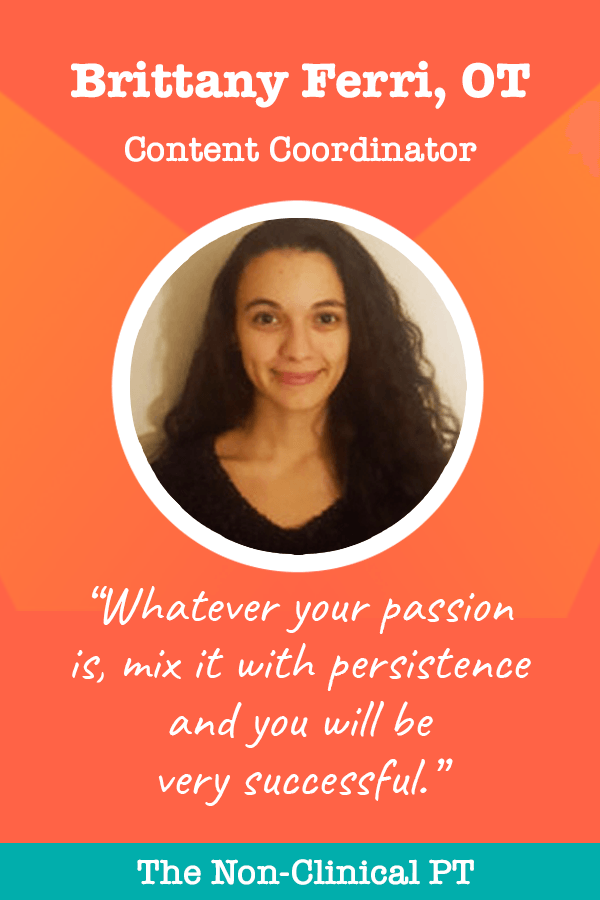 Do you work remotely or on-site?
I work entirely remotely, and am a huge advocate of that way of working!
What is next for you? What do you want to do with your career long-term?
I plan to begin independent mental health consulting with a focus on complementary and alternative modalities (CAMs) in the next several years. I think this will be a good way to expand my current consulting roles.
I have some teaching experience, so I may eventually explore OTD programs, which would allow me to enter academia on a more regular basis.
I have published one therapy textbook and am awaiting publication of my second one. I really enjoy the depth of knowledge I can give other students and therapists by writing books, and I plan to do more of that type of writing.
I believe this will provide our field with valuable information and, hopefully, serve as a tangible example of all the non-clinical accomplishments a therapist can achieve.
Do you have any special advice for others who want to follow in your footsteps?
OT is such a diverse and versatile field; you can quite literally make a role from scratch and become a pioneer in that area. Whatever your passion is, mix it with persistence and you will be very successful.
I have been blessed with many diverse roles in my career thus far, and they were the product of my curiosity and drive to explore areas that were, and still are, relatively uncharted.
---
Thanks for your insight, Brittany!