Today's non-clinical spotlight focuses on Bree Fouss, an occupational therapist who wound up switching gears and moving into a Business Designer role in a new industry.
---
This post may contain affiliate links or codes. This won't increase your cost, but it helps keep TNCPT alive, and free of annoying ads! Thank you for your support. 🙂
What is your full name and title at your current job?
Bree Fouss
Business Designer at Accenture | Fjord

Where did you go to OT school, and what year did you graduate?
I went to James Madison University for OT and graduated in 2014.
What did you do when you first finished school?
Even before starting OT school I knew that I wanted to do pediatric sensory integration therapy. So that's what I did! I worked in an outpatient peds clinic for 1.5 years treating kids with mild to moderate sensory processing disorders.
What did you do after that, and for how long?
The long hours and physical exertion at the peds clinic really burned me out. I ended up switching to a school-based OT position and spent the next two years working in DC public charter schools.
I eventually got promoted to be the Related Services Team Lead at the school where I was working. This was pivotal for me because it gave me a more holistic/organizational view of how we were providing clinical services and allowed me to begin thinking about how we could improve our processes.
What did you enjoy about your early roles? What didn't you enjoy?
I had a great supervisor at my first job in the peds clinic. She was so supportive and it was obvious that she loved teaching new grads how to be successful therapists.
I also had a wonderful supervisor at my first school-based job. She was more hands-off, but her support enabled me to start thinking about how I could enact change at our organization even though I was "just a therapist."
I will never forget these women!
At what point did you realize you wanted to do something non-clinical, and why?
During my second year of school-based practice, I decided that I needed to move on from OT. It felt like breaking up with a significant other. I had put so much time, money, and effort into OT but I knew deep down that I would be miserable if I stayed.
I'm going to be totally honest here. These are the following reasons why I decided to pursue a non-clinical path:
I was bored.
I did not feel intellectually stimulated anymore. I had shifted my perspective from direct patient care to "big H" Healthcare. I wanted to learn more about the systems around healthcare and how I could be a part of improving the patient and provider experience from an organizational vantage point.
I wanted to make more money and have career growth potential.
It took me a long time to not feel guilty about this one. I realized that, at 28 years old, I was almost at the top of my earning potential as an OT—and that just wasn't going to work for me. I also realized that I had almost zero career growth potential.
How did you make the switch out of patient care?
My first step away from OT was making the big decision to try learning a new skill or a new way of thinking.
I signed up for a couple of part-time user experience design courses and became completely immersed in design thinking for the next several months. These courses, in addition to my clinical leadership role, helped me land my first non-clinical job at a small healthcare consulting firm.
My company was small but they had just won a huge contract with a federal health agency and we were partnered with a Big Four firm on the project. This was an invaluable learning experience and I felt like I was going through a mini MBA program because I was working alongside incredibly smart colleagues with deep consulting expertise.
What are you doing these days as a Business Designer?
Armed with all of the skills that I had accumulated over the past couple of years, I was able to get my current job at Accenture, a global management consulting firm.
Specifically, I'm working as a Business Designer at Fjord, which is a collection of design and innovation studios within Accenture. Business designers work alongside UX designers, visual designers, and service designers to create people-centric services and digital products for our clients.
As a design team, we guide our clients through the human-centered design process to help them solve some of their toughest challenges.
The best part is that I am still very much focused on healthcare and I am currently on a healthcare project involved with improving the organ transplant process for patients and providers.
Are you still treating patients, or are you solely non-clinical?
I am solely non-clinical.
How long have you been in your current role?
Around nine months.
How did you find your job?
I found my current job through a connection. Networking has been a crucial part of my transition out of clinical work.
I joined several design meetups and even reached out to complete strangers on LinkedIn who all turned out to be incredibly gracious in their willingness to meet with me and talk about their career paths.
Now when anyone reaches out to me with questions about my journey, I try to be as helpful as possible to pay it forward.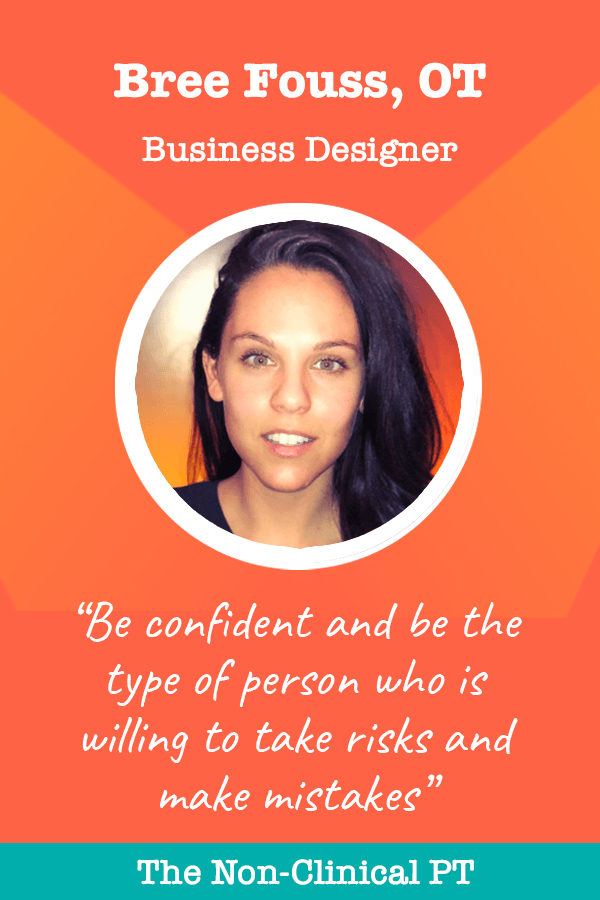 Did you do anything special to your resume and cover letter to land the job?
I spent many hours reading through job descriptions trying to understand how to make my resume and cover letter more powerful and convincing. I probably created 100 versions of my resume and cover letter when I was applying to my first non-clinical job.
What was the interview like for the role?
I was so nervous for the interview at my current job so I prepped like a mad woman. I used those giant notepads to write out everything that could possibly come up at the interview.
This technique of mapping out my journey on paper really helped me to verbalize my elevator pitch for when that moment comes during the interview when the interviewer says, "So tell me about you."
Did you get any special certifications or training for your Business Design role?
Yes! The part-time user experience design course at General Assembly. I also took the data analytics bootcamp at General Assembly. I highly recommend both.
---
Editor's note: If you want to explore these topics on a trial basis without paying, consider Coursera. These self-paced online courses are no-risk because you can enroll for free to see if you like it before you commit!
---
How did people react to your unconventional career path?
My family and friends were extremely supportive when I made the decision to go non-clinical. I think my colleagues recognized how unhappy I was as a clinician and understood my desire to try something new.
What's a typical day or week in the life like for you?
I absolutely love the way we work at Accenture | Fjord. Our projects usually last about four months and we work on small, interdisciplinary teams.
I'm on a team of seven people, and every morning we meet for a 30-minute Scrum meeting where we talk about what we accomplished the day before and what we are going to be working on that day. Then we usually have a couple of hours to work independently and then meet back up for a group working session later in the afternoon.
As a Business Designer, my main tasks have been centered around conducting research and landscape analysis to make sure that our team has a deep understanding of the organ transplant ecosystem.
Our client is a federal agency so I do a lot of research on regulations, policies, and national/regional data related to organ transplant. I am also involved in planning our user research and will be conducting user interviews soon.
Eventually, my team will create a future state blueprint of what the national organ transplant system could look like and pitch this vision to our client.
What are some of the challenges of your role? What are the rewards?
Many of the tasks that I'm asked to do are things that I am doing for the first time.
It's very humbling to go from feeling like an expert in my field to being the person that has to ask a million questions about something that may be basic to everyone else.
I like to remind myself that I am building up my Business Designer toolkit and to not get too bummed when I don't know how to do something and need to ask for help.
One of the biggest rewards of my job is that I get to work on projects that have widespread impact. Like I mentioned earlier, our clients are large federal agencies who provide services to American citizens. Our job is to make sure that those services are delightful, simple, and human-centered.
How do you think working as an OT prepared you for this role?
My healthcare experience in general has made me a vital source of knowledge on healthcare projects. My personal understanding of patient/provider, patient/caregiver, provider/administrator, and provider/provider relationships is invaluable.
Roughly speaking, how are the hours and pay compared to patient care?
I definitely have more flexibility with my time now because I'm not tied up with patient after patient like I was in my clinical role. There's an emphasis on work/life balance here and most people come in around 9:00/9:30am and leave around 5:00/5:30pm.
Unless, of course, you have a big deliverable due, which may require longer hours! As we all know, working as a therapist has a hard earning limit.
This income ceiling was a main factor in my decision to go non-clinical and I'm ecstatic to be at a place where raises, bonuses, and promotions actually exist and are performance-based. I'm making way more now than I was as a therapist, and will continue to make more as I progress with this company.
What type of person do you think would do well in your role?
I think it really helps to be confident and be the type of person who is willing to take risks and make mistakes (I'm still working on all of these). I also think it's important to be both a big picture thinker and a detail-oriented person all wrapped into one.
Since most of the work that we do is with a project team, a person in this role has to be collaborative and ultimately feel okay with spending most of their day in a room with several people. This is definitely not a solitary desk job
Do you work remotely or on-site?
My first consulting job was mostly remote, although I had the option to go into the office if I wanted. My current job is on-site at a design studio.
Does your organization hire PT, OT, or SLP professionals into non-clinical roles?
They don't necessarily look for therapists/assistants to fill roles here. If you wanted to apply to a job at Fjord, you would need to position yourself as having an entirely different skill set and then use your healthcare background as an extra selling point.
I believe that any therapist who wants to make the jump to working in a design studio would need to gain some experience outside of clinical work before applying. This experience can include projects you do for design courses or projects you do on the side at your current job.
Side note: When I was working at DC charter schools as an OT, I did a bunch of user research (i.e. interviewing people and observing processes) and created a current state journey map that showed the path of a child and family as they went through the special education and related services evaluation process. My journey map also included opportunity areas with ideas that could improve the system.
This was not part of my OT job, but I was able to bring this design artifact to interviews to show that I was thinking like a designer.
Did you read any books, take any courses, or do anything special overall to get you where you are today?
I can't tell you how essential it was for me to take the General Assembly User Experience Design course.
I also read books like "Don't Make Me Think" and "The Design of Everyday Things," which are the two big UX books out there.
I also joined design meetups where I got to meet people already working in the design space. I even found a meetup for people interested in Healthcare Experience Design which really helped me narrow down exactly where I wanted my career path to take me.
Lastly, I must plug Brene Brown's TedTalk on vulnerability and shame. As someone jumping into a new career, vulnerability is a must.
What is a typical career path for someone in your role?
Business Designers come to Fjord in a few different ways. Most come from consulting (like me) and others come from being entrepreneurs or working at design agencies or tech companies.
We have a career ladder where you move up in levels. My next step is to become a design lead, then a manager, then a director.
What is next for you? What do you want to do with your career long-term?
Since I just started here several months ago, it's hard to say where I'll be long-term. I hope I am still here but in more of a leadership role. I have a long way to go until then!
Do you have any special words of wisdom for the readers?
Be bold
Be courageous
Be okay with making mistakes and asking for help.
What would you like to change most in your profession, and why?
We need more diversity in leadership positions! Our company just promoted a woman to be our CEO so that's a huge step but I want to see it across all levels of management.
If you could teach anything to today's graduate students in your profession, what would it be?
I wish OT/PT/SLP programs would teach at least one business class. Understanding the business side of healthcare would empower therapists to understand the levers that churn this colossus industry.
Do you have any special advice for others who want to follow in your footsteps?
Networking is essential
Confidence is key
It's okay to ask questions
Take an in-person design course so that you truly understand the discipline
Go to design meetups and meet the people doing the work you want to do
Get experience by doing design work (even if it's projects that you're doing for fun on the side)
---
Thanks for your insight, Bree!
---