Today's non-clinical spotlight focuses on Maria Lindbergh, MOT, OTR/L, ECHM, who went from occupational therapist to home modification specialist and owner of Toilet Talk.
---
This post may contain affiliate links or codes. This won't increase your cost, but it helps keep TNCPT alive, and free of annoying ads! Thank you for your support. 🙂
What is your name and title?
Maria Lindbergh, MOT, OTR/L, ECHM
Owner, Toilet Talk
Where are you located?
Kansas City, MO

Where did you go to OT school, and what year did you graduate?
University of Kansas Medical Center. I graduated in 2014 with my MOT. To further my education with home modifications, I completed the home modification coursework through the American Occupational Therapy Association's (AOTA) digital badge program.
Then I earned the Executive Certificate in Home Modification (ECHM) through the University of Southern California Leonard Davis School of Gerontology in 2017.
Where did you first work, and what was your role there?
I worked in CCRCs, acute inpatient, and in people's homes in the community.
I treated mostly neuro, orthopedic, and patients with all kinds of chronic conditions.
What did you enjoy about your early roles? What didn't you enjoy?
In my early roles, I enjoyed focusing on patient care and getting to know my patients on a personal level.
I did not enjoy the limitations of adhering to company policies when it came to my practice and recommendations to enhance patients' quality of life.
When and why did you decide to do something non-clinical?
When I worked in the SNF setting, I noticed that people would rehab and return home to an environment that was NOT set up for them to be successful with independently caring for themselves.
I created my home modifications business in 2017 to fill that need.
I got real honest with myself and made a list of things that I liked and disliked about doing home mods. I realized that when I created content, especially bathroom content, I felt energetic and happy.
The bathroom influences a person's ability to return home after rehab.
I decided that I wanted to make a living creating content on how people can proactively make beautiful, safe changes to their bathrooms to live at home for a lifetime.
What is aging in place?
Aging in place is the idea that every person should be able to safely and independently live at home in their community regardless of age, ability, or income (U.S. Centers for Disease Control and Prevention).
I like to educate people of the preventive measures they can take to ensure the ability to remain in their home as long as they like.
What is a home modification specialist?
Home modification focuses on making changes to the home environment to maintain a person's independence with ADLs/IADLs. A home modification specialist is someone who makes those changes.
On occasion, I introduce adaptive equipment or durable medical equipment into the home environment for a person to use during daily activities.
As occupational therapists, we understand how the environment can impact the occupational performance of a daily task.
For example, a client who struggles with carrying laundry up and down the stairs will benefit from a washer and dryer on the main level, which would result in increased participation and improved independence with laundry.
What are you doing these days?
Nowadays, I run Toilet Talk to help people create beautiful and safe bathrooms. I sell designer grab bars, shower seats, and bidet seats. And I create content (i.e. blogs and videos) about those products on my website and social media platforms.
I created an online course, "Hard Time Wiping? Let's Talk A-booty It!" that teaches toilet techniques and four options to clean your booty more easily.

I also collaborate with companies in the bathroom space by creating marketing and promotional materials. I love working with other people with the same mindset of keeping people's dignity in the bathroom.
I'm here to break the stigma of grab bars. I want people to think of them as chic bathroom accessories that also happen to keep you safe while toileting and showering.
I LOVE using my grab bars at home because guess what? Injury and illness always have a way of coming back into my life.

It's part of the human experience!
Do you have any special books, courses, or podcast recommendations for those inspired by Toilet Talk?
Podcasts
The Home and Place podcast by Nichole Kain, MA, OTR/L, CAPS
She interviews different professionals to discuss the concepts of home and aging and the factors that may affect how people interact and perceive themselves in their home environment. These episodes are chock-full of information that will help you in improving your own home environment and your future clients' homes!
Private Practice Success Stories by Jena Castro-Cason, MS CCC-SLP
These entrepreneurial-focused episodes focus on SLPs who opened their own private practices with success! I love hearing how people overcome challenges and pursue providing services the way they envisioned.
Books
The book that has inspired me the most on my journey is The The $100 Startup, written by Chris Guillebeau. This book gives practical advice on how to keep costs low while creating a business that you love. I put sticky notes ALL over the pages because I didn't want to forget any information I found valuable.
I also read a lot of different types of marketing books and recommend anything by Brene Brown.
Courses
Marie Forleo's B-school course was extremely helpful, and I still repeat the course at least once a year to improve my business.
---
[Editor's note: Be sure to check out Traci Swartz's article: Home Modifications Careers for OT and PT Professionals!]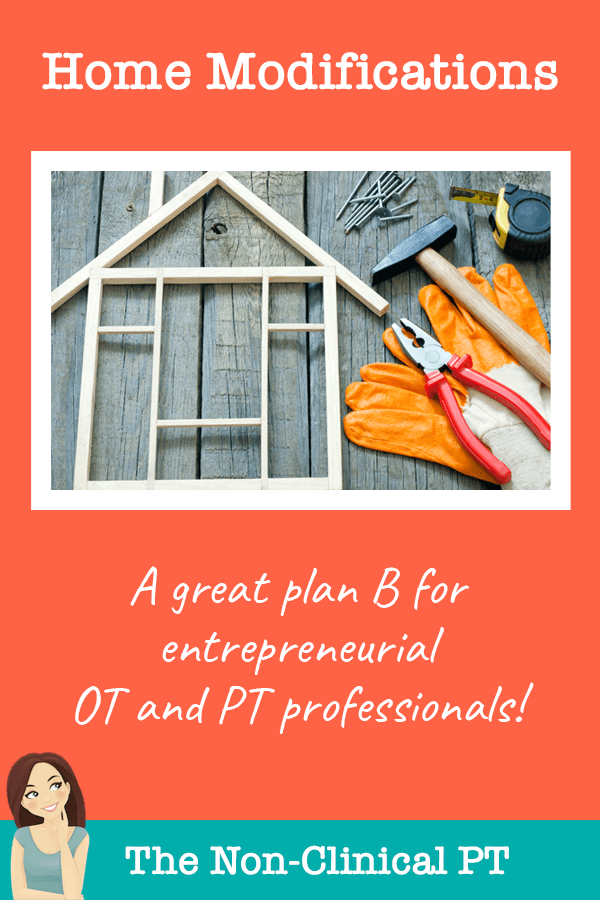 ---
What do you wish you would've known before going into this role?
A growth mindset will take you far. You'll fail a billion times. Never take it to heart! Just keep going.
Did you get any special certifications or training along the way to help you get into your current role?
Yes, I got my home modifications badge through AOTA and my Executive Certificate for Home Modifications through USC Davis.
How did you find your job? Did you apply or find it through a connection?
I created my own job through trial and tribulation. I speak often with other OT entrepreneurs for advice and peer support.
How have people reacted to you leaving patient care?
When I left patient care, I received a lot of support.
People are wonderful and tend to cheer you on to pursue your goals. I'm even in an OT entrepreneur group, which meets weekly to support each other as we pursue our goals.
What's a typical day or week in the life like for you? What types of tasks and responsibilities fill your time?
I work Monday through Friday and sometimes on the weekends.
I'm managing the Toilet Talk store, writing, making videos on my bathroom set in my basement, managing my social media platforms, managing my online course, and working with other companies.
What are some of the rewards of your role? What are the biggest challenges?
I feel fulfilled when someone comments on social media saying that I changed their mind about bathroom safety or toileting. I also love it when my customers are satisfied with their products!

The biggest challenges are staying focused on my mission and not getting distracted! Recently, I took some time off of Instagram in order to write my free grab bar placement guide (coming August 2023).

There's a lot on my to-do list. I'm always working on slowing down and focusing on what's really important.
How did your clinical background prepare you for this role? Which skills transferred?
My OT skills transferred with recommendations for bathroom design and safety products to improve independence with toileting and safety.
The most impactful skill that transferred is my ability to collaborate with all kinds of people, like contractors and warehouse managers.
Roughly speaking, how are the hours compared to patient care?
My hours are better than working patient care. I felt exhausted working eight hours with patients. I enjoy working six hours at a time and taking care of other aspects of my life.
What type of person do you think would do well in your role?
Someone in my position needs to have a growth mindset, persistence, and the ability to reach out for help.
Do you work remotely or onsite?
I work remotely.
Does your organization hire PT, OT, or SLP professionals into non-clinical roles? If so, what type of roles?
Not yet!
What is a typical career path for someone in your role?
This is a difficult question to ask because I made up my career path! I was a clinician and created an online business. If I can do it, you can do it, too!
What is next for you? What are your high-level career aspirations?
In three to five years, I'm going to design and develop the most amazing bidet seat you've ever seen! I hope to keep growing my online store and making content on bathroom safety equipment and modifications.
What would you teach to today's graduate students in your profession, if you had the opportunity?
I do take capstone students! I love teaching them everything I know about bathroom modifications and running a business.
---