Today's non-clinical spotlight focuses on Maria Lindbergh, MOT, ECHM, OTR/L, who went from occupational therapist to home modification specialist and owner of Stay at Home Solutions.
---
This post may contain affiliate links or codes. This won't increase your cost, but it helps keep TNCPT alive, and free of annoying ads! Thank you for your support. 🙂
What is your name and title?
Maria Lindbergh, MOT, ECHM, OTR/L
Owner, Stay at Home Solutions

Where did you go to OT school, and what year did you graduate?
University of Kansas Medical Center. I graduated in 2014 with my MOT. To further my education with home modifications, I completed the home modification coursework through the American Occupational Therapy Association's (AOTA) digital badge program.
Then I earned the Executive Certificate in Home Modification (ECHM) through the University of Southern California Leonard Davis School of Gerontology in 2017.
Where did you first work, and what was your role there?
Kansas City Transitional Care Center (KCTCC) in Kansas City, Kansas. The facility provided skilled nursing for rehabilitation and long term care. I worked PRN for several other companies in various skilled nursing facilities across the Kansas City metro in Missouri and Kansas.
At what point did you decide to leave your first role and why?
I left KCTCC to another full time job in Gladstone, MO in a facility with long term care, rehab, assisted living, and independent living.
After three years, I noticed that a fair amount of patients discharged home would become re-injured and return to the hospital.
Even though we completed home evaluations prior to discharge, we had no ability to follow through with our patients on home modifications. Of course, I would call former patients on my free time to see how they were doing. However, I could not assist patients with the pursuit of home modifications outside of the facility.
I realized there was a need for occupational therapy to focus only on home modifications in the patient's home as a separate entity apart from the services home health and skilled nursing facilities provide.
I have always enjoyed working with older adults and this led me to starting my business with home modifications with an emphasis on aging in place. My background allowed me to understand the everyday needs for people as they age at home.
A majority of patients would share their goal was to return home as independently as possible, even people who needed total assistance wanted to discharge home!
What is aging in place?
Aging in place is the idea that every person should be able to safely and independently live at home in their community regardless of age, ability, or income (U.S. Centers for Disease Control and Prevention).
I like to educate people of the preventive measures they can take to ensure the ability to remain in their home as long as they like.
What is a home modification specialist?
Home modification focuses on making changes to the home environment to maintain a person's independence with ADLs/IADLs. A home modification specialist is someone who makes those changes.
On occasion, I introduce adaptive equipment or durable medical equipment into the home environment for a person to use during daily activities.
As occupational therapists, we understand how the environment can impact the occupational performance of a daily task.
For example, a client who struggles with carrying laundry up and down the stairs will benefit from a washer and dryer on the main level, which would result in increased participation and improved independence with laundry.
What steps did you take to start the business?
A year before I started, I began gathering information on how other therapists or clinicians started their private practices.
The Independent Clinician was a huge help with information on the basics of starting a business; Jen Casbon is very encouraging!
AOTA assisted me in finding a forum of OTs who focused on home modifications, which lead me to the Home Modification Occupational Therapy Alliance (HMOTA). I find it incredibly helpful to talk to other OTs about home modifications.
I love our profession because we are eager to give each other guidance when in need. We all want each other to succeed!
In addition to the OT perspective, I like to collaborate and learn with people of other professions. The ECHM course invites people from all backgrounds to take the course.
Once the course finishes, the instructors encourage you to join the Home Modifications Facebook group to stay in touch with fellow classmates and other graduates of the program. I enjoy using this platform to communicate with others because it gives me more insight into the perspective of different stakeholders and forms of service delivery.
What type of business structure did you set up, and why?
I chose an LLC because I wanted to keep my personal assets separate in the hopes that I would expand and hire people in various roles. Once the business grows, I am interested in hiring a COTA or OT who is interested in home modifications for pediatrics in order to broaden the practice.
Currently, I am the only employee and am on the search for a billing service for Medicare claims. I decided to become a Missouri Medicare part B provider to be more affordable to a greater amount of people. The effort that it took to contract with Medicare made me feel not ready to pursue any other insurance contracts at this time.
What type of business model did you create?
I chose to keep my role as an occupational therapist at the forefront during evaluation and treatment. When completing the home modification portion, I am the project manager and oversee the details on which contractor to hire, scope of the project, payment, buying equipment, etc. This model allows flexibility in case the client wants to use a specific contractor for the project.
How do you find clients?
Marketing is an essential part to starting a business. I created a website and social media accounts to become findable to my target audience: older adults and adult children.
I use different social media platforms to market to specific age ranges. For instance, people over the age of 60 tend to use Facebook more than Pinterest or Instagram.
I use social media to alert people of my weekly blog on my website. The blog contains information on simple home modifications, resources, or news.
I also create weekly videos in the style of infotainment to encourage people to "do it before you need it," or in other words, complete home modifications in the house before you have a reason to need them!
Lastly, I discovered networking to be imperative because it brings me referrals! I enjoy networking with other professionals in the Kansas City metro area and nationally.
I belong to two groups that focus on professionals in aging and a fall prevention coalition. Now that I have practice with networking, I find myself talking to new people in various places and unintentionally find out they know someone who I can connect with for my business.
What are the challenges of running your own business?
The challenges are many, but my perspective is everything can be figured out (except billing on my own!).
My top three challenges include:
Figuring out how to explain what I do to people in a way they can understand.
Marketing to the best people who will give me referrals.
Completely trusting myself in that I can grow my business to become lucrative.
What are the rewards of running your own business?
I feel rewarded when I address a client's concern and deliver a solution that makes them squeal with joy or provides relief for an exhausted caregiver.
I enjoy working on my own schedule and focusing on items of interest. My business allows me to use the full extent of my creativity and share my passion in the home modifications niche.
What should someone to do join an existing business as a home modification specialist?
If you want to join a home modifications business, it helps to complete a home modifications course to expand your knowledge. There are many courses available such as:
Executive Certificate in Home Modification (ECHM)
Speciality Certification in Environmental Modification (SCEM)
AOTA home modification digital badge program
Certified Aging in Place Specialist (CAPS)
Certified Living in Place Professional (CLIPP)
Certified Home Assessment and Modification Professional (CHAMP)
It would be helpful to contact the home modifications business to become familiar with how they run the business, past projects, and if they would allow you to shadow for a day or so. I would also suggest offering to collaborate on a project pro bono to demonstrate your abilities in home modification.
What are ideal personality traits for a home modification specialist?
A person in this field needs to be client-centered, flexible, collaborative, creative, and communicate well with all types of people. Patience will help when the pace of the business is slow or fast.
Keep in mind that people will not respond to you as quickly as you would like! It seems like most clinical therapists would perfectly fit in the world of home modifications!
What is a typical day in the life like for you?
One of the best parts of my job is that no day is ever quite exactly the same!
I schedule out my month, week, and day in advance, knowing fully well that I need to be very flexible. I like to accommodate what times work best for my clients and their families for evaluation and treatment, so I may see them early in the morning or later in the evening.
My day also consists of:
Documentation
Contacting insurance
Billing
Calling doctors' offices
Managing my finances
Writing for the blog
Marketing
Networking
Creating video content
Scheduling social media posts
Researching adaptive equipment or durable medical equipment
Ordering products
Collaborating with contractors
Managing home modification projects
I like to schedule out time during certain parts of the week to do specific tasks. For instance, every Friday, I schedule Facebook posts for the next week. That allows me to save time and remain consistent in my marketing.
Would this type of role work well for PTs, SLPs, or PT/OT/SLP assistants?
I encourage occupational therapy assistants (OTAs) to pursue this role! In fact, I had an OTA student for a month this past June, and showed her how easily OTAs and OTs could work together in this setting.
PTs and PTAs could also work well in home modifications, especially with the functional mobility and anthropometric aspects of the job. I used to work with a PTA who was very interested in entering this field.
OT and PT traditionally work so close together in other settings that this could be another professional match made in heaven for home modifications!
[Editor's Note: Check out this other spotlight we did on Carrie Black, PTA and President of Integrity Home Mobility!]
Unfortunately, I am not able to say with certainty if SLPs would work well in this role. Perhaps an SLP could consult on how factors in the environment, like acoustics, could impact communication between people. I hope the SLPs reading this will comment and share their ideas on how they could become a part of the home modification field!
Do you have any special books or podcast recommendations for budding entrepreneurs (or aspiring home modifications specialists)?
Podcasts
The Home and Place podcast by Nichole Kain, MA, OTR/L, CAPS
She interviews different professionals to discuss the concepts of home and aging and the factors that may affect how people interact and perceive themselves in their home environment. These episodes are chock-full of information that will help you in improving your own home environment and your future clients' homes!
Private Practice Success Stories by Jena Castro-Cason, MS CCC-SLP
These entrepreneurial-focused episodes focus on SLPs who opened their own private practices with success! I love hearing how people overcome challenges and pursue providing services the way they envisioned.
Books
The book that has inspired me the most on my journey is The The $100 Startup, written by Chris Guillebeau. This book gives practical advice on how to keep costs low while creating a business that you love. I put sticky notes ALL over the pages because I didn't want to forget any information I found valuable.
If you purchase the book through the link above, I'll make a (tiny) commission for the purchase. This will not affect the price you pay, and any commissions I make from this site go directly back into operating costs so I can provide more free content for you!
---
[Editor's note: Be sure to check out Traci Swartz's article: Home Modifications Careers for OT and PT Professionals!]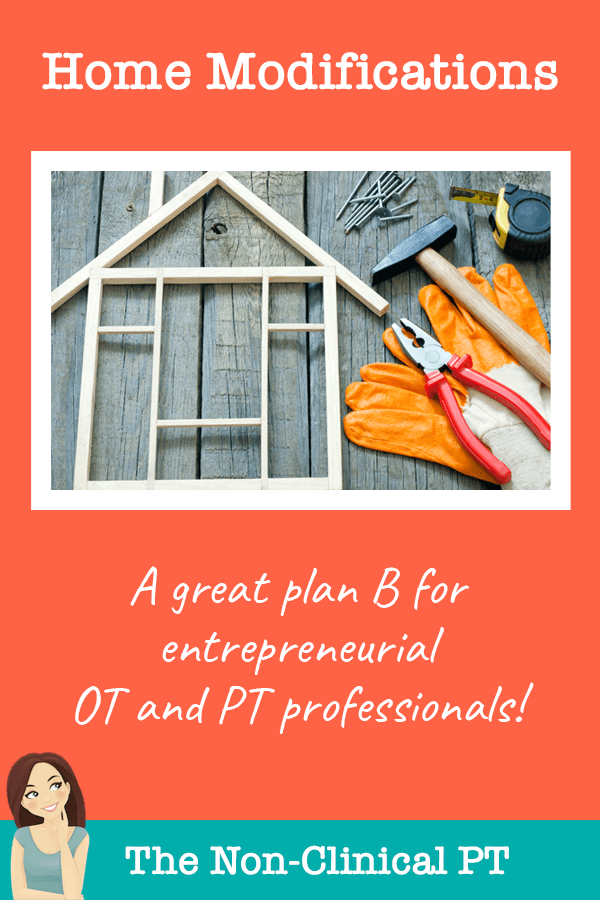 ---
What's next for you?
My goal is to complete the universal design coursework through the Center for Inclusive Design and Environmental Access and the Specialty Certification in Environmental Modification through AOTA.
When I'm ready to expand the business, I'd also like to hire a COTA or OT who is interested in home modifications for pediatrics in order to broaden the practice.
---
Thanks for your insight, Maria!