Today's non-clinical spotlight focuses on Rebecca Tarbert, who went from physical therapist to Director of Clinical Programs at a rehab tech company.
---
This post may contain affiliate links or codes. This won't increase your cost, but it helps keep TNCPT alive, and free of annoying ads! Thank you for your support. 🙂
What is your full name and title at your current job?
Rebecca J. Tarbert PT, DPT, GCS, CLT
Director of Clinical Programs at Tango

Where did you go to PT school, and what year did you graduate?
University of the Sciences in Philadelphia (Bachelors & Masters) 1999
Temple University (Transitionary Doctorate) 2013
What did you do when you first finished school, and for how long?
Upon graduating in 1999, I started working in an outpatient therapy clinic, where I learned a lot about manual therapy techniques, which was great.
I always had a passion for working with older adults, so I moved into staff therapy roles in home care and SNF populations in the years following.
I eventually landed in a continuing care rehab center (CCRC), where I was able to serve as a manager of the rehabilitation program in the multiple settings of skilled nursing facilities (SNFs), assisted living facilities (ALFs), and independent living units (ILUs) for the older adult population.
I was really attracted to the physical therapy research and evidence-based care that was continually being established for the older adult, so I moved into a clinical leadership role for a large rehabilitation company.
This allowed me to focus on translation of evidence into rehabilitation intervention for a larger population.
At what point did you realize you wanted to do something non-clinical, and why?
While I was serving in that clinical leadership role for a large group of rehabilitation clinicians, I was able to be part of—and lead, in some cases—the trial of new technologies. We were looking at the impact of therapy technologies in the inpatient, outpatient, and home-care rehabilitation settings.
The focus of inter-professional care for a holistic approach to rehabilitation and wellness for the patient population was also a consistent aspect of how my work assessed and analyzed these technologies.
My clinical leadership role in that large organization was eliminated in February of 2018, so I turned my focus to where I felt passion. And that was the application of technology to population health focused on the older adult.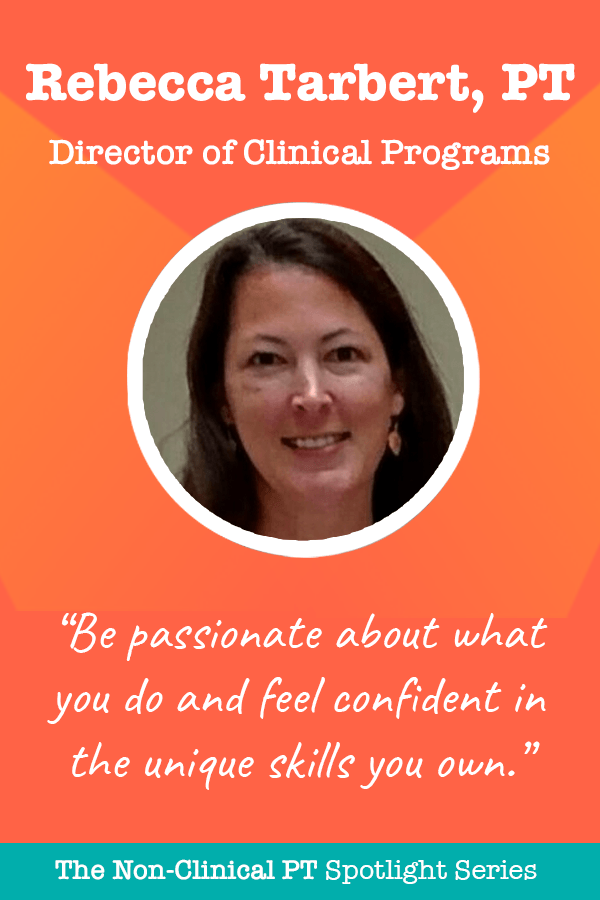 How did you get involved with startups?
It all started with me knowing what I was looking for. I knew I had a passion for how technology could positively impact older adults' lives.
From there, I began searching the web for technology companies that were focused on the care for older adults. I also made a point to reconnect with people with whom I had previously collaborated in technology pilots, as well as colleagues I knew in the health technology space. I even reached out with those involved in "innovation initiatives."
I also joined health technology and tech in aging groups, and joined The Non-Clinical PT's groups and Laurie Orlov's "Aging in Technology Watch." I listened to countless You Tube videos and read articles on topics like Artificial Intelligence.
Many health tech startups are composed of genius inventors and engineers, but they don't have any (or many) health clinicians on their teams. I saw a huge need, as we are the ideal people to guide user experience and offer insight into the true "need" of the older adult patient population.
Through these avenues of referral, searching, and communication, I engaged in multiple discussions with founders of health technology start up companies across the nation who were in various stages of expansion.
One example is I met an entrepreneur at an Aging 2.0 meeting who had just launched her web page. She has created a virtual tracking system of the healthy behaviors that support cognitive health in aging.
She was seeking someone who could drive pilot programs in local senior fitness clubs, communities, hospitals to launch implementation of the web page, gather outcome data and with that to approach investors for funding and offer purchase packages to customers.
I was able to serve as the pilot project manager overseeing the "kick off" events, import user details, assign login information.
My background as a geriatric specialist physical therapist allotted me the ability to translate the data into meaningful outcomes for the customers. And I also authored a weekly newsletter in support of the aspects of health behaviors the web page was looking to track.
It was a fulfilling experience that enabled me to use the skills I hold dear, as well as interact with folks who shared my passion for achieving wellness through the aging process.
Editor's note: Interested in health tech and the aging population? Check out this other spotlight on Sarah Brzeszkiewicz, an occupational therapist who is now Clinical Advisor at Sensi.AI!
And how did this translate to your current role as Director of Clinical Programs?
In this same time period, I connected with the co-founder and CMO of ActiveProtective (now Tango).
They were a physical therapy startup running a couple pilots of the utilization of a smart belt technology.
This technology is really incredible. It accurately detects when an individual is experiencing a hip-impacting fall, and will deploy an airbag surrounding the proximal femur to displace impact forces.
I met with the team to learn more about the technology, and to discuss their vision for advancing the algorithm and data capture offering the smart belt is able to perform. They were curious about my insight into how their product would support mobility and safety for health in the inpatient and outpatient settings, as well as in the community for older adults at risk of falling.
My work with them initially was as a consultant, working with the piloting communities for inclusion of the belt in rehabilitation programs.
In October 2018, I took on the role of Director of Clinical Programs with the company. I enjoy the work, some of which includes:
Collaborating with customers to identify strategies for incorporating protective technology into the care of the older adult
Consulting on clinical metrics which are meaningful to healthcare outcomes and function
Working with my geriatric healthcare peers in multiple settings
Are you still treating patients, or are you solely non-clinical?
I do see patients as a mobile outpatient therapist (Medicare Part B), see on average two patients a week (on nights and weekends).
I find providing clinical intervention to be so fulfilling, and keeping a toe dipped in the water continually reminds me why my work with Tango is so important.
Did you get any special certifications or training along the way to help you get into your current role?
Holding a board certification in geriatric physical therapy (GCS) definitely added to my ability to hold the role of Director of Clinical Programs.
I also have gone through Lean Six Sigma training, and I do believe that when working in a start up company, being able to offer efficiency to processes is a strong skill.
How have people reacted to your unconventional career path?
Back when I didn't work in rehab tech, but knew that health tech was my goal and chosen path, the conversations were interesting.
Colleagues, friends and family were absolutely supportive, but always paused a bit when I would share with them what I was looking for.
It was just not the norm. At that time, my inbox and 100% of conversations with anyone who knew I was job hunting included notifications of clinic, home care, SNF seeking PTs.
This was not my goal and I didn't apply for any of them.
Now that I am full-time in my role, as I meet with other rehab and health care providers, I am often asked if I enjoy my non-clinical role. Sometimes this question is posed with pure interest—but many times with a tone of skepticism.
The answer is always, "I love it; it's exactly what I wanted and I'm really excited about what I am doing and what the future holds."
The good news is that there's something to fit everyone's passion out there and only you get to decide what is best for you.
What's a typical day in the life like as Director of Clinical Services?
My days and weeks can be variable, which for me is a good thing! I do enjoy moving around.
Some weeks, I am visiting communities onsite to offer training and coaching to providers who are integrating the smart belt into their care.
I also go on live and virtual sales visits to interested customers, and work with our co-founder on marketing materials that speak to setting specific needs our technology can support.
In recent months, much of my time has been working with our product specialist. I've been helping with the development of customer-facing materials and education, all of which support the use and care of the smart belt.
What are the most rewarding—and challenging—aspects of your work?
Our company is very small, and I'm the only employee who is a healthcare clinician. While I wouldn't consider that a challenge, I do appreciate when I have the opportunity to walk into a rehab gym and interact with other therapists.
I am the least technology savvy of the (mainly engineering) group, so I did a lot of listening and learning in those first months with the team.
It's great to learn so much, but I do need to remind myself to ask questions if I'm not quite sure exactly what they may be referring to in some of the product development conversations.
What type of person do you think would do well in your role?
The first thing to ensure you may be a match would be to consider if you are someone that shares the vision and the passion behind what a technology can offer the population it is targeting.
Additional skills , traits, and experience that are helpful are:
Having experience with the population that the rehab tech helps
Genuinely caring for the population and the healthcare outcomes that are associated with the care.
Being flexible with time (many of these roles start out initially as PRN or as consultants)
Eagerness to learn
Willingness to try multiple approaches
Demonstrating problem-solving skills
What is next for you? What do you want to do with your career long-term?
I am really enjoying where I am right now with this company, and foresee much growth in the coming months and years in my role.
As the production of the smart belt ramps up and more communities are engaging with us throughout the healthcare system, I would envision that I would be overseeing a team of clinical liaisons who are working concurrently with partners to offer successful programming.
Do you have any special words of wisdom for the readers?
Stay connected with those you have come across you find inspirational. If you don't feel like you can identify someone like that right now, look for them and start a conversation.
Most of all, be passionate about what you do and feel confident in your role with the unique skills you own.
---
---