Today's non-clinical spotlight focuses on Tony Cosenzo, a PTA who founded Fibonacci Healthcare!
---
This post may contain affiliate links or codes. This won't increase your cost, but it helps keep TNCPT alive, and free of annoying ads! Thank you for your support. 🙂
What is your full name and title at your current job?
Tony Cosenzo, PTA
Peak Performance Specialist and Founder of Fibonacci HealthCare

Healthcare Adviser at Guide Point
Where did you go to PTA school, and what year did you graduate?
Delaware Technical and Community College, 2010
What did you do when you first finished school?
When I was finished with school, I was able to get a position with a local chiropractor as the Director of Rehab. After that, I was able to receive several opportunities with traveling contracts in Florida and Pennsylvania. I made a transition to home health, when I decided to stay in Florida.
When did you realize you wanted to do something non-clinical, and why?
I began to see trends in the type of people who work in physical therapy and surrounding roles. Also, I began to realize that outcomes were controlled by more factors than just therapeutic exercises.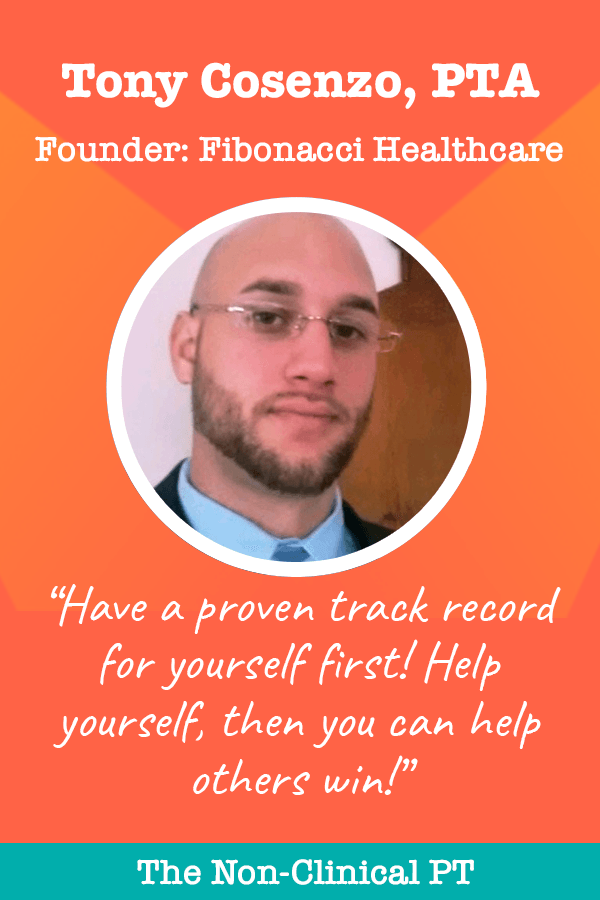 What do you do as a Peak Performance Specialist?
As a Peak Performance Specialist, I work with individuals and companies, aiding them in their pursuits in becoming the best they can be. I educate people on healthier lifestyle changes. This includes:
Exercises
Time management
Meditation
Relationships
Sleep
Eating habits
Stress management
Longevity
What do you do as a Healthcare Adviser?
As a Healthcare Adviser, I give my knowledge of my diverse clinical experience and projections of the healthcare field. I enjoy discussing how technology with change how we rehab patients in the future
Are you still treating patients, or are you solely non-clinical?
I still treat patients in the home care setting.
How did you find your job?
It really just started out as a passion project and it still is! I put so much effort in becoming the best PTA I could be, I didn't want to waste my talent!
I saw an opening with average joes, athletes, patients transitioning off of physical therapy, and businesses.
After rehabbing a patient from home health, the progression is supposed to go to outpatient. I would discuss this with patients, and most would not go because they felt like the quality was not there vs. how much they give in co-pays.
Being a well respected athlete, I saw an opening to help my fellow submission grappling/catch wrestling/Jiu Jitsu martial artists in recovery techniques. I would see these very talented people winning on a high level with little to no support.
Did you get any special certifications or training along the way to help you get into your current role?
It was an accumulation of experiences/ learning with proper outcomes.
I was always, at best average or slightly below average in the educational sense of the word " intelligence." I got to a point in my life where I didn't have to work all the time in my clinical role and I started asking myself, why?
Why am I able to win so much in physical therapy, financially, relationships, competitive sports?
I started to analyze why and how I did things, my routines and how much time I devoted to certain things in my life that I deemed "important." I realized I enjoyed doing things at maximum efficiency and I would plan things out several times in my mind before I would do a task, so I wouldn't make any mistakes.
When did you start Fibonacci Healthcare?
June of 2017, I starting helping individuals and athletes
What is your business, and what types of products or services do you offer?
My business is for individuals and companies that want the best results consistently. I provide education, health/life coaching, personal training, and goal achievement services.
How did people react to your unconventional career path at first?
At first, and even now, I received many negative responses from people and companies. They just can't get over the fact that things are always a work in progress and change is the only thing that is constant in life.
People and companies that perform on a high level understand that having someone in their corner, helping them with how they feel on a weekly basis makes all the difference long term.
What are some of the challenges of your role? What are the rewards?
Finding people and companies that have the time and resources to stay consistent is the biggest hurdle. The rewards come with the results we provide. If there are certain things you need, we are a resource to get you that knowledge and plan of action.
How do you think working as a PTA prepared you for this role? Which skills transferred?
Many skills transferred, the main ones being:
Patience
Empathy
Being focused on outcomes
Consistency
Planning
What type of person do you think would do well in your role?
Someone that is an all-around winner. Being emotionally intelligent and objective are two huge traits that you need.
Do you work remotely or on-site?
Both
What is next for you? What do you want to do with your career long-term?
I am hoping to partner with a large company to help with a results-based employee wellness program
What would you recommend to someone who is considering a similar path?
Have a proven track record for yourself first! Help yourself, then you can help others win!
What would you like to change most in your profession, and why? How would you propose doing so?
In the healthcare profession I would like unity. Too often, companies bully individuals into stressful work environments, unethical practices, and burn out. We hold the power to change things for the better for our patients and ourselves.
If you could give yourself one piece of career advice you wish you had during your PTA program, what would it be?
Wages are near livable with shared domain. You will be over-worked and under-valued. Keep learning and keep progressing. The healthcare field is not based on outcomes because of how insurance works in the United States. Helping people is great thing to do, but in order to help others, you have to help yourself first.
---
Thanks for your insight, Tony!
---
---