Brian Walls is a physical therapist who took a totally unconventional path, going from treating clinician to financial representative! In honor of Independence Day, I am so excited to feature someone who uses his soft skills from PT in a role that is completely free from the world of healthcare 🙂
---
This post may contain affiliate links or codes. This won't increase your cost, but it helps keep TNCPT alive, and free of annoying ads! Thank you for your support. 🙂
What is your full name and title at your current job?
Brian Kenneth Walls, DPT
Financial Representative at Northwestern Mutual

Where did you go to PT school, and what year did you graduate?
I went to New York Institute of Technology and I graduated in 2005
What did you do when you first finished school?
I worked in an outpatient clinic and assisted living for a year specializing in geriatrics.
What did you do after that, and for how long?
I then created a company with my wife, who is pediatric PT, providing physical therapy, sports-specific training, and community workshops. We did this for four years. This led me into long-term care facilities and insurance.
What did you enjoy about your early roles? What didn't you enjoy?
I enjoyed working with my clients in the different communities, and I loved working with my wife.
I did not enjoy working in the clinic because I always felt rushed, and felt I could not provide the one-on-one care that was required of my clients.
When did you realize you wanted to do something non-clinical, and why?
I realized I needed a change when I started working in the long-term care industry. I originally started working in long-term care as a care coordinator, and loved meeting with my clients, assisting them with their insurance needs, and helping them to understand how their policy works for them. Doing this non-clinical work opened my eyes to the many ways we can use our skills outside the clinic.
What are you doing these days?
I have opened a financial practice through Northwestern Mutual.
Are you still treating patients, or are you solely non-clinical?
I am completely non-clinical.
How long have you been in your current role?
I have been in my current role for just over two years; I started my business in May of 2018.
How did you find your job?
I was recruited into my position from my years of working in long-term care.
Did you get any special certifications or training along the way to help you get into your current role?
I became licensed and continue to obtain financial licenses to further my career.
How have people reacted to you leaving patient care?
People have been very supportive and happy that I moved on to this position. A number of my former patients have become clients, and they have often stated that this is where I have always belonged.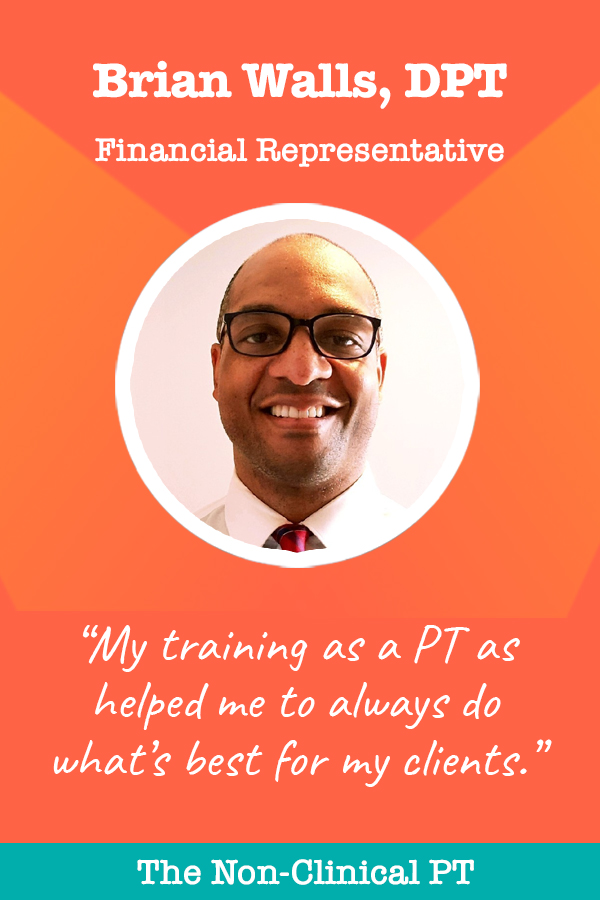 What is your schedule like in this role?
My week schedule is similar to my PT life, meaning that I work on a schedule. I usually work with 4-5 clients a day.
What are some of the challenges of your role? What are the rewards?
The biggest challenge is maintaining 4-5 meetings per day. The rewards are helping my clients to attain their financial goals.
How do you think working as a PT prepared you for this role? Which skills transferred?
My training as a PT has helped me to always do what is best for my clients, taking a holistic approach to working with individuals and businesses.
What type of person do you think would do well in your role?
The type of person that is best suited for this position are people who earn the trust of their clients quickly. Basically, every PT/OT/SLP/assistant!
Do you work remotely or on-site?
When we're not in a pandemic, I would initially meet with my clients face-to-face. Once the relationship was established, I would then meet with clients over the phone moving forward.
Since the pandemic, though, I have transitioned my business to being 100% remote. I have also expanded to work with clients nationwide.
What is a typical career path for someone in your role?
There are a number of paths someone can take in my role. I may run an office, become a training director, or continue to work as an individual in an existing office.
I am only limited by my ambition.
What is next for you? What do you want to do with your career long-term?
My next step is to continue to increase my brand and to open up an office with my own team.
What would you recommend to someone who is considering going into a role like yours?
Do not be afraid to take a chance on yourself; there are a lot of similarities to being a therapist.
If you could give yourself one piece of career advice you wish you had during PT school, what would it be?
Start listening to business podcasts. The business of therapy is not always taught in school, and this is a disservice to those therapists who are more inclined to working in the executive/business role of healthcare.
If you could teach anything to today's graduate students in your profession, what would it be?
The importance of finance in your practice. This is something that I had to learn along the way.
Do you have any special advice for others who want to follow in your footsteps?
Do not hesitate to reach out and talk to people in the business!
---
Thanks for your insight, Brian!
---
Not sure which direction you want to go in the non-clinical world? Overwhelmed by options? Create an action plan that WORKS with Non-Clinical 101!