Today's non-clinical spotlight focuses on Will Crane, a semi-clinical physical therapist who spends part of his time treating patients and the other part running his online business, PT Final Exam.
---
This post may contain affiliate links or codes. This won't increase your cost, but it helps keep TNCPT alive, and free of annoying ads! Thank you for your support. 🙂
What is your full name and title at your current job?
William R Crane, PT, DPT OCS
Founder/Coach at PT Final Exam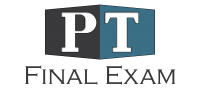 Where did you go to PT school, and what year did you graduate?
University of Utah 2008-2011 DPT Program
What did you do when you first finished school, and for how long?
Right out of school, I began work at a critical access hospital therapy department, where we worked in outpatient, inpatient, home health, pediatrics, sports, SNFs, and wound care. My client load was from a diversity of settings across the age spectrum.
What did you do after that, and for how long?
While working there, I founded my NPTE prep company, PT Final Exam, in 2012. I have been building that program until the present time.
What did you enjoy about your early roles? What didn't you enjoy?
My favorite part about the critical access hospital was the diversity in caseload. I would literally bounce from an outpatient setting treating someone with a TKA and go see a bed-bound patient in the hospital, and then head out on a home health visit.
It was so fun to not feel constrained to just one type of physical therapy.
At what point did you realize you wanted to do something non-clinical, and why?
It was about five years into my career that I started learning about how to use my expertise in a non-clinical way.
I wanted the flexibility to spend time with my family and still earn a living without being a slave to a time-clock.
What are you doing these days?
Nowadays, I split my time between a flexible home health gig and building my PT Final Exam online business. I still love to interact with my patients, but I have flexibility to do more with my family.
Are you still treating patients, or are you solely non-clinical?
I'm still treating patients in a home health setting: primarily total joint replacements and a geriatric population.
About what percentage of your time is spent clinically vs. non-clinically?
I spend my time about 50/50 on clinical/non-clinical.
How long have you been in your current role?
Since 2012, so over 7 years.
Did you get any special certifications or training along the way to help you get into your current role?
This year, I became an Orthopaedic Clinical Specialist (OCS). I did this primarily to sharpen my expertise and lend credibility to my classes and teaching.
When did you start your business?
I started PT Final Exam in 2012, shortly after I had graduated in 2011.
Where did you get the idea for your business?
The idea for PT Final Exam came primarily from my own anxiety I felt as I prepared for the NPTE. I wished that someone had just explained it to me in simple terms, so I began a blog doing exactly that.
Now, seven years later, we are becoming a national brand and have helped >10,000 students cross the finish line of the NPTE.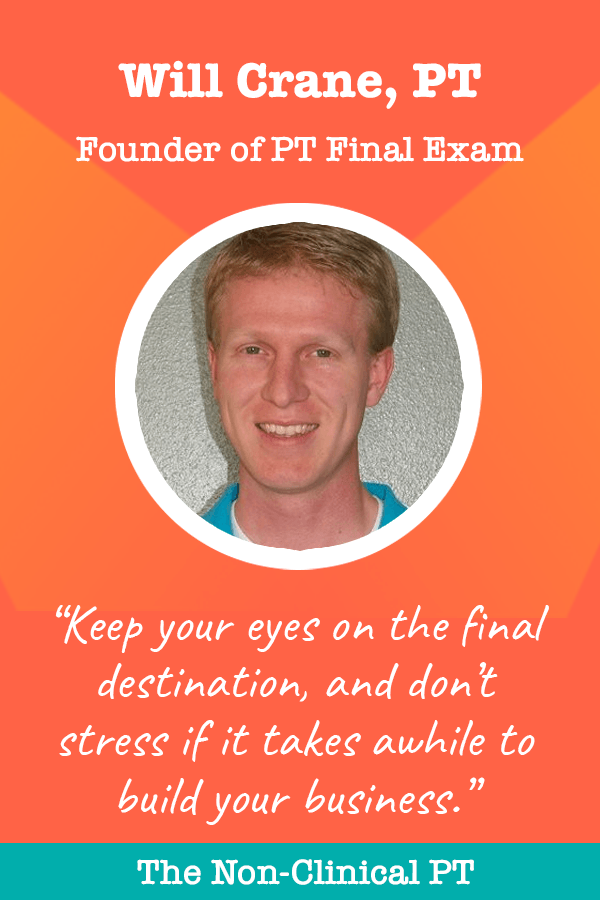 What is your business, and what types of products or services do you offer?
PT Final Exam offers concierge-style NPTE preparation in a cost-effective format. Because it is all online, we can reduce cost and transfer the savings on to the students.
We have a variety of options, but our most popular is our PT Live Online Review Course, where we coach students through the NPTE through a 10-week class.
We have >1000 pages of written content, an exam simulator, and many hours of video content. We are also branching out into more PT and PTA programs across the US, assisting students during their final year of PT school so that they can have the best possible pass rate.
How have people reacted to you leaving patient care?
Generally, people react with a little bit of confusion, wondering what it is exactly that I do online every day. It helps to explain that I'm training the next generation of PTs to begin their practice and enter the workforce.
What's a typical day or week in the life like for you? What types of tasks and responsibilities fill your time?
My typical week consists of two full days of home health PT, where I cover a large service area in rural Idaho. Two other days are dedicated to building and expanding PT Final Exam.
What are some of the challenges of your role? What are the rewards?
The challenges are familiar to most—I have to balance work at both jobs to make sure that I am putting the effort in where it is most beneficial.
The main reward is flexibility. I enjoy not having to worry about accrued days off or sick leave.
How do you think working as a PT prepared you for this role? Which skills transferred?
My broad practice in PT has given me loads of clinical cases and experience to help enrich the students' study process. Case-based learning is so effective, and it makes a big difference that I speak from experience on most PT interventions and cases.
Roughly speaking, how are the hours and pay compared to patient care?
As I tease people, working for yourself is a catch-22. When things are going well, you get to cash the check and congratulate yourself on earning double what you would in the clinical setting. The downside is that when things go poorly, you have nobody to blame but yourself.
What type of person do you think would do well in your role?
The key trait that would make a good entrepreneur is resilience.
You have to push through the criticism and hard times and constantly hone yourself to be above the competition. As an entrepreneur, you can never sit back on your laurels.
Do you work remotely or on-site?
Remotely
Does you ever hire PT/As?
I do hire PTs on a regular basis to help out with our classes. We are steadily expanding and are always looking for talented PT teachers to scale our reach.
Did you read any books, take any courses, or do anything special overall to get you where you are today?
Some of my favorite books are:
What is next for you? What do you want to do with your career long-term?
I'd like to continue training students and keep building our technology to keep up with the next generation of PTs coming into the field.
What would you recommend to someone starting an online business?
When you start your own business, keep your eyes on the final destination and don't stress if it take a while to build.
What would you like to change most in your profession, and why?
I wish that our profession taught more business skills to graduates. Learning and understanding the money and liability would be extremely helpful in the first years of practice. I wish they did more to teach about that whole process.
If you could give yourself one piece of career advice you wish you had during your PT school program, what would it be?
Seek good networking opportunities and talk to everyone you can. This has led me to great opportunities that would not have come otherwise.
Do you have any special offers for the readers?
I do! I'm running a 10% discount on my PT Live Online Review Course, which will help you pass the April, 2020 NPTE!
---
Thanks for your insight, Will!