This week's spotlight is on Julia Kuhn, a travel SLP who became a blogger and launched the popular site: The Traveling Traveler.
This post may contain affiliate links or codes.
When used, The Non-Clinical PT may be compensated. For more, please read our disclosures.
What is your full name and title at your current job?
Julia Kuhn, MS CCC-SLP Founder of The Traveling Traveler, LLC

Where did you go to SLP school, and what year did you graduate?
I earned my master's degree from Emerson College in Boston in 2009 and my bachelor's degree from Penn State University in 2007.
What did you do when you first finished school, and for how long? In what setting(s) did you work, and what types of patients did you treat?
Upon completion of graduate school, I completed my clinical fellowship year in a skilled nursing facility in suburban Boston. The population was not very acute and, in fact, most of the patients who came to the SNF for rehab were joint replacements who needed PT and OT, but not speech.
The patients I saw were mostly cognitive-communication patients and occasional dysphagia or language treatment. I felt like my clinical skills were not being used or challenged in ways that they could grow. That is partly why in 2010, I left that job and became a traveling therapist.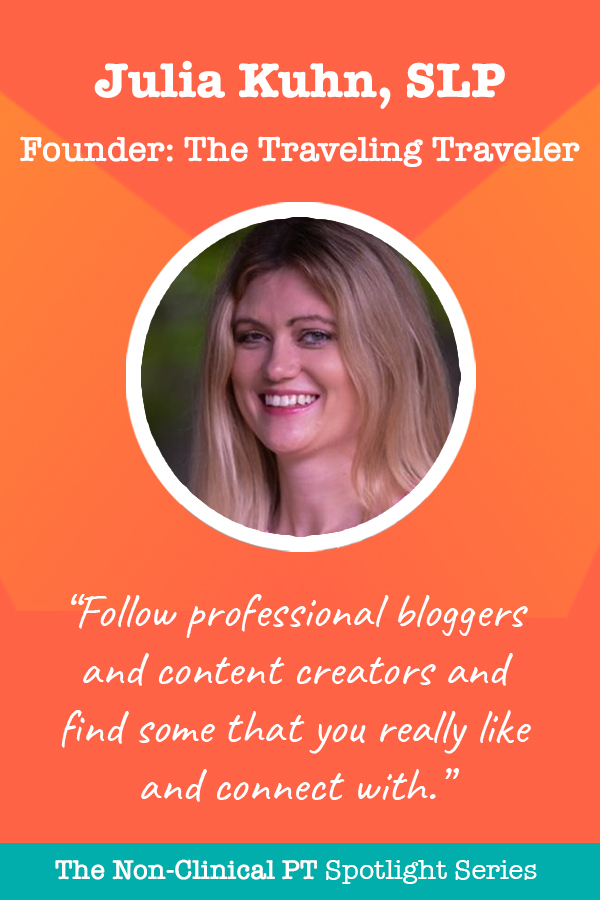 What did you do after that, and for how long?
I started taking short-term travel contracts in 2010, and have continued to work as a traveler to some extent until today, though I take long breaks to focus on my travel therapy blog.
Travel contracts are generally three months in length and can open up flexibility and freedom in your life that are not possible with a full-time position.
As a traveler, I traveled the country and world, all while earning an income to support myself as I traveled.
What did you enjoy about your early roles? What didn't you enjoy?
In the early days, I really enjoyed being a part of the therapy community in the SNF. This was before a lot of the Medicare cuts that caused management to push for groups and concurrent therapy. The vibe of the rehab office was different. The therapists seemed happier and less stressed. We were happy with our jobs and, in turn, our patients were happier. Subjectively, I think that we saw much better patient outcomes.
At my first job, we were all salaried and my productivity expectation was 75%. It was a much more relaxed time in the therapy world. I felt like we were truly happy with our work, and our energy and enthusiasm rubbed off on our patients. Our patients loved coming to rehab and we could help them improve.
At what point did you realize you wanted to start a blog, and why?
As a kid, I was always passionate about writing and using creative outlets to express myself. Somehow, that side of me got shut down as I approached college and knew I needed to find a career that was more stable.
Then, in 2014, I started a Facebook group to connect with other traveling therapists, which has now grown to 12k members. It was through that group that I started to express myself creatively.
The group, combined with the instability of full-time medical SLP, led me to think about other avenues of work. It was then that I turned to writing, photography, and design as creative outlets. I realized that I wanted to really lean into blogging when I found myself spending more time wanting to write and create content for my website, rather than work in the clinic.
What are you doing these days?
I just moved back to Hawaii, where I am hunkered down to help prevent the spread of the novel coronavirus. I am fortunate that I can use this time to focus on my blog, The Traveling Traveler, LLC (TTT). I manage the daily operations of the brand, coordinate and manage contractors, and curate and create digital content. As the owner of a small business, I wear so many hats, including:
CEO
Photographer
Writer
Graphic designer
Bookkeeper
Webmaster
Social media coordinator
Coffee brewing expert
I am also a member of the board of directors of The Travelers Conference. This is an annual event, held in Las Vegas, which is the largest healthcare travelers conference in the world. Last year, we had over 1500 healthcare travelers in attendance. My role on the committee has evolved, and this year I am the social media coordinator. I'm in charge of creating and curating content for Instagram, Facebook, Twitter, and an online blog.
Are you still treating patients, or are you solely non-clinical?
I am still treating patients, but only on a PRN basis. I spend most of my time on my blog these days.
About what percentage of your time is spent clinically vs. non-clinically?
My guess is per year, I spend about 30% of my time working clinically and 70% working non-clinically. It ebbs and flows based on if I'm working a contract or not. Things are a little unusual right now.
How long have you been in your current role?
I started The Traveling Traveler blog four years ago and turned it into a business three years ago. For the past two years, I have been making a profit on my blog, and have been able to flex my clinical time to allow for more non-clinical time.
Did you get any special certifications or training along the way to help you get into your current role?
I am CONSTANTLY taking online courses, going to conferences, and learning. Since starting a web-based business, I have spent at least $25,000 on online courses and masterminds, but I have earned that money back in spades. My advice if you are looking to change careers is to seek education in any form you can.
When did you start your business?
I started my blog in November of 2015 and formed a business officially in August of 2017.
Where did you get the idea The Traveling Traveler?
To be honest, when I started my business I did not know what I was doing or what products or services I could possibly offer. I didn't have a business plan. I just knew that there was a need for what I was doing in the community and I was hoping to solve some problems for others and find a way to monetize in the process.
Some of my inspiration in the early days came from my favorite bloggers like The Blond Abroad, Nomadic Matt, and The Gypsy Nurse.
What is your business, and what types of products or services do you offer on The Traveling Traveler?
My business teaches therapists how to take travel contracts and live a traveler lifestyle. I offer a course that walks you through the steps of navigating the travel industry. I also have a course that teaches travelers how to interview, which is a huge part of being successful in the travel industry.
I am also an affiliate for multiple companies, including MedBridge Education, that provide services and products that are useful for travelers. On top of work that I do directly for my blog and business, I also contract myself out to other businesses to work on marketing campaigns and provide consulting.
How have people reacted to you leaving patient care?
My parents think I'm crazy, but have become supportive, as long as I keep up my licenses and clinical skills to fall back on.
What's a typical day or week in the life like for you? What types of tasks and responsibilities fill your time?
My days usually begin and end with answering emails and questions that have been sent to my inboxes. I spend a lot of time on my computer either writing, editing photos, or creating graphics. It seems like I'm always writing something, whether it's a blog for my site, or another site, Instagram posts, emails, sales funnels etc.
What are some of the challenges of your role? What are the rewards?
It's challenging to have your income vary over the course of the year. I'm learning that there are ebbs and flows in the income and that you have to be prepared for low earning months. Diversifying income and creating more income streams has been something that I have been working on to improve overall financial stability.
The rewards of working for myself are so sweet though. I love that I can take a break to walk my dog in the middle of the day, plan my own schedule, and be the one truly in control of what I earn.
How do you think working as an SLP prepared you for life as a blogger? Which skills transferred?
Being an SLP has taught me how to be an expert in communication. This is something that has helped me and will help me for the rest of my life. I don't regret my SLP degree or time as a SLP at all.
Roughly speaking, how are the hours and pay compared to patient care?
This is a hard one to answer since it varies so much. In the beginning, if you are starting a blog, I would say be prepared to work long and hard without earning much. As you grow, you can automate a lot and start to make passive income.
For example, in December of 2019 I really only spent a couple of hours (maybe 10-20 max) working on my blog. I was working full-time as a SLP and really just had the business on autopilot during that time. That month, I made more money from the blog than I did as a traveling SLP.
However, some months I have spent 100s of hours on the blog and have barely grossed enough to cover my operating expenses.I hope to get a point soon where my income is more stable.
What type of person do you think would do well in your role?
To be your own boss and business owner, I think you need to be:
Independent
Organized
Goal-driven
Tough.
Most importantly, you have to be your #1 self advocate. There is nobody else there to advocate for you and people are going to try to push you down and take advantage of you left and right. You cannot be afraid or back down from failures.
Also, you need to be good in sales and marketing. I think the mistake that a lot of content creators make is that they think if they create something that it will create income. Not true. Creating content (a course, book, group, instagram following, etc) is the easy part.
The hard part is sales. If you know you are anti sales or don't see yourself in a sales position, then you will need additional training to learn the philosophies of sales. You will need to sell and make sales to sustain yourself.
Do you work remotely or on-site?
Remotely. Mostly from my home in Hawaii 🙂
Does you hire other therapy professionals? If so, what type of roles, and where can people find these job postings?
Yes! I hire for a variety of remote content creation needs. I have a consistent need for writers and I like to hire therapists who have previous travel experience and can write about the travel therapy industry. I've advertised with The Non-Clinical PT before. If you have a expertise in a talent that lends itself to my business, you can always pitch me on it.
Did you read any books, take any courses, or do anything special overall to get you where you are today?
Of course! My education is never ending! A course that really got me started in blogging is The Business of Travel Blogging by Nomadic Matt (Matt Kepnes). Matt lays out what you need to know to set up a blog on your own and how to make it profitable.
After taking Matt's course, I made a crazy decision to spend about 7k to go to a blogging retreat in Bali held by a travel blogging pro, Kiersten Rich of The Blonde Abroad. While my family and friends totally thought I was crazy for doing this, the one to one mentorship from Kiersten and her team is really what transformed my blog vision into a business. After attending her retreat, I made my 7k investment back in about 6-months, which is something that I'm very proud of to this day. Sadly, she doesn't run retreats anymore, but she is in the process of launching a creative business which coaches students on the same aspects that I learned at the retreat. You can learn more here: https://questcreativeagency.com/
In addition to these two main resources, I attend blogging conferences, am in blogging Facebook groups, small mastermind groups, and listen to a variety of podcasts about blogging and earning income online.
---
Editor's Note: Shameless plug here. My Therapy Blogging 101 course helps you build, grow, and monetize your blog!!
---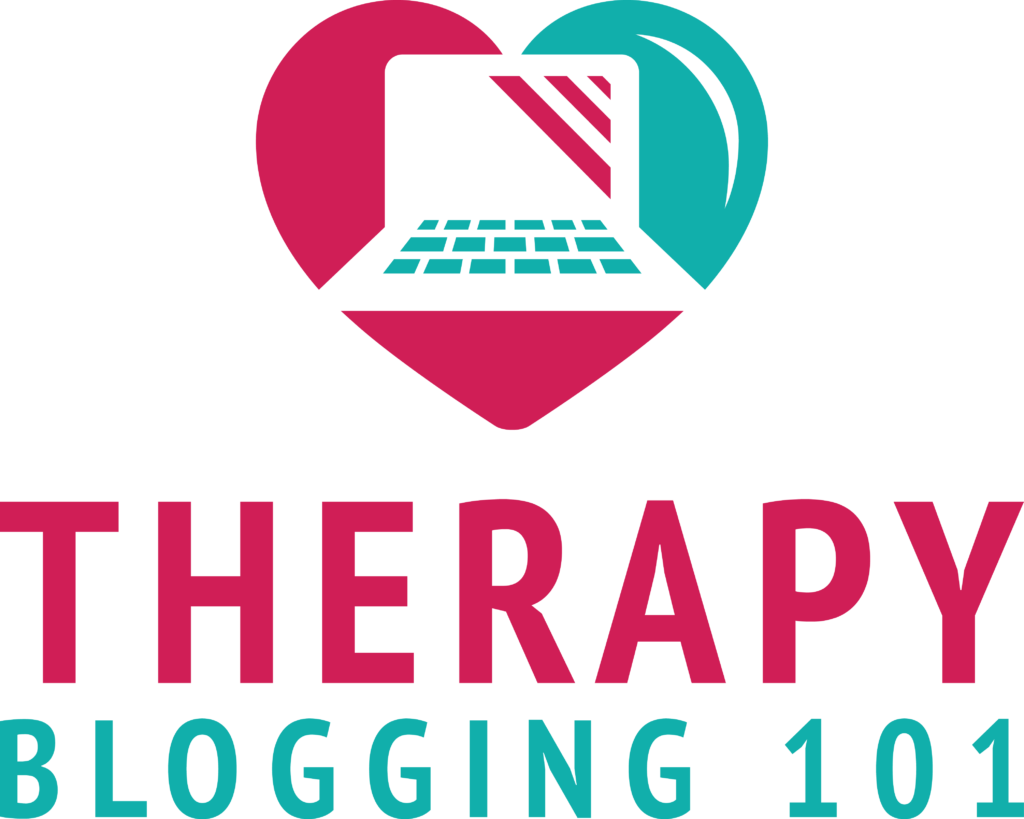 What is a typical career path for someone in your role?
The world of bloggers is still so new and developing, that this is a hard one to answer. Many bloggers started out and didn't even realize that their creative outlet could turn into a business. Now, there are different options and opportunities.
What is next for you? What do you want to do with your career long-term?
Ultimately, I want to teach clinicians how to travel for work and I also want to teach them how to be business owners, create their own products, create professional content, and value themselves to charge their worth for their time and products.
One of the things that annoys me about my current industry is that many businesses I encounter have this mindset that therapists should promote them for free and I have been asked (and unfortunately have) done free marketing and promotions for agencies who gross hundreds of millions, if not billions of dollars a year.
I am currently working to create infrastructure in our industry where therapists can brand themselves and charge businesses/agencies for marketing so that both sides can profit. Maybe you'll see me as a PR agent in the future who represents therapists for brand deals 😉
What would you recommend to someone who is considering going into a role like yours? Do you have any special words of wisdom for the readers?
If you are thinking about starting a blog and turning it into a business I would say be prepared to work long and hard before you see any profits. Slow and steady wins the race. I've seen a lot of bloggers burn out in the matter of months because they thought they'd make money overnight.
You absolutely need a passion for what you're doing, and need a strong reason so that you can continue your work, even when you get no views and no sales.
On top of that, niche down! Target the smallest possible audience that you can and be the blogger that helps them and answers all of their questions. Be the person for your small niche audience before you think about growing.
What would you like to change most in your profession, and why? How would you propose doing so?
I would like to see more respect given to bloggers and content creators in the therapy space. The skills that we have are difficult to learn and take time and training. I've gotten so many rejections or low-ball offers for work from staffing agencies on marketing campaigns saying that they can't see a value in what I do. Yet, I rank higher on Google than them, have more page views, have a way larger audience, and have a better content.
I'm working on bringing awareness to the value and work of influencers by talking to agencies and showing them what influencers have that can bring value to our industry. I hope that it can help future generations of bloggers.
If you could give yourself one piece of career advice you wish you had during your SLP program, what would it be?
Go with the flow; everything works out.
If you could teach anything to today's students, what would it be?
I would teach a course on business/marketing. I think that our students need to be prepared to work for themselves. With all of the changes to Medicare reimbursements, I think there is going to be a greater push for private practice and contractors.
Do you have any special advice for other PT/OT/SLP/assistants who want to follow in your footsteps?
I would recommend following professional bloggers and content creators and find some that you really like and connect with. Usually they will have recommendations for either their courses, or courses to take to learn about blogging. I would buy those (and yes some are very expensive) and start to learn the ropes of the blogging world.
---
Thanks for your insight, Julia!