This week's spotlight is on Julia Kuhn, a travel SLP who became a blogger/online entrepreneur and launched the popular site: The Traveling Traveler.
---
This post may contain affiliate links or codes. This won't increase your cost, but it helps keep TNCPT alive, and free of annoying ads! Thank you for your support. 🙂
What is your full name and title at your current job?
Julia Kuhn, MS CCC-SLP Founder of The Traveling Traveler, LLC

Where did you go to SLP school, and what year did you graduate?
I earned my master's degree from Emerson College in Boston in 2009 and my bachelor's degree from Penn State University in 2007.
What did you do when you first finished school, and for how long?
Upon completion of graduate school, I completed my clinical fellowship year in a skilled nursing facility in suburban Boston. The population was not very acute and, in fact, most of the patients who came to the SNF for rehab were joint replacements who needed PT and OT, but not speech.
The patients I saw were mostly cognitive-communication patients and occasional dysphagia or language treatment. I felt like my clinical skills were not being used or challenged in ways that they could grow. That is partly why in 2010, I left that job and became a traveling therapist.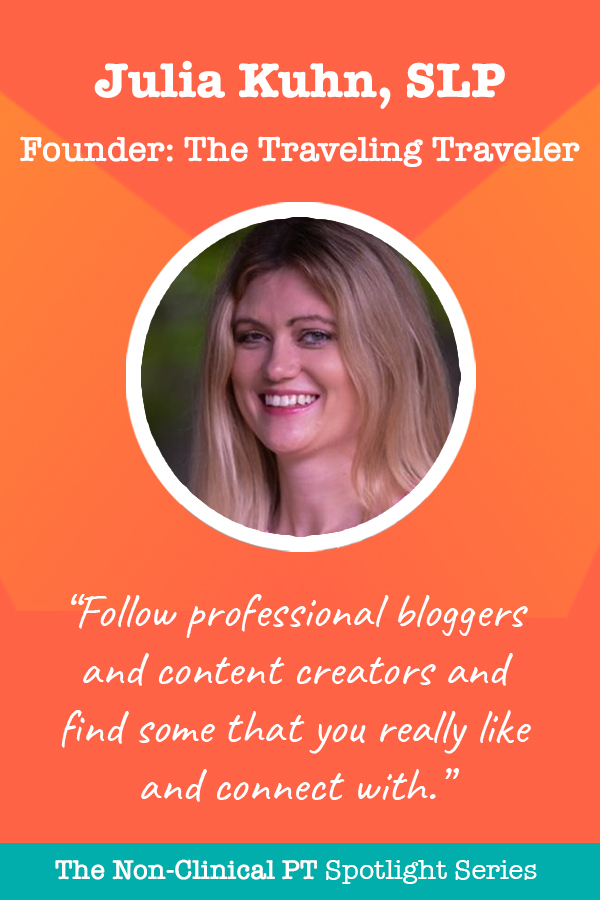 What did you do after that, and for how long?
I started taking short-term travel contracts in 2010, and have continued to work as a traveler to some extent until today, though I take long breaks to focus on my travel therapy blog.
Travel contracts are generally three months in length and can open up flexibility and freedom in your life that are not possible with a full-time position.
As a traveler, I traveled the country and world, all while earning an income to support myself as I traveled.
What did you enjoy about your early roles? What didn't you enjoy?
In the early days, I really enjoyed being a part of the therapy community in the SNF. This was before a lot of the Medicare cuts that caused management to push for groups and concurrent therapy. The vibe of the rehab office was different. The therapists seemed happier and less stressed. We were happy with our jobs and, in turn, our patients were happier. Subjectively, I think that we saw much better patient outcomes.
At my first job, we were all salaried and my productivity expectation was 75%. It was a much more relaxed time in the therapy world. I felt like we were truly happy with our work, and our energy and enthusiasm rubbed off on our patients. Our patients loved coming to rehab and we could help them improve.
At what point did you realize you wanted to start a blog, and why?
As a kid, I was always passionate about writing and using creative outlets to express myself. Somehow, that side of me got shut down as I approached college and knew I needed to find a career that was more stable.
Then, in 2014, I started a Facebook group to connect with other traveling therapists, which has now grown to 16k+ members. It was through that group that I started to express myself creatively.
The group, combined with the instability of full-time medical SLP, led me to think about other avenues of work. It was then that I turned to writing, photography, and design as creative outlets. I realized that I wanted to really lean into blogging when I found myself spending more time wanting to write and create content for my website, rather than work in the clinic.
What are you doing these days?
I'm wearing a bunch of different hats these days. I'm a dog mom, speech-language pathologist, the owner of my travel therapy brand, The Traveling Traveler LLC, and owner of a digital marketing agency, CreatorPro LLC.
As the owner of two separate companies, I manage the daily operations of the brand, coordinate and manage contractors, and curate and create digital content. As a small business owner, I wear so many hats, including:
CEO
Photographer
Writer
Graphic designer
Bookkeeper
Webmaster
Social media coordinator
Payroll
Are you still treating patients, or are you solely non-clinical?
I still work PRN at a local acute care hospital and still have travel on my mind. Many times I've said, "This is my last travel therapy contract," yet I take another one. I do love to travel.
About what percentage of your time is spent clinically vs. non-clinically?
My guess is per year, I spend about 30% of my time working clinically and 70% working non-clinically.
The past few years I have taken 1-2 travel therapy contracts per year.
However, working full-time as a therapist and being a business owner has become too much to handle. I may fully transition out soon.
How long have you been in your current role?
I've been creating digital content in the travel therapy space since 2014. I started my first business, The Traveling Traveler LLC, in 2015. I started a separate digital marketing agency in 2021.
Did you get any special certifications or training along the way to help you get into your current role?
The learning process never ends. Digital marketing and content is always changing and evolving, and you never know it all. I'm constantly reading books, taking courses, seeking mentorship, and watching YouTube videos to learn more.
Some of the early mentorship I got was through an online course with Matt Kepnes of Nomadic Matt and an in-person blogging retreat with Kiersten Rich of The Blonde Abroad. These bloggers were some of the OGs that I looked up to when I started out, and getting mentorship from them was life changing.
My advice if you are looking to change careers or become a content creator is to seek education in any form you can.
When did you start your business?
I started my blog, The Traveling Traveler, in November of 2015. I officially formed a business in August of 2017.
Where did you get the idea The Traveling Traveler?
To be honest, when I started my business I did not know what I was doing. I wasn't sure what products or services I could possibly offer. I didn't have a business plan.
I simply knew that there was a need for what I was doing in the community, and I was hoping to solve some problems for others and find a way to monetize in the process. In 2015, it wasn't common to be a blogger or content creator. In fact, nobody I knew made a living as an online entrepreneur.
Some of my inspiration in the early days came from my favorite bloggers like The Blond Abroad, Nomadic Matt, and The Gypsy Nurse.
What is your business, and what types of products or services do you offer on The Traveling Traveler?
The Traveling Traveler helps therapists find adventure, freedom, higher pay through travel therapy (PT/A, OT/A, SLP/A) assignments.
I offer an exclusive online course, The Guide to Travel Therapy, which teaches therapists how to be successful travel therapists. I teach clinicians strategies that have the potential to double their income, while sharing how to live a life of freedom via travel assignments.
I am also an affiliate for multiple companies, including MedBridge Education, and Extended Stay America, that provide services and products that are useful for travelers.
On top of work that I do directly for my blog and business, I also own a CreatorPro, a digital marketing agency that specializes in the travel healthcare industry. Here, I work with other brands to provide strategic consulting for social media marketing, recruiter training sessions, content creation, and social media management.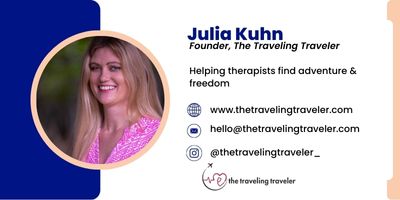 How have people reacted to you leaving patient care?
More and more people are cheering me on for leaving patient care. Many clinicians have expressed frustration with direct patient care and told me they also want to leave the field.
Occasionally, I get some "hate mail" from people criticizing me for being a content creator who is monetizing their space.
Ultimately, those messages seem to come from a place of discontentment and frustration. I think it may be hard to see other people be successful when you feel stuck. But, you truly have the power to change the course of your life.
What's a typical day or week in the life like for you? What types of tasks and responsibilities fill your time?
My days usually begin and end with answering emails and questions that have been sent to my inboxes. I spend a lot of time on my computer: writing, editing photos, or creating content. I also have a lot of meetings with my sponsors and clients to discuss content planning and goals.
It seems like I'm always writing something, whether it's a blog for my site, content for another site, Instagram posts, emails, sales funnels, etc.
What are some of the challenges of your role? What are the rewards?
It's challenging to have your income vary over the course of the year. I'm learning that there are ebbs and flows in income, and that you have to be prepared for low-earning months.
Diversifying income and creating more income streams has been something that I have been working on to improve overall financial stability.
The rewards of working for myself are so sweet though. I love that I can take a break to walk my dog in the middle of the day, plan my own schedule, and be the one truly in control of what I earn.
I've learned that I can be too ambitious and too much for a lot of people and work spaces. I'm always thinking about how things can be improved, or new ideas to grow. I don't feel like that's valued in a lot of corporate spaces, and especially in healthcare.
I love that by working for myself I can let my mind and business grow as far as I can reach.
How do you think working as an SLP prepared you for life as a blogger? Which skills transferred?
Being an SLP has taught me how to be an expert in communication. This is something that has helped me and will help me for the rest of my life. I don't regret my SLP degree or time as a SLP at all.
Roughly speaking, how are the hours and pay compared to patient care?
This is a hard one to answer since it varies so much. In the beginning, if you are starting a blog, I would say be prepared to work long and hard without earning much. As you grow, you can automate a lot and start to make passive income.
For example, I tend to take the holidays off and I really don't work much at all from mid-November to the New Year. My blog still generates income. However, during other months of the year, I may be working 30 or 40 hours a week. I rarely work over 40 hours a week anymore.
What type of person do you think would do well in your role?
To be your own boss and business owner in a creative space, I think you need to be:
Independent
Organized
Goal-driven
Outside of the box thinker
Tough
Creative
Most importantly, you have to be your #1 self advocate. There is nobody else there to advocate for you, and people are going to try to push you down and take advantage of you left and right. You cannot be afraid or back down from failures.
Also, you need to be good in sales and marketing. I think the mistake that a lot of content creators make is that they think if they create something that it will create income. Not true. Creating content (a course, book, group, instagram following, etc) is the easy part.
The hard part is sales. If you know you are anti-sales or don't see yourself in a sales position, you may need to work on your mindset to shift you ideas around sales to learn marketing. Sales and marketing doesn't have to be spammy or slimy.
Do you work remotely or on-site?
Remotely. Mostly from my home in Hawaii 🙂
Does The Traveling Traveler hire other therapy professionals?
Yes! I hire for a variety of remote content creation needs. I have a consistent need for writers, and I like to hire therapists who have previous travel experience and can write about the travel therapy industry.
I've advertised with The Non-Clinical PT before. If you have an expertise in a talent that lends itself to my business, you can always pitch me on it.
Did you read any books, take any courses, or do anything special overall to get you where you are today?
Of course! My education is never ending!
Some of my favorite books that I recommend to bloggers/creatives are:
---
Editor's Note: Shameless plug here. Therapy Blogging 101 helps you build, grow, and monetize your online business!! Julia is a member of our community, and we love sharing our knowledge with other digital entrepreneurs!
What is a typical career path for someone in your role?
This is a hard question to answer since the creative/blogger space is continually evolving and changing.
Many of the bloggers who came before me have sold their blogs to larger companies or left the blogging field altogether.
The ones that have kept going appear to have diversified their income substantially, creating suites of products so they have different income streams.
What is next for you? What do you want to do with your career long-term?
I want to continue to teach clinicians how to travel for work and use travel to change their lives. Travel therapy can open up doors for freedom, not only within therapy, but also as a bridge to non-clinical work.
Outside of the world of therapy, I recently opened up a digital marketing agency where I am creating content for brands as a social media marketing manager and strategist.
What would you recommend to someone who is considering going into a role like yours? Do you have any special words of wisdom for the readers?
If you are thinking about starting a blog/website and turning it into a business, I would say be prepared to work long and hard before you see any profits. Slow and steady wins the race. I've seen a lot of bloggers burn out in the matter of months because they thought they'd make money overnight.
You absolutely need a passion for what you're doing, and need a strong reason so that you can continue your work, even when you get no views and no sales.
On top of that, niche down! Target the smallest possible audience that you can, and be the expert who helps them and answers all of their questions. Be the person for your small niche audience before you think about growing.
What would you like to change most in your profession, and why? How would you propose doing so?
One of the biggest challenges of being a content creator is it can be lonely and isolating.
I work alone and don't have people to bounce ideas off of. I would love to build creator masterminds or communities that can support each other and be a voice and community to lean on for support.
If you could give yourself one piece of career advice you wish you had during your SLP program, what would it be?
Go with the flow; everything works out.
If you could teach anything to today's students, what would it be?
I would teach a course on business/marketing. I think that our students need to be prepared to work for themselves as private practice owners.
With all of the changes to Medicare reimbursements, I think there is going to be a greater push for private practice and contractors. Therapists need to not only know how to start a business, but the principles of marketing and gaining clients.
Do you have any special advice for other PT/OT/SLP/assistants who want to follow in your footsteps?
Dare to be creative and chase your dreams. If you're passionate about being a content creator, I think you should go for it. Even if it ends up being a hobby or something you do as side income, it stretches your mind and is fulfilling in ways a career as a therapist is not.
I also recommend following professional bloggers and content creators and finding some that you really like and connect with. Usually they will have recommendations for either their courses, or courses to take to learn about blogging.
Meredith from The Non-Clinical PT has an online business course now, which I'm a part of and think it's an excellent resource for bloggers. I direct any people interested in blogging to her course. It's so well laid out and informative about all aspects of creating content and monetizing it with integrity.