With travel therapy becoming more and more popular, everyone wants to find the best travel therapy companies to fit their unique situation.
While the travel therapy company you choose is extremely important when it comes to benefits and contract availability, the recruiter you're paired with is ultimately what will have the biggest impact on your day-to-day life as a traveler. That said, you still want to love the company you're working with, so we've compiled a list of some of the best travel therapy companies out there.
All of the travel therapy companies we feature here offer contracts in multiple disciplines, so everyone should be able to find one that fits them well. While there are companies that specialize in specific disciplines, such as travel physical therapy companies, those tend to be small and have limited options available to you as a traveler, so we stuck to the ones with more variety. We also tried to find some of the highest paying travel therapy companies for you!
Note that regardless of the company you choose, you must be licensed in the state where you plan to travel, so be prepared!
This post may contain affiliate links or codes. This won't increase your cost, but it helps keep TNCPT alive, and free of annoying ads! Thank you for your support. 🙂
Best Travel Therapy Companies
All of the travel therapy companies we feature here have received positive reviews from a majority of respondents, and are listed in no particular order.
MedTravelers (AMN Healthcare)

Established in 1985, MedTravelers is one of the biggest travel therapy companies out there. Their parent company is AMN Healthcare, which is a giant in the industry. As of 2022, they are the #1 allied health travel company, and they have a woman CEO! They're based in Dallas, TX, but offer travel contracts across the US.
Travel assignments with MedTravelers are typically 13 weeks long, but could range from as little as 4 weeks to 26 weeks or longer. They offer comprehensive medical/dental/vision/life insurance, housing options, free continuing education, a 401(k) retirement plan with matching, and a lot more.
Fusion Medical Staffing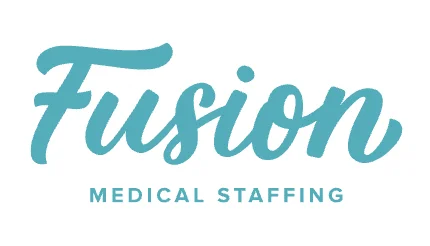 Fusion Medical Staffing is one of the newer companies on our list, but don't let that scare you! Established in 2009, their headquarters is in Omaha, NE, but they offer nationwide travel opportunities.
Travel assignments through Fusion tend to be in the 13-26 week range, but can be as short as 8 weeks on occasion. They have travel opportunities for PTs, OTs, SLPs, COTAs, and PTAs.
They give you three different health plans to choose from, along with dental and vision benefits.
Ardor Health Solutions

Based in Tampa, FL, Ardor Health Solutions has been in business since 2001. The co-founder and president of this travel therapy company is a woman, which I always love to see.
As a traveler with AHS, you'll be a W-2 employee, paid weekly. Typical travel assignments range from 13 to 40 weeks, and they provide you with 100% free health insurance. They even offer pet insurance benefits!
If you need help getting licensed in a new state, Ardor has a credentialing department that can help you through the process.
MedPro Healthcare Staffing

Another Florida-based travel therapy company is MedPro Healthcare Staffing. They've been around since 1983, with a HQ in Sunrise, FL. Their President and CEO is a woman, as well!
MedPro is unique in that they have fun rewards programs that go along with their travel assignments. Their personalized gift program, Magic Moments, offers bi-monthly gift packages and birthday extras!
They will also pay you to explore the area you're traveling in. They offer a 13 in 13 DIY Challenge where you get rewarded with $13 for each of the first 13 places you go in your new town. Pretty cool!
CoreMedical Group

CoreMedical Group in based in Manchester, NH, and was established in 1989. Most of their travel assignments are 13 weeks long.
They offer housing and relocation assistance, licensing and credentialing support, comprehensive insurance coverage, free CEUs through CE Direct, discount programs with Verizon, and much more.
CMG will arrange and pay for any medical services that are required up front, such as vaccinations, physicals, and more. If that's not enough, they have a loyalty program called Club CoreMed that you can take advantage of!
Synergy Medical Staffing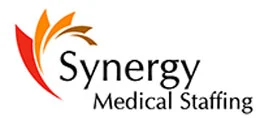 Synergy Medical Staffing is one of the nation's fastest growing travel therapy companies. Headquartered in Wesley Chapel, FL (yes, another Florida travel therapy company!), they've been providing staffing contracts since 2008.
They offer competitive salaries, a 401k plan, free professional liability insurance, medical/dental/vision insurance, licensing assistance, and lots more.
Cross Country Allied (Cross Country Healthcare)

Cross Country Allied has been around almost as long as AMN! Founded in 1986, their headquarters is in Boca Raton, FL. This travel therapy company offers travel contracts for PTs, PTAs, OTs, OTAs, and SLPs.
Assignments typically run for 8, 13, or 26 weeks, and they offer free private housing, or a housing stipend if you prefer to find your own accommodations.
They have a 401(k) plan with matching, health/life/dental/prescription insurance, licensure reimbursement and assistance, CE reimbursement options, and more!
Preferred Healthcare Staffing

This woman-owned travel therapy company has its headquarters in sunny San Diego, CA. In business since 1995, Preferred Healthcare Staffing specializes in allied health, and has received awards for Best of Staffing for Talent and Client Satisfaction for six years running. PHS is also Joint Commission Certified, indicating that they provide a higher standard of service.
They offer travel positions throughout the US, as well as per-diem opportunities within the state of California.
Preferred offers a full suite of insurance (medical, dental, life, vision), as well as CE and dues reimbursements. To top it off, they provide a 401(k) with matching.
Triage Staffing
Triage Staffing was formed in 2006, and is based in Omaha, NE. They've made the Inc 5000 list of fastest-growing private companies in America six times.
Contracts are 13 weeks long, and Triage provides weekly pay estimates on their website, so you know up front what to expect. They offer health/vision/dental benefits, vacation time (you're a W2 employee), a 401(k) plan, and continuing ed/certification reimbursement.
They even offer a mentoring program for travelers that's managed and run by clinicians!
What about travel therapy companies that aren't on this list?
In this growing industry, travel therapy companies are popping up every day. We couldn't possibly feature all of them here, so we decided to give you a curated list. Even if your favorite company isn't listed here, it might still be great! Hopefully we've given you a few more options if you want to expand your horizons. 🙂
How do I decide which travel therapy companies are best for me?
Network
Utilize your network of allied health professionals. Have you seen a friend, or acquaintance, mention how happy they were with their travel PT job? Reach out! Testimonials from those whose opinions you trust are more valuable than anything. Don't forget to ask them which recruiter they worked with in addition to the travel therapy company associated with that recruiter. The best part is that many of these companies offer cash to those who refer others, so you may end up helping out a friend in the process!
Explore travel therapy company websites
Spend some time searching for companies using your favorite search engine. Explore their websites, testimonials, perks, and so on. This may seem like an obvious suggestion, but it's important to do this fairly often, as there are always new companies with unique offerings entering the market. Maybe you'll be the first to find out about an upstart travel therapy company, and lock in some early incentive perks by using them while they're still getting established!
Use a matching service
Finding a great travel therapy company is wonderful, but sometimes it's the luck of the draw as to which recruiter you're matched with. Even companies with great reviews have some duds in their recruiting departments.
Given how important your recruiter is to your day-to-day experience as a travel therapist, why leave it to chance?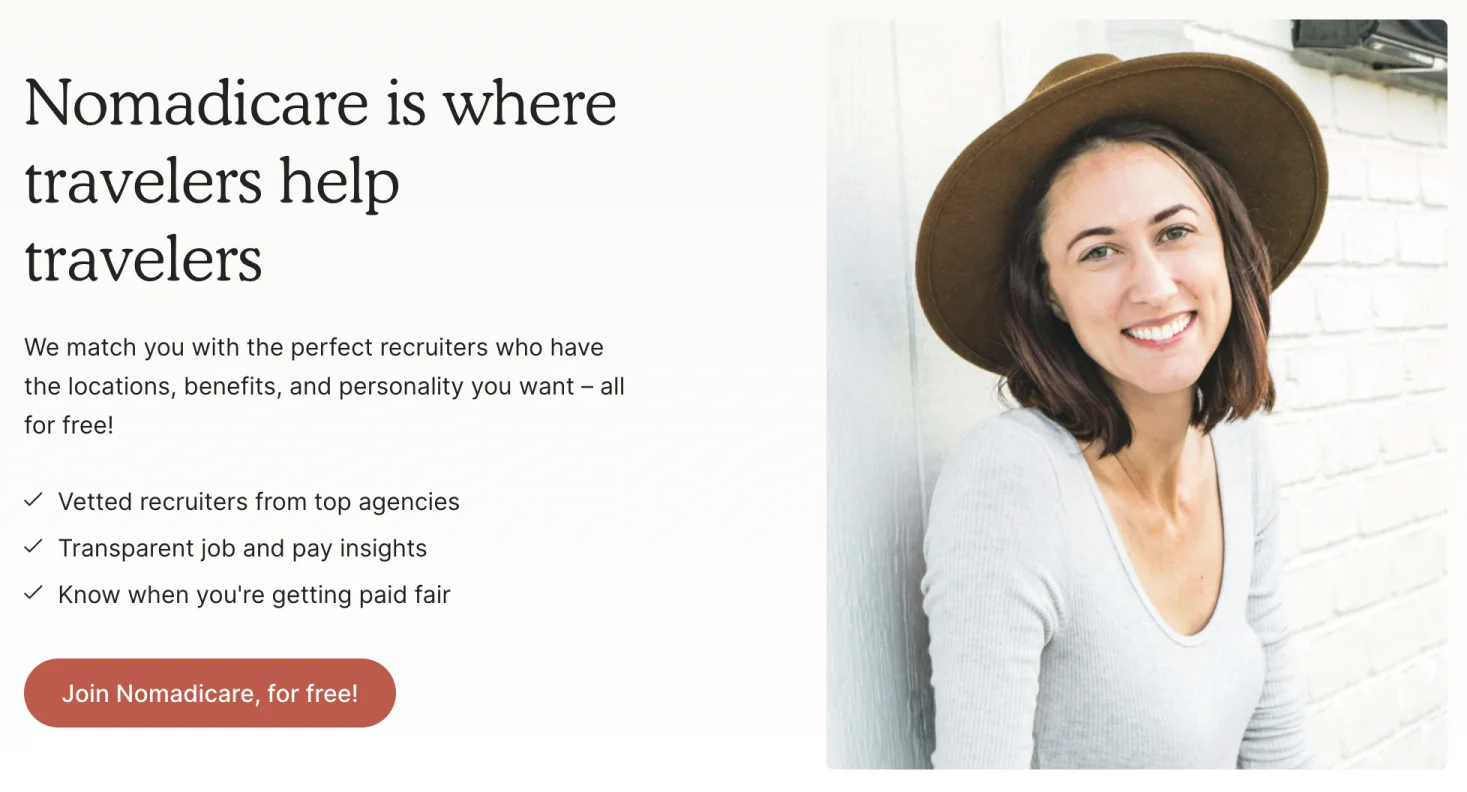 I highly recommend our affiliate partner, Nomadicare, to make this whole process easier. They'll match you to an excellent recruiter that you'll vibe with, and take the stress out of the process. Why spend all this time trying to find just the right company, only to get assigned to a subpar recruiter that doesn't have your best interest in mind? You can learn more about Nomadicare's founder here! Yes, she's a non-clinical OT!
Give them a try! You won't be disappointed. 🙂