Kate Paolini, M.S., CCC-SLP, is now working as a UX researcher for Meta! She's yet another Non-Clinical 101 success story!
---
This post may contain affiliate links or codes. This won't increase your cost, but it helps keep TNCPT alive, and free of annoying ads! Thank you for your support. 🙂
What is your full name, title, and company name for your current, primary role?
Kate Paolini, M.S., CCC-SLP — UX Researcher for Meta
Where are you located?
Seattle, WA
Where did you go to SLP school, and what year did you graduate?
University of Washington, 2016
What did you do when you first finished school, and for how long?
After grad school I worked as an SLP for six years.
In what setting(s) did you work, and what types of patients did you treat?
I worked in the school setting. I worked with all ages, but mostly elementary and preschoolers.
Because I was a school SLP, I worked on a little bit of everything: language, articulation, fluency, pragmatics, and more.
Please refrain from contacting our spotlight participants on social media. There are thousands of readers just like you out there. 🙂 Please ask your questions in the comments on this blog post.
If you're a Non-Clinical 101 student, you can network with many of our spotlight participants in the alumni groups!
What did you enjoy about your early roles? What didn't you enjoy?
I love working with kids, and I had some great colleague relationships with other SLPs, OTs, PTs, and teachers! It was satisfying feeling like speech therapy made a difference in a student's communication and growth.
I also worked on my district's preschool assessment team, and I loved this part of the job. It wasn't direct therapy, but it involved interviewing parents, observing students, writing reports, and making eligibility recommendations.
Obviously I loved the school year schedule, although I usually picked up extra work or second jobs over the summer.
I didn't enjoy feeling like I was operating within a broken education system that limited me from doing what was best for the student in terms of qualifying for services, therapy format, etc.
There's a joke about school SLPs doing therapy in weird places like broom closets, and that was true for me at times! I also didn't like feeling stressed out or guilty when I needed to take a day off, because I didn't get a sub.
When and why did you decide to do something non-clinical?
It was 2022. I realized after a couple of years that SLP was not a great fit for me, but it took me a few more years to commit to making a change.
Even when I had a manageable school caseload and workload, I still felt burnt out. Being in therapy sessions all day was really draining. I'm a huge introvert, and feeling like I always had to be "on" took a toll on me! This wasn't something that I considered before becoming an SLP, and that I wanted to be more thoughtful about in my next job.
What are you doing these days?
I work as a UX (user experience) researcher. I do research with users of tech products and app developers to help create products that are easy to use, thoughtfully designed, and accessible.
Are you still treating patients, or are you solely non-clinical?
Solely non-clinical, although I'm keeping my CCCs and license up to date just in case.
How long have you been at Meta?
Since June, 2022.
Did you get any special certifications or training along the way to help you get into your current UX researcher role?
When I finally decided that I was going to look for roles outside the SLP field, I took Non-Clinical 101 first. I went into it with UX as a possible role I was interested in, and wanted to learn about some other potential options. The course helped me feel committed to really making a change, because it was a tough decision to make.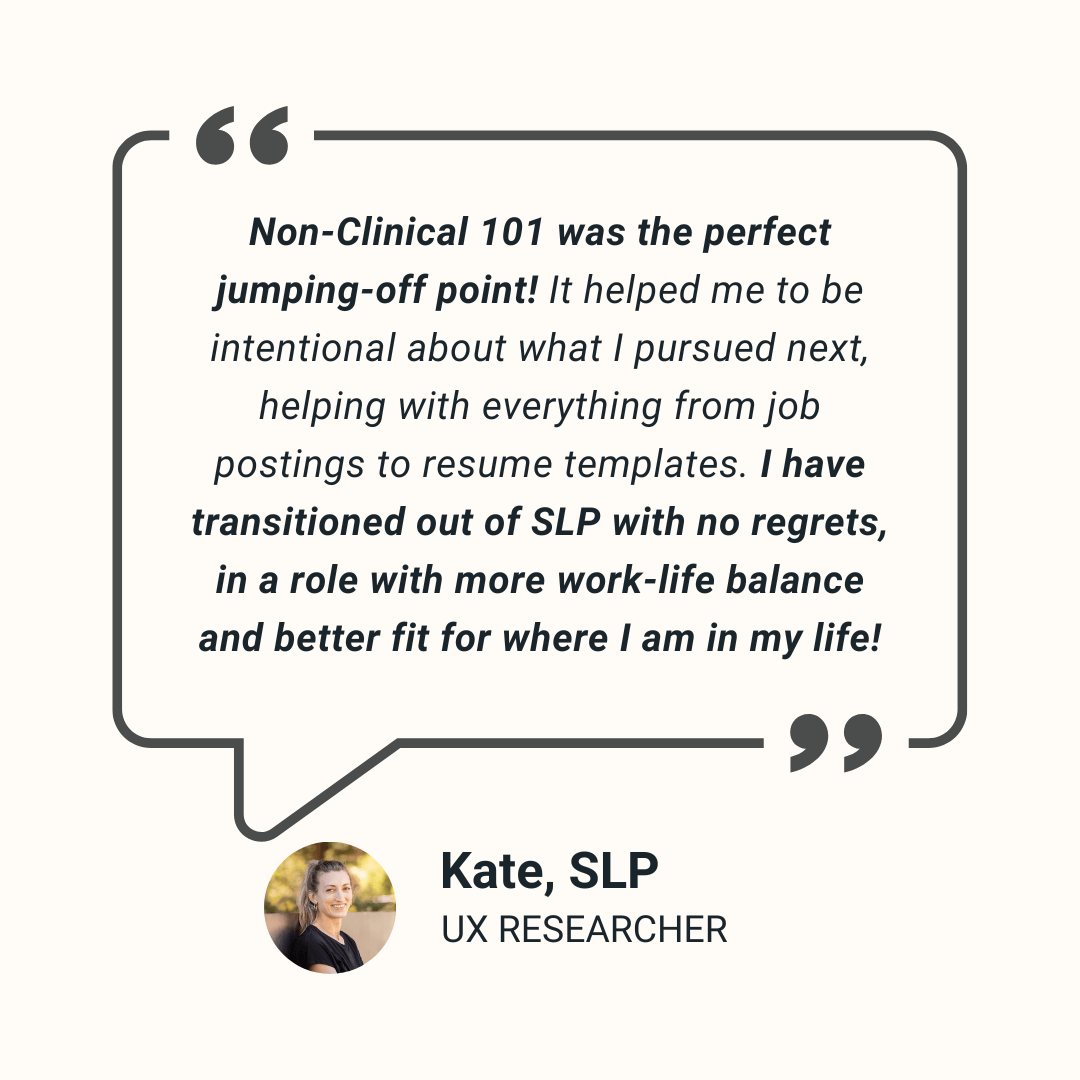 Once I landed on pursuing UX, I took self-paced courses on Coursera to learn UX design and research basics. I also did a lot of reading and learning about research methods to better understand the field.
---
Ready to make a non-clinical career change?
How did you find your job? Did you apply or find it through a connection?
I found my job through a program called the Research Associate Program (RAP) at Meta. I was very lucky, because it was specifically geared towards people interested in UX research coming from other career backgrounds—so it was a perfect fit!
It was a six-month mentorship program that turned into a full time role as a UX researcher at the end. I applied to the program and asked a current UX researcher that I knew for a referral to accompany my application.
Did you do anything special to your resume and cover letter to land the job?
Because this role was looking for people coming from non-UX backgrounds, I didn't feel like I had to "hide" my SLP background on my resume. However, I did highlight previous research experience that I had from undergrad, and made sure to frame my SLP work in terms of research skills (e.g., doing structured interviews with parents and student observations in order to make therapy recommendations).
What approach did you take during your interview(s) with Meta?
In my interviews, I focused on my experiences working with other disciplines as a therapist, planning and executing evaluations, and adapting assistive technology to fit the user. These were areas where I saw direct crossover with what a UX researcher does.
How have people reacted to you leaving patient care?
My friends and family have been supportive, because they saw how unhappy I was in my SLP role.
I've also been able to pay it forward and answer questions about my job change from people I know or other therapists who have reached out!
What's a typical day or week in the life like for you as a UX researcher?
There isn't really one "typical" day in the life, because every day looks a little different!
My main tasks include:
Planning research projects, which involves talking to designers, product managers, and engineers to align on what we need to learn from the research, discuss the timeline, etc.
Meeting regularly with my manager and other researchers to discuss what I'm working on.
Running research sessions after planning a project and recruiting participants; these resemble therapy sessions: back-to-back in-depth interviews with participants or usability testing sessions.
Analyzing all the data I collect and organizing the top insights into a report to share out with people who can take action based on my findings.
Usually, my week is a combination of all these activities for different projects going on at once.
What are some of the rewards and challenges of your user experience researcher role?
I've worked with a great team of UX researchers who have all been kind and welcoming. A lot of researchers I've met also have interesting or unique backgrounds, and I've never felt judged or less-than for having an unusual route to UX research.
The pace of my job has also been a much better fit for me, and this is really rewarding in terms of my mental health and mood outside of work! Even on days when I work longer hours as a researcher than I did as an SLP, I generally have more control over what my days look like, as long as I finish what I need to get done.
I've also enjoyed how much I'm learning in my UX role. I'm constantly learning new research methods and information about the developers I work with and the products I'm studying.
At the same time, so much learning can be a challenge: unlike SLP, which I studied for two years in grad school before working full time, it can be hard to have such a big learning curve right off the bat. I think this is an important reminder for anyone wanting to change jobs.
Finally, it's undeniable that this is a hard time to be working (or job-searching) in the tech industry. I have gone through a few rounds of layoffs in my first year, and even though I've been fortunate to keep my job, it's been tough to worry about job security and the instability of losing coworkers.
How did your clinical background prepare you for this role? Which skills transferred?
So many soft skills are similar between my SLP role and UX! Communicating effectively, both in meetings and in written reports, is important across both roles, as well as flexibility and looking at the big picture when crafting research questions and giving recommendations.
Sometimes the business and user needs are different, so being able to understand and empathize with both sides is important. This is similar to navigating working with parents, teachers, and administrators as an SLP while still advocating for students.
People skills definitely transfer, because you will interact with a lot of different stakeholders in different roles, and want to make participants feel comfortable quickly during research sessions.
What type of person do you think would do well in a UX role?
As I mentioned above, someone who is flexible and doesn't expect every day to look the same would do well in this role. Sometimes research projects get deprioritized, business needs change, or research sessions go awry and you need to adapt quickly.
Much like the therapy world, it's nice to be able to build rapport easily with research participants and stakeholders.
Finally, since you'll have periods where you're working solo on analysis or reports, being self-motivated and able to organize your time efficiently is very important.
Do you work remotely or onsite?
I work hybrid right now, going in to an office a few days a week.
What else did you do to get you where you are today?
I used online sources like Nielsen Norman Group and ADPList to learn more about UX.
I also reached out to people on LinkedIn and any connections I knew who worked in UX research to learn more about how they got into the field and the realities of the day-to-day work.
What is a typical career path for someone in your role?
Some UX researchers advance to being managers (managing a team of researchers) or directors, while others continue working in research directly as they advance to more senior roles.
What is next for you? What are your high-level career aspirations?
Right now, just over a year in, I am still in "beginner" mode of trying to learn as much as possible and figure out what my strengths are as a researcher!
Long-term, as I become a more specialized and senior researcher, I would like to focus more on the accessibility research space, as that relates directly to my experiences as an SLP.
What career advice would you give yourself that you wish you had during school?
Nothing is final; I can always go back to clinical work, and I can do something different from UX research if that isn't a good fit in the future.