CSM 2020 has come and gone, and I'm now in major "pondering the whole experience" mode. Anyone who knows me well is aware that I'm not a big conference person. Despite being an extrovert, I find crowds and exhibit halls overwhelming, and often feel completely exhausted midway through and want to crash in my room while watching disaster shows on the Weather Channel. 
So, when the opportunity arose to not just attend CSM, but present an educational session…and run a legit meeting…I was hesitant. I knew it was important for our profession to lean into the idea of pursuing non-clinical roles to improve healthcare, but I also realized that it would be five insanely stressful, busy, non-stop days of overwhelm.
And it was.
But, I got so much from the experience, and the most important takeaway is that the APTA is listening. A board member attended our inaugural Beyond Clinical Practice (BCP) catalyst group meeting and networking event, which attracted 80+ non-clinical and aspiring-non-clinical PTs and PTAs. Donna Lampke, PT, DPT, ACRW, CPRW and I presented our educational session on non-clinical careers to a room of 585+ attendees, complete with standing room only!
Non-clinical careers are on the rise. And I'd argue that the best thing you can do to make important connections in this realm is to network. Despite the overwhelm, stress, and SO. MANY. PEOPLE. at CSM, it was worth every penny to attend.
Here are 3 takeaways and tips for you, as the aspiring non-clinical PT/A for CSM: (And, keep in mind that if you're an OT or SLP professional, most of these still apply for your own national conferences!)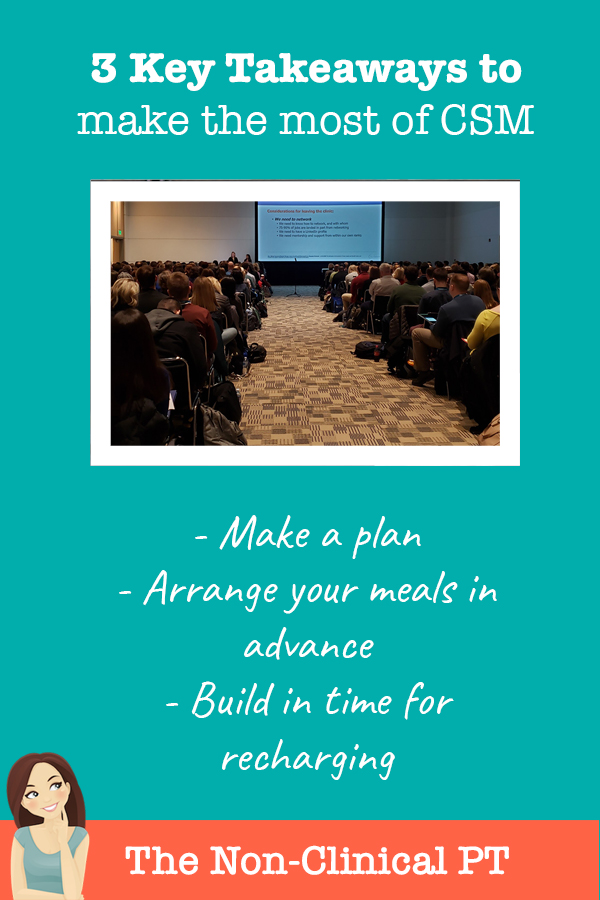 This post may contain affiliate links or codes. This won't increase your cost, but it helps keep TNCPT alive, and free of annoying ads! Thank you for your support. 🙂
1. National conferences are what you make of them. Plan in advance.
In my younger years, I'd show up at the convention center with zero plan, wander around, collect swag, and maybe catch a marginally interesting session or two. It was a lot of money to pay for a bunch of pens and notepads. These days, I have learned to make a plan in advance so I can make the most out of a conference.
Educational sessions
You can get so many CEUs at your national conference! And you can snag quite a few non-clinical CEUs these days! My advice is to pick the sessions you want in advance. Be sure to get there early because the popular ones do fill up quickly, which means you might be spending two hours on the floor. I also recommend that you have a backup plan, because in the event that the session you wanted is canceled, too full to enter, or simply not as interesting as you'd hope, it's nice to be able to duck out for a plan B.
Networking
I also recommend that you take advantage of the INCREDIBLE networking opportunities afforded by your national conference. For example, people who attended our Beyond Clinical Practice networking session were able to connect with PT/As in all sorts of non-clinical roles. I saw so many business cards flying that it made my head spin!
If you don't have any meetings you'd like to attend, no worries! The exhibit hall was great. I picked up so many business cards and will be working with tons of healthcare companies looking to staff up with people like YOU in non-clinical roles! Stay tuned and keep your eyes on my job seekers' board, as I plan to add many more new roles soon!
Materials
Lastly, you'll want to plan to bring the right materials for prowling the exhibit hall and networking your face off. Here's what I recommend:
Business cards. I got some made at Moo and LOVE them. I had older ones from Vistaprint, which were terrible. They smeared everywhere. Totally recommend Moo. Business cards are a must for anyone looking for non-clinical roles, and they're so convenient to hand out in the exhibit hall when you're networking away!
Gum or mints. If you eat a stinky meal or guzzle a strong coffee, you'll thank me for not having people remember you by your dragon breath 🙂  
Reusable water bottle. Most convention centers have water stations where you can refill your bottle, rather than paying $5 for a puny bottle of overpriced water.
Snack bars. If you get hangry easily, bring snack bars! One sweet woman, Denise, saved me during the BCP meeting with a delicious snack bar. Props to her for knowing me better than I know myself. Denise, if you're out there….THANK YOU! Please email me 🙂
Portable phone charger. Your phone's battery will drain more quickly than you'd like at conferences. Invest in a low-cost portable phone charger so you don't have to stress about finding outlets to charge your phone every two hours.
Things to skip. In my opinion, you can skip the pens, notebooks, and chapstick; you'll likely snag free ones from the vendors! Don't overpack your tote because it will get heavy very quickly! Unless you NEED your laptop during the day, don't lug it along. It gets SO heavy after awhile.
2. Research restaurants and bars in advance
You will be HUNGRY after those long days in the convention center, and it's so annoying when you're wandering around and getting hangry when you could be stuffing your face. Don't let hanger get the best of you and wind up eating gross, overpriced convention center food. It's wise to make reservations in advance of arriving at the conference, especially if you're traveling in a group of three or more.
Be sure to look on Yelp and/or TripAdvisor so you can see if the menus and vibes of these spots match what you'll be looking for.
If you have your own business, remember that you can write off your meals from your taxes!
3. Build in some you time
Back when I used to go to CSM as part of NewGradPhysicalTherapy, we'd skip lunch so we could do extra networking. We'd have such a tight schedule, there was no stopping for snacks, rest, or recharge time. It was terrible, and I vowed never again. This was my first time back to CSM since my NGPT days, and I thought I'd do better.
I'll be honest—I thought I had built in some downtime for CSM 2020, but I hadn't. That's the biggest mistake I made, and I won't make it again at future conferences.
Please, please, please build in some time to your schedule so you can eat, relax, and recharge. You'll be your best self if you do this. I think I spazzed out at some points and overwhelmed people with my hunger-fueled crazy energy that resulted from not taking time for me and for rest. 
CSM 2020 was a learning experience for me.
To be honest, CSM 2020 was intense. It was super fun and I learned a ton, but I definitely would change a few things in future years!
I'll probably take a few years off from presenting and just attend CSM 2021 and 2022 to enjoy the educational sessions and networking. But this is me speaking while it's still in the one-week window from the madness 🙂 I hope to see many of you at future conferences! And, psst, CSM 2023 is slated for San Diego (where I live)…so get ready for something super fun from The Non-Clinical PT!