Today's non-clinical spotlight focuses on Gira Shah, who went from physical therapist to Director of Home Health Services at Providence Health & Services.
---
This post may contain affiliate links or codes. This won't increase your cost, but it helps keep TNCPT alive, and free of annoying ads! Thank you for your support. 🙂
What is your full name and title?
Gira Shah, PT
Director of Home Health Services for Providence Home Services of King County in Seattle, WA.

What year did you graduate from PT school, and where did you go?
I graduated from a PT school in India in 1998.
Can you describe your professional journey from India to the US?
I chose to come to the US soon after I graduated. I landed in New Jersey when I first came to the US. Not knowing much about the licensing process, it took me several years to get to the stage I am right now. My overall general education was not deemed US equivalent.
I started by taking general course credits in NJ, but soon realized it would take me two years just to complete the general credits.
I started to work as a PT aide to get my foot in the door. Then, I applied to a PTA program and graduated as a PTA, thinking that having a degree from the US will be better in the long run—it would be recognized no matter what state I go to. The college I graduated from offered me a job as an adjunct instructor.
This was the start of my professional career in the US. I love education, so this was great.
At the same time, I worked as an outpatient PTA. I soon realized that I was limited in my growth and practice. I decided to apply for my PT license, now that I had few additional credits. After being told to take a few more courses, I was eligible to apply for my PT license. It took me 10 years from the start of my journey to when I got my PT license.
Once I got my PT license, I entered the world of Home Health and have stayed in Home Health since.
What did you do next in your career?
I was a field clinician for some time. In 2014, I moved to Washington from Georgia.
During my job hunt I applied for three jobs and got three job offers.
Two out of the three jobs were for field Home Health PT. The third was to be part of a startup initiative; it was a program that was new to me, and it involved some patient care, but also had some administrative/educational tasks.
I decided to take this challenge.
It exposed me to a great learning opportunity and exposed me to some non-clinical responsibilities. I also got introduced to a great manager in this role.
How did you start at Providence Home Health King County?
Soon after I started at my job mentioned above, my manager decided to move to a different company but we continued to stay in touch as friends. Unfortunately, the program also did not take off as quickly as we hoped. When the program closed, I was back in the market for a job. This is when my previous manager approached me with a job opening at Providence Home Services as a Clinical Supervisor. I took that opportunity.
In this role, I deepened my understanding as a leader and about operations. This role was non-clinical.
It was managing a multi-disciplinary team and involved being aligned with the strategic goals for our service line. Eight months into my job with Providence, an opportunity came about to be the Director for the same location. I interviewed and got the job in 2017.
Did you have to do anything special to your resume/cover letter to land that first non-clinical job?
The short answer is yes. The resume is the first glimpse a hiring manager has to who you are. I believe that one needs to modify each resume based on the job.
As a hiring manager myself, I know first-hand that when a resume doesn't reflect skills related to the job requirements, it is easy to be dismissed.
There are several non-clinical skills we therapists have, but we do not give credit to ourselves for possessing.
I took time to look at the job requirements and then reflected on what I had done in the past that would align with it. I was surprised by how many things I could list.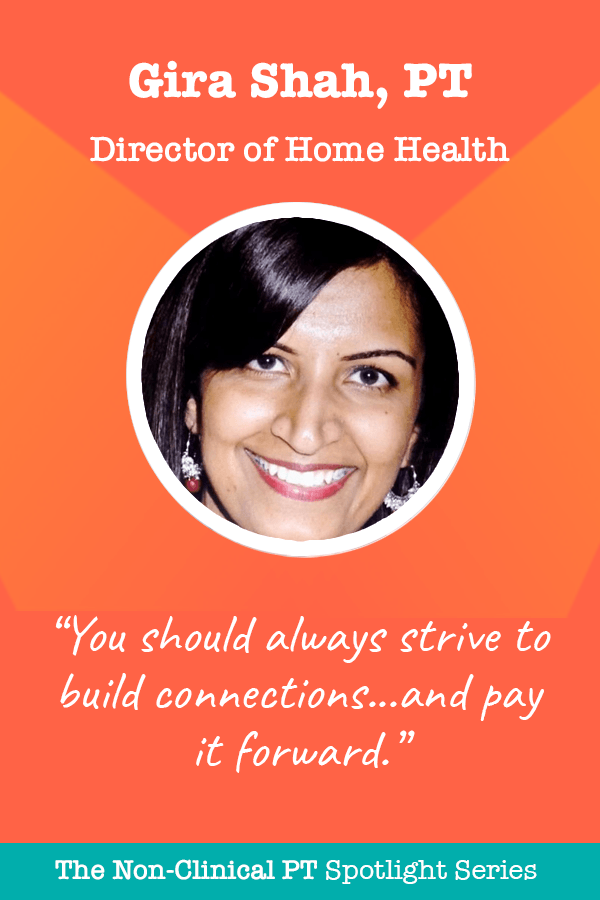 What is your role like as Director of Home Health Services?
My role as a Director of Home Health involves providing the following to those in the Providence area who have need for home health care:
Operational leadership
Vision
Advocacy
Strategic planning
Coordination of services
Do you have a specific leadership style?
I believe in servant leadership, and my focus is to take care of the people who take care of the patients.
I enjoy my current role and love the people that I work with.
Did you get any special certifications or have any training along the way?
I did get my OASIS-C certification to help me lead my team to clinical excellence. I have also taken several leadership-related training courses through Providence. I also recently enrolled in an MBA program.
What would you recommend to someone who is considering going into the same non clinical field?
I enjoyed my time in the field, but due to some health issues, I knew I would not last in the field too long.
I had to understand my strengths and weakness before I decided to make a shift. My recommendation to anyone looking to make the shift is to do it for the right reasons.
Find your strengths and passions, and then work toward your dream role. Get your foot in a company of your desire and take it one step at a time.
Editor's note: Check out this other spotlight we did on Tony Rost, Senior Director of Telehealth and Scheduling at AccentCare, who advanced his career from home health PT to administration to leadership—all within the same company!
Do you have any special words of wisdom for the readers?
I would say that you should always strive to build connections and pay it forward. I had several people along the way who have helped me; they've built me, and they have given me opportunities—this got me to where I am.
I try to pay it forward and help people along the way, whether by giving advice or linking them to an opportunities I come across
Never burn bridges – health care is too small of a world. Believe in yourself.
What is the biggest lesson you have learned during your journey?
During my long battle of getting my license, I had people who said I would be better off changing my field, but I loved my profession and just had to build a path that led to what I believed in doing. Keeping my internal motivation alive was always the key to staying on track.
---
Thank you for your insight, Gira!