Today's non-clinical spotlight focuses on Adrian Miranda, a physical therapist working partially in patient care, and partially in a super creative career as a video producer and freelance videographer!
---
This post may contain affiliate links or codes. This won't increase your cost, but it helps keep TNCPT alive, and free of annoying ads! Thank you for your support. 🙂
What is your full name and title?
Adrian Miranda, PT, DPT, OCS, Freelance Videographer and Video Producer
Content Creator for Firework App
Host: AdriansGrossAnatomy
What year did you graduate from PT school, and where did you go?
2007, Ithaca College
What did you do when you first got out of school?
Interestingly enough (and controversially), I worked at a physician-owned physical therapy services (POPTS) clinic in Connecticut.
In what setting did you work, and what types of patients did you treat?
Outpatient ortho. I treated a lot of post-operative patients, as well as dancers. My mentor at the clinic was a dance specialist in CT.
How long were you in that role?
I stayed for one year until I moved onto an orthopedic residency at Sacred Heart University. It was a one-year program.
How did you interest in healthcare TV get started?
I always wanted to be on/in TV. My essay for the APTA Minority Scholarship Award was about wanting to be a Latino in the media educating about physical therapy.
Actually, when I was in high school, I wanted to be a weather man!
What is your role like at BRIC?
Was 🙂 I was a TV show host and a live daytime show producer for two segments.
How did you land this current role?
I landed the role back in 2014. I knew someone who was a fitness host at BRIC TV. She knew the executive director and thought I had interesting ideas.
My friend introduced me to the executive director; I met with him, he liked my idea for a show, and that's how I got hired!
Did you get any special certifications or have any training along the way to you at this role?
None.
Well, I did take courses at BRIC. They offered adult education courses in Field Production, Non-Linear Editing, etc. I took those early. But, after taking that I studied on my own, practiced a lot on my own. I would do free projects for people I knew.
I think that all those long hours of self-study and working for friends, which I put in after the formal education, were more instrumental in getting me where I am.
Do you still treat patients, or do you work fully in videography?
I'm 60% clinical, and 40% videographer.
Do you work remotely or onsite?
I can work remotely for my video editing, but I'm onsite for my clinical days.
What is a day or week in the life like for you?
I've since moved from BRIC TV, and I'm mostly working on freelance videos for clients including the Academy of Orthopedic PT, and Craig William Films.
Monday: Clinic 8:30-5:30
Tuesday: Write, film, edit video, and post
Wednesday: Clinic 8:30-5:30/ Workout/ Home to work on edits for my CrossFit Gym, or any editing or side projects/jobs I have. For example, I'm currently working on some APTA videos.
Thursday: Craig William Films: same (hours are flexible) I can work from home, or remotely. Depends on the day.
Friday: Clinic 8:30-5:30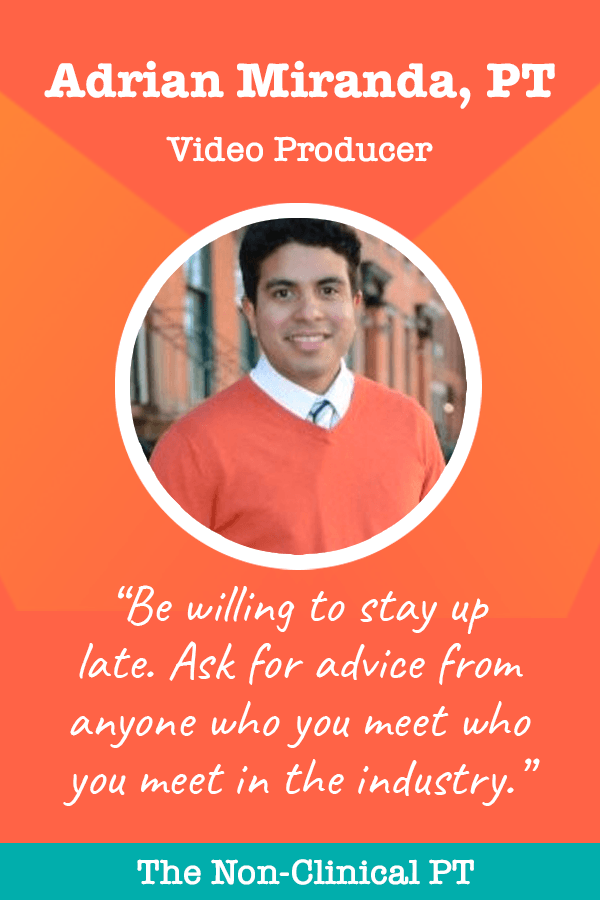 What have been the challenges and rewards of this move?
It's been both challenging and rewarding learning a new craft while still being a clinician.
Yes I still treat, and I plan on always treating. I enjoy that I can create a career with variety, though, by doing what I'm doing.
Without giving exact numbers, how are the hours and pay compared to patient care?
Amazing. I work probably half as much as many of my colleagues.
I'm not loaded, but I have plenty of time to spend with friends, family—and have enough money to pay bills and have fun. But, most importantly, at this point in my life I am very happy and blessed with time and finances.
I have a lot of flexibility in my schedule, as well. However, I love all aspects of what I am doing. So, if I have to jump on a call for a potential project during lunch, I don't mind it.
Since videography is a tech skill, it can (and does) pay more than clinical care (if you compare it to in-network reimbursement).
What would you recommend to someone who is considering going into the same non clinical field?
Be willing to stay up late. Ask for advice from anyone who you meet who is in the industry. PRACTICE, PRACTICE, PRACTICE. Fail. Then practice some more.
Do you have any special words of wisdom for the readers?
See Above 🙂 + You can do anything you want to do. Learning anything new is possible. If I could change one thing, I would have started doing video sooner…
Do you have any books, courses, podcasts, or anything else you'd recommend? Anything else you'd like to share?
Anything by Gary V, Bedros Keuillian, Film Riot, Justin Odisho, or Sonduck Film. First and foremost, learn the most up-to-date PT literature and keep up with your manual and exercise principles skills. Be a (great) PT first. Learn to solve problems.
What's next for you? What's your ideal career setup?
I'm currently pitching my web series to film festivals! I have a potential opportunity to have my one-man musical show be produced off broadway. My ideal schedule is to be in the clinic on Mondays and Fridays, and to be in the studio and working on my gross anatomy show on Tuesdays, Wednesdays, and Thursdays.
---
Thanks for your insight, Adrian!
---