This week's spotlight is on Alice Navarro Forsythe, an SLP-turned-business owner who is the owner and operator of Opening Doors Therapy! Her company provides staffing services to rehab clinics.
---
This post may contain affiliate links or codes. This won't increase your cost, but it helps keep TNCPT alive, and free of annoying ads! Thank you for your support. 🙂
What is your full name, title, and company name for your current, primary role?
Alice Navarro Forsythe — Opening Doors Therapy, Owner and Operator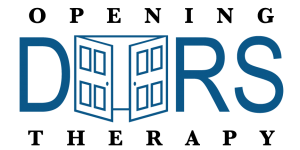 What additional roles do you currently have?
I enjoy teaching group fitness (younger, and active older adult) classes at my local YMCA. It's so much fun to interact with my Silver Sneakers group, and get them moving!
Where are you located?
Trappe, PA
Where did you go to SLP school, and what year did you graduate?
Temple University. I attended for both graduate (SLP/Audiology) and undergraduate (SLP) degrees.
What did you do when you first finished school, and for how long?
Once I finished graduate school, I worked in a school district for about five years. I was providing SLP services there, and I also worked at a hearing aid dispensing office for a couple of years until I had my third child.
After that child was about one year old, I went to work at an ear/nose/throat (ENT) clinic, doing audiology (hearing and balance testing, and hearing aid dispensing).
Please refrain from contacting our spotlight participants on social media. There are thousands of readers just like you out there. 🙂 Please ask your questions in the comments on this blog post.
If you're a Non-Clinical 101 student, you can network with many of our spotlight participants in the alumni groups!
In what setting(s) did you work, and what types of patients did you treat?
I worked with school-aged students and older adults for hearing aid despensing, and I worked with all ages for audiologic testing.
What did you enjoy about your early roles? What didn't you enjoy?
The interaction with students and patients was my favorite part of the work—and the paperwork in schools was my least favorite part of the work.
When and why did you decide to do something non-clinical?
I always knew I wanted to be involved in the business end of things, rather than the clinical side. Six years after receiving my master's degree, I decided to make the switch to running a business.
What are you doing these days?
I am happily running my therapy staffing company (Opening Doors Therapy) and teaching group fitness classes 🙂
Are you still treating patients, or are you solely non-clinical?
I am solely a non-clinical SLP at this point.
How long have you been in your current role?
I started Opening Doors Therapy in November, 2017.
Where did you get the idea for your business?
I had some previous experience working with therapy staffing companies. I had been working in the office, and I had also worked as a contracted speech-language pathologist.
What is Opening Doors Therapy, and what type of services do you offer?
Much of my clinical background was focused on providing therapy in schools. Opening Doors Therapy truly relates to this background, as we provide therapy staffing services to schools.
We focus on the special education side of things, and we help staff professionals who have an interest in schools and special education.
We staff everyone from therapists (PT/OT/SLP providers) to teachers and counselors.
How have people reacted to you leaving patient care?
Everyone has been very supportive!
Most people encouraged me to start my own business because they knew I would do it thoroughly and fairly, and with complete dedication.
What's a typical day or week in the life like for you? What types of tasks and responsibilities fill your time?
I am very hands-on, as this business is my primary focus and my passion. I interact regularly with the clients and providers.
I'm involved with all aspects of the company, including:
Contracts
Payroll
Placements
Credentialing
Lots more!
What are some of the rewards of your role? What are the biggest challenges?
The biggest reward is being able to shape a model of staffing that puts the provider first.
Putting providers first enables them to deliver excellent service to students and families.
The biggest challenge is having enough providers to cover all the referrals!
How did your clinical background prepare you for this role? Which skills transferred?
Yes, having a clinical background definitely prepared me to understand what is needed—and how to guide the providers and schools.
What type of person do you think would do well in your role?
To do well as a business owner and operator, you have to have the ability to remain level-headed in all situations.
Do you work remotely or onsite?
I have a home office, so I technically work onsite. But many would consider this a remote SLP role!
Does your organization hire PT, OT, or SLP professionals into non-clinical roles? If so, what type of roles?
We are not hiring quite yet. However, in the future, we anticipate there will be opportunities for professionals to be in non-clinical roles in the company.
---
Want to forge your own path to a non-clinical career?
---
Did you read any books, take any courses, or do anything special overall to get you where you are today?
There are no specific books, courses etc. that I can cite to attribute preparing for my role.
It was my experiences and research that led to where I am today. That said, I have read many books about how to be successful, and I have implemented parts of many of them into my business operations.
What is a typical career path for someone in your role?
I would have to say there is no typical path in entrepreneurship. Everyone forges/creates their own path.
What I find typical about people that take a similar path as mine is that they have a long-standing desire and goal to do it.
What is next for you? What are your high-level career aspirations?
I plan to keep building my business.
What would you recommend to someone who is considering going into a role like yours? Do you have any special words of wisdom for the readers?
If your doubts about your idea outweigh your belief that it will succeed, save yourself time and heartache. Instead, find what your true passion is.
Having a passion for what you do is so important to keep you going when things get challenging.
Editor's note: Check out this other spotlight on a physical therapist who followed her passions and joined the recruiting world. Nina Luskin is now VP of Client Services, Nursing and Allied Health at a healthcare staffing company!
What would you like to change most in your profession, and why? How would you propose doing so?
This is easily accomplished by listening to what providers have to say, and then finding a way to implement that works for everyone.
What career advice would you give yourself that you wish you had during school?
I have no regrets or feelings of lack of direction from my educational time, and that holds true for my career.
I do not believe in regrets. They do not serve one in a helpful way. I embrace all my experiences and use them to keep driving forward.
What would you teach to today's graduate students in your profession, if you had the opportunity?
Understand that you do not always know every answer—even when you think you might. I would also recommend students to always ask more questions…it's important to operate from that perspective and continually seek increased learning, growing and understanding.
Lastly, be grateful for all your opportunities, and see them as exactly that: opportunities!
Do you have any special advice for others who want to follow in your footsteps?
Believe, grind, believe, grind, and repeat! Be grateful and kind.
I feel immense gratitude every day that I get to run my own staffing company!