Matthew Holland is a PTA who is now working as an account executive for AccentCare!
---
This post may contain affiliate links or codes. This won't increase your cost, but it helps keep TNCPT alive, and free of annoying ads! Thank you for your support. 🙂
What is your full name and title?
Matthew Holland, PTA – Account Executive for AccentCare, Inc.
Where are you located?
Atlanta, GA.
Where did you go to PTA school, and what year did you graduate?
Daymar College in Clarksville, TN, in 2015.
What did you do when you first finished school, and for how long?
I worked for Benchmark Physical therapy in Pulaski, TN before transitioning to Total Rehabilitation Cherokee in Maryville, TN.
At Total Rehab Cherokee, I focused primarily on rehabilitation of sports injuries in students from local and state championship-caliber high schools. I worked in outpatient for roughly three and a half years prior to joining AccentCare.
Please refrain from contacting our spotlight participants on social media. There are thousands of readers just like you out there. 🙂 Please ask your questions in the comments on this blog post.
If you're a Non-Clinical 101 student, you can network with many of our spotlight participants in the alumni groups!
In what setting(s) did you work, and what types of patients did you treat?
Sports rehab focusing on athletes and geriatric orthopedic rehab. I worked for a non-profit hospital system that really focused on giving back to the community and the high-school sports teams.
I really found my passion in sports therapy, and it was a great few years!
What did you enjoy about your early roles? What didn't you enjoy?
In outpatient physical therapy, I was always challenged with learning new principles and manual techniques for better outcomes. I was surrounded by an intense manual therapy clinic that really pushed me at the start of my career.
I enjoyed the constant challenge and learning that came with the outpatient setting.
However, the high volume of patients—as well as not being able to provide consistent one-on-one care—ultimately led to me switching to a practice where one-on-one care was more feasible.
What else have you done since then, prior to your current role?
Home health PT was where I truly started to shine. I was able to utilize my outpatient experience with a one-on-one patient model to really give patients the care that they needed.
Being outside and driving between patients gave me the time needed to decompress from patient care, and to also have the autonomy that I desired.
When and why did you decide to do something non-clinical?
COVID started affecting business in early 2020, and I saw my numbers drop, along with my take-home pay.
After many colleagues lost pay and were fired, I knew that I needed to focus on something business-oriented.
I decided to go to law school and took the LSAT after five months of study while working a full time job. The day before the LSAT, I was offered a position as an account executive with AccentCare. I knew that I could always decide to apply to law school after accepting the AE role, so I went for it.
I'm two years in now, and I love the growth potential associated with sales. I'm also looking to advance my education to better align with future opportunities.
What are you doing these days as an account executive?
I manage accounts and business referrals for home health. As an account executive, I'm responsible for being the liaison between my company and the referring businesses. (My role is considered "business to business," or B2B, sales).
I wear many hats throughout the day. I focus on building relationships with referral partners, while also making sure that patients are taken care of by our clinicians.
There's no typical day with this job, and that's one component that I truly enjoy.
I utilize sales and marketing to build my referral sources to increase business, and I utilize many platforms to track referrals (CRM). I also focus on setting up meetings to initiate new business, while also maintaining current business.
Are you still treating patients, or are you solely non-clinical?
I am solely non-clinical.
Did you get any special certifications or training along the way to help you become an account executive?
No formal training. Instead, I focused on applying to any job that I could. While interviewing and selling myself, I learned what it took to land a sales role.
I spent two years hustling and grinding to meet and introduce myself to the people who would offer me a job. It's a long game in this industry and not everyone has the grit to see it until the end.
How did you find your job? Did you apply or find it through a connection?
My specific job came about through connections that I made as a PTA.
I showed up and did in-service training to staff for the account executive on the account. Through those in-service trainings, I gained the attention of supervisors, who later spoke on my behalf when I interviewed to become an account executive.
Did you do anything special to your resume and cover letter to land the job?
I highlighted my previous business ownership—as well as my ability to work independently—to show that I would be able to complete the duties of the job. I interviewed extremely well and was able to show confidence in speaking with VP-level managers.
What was the interview like for the role?
It was intense. I interviewed with the regional sales manager and the VP of sales for the region. I highlighted my experience and spoke with confidence during the interview. That's truly what landed me the role.
What are some of the things you did to stand out, take initiative, and advance in your career?
I worked hard and showed that I'm a team player. I went above and beyond to exceed expectations and made it known to supervisors what I was striving for during yearly evaluations. I was extremely direct, and I focused on what I wanted.
---
Want to exceed expectations with YOUR non-clinical career?
How have people reacted to you leaving patient care?
My former colleagues see me as a great fit for the job. The PTs that I once treated patients for are now understanding of my role—and they often help me build business within the accounts.
What's a typical day or week in the life like for you? What types of tasks and responsibilities fill your time?
I focus on contacting accounts weekly, either in person or via phone call. These meetings may consist of dropping off marketing material or providing coffee to the staff in recognition of our partnership.
I also manage the referrals and gather the information needed to have a complete referral per Medicare guidelines.Tasks include using CRM tools (Salesforce) to follow the process, as well as prospect accounts to determine business need for home health.
What are some of the rewards of your role? What are the biggest challenges?
The biggest reward is hitting quota. An account executive is a quota-carrying role. That means that when you hit targets, you get a commission.
The biggest challenge is starting new accounts and having the patience and perseverance during the initial phase.
The insurance that we accept is the main hurdle. In home health, they don't commission you on referrals if they can't accept the insurance.
Many times, I will open a new account and have an MD send referrals, but when we can't accept the insurance, then it definitely tarnishes my brand and my ability to build business.
How did your clinical background prepare you for this role? Which skills transferred?
I know the operations side and what we provide.
I worked in home health physical therapy for almost three years before starting this role, and I know what we sell:
I know why we're better than our competitors and what we offer that's different
I can speak the medical jargon that's required from social workers and case managers to better service the client and their family
It's honestly an easy sale for me, once I meet the decision makers.
Roughly speaking, how are the hours and pay compared to patient care?
As a PTA in home health, I did well. I more than doubled my pay from outpatient therapy and worked 1/4 less. The ceiling was around 100K for a PTA in home health.
That said, with that ceiling, I still knew that my growth was limited.
I took a decent pay cut with my base rate as an account executive, knowing that if I went to law school, I would be earning very little for the duration of three years.
The hours worked are always variable, but I do work more hours as an account executive. Sometimes, that requires late nights or weekends to make sure the referrals and accounts are in order.
What type of person do you think would do well as an account executive?
As an account executive, you need to:
Be a bit of a people pleaser.
Be a relationship-builder. You'll be focusing on building relationships with referral partners
Able to handle being told "no."
Document efficiently. If you have trouble getting your documentation in on time, you may need to look elsewhere. You will be required to have a good understanding of excel and be able to keep records of patients, expenses, mileage and document everything that you do. It's not like patient care, where you have a list of patients and you click and type until the patients disappear after you're done. In this job, if you fail to do something, a patient may not get seen—and that can be a matter of life or death if you have a patient discharging from the hospital and they aren't on the schedule.
Do you work remotely or onsite?
It's hybrid. I can do everything from my home or the field. I rarely need to go to the office.
Does your organization hire PT, OT, or SLP professionals into non-clinical roles? If so, what type of roles?
We mainly hire nurses to fill non-clinical roles.
From what I've seen, therapists typically decide to stay in the clinic. They can grow into other positions, but the flexibility of hours worked and pay seems to keep most therapy clinicians happy…at least from what I've seen.
Did you read any books, take any courses, or do anything special overall to get you where you are today?
I interviewed for jobs and learned what it took to work in sales by asking other professionals in the industry.
I've watched YouTube videos of account executives and learned how to effectively cold call.
Sales can feel intimidating! But confidence comes from talking the talk and knowing you're prepared to walk the walk. It's much easier to sell yourself in interviews when you've gone through formal sales training. We highly recommend upskilling and working with the sales mentors at Evolve Your Success.
Their Medical Sales Career Builder program has a 100% satisfaction rating and 90% placement record! Mention that The Non-Clinical PT sent you to get $800 off!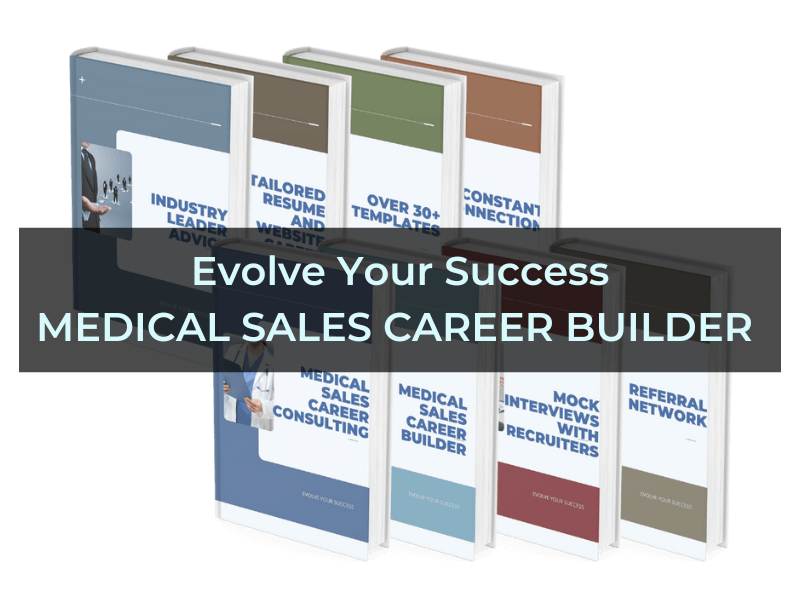 What is a typical career path for someone in your role?
Most will stay working as an account executive, and build up their business to extraordinary levels of business and reputation in the community.
Others will go into management, and then some have effectively worked up to VP and general manager roles within companies.
What is next for you? What are your high-level career aspirations?
I have a lot of different options, but ultimately I want to grow into a management-level position, where I can lead a team to success.
I know that I'm only one step away from achieving this, and with time I'll be able to obtain it. I do believe that obtaining a master's degree would facilitate a better trajectory. This is something I'm considering.
What would you recommend to someone who is considering going into a role like yours?
Take it slowly!
You will fail many times, but that's what will make you great! Don't let the little failures stop you from achieving what you want. Remember, it's the long game to achieve the results that you're looking for.
What would you teach to today's graduate students in your profession, if you had the opportunity?
Learn to understand business. Business is everything and is everywhere in every company. You can be anything and do whatever you want, as long as you understand the business side of things.