Today's non-clinical spotlight focuses on Erika del Pozo, a non-clinical occupational therapist who faced external and internal factors that led to her experience burnout early in her career. Rather than playing the victim, though, Erika decided to create a company designed to overcome burnout in healthcare! And she's a total rockstar and overall fantastic human 🙂 I adore her.
---
This post may contain affiliate links or codes. This won't increase your cost, but it helps keep TNCPT alive, and free of annoying ads! Thank you for your support. 🙂
What is your full name and title?
Erika del Pozo, MOT, OTR/L
Founder of Joy Energy Time, LLC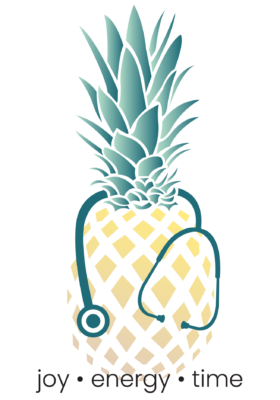 What year did you graduate from OT school, and where did you go?
I graduated from Nova Southeastern University in Fort Lauderdale, FL in 2013.
What did you do when you first got out of school?
I took about three months to study and prepare for the NBCOT!
In what setting did you work, and what types of patients did you treat?
After I passed my boards, I got a job at a privately-owned outpatient pediatric therapy clinic. I primarily worked with kids that carried diagnoses of Autism Spectrum Disorder (ASD), developmental delays, Cerebral Palsy (CP), and some genetic conditions.
How long were you in that role?
I worked in that job for nearly two years.
What did you do next in your career?
I got an opportunity closer to where my husband (then fiancé) lived at the time working in another privately-owned outpatient clinic, but this time with older adults with neurological conditions.
After my short time in that setting, I returned to pediatrics with a very flexible schedule that allowed me to take up an opportunity as an adjunct occupational therapy professor at my alma mater.
At what point did you decide to do something non-clinical, and why?
I burned out in the first two and a half years as an occupational therapist.
When I found that flexible per-diem pediatrics job and the adjunct position open, I applied to both right away. I had one foot in the clinical work working and one foot in the academic world. At the time I was also heavily involved in working as a fitness ambassador for a multi-level marketing company, which actually sparked this idea of working as an entrepreneur.
Did you immediately know you wanted to be an entrepreneur, or did you look into standard non-traditional/non-clinical OT roles?
No! I never in a million years thought I'd do something other than being an employee.
In 2016 and 2017, I juggled three things: per diem work, adjunct teaching, and my fitness side hustle.
In 2017, I realized that I no longer wanted to work for and represent this multi-level marketing company. I had this a-ha moment that I can use my pain and experience with burnout and create a business to help others in healthcare, which led to the birth of Joy Energy Time.
Can you tell us a little about Joy Energy Time?
Joy Energy Time offers wellness resources for healthcare professionals. We focus on providing content and resources around holistic wellness, burnout, stress management, and personal growth through various platforms:
Our newsletter (Editor's Note: This thing rocks. So funny and uplifting!)
Our podcast: The Burnt Out to Lit Up Podcast (Editor's Note: I was on it twice! Erika is a phenomenal host and conversationalist!)
Our club: The Joy Energy Time Club (Editor's Note: I'm in it, and it also rocks! I'm not an affiliate and make zero dollars promoting it. It's just a great club.)
I love everything you put out! Did you have a vision from the get-go?
I look back and I'm a bit embarrassed of how I started it—I've done everything so backwards!
I started with an Instagram page and filed for an LLC right away, without having a business plan or knowing who exactly I'm serving and how.
Although I cringe looking back, I'm grateful for this journey because I have learned so much. I'm a perfectionist, so I've had to let go of a lot of those thoughts and I went for starting out super messy.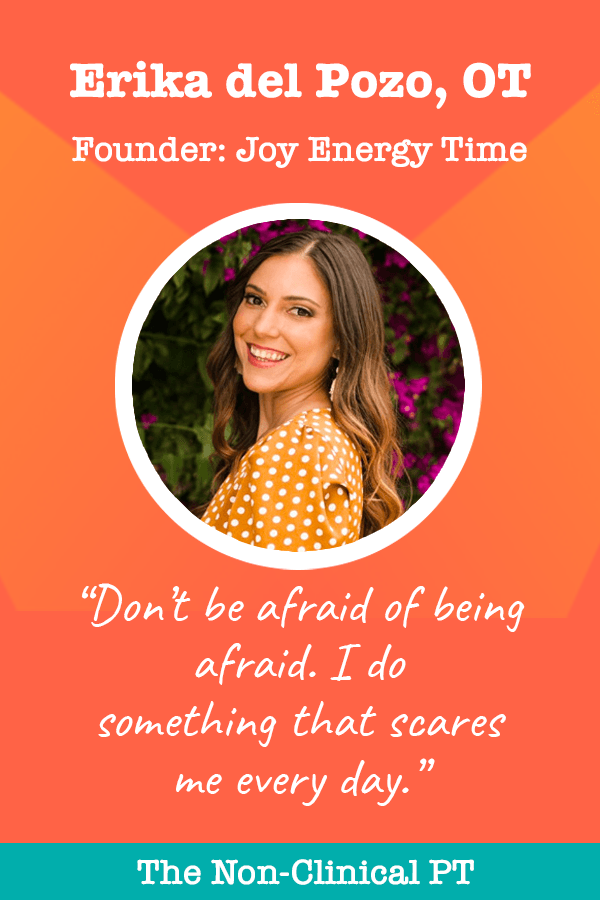 Why did you start Joy Energy Time, and what is your mission?
I experienced the lowest of lows in my first few years in the "real world."
In my experience, several different factors contributed to this very real phenomenon that is burnout, including:
Extreme depletion
Increased cynicism
Decreased self-efficacy
I started my business because I figured I wasn't the only one feeling this way. Burnout affects so many of us working in healthcare, and I felt compelled and inspired to use my story combined with research to create a brand.
Our mission is to be the ultimate hub for wellness resources, where healthcare professionals can flourish in and out of work, and they can be part of a movement to elevate the standards in the industry.
What services or products do you provide?
We recently launched our wellness club for healthcare professionals, which I'm really jazzed about! This is a subscription-based club where members can support and connect with one another, gain access to exclusive content and resources around dealing with stress and enhancing wellness practices to improve their lives in and out of work, and be a part of the movement we're creating to rebuild culture in healthcare.
We also have the Burnt Out to Lit Up Podcast that I co-host with my husband (he's a physical therapist), and we release an episode every Friday.
Our curated newsletter for healthcare professionals comes out every other Monday and includes our best stories, recommendations, products, interviews, evidence-based wellness cheat sheet, and of course, funny GIFs.
Why should someone join your club? Who is it designed for? Who will benefit most from it?
Healthcare professionals should join the club if they're interested in NOT settling for a mediocre career and existence. I created this club with my former self in mind. I was very determined to succeed at work—yet was totally lost. I truly didn't know how to practice self-care or know what personal development was.
Even though I exercised and ate healthy, I operated from a state of constant dread and fear. I let people walk all over me and did not see the signs of injustice occurring at work. During my experience with burnout, I had zero self-awareness that something was wrong with my life and the dysfunctional environments I worked in until it hit me months after I was already waist-deep.
This club is perfect for people experiencing work stressors and challenges at work that lead them to feel overwhelmed and possibly burned out. It's also perfect for people that are interested in gaining more confidence and enhancing their wellness practices for a more joyful and energized life.
Lastly, this club is perfect for people want to feel seen and heard in their journey and have a supportive community right there for them. The people that want to truly thrive in their lives and are invested in growing themselves are the ones that will benefit the most and make the most out of the club.
Do you work with anyone else at Joy Energy Time?
As of now, my husband! I definitely can't wait to expand to have a team so I can scale my business the way that I envision it to be.
My husband helps with all the tech stuff: uploading podcast episodes and blog posts, managing our finances, etc. He also has some good ideas but he does a great job at keeping me grounded with his practicality.
What is a day or week in the life like for you?
I begin every weekday with a meditation using the Headspace app, then I pull cards from Gabby Bernstein's deck, and then I do 10 minutes of future journaling.
After my morning ritual, I make breakfast and listen to a podcast while I eat. If I didn't do it the night before, I will plan the four things I must get done that day.
Four is the magic number: it just works for me!
My biggest areas of focus now are:
Working on my continuing education courses I'm creating for MedBridge
Creating content for the club, podcast, and newsletter
Working on strategic partnerships with companies that align with our brand
Editor's Note: Yes, you read that right: Erika is creating evidence-based courses on burnout prevention and management on MedBridge! If you haven't signed up, it's got the highest volume of non-clinical CEU courses around! If you use my discount code: nonclinicalPT, you can save 40% on unlimited CEUs and help support TNCPT's operating costs!
What have been the challenges and rewards of entrepreneurship?
The biggest challenge has been growth. I don't have a marketer on my team. I do any "marketing" on my own. I don't have any background in marketing—I do what I've learned from books, podcasts, and programs I've invested in.
I feel like I am going at a snail's pace compared to "real" companies. I know I'm a real company, but many times it doesn't feel like it! I know wearing all the hats won't last forever, because I will never be able to grow and scale unless I hire out my weaknesses—aka, marketing and sales!
The biggest reward has been that I have gained so much confidence in trusting my creativity to lead me to create a business that I'm proud of and that resonates with people.
I've been a go-big-or-go-home type of person since I was young. This is probably the 'go big' biggest leap I've ever made, but it just feels so right in my heart even though all the pieces aren't here yet. I know I am working towards a vision that excites me so much and makes all this worth it.
Do you still treat patients, or are you fully immersed in the entrepreneur world?
At the moment, I'm working on picking up some part-time hours to treat patients via telehealth services. This will be beneficial to me to keep up my clinical skills as well as have a consistent job while I grow my business.
Without giving exact numbers, how are the hours and pay compared to patient care?
At this moment, I can tell you that I am fortunate enough that my husband has been extremely supportive as I've been focusing on growing my business. Anything the business makes stays in the business. I haven't paid myself yet, and I predict that will remain that way for a long time.
I am looking to hire someone to help with marketing and sales so that we can experience the type of growth I know is needed for my business to make a bigger impact.
My business this year has generated enough to cover our hefty business expenses (a big leap from last year!), but I definitely had a nice income in patient care compared to now. I know this phase will not last forever. I'm totally in the sticky, unsexy point that isn't glamorized in entrepreneurship, but I know it will be worth it.
What is next for you? How do you plan to fight burnout in healthcare?
Since the club is brand new, our focus is building our club and making as big of an impact as possible! We are planning a secret campaign for early next year, as well as planning some other secret projects (fingers crossed!). Other than that, we will continue to produce quality content for the podcast and newsletter.
Do you have any special words of wisdom for folks who are struggling with burnout in the current 9-5? OK, let's be real, the 7:30-6:30 for most of them!
Yeah, right? I worked from 9:30am-7:30pm in one job and 7:30-5pm in another.
Burnout is not your fault. Take a look at the system that creating the conditions for you to experience what you are feeling in the first place.
Do you have little to no autonomy?
Is your workload and productivity unrealistic to the point where you don't have a moment to even use the bathroom?
Are you experiencing unfairness or even bullying at work?
Although we can and should take some responsibility for our well-being by enhancing our coping skills, routines to increase sleep quality and energy throughout the day, stress management and so on, you must address the root cause of why burnout is happening.
Have a talk with your coworkers (if you're feeling it, they will most likely be feeling it too) and do some problem-solving around what work factors are supporting you (or probably not supporting you). You can then bring that up to your superiors.
Easier said than done, but if you can tie those factors into how it's affecting your performance or patient satisfaction, it takes some pressure off of you and it will help them to understand how this issue is impacting the "bottom line," so to speak.
I know we've both been through the ups and downs with online courses. What would you recommend to someone who is considering creating a course?
Identify your goals with creating a course.
Ask yourself: what problem are you solving for people?
Do you want to make it a continuing education course? If you want to make it into one, I would suggest that you don't create a course first. Reach out to different agencies and pitch to them about creating a course.
I learned from my mistakes when I created my own seven-hour course by myself, only to be faced with messages from companies that they need their own course with their own requirements.
I can look at that as wasted time, but I actually learned a lot about my topic through this "mistake." The other reality I learned about continuing education courses is that the market is extremely competitive. People aren't paying hundreds of dollars for a single course anymore—they're expecting courses to be cheap and easy for the most part, unless it's a specific method or certification.
If you don't want to make a continuing education course, what type of course are you making?
Is this something clinical or completely non-clinical related? If it's non-clinical related, I would recommend checking out Amy Porterfield's course on how to make courses. (Editor's Note: I LOVE Amy Porterfield and listen to her podcast religiously!)
I have learned that people primarily invest in courses if:
It's going to help them make money or
It's going get them from island A to island B (whatever that is)
My course just wasn't that at all. It was an educational course on burnout, which didn't convert well on its own.
I've decided not to go in the course route anymore and over the past few months I have honed in on the direction of my business. But don't get discouraged; there are many ways to go about creating courses if that's something you are passionate about!
Do you have any special words of wisdom for the readers?
Don't be afraid of being afraid. I do something that scares me every day.
If it scares you, that's a good sign.
How have people handled you leaving patient care so early in your career?
Honestly, some of my friends were not encouraging of me when I told them my ideas for my business—and it really hurt me.
Always know that when someone says something discouraging about your dream, that it's a reflection of their own self-imposed limitations—and it has nothing to do with you.
You also don't have to become a full-time entrepreneur right away. I have left a ton of "security," but thankfully have a support system and I am able to take this risk in my life right now.
Anything else you'd like to share?
I wrote a piece with some of my favorite book and podcast recommendations:
https://www.joyenergytime.com/the-beginners-guide-to-personal-development-for-healthcare-professionals/
If you want to learn more about and join our wellness club, you can go here: https://www.joyenergytime.com/club/
If you want nacho-average newsletter that supports your personal growth and work well-being, check out our newsletter: https://www.joyenergytime.com/the-thriving-collective/
Lastly, you can find our podcast on iTunes or wherever else you listen to podcasts: https://podcasts.apple.com/us/podcast/burnt-out-to-lit-up-healthcare-stress-burnout-wellness/id1332553896
---
---
Thanks for your insight, Erika!