This week's non-clinical spotlight features yet another Non-Clinical 101 success story. June Srisethnil is a PT who now works as a Clinical Product Manager for CityPT Inc!
---
This post may contain affiliate links or codes. This won't increase your cost, but it helps keep TNCPT alive, and free of annoying ads! Thank you for your support. 🙂
What is your full name, title, and company name for your current, primary role?
June Srisethnil, PT, DPT
Clinical Product Manager for CityPT Inc.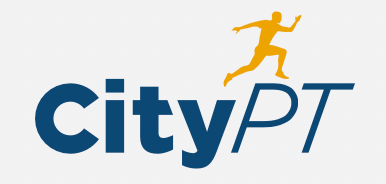 What additional roles do you currently have?
Busy mom of a six year old, and an ultimate frisbee player who can't seem to retire from the sport!
Where are you located?
I live on the west side of Portland, Oregon, near Beaverton.
Where did you go to PT school, and what year did you graduate?
I earned my DPT from Boston University, Sargent College of Health and Rehabilitation in 2005.
Prior to that, I got a BS in Civil Engineering from Duke University.
What did you do when you first finished school, and for how long?
My last student clinical rotation was in Sydney, Australia (I miss the Aussie accents and amazing beaches!).
After I came back to the states, I got licensed in California, and worked at a small private practice outpatient clinic in San Francisco for exactly one year.
In what setting(s) did you work, and what types of patients did you treat?
After my first year at the small outpatient clinic, I worked for 14 years for Kaiser Permanente at three different facilities around the SF Bay Area. I spent 12 years at KP San Francisco, one of the largest rehab departments with over 30 full time therapists.
I was primarily an outpatient orthopedic and sports-oriented physical therapist. I also got my OCS and took year-long manual therapy courses.
Finally, I worked briefly in acute care, skilled nursing, and occupational medicine (workers' comp).
What did you enjoy about your early roles? What didn't you enjoy?
Working at Kaiser in a large department, I enjoyed the informal and formal mentorship and learning from senior therapists and clinical specialists. Kaiser switched from paper to electronic documentation the second month I was there, so I also focused a lot on being efficient with the then brand new electronic medical records.
With my engineering background, I was literally a "superuser" from day one and I enjoyed helping my colleagues with the EMR and technical support.
What I didn't enjoy was, of course, the volume of endless documentation and requirements that kept me stressed out and working through lunch and after hours. I also did not like feeling that I could not change anything in truly meaningful ways.
I shared knowledge as much as I could in terms of workflow, tips and tricks, computer shortcuts, etc, but I could tell we were all feeling burdened by administrative tasks and inefficient data entry. I did not feel valued for my non-clinical skillset and contributions.
What else have you done since then, prior to becoming a clinical product manager?
As of September 2020, I was able to move on from Kaiser. I landed a clinical sales job as a transition out of direct patient care but decided it wasn't for me–especially during the pandemic with a young child at home. I wasn't comfortable with in-person cold calling and probably should have applied to be a clinical specialist or patient trainer in hindsight.
I took a thoughtful pause and considered myself a freelance consultant as we decided to move out of the SF area to Portland, Oregon. Once we settled in, I felt more comfortable with the idea of a full career change and the possibility of working at a startup.
When and why did you decide to do something non-clinical?
Oh boy, where to start! Honestly, I had thought during my early years that a hybrid role, with 50% direct patient care and 50% other stuff, would have been the right mix for me. I always felt my engineering skills were not being utilized as a full-time clinician and that I had a different kind of "specialty" in the clinic that was not recognized.
I felt and witnessed unhealthy levels of stress and anxiety due to productivity and documentation requirements. I knew I wanted to work on projects to help improve patient care quality by helping clinician's work easier and better. It is hard to see my fellow clinicians suffering and the profession to be undervalued!
What are you doing these days?
I'm a full time Clinical Product Manager for CityPT Inc.
Are you still treating patients, or are you solely non-clinical?
I'm 100% non-clinical for now.
How long have you been in your current role as a clinical product manager?
I started at CityPT with a couple of pilot projects as a freelance consultant, but technically I've been in my current role since mid-October of 2021.
Did you get any special certifications or training along the way to help you get into your current role?
I took Non-Clinical 101 in 2019, participated actively in non-clinical meet ups in the SF Bay area, and took part in the Rehab Tech Summit in 2020.
I also took a Udemy course on product management, and a few LinkedIn Learning courses about sales, business development, and partnerships. I also did a lot of researching and self-learning by watching YouTube videos on UX design (I thought I wanted to be a UX designer for a time and almost did a UX boot camp), and scouring LinkedIn and Indeed for job descriptions of non-clinical roles, to figure out what role I was looking for.
How did you find your job? Did you apply or find it through a connection?
I met Andrew Shirk, CityPT's CEO and Founder, at a meeting where he was a guest speaker, and we were grouped together in a breakout session after he spoke.
He had mentioned what he looks for when he hires someone, and it sounded like he was looking for someone like me! I took it upon myself to follow up, and we agreed that I should work on a small project or two to see how we jived.
The first project involved clinical writing. Then, I helped with a recruiting project to find a clinical director for CityPT, which I did.
After that, Andrew wanted to keep me on board, so we worked together on a job description and title for me.
How have people reacted to you leaving patient care?
What's a typical day or week in the life like for you as a clinical product manager?
It's so cliché, but there is no typical week or day for me at CityPT. I virtually meet with the CEO almost daily, and we work together on our priority lists. Being part of a new tech company that is just getting off the ground, I spend a lot of time "thinking things through" and trying to make sure we are setting up our clinicians for success. I also help set up and participate in meetings with internal teams, potential partners, clinicians, and consultants.
A big part of my job is being a liaison between the tech side and the clinical side of the company. As a clinician, I offer clinical user feedback and design ideas to the software engineering team. With the clinical team, I am able to show and explain how to use our software, workflows and systems.
Turns out I also do a fair amount of writing–anything from clinical documentation and training materials, to website content and emails.
I'm still on a steep learning curve but I'm enjoying the process and feel valued for my ideas and contributions every day.
What are some of the rewards of your role? What are the biggest challenges?
I think the recognition of the value I bring to the company as a person, clinician and creative problem solver is the biggest reward. It's also very rewarding and refreshing to have a real outlet for my creative side that was lacking in patient care and to work for a company trying to build "technology for good" from the ground up.
It's a great feeling to work toward leveraging technology to provide the best patient AND clinician experience we can.

The biggest challenges for me in this role at a startup include dealing with ambiguity and staying focused. Every day there are lots of decisions to make and work to get done all while priorities change week to week or even hour to hour!
I love learning and new ideas, so I tend to go down "rabbit holes" easily, and it can be hard for me to stay on track. I'm also challenged to remember to take care of myself, because I find I get so immersed in my projects, I forget to eat, exercise and sleep!
How did your clinical background prepare you for being a clinical product manager? Which skills transferred?
I think the question should be, which skills didn't transfer?
Short of hands-on manual therapy, I think all my skills and experience from clinical work life transferred to this role. I also have skills and thought processes from my engineering background that made me a particularly good fit.
In terms of clinical skills, this role requires me to be a subject matter expert. This means that I apply in-depth knowledge of the clinician experience, both in traditional and telehealth settings, to almost every project or task I work on.
For example, one of my primary responsibilities is to serve as the "voice of the clinician" so I help test our clinical product features and workflows.
Non-clinical skills that are key to this role are communication (written, verbal, and even non-verbal) and presentation. I think my experience as a department tech lead "superuser" gave me a high comfort level with problem solving technical issues, presenting documentation workflows and software features to clinicians and managers.
In addition, being detail-oriented, highly adaptable to change, and reliable are all skills transferred easily from clinical practice to this role.
Roughly speaking, how are the hours and pay compared to patient care?
It's hard to compare apples to oranges, but I'd say the opportunities to learn and grow, have schedule flexibility (I choose my hours), work from home, and work with a leader that truly values my creativity, contributions and feedback more than makes up for the difference in pay.
Also, working at a small startup, I do have significant equity as part of my compensation.
What type of person do you think would do well as a clinical product manager?
I think someone that is highly adaptable to change, a creative problem solver, and can communicate effectively and efficiently with a wide range of people would do well in this role.
Being detail oriented, proactive, and not shy to accept and offer feedback, are also helpful attributes.
I think it is also very important to complement the leadership and work style of the hiring manager. In this case, my manager is the CEO/Founder, so it was important that we "clicked" and now enjoy working closely. Our strengths complement each other well. For example, he's an introvert and I'm an extrovert!
Do you work remotely or onsite?
100% remotely, though in a perfect world, I'd love to see my co-workers in-person at least once a month for work and happy hour.
Does your organization hire PT, OT, or SLP professionals into non-clinical roles? If so, what type of roles?
Yes, we offer non-clinical work on a case-by-case and project-to-project basis, often involving great writing skills.
Typically, CityPT hires clinicians to do clinical work, but we love to hear what non-clinical skills and passions people have and want to develop. We are committed to creating non-clinical opportunities for our clinicians to shine and add value to our company.
Did you read any books, take any courses, or do anything special overall to get you where you are today?
I think taking the initiative to reach out to like-minded clinicians and getting involved with non-clinical meetings and networking set me up for success. I took the Non-Clinical 101 course and learned more about fitting my personality and goals to non-clinical roles and opportunities.
I attended non-clinical meet-ups in person before the pandemic and then online since then. I also did a lot of research on my own regarding topics and companies I was interested in. I got familiar with LinkedIn and updated my profile and resume.
Ultimately, I learned a lot over time, sought out people who I thought could help me find my way, and took their advice. Now, I hope to be one of those people!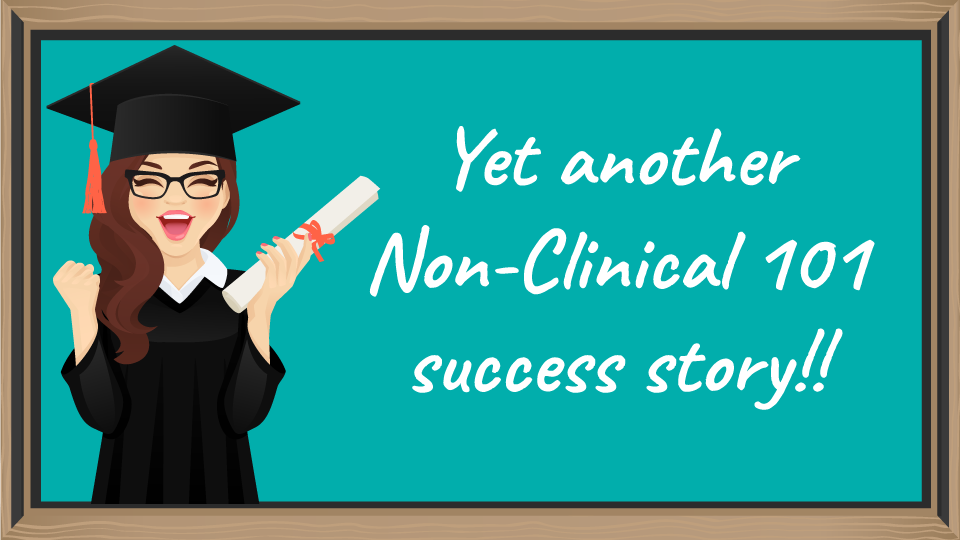 What is a typical career path for a clinical product manager?
I'm not sure if there's a typical career path yet for a Clinical Product Manager, as it is quite a new role in the industry. I think it differs enough from a traditional PM at a software company to warrant several different career paths.
By title, I think one career path would be Clinical PM, to Senior Clinical PM, to Head/Director/VP of Clinical Product.
Less obvious tracks might be leadership roles in clinical strategy or partnerships. A career path to being a Founder or Co-Founder would also make sense for someone in this role with an entrepreneurial spirit and strong stomach for risk.
What is next for you? What are your high-level career aspirations?
Honestly, I'm not sure yet. Working at a small startup gives me opportunities to wear lots of hats and contribute to a wide range of projects to help me figure out what's next.
I have so many interests to explore. I enjoy working on product features, problem solving, streamlining workflows, and improving processes.
I'm also a big time "people" person and I love the idea of networking, recruiting, and building a team and community. So, I think having a role in creating teams and partnerships, while helping develop products that allow clinicians to be at their best, both clinically and non-clinically, would be a great fit for me.
Do you have any special advice for others who want to follow in your footsteps?
Learn about the details of the jobs and companies you're most interested in. Then, connect with folks in the roles you're interested in and see if they will chat with you in an informational interview. Learn from every interview and application by asking specific questions that show you've done your homework.
Know that you are awesome! Your experience as a clinician is highly valuable in many types of non-clinical roles, including Clinical Product Manager, and good companies know it too. In fact, I think smart companies are catching on, especially in the healthcare technology space.
There is also high value in a growth mindset, enthusiasm, and having a good attitude. Eye contact and smiles still go a long way in person and virtually!