If you've been exploring the non-clinical space recently, you've probably noticed lots of clinicians going for customer success (or client success) careers.
There's a reason why client/customer success is so popular these days. Not only is it fairly easy to move into this type of career, there's tons of growth and upward mobility once you get there.
Client success is also a type of helping profession, so our skills naturally fit into the work. Let's dive in so you can learn more!
This post may contain affiliate links or codes. This won't increase your cost, but it helps keep TNCPT alive, and free of annoying ads! Thank you for your support. 🙂
What is client/customer success?
From tech firms to digital health startups, companies are recognizing the importance of partnering with clients and customers. By providing a partner to ensure a client has a good experience using a product, software, or service, there's less chance that the customer will leave and go to a competitor in the future..
An entire industry has emerged based on this need to deliver a great experience to customers. The industry is called "client success" or "customer success" or sometimes even "account management"—though account management (AM) is sometimes much more of a sales-focused role.
Client success specialists, customer success managers, implementation specialists, onboarding partners, and pretty much every related job title out there is founded on the idea of providing an exceptional experience to new and existing clients….starting on day one.
A client success (CS) specialist is tasked with working with a client after they've signed a contract. The CS specialist will have a kick-off call, and serves as the main point of contact for a client as they get started with a product, type of software, service etc.
What is the difference between client success and customer success?
Client success and customer success are often used interchangeably. The roles and responsibilities are quite similar. There are some very subtle differences, which this article mentions.
Why do clinicians love client and customer success careers?
Clinicians (e.g. PT/As, OT/As, SLP/As, nurses) are flocking to client success. We are tailor-made for these roles! All of the key responsibilities of a customer/client success specialist align perfectly with what we've been doing for years as therapy professionals!
---
In this article, I'm going to share some reasons why client success is such a good pick. Then, we'll share some resources to help you make the leap!
---
1) We understand the work—and the clients
The main responsibility of a client success specialist is to listen to a client and provide a seamless and supportive experience as they work with a given company.
CS professionals are responsible for walking alongside clients, ensuring their needs are met—and continue to be met—as they grow and remain customers of the company.
Sound familiar? Yep, we've been doing intake for years. We screen clients, identify goals, communicate about action plans, and generally guide them to achieve the success they want.
See, we are built for this type of work!
2) Our skills easily translate
It's easy to make this leap because we already legitimately possess the soft skills needed. Recognize any of these core competencies from your time in healthcare?
Partnership
Active listening
Customer service
Education
Guidance
Time and resource management
The fact is that any patient-facing professional has had no choice but to develop these soft skills. Client success is built into us from our days in the clinic!
3) There is so much growth opportunity
Look at customer success manager roles as launching pads. You're basically running to the vault, hitting the springboard, and then going in pretty much any direction you want. And you'll stick the landing every time 🙂 (Pardon the gymnastics reference!)
Client success managers are all about communication, partnership, forming relationships, and providing guidance, so you're set up well to move into:
Product management
Project management
Sales
User experience
Plenty of other roles, including within the client/customer success realm
More and more, customer/client success is becoming a robust, diverse profession, with its own areas of sub-focus and growth.
What's the difference between customer service and customer/client success?
People often confuse client/customer success with customer service. But they're very different roles. You can see the difference in the names. Service vs. success.
Customer service
If your job is to provide service, you're working in the moment. You take a "customer is always right" mindset and fix things on the fly. You work with anyone who reaches out to fix an issue or answer a question. You're like a mechanic hired to fix a problem and send the client on their merry way.
Customer success/Client success
On the other hand, success is more about the big picture. You're a partner from day one. After a sale is made, a sales development professional (sometimes called an account manager) will hand off a client to a customer success specialist.
The role of the CS specialist is to partner with the client, onboard them successfully, and ensure they establish a solid relationship. In effect, the client isn't just a client. It's an account to be managed and groomed and truly grow into a long-term partnership.
This means knowing the client's unique needs, and anticipating when their needs might change. A customer success specialist will be able to identify new products, service upgrades, or other offerings that a client might need to ensure their needs are still met by the company.
What is a typical client success or customer success salary?
There's a lot of variation in what you earn in the CS space.
Client success roles can pay as little as $45,000/year—and they can pay far upwards of $150,000/year. A customer success salary depends on your responsibilities and experience level.
In fact, one of the most successful and highly paid non-clinical PTs I've met works as director of client success at a health tech company.
The main difference between CS and patient care is that you will typically get regular performance reviews and opportunities to move up, make lateral moves, and otherwise grow your career vs. feeling stagnant and unappreciated.
Salary ranges for client/customer success roles
Here are some average salaries as pulled in from popular career sites. Keep in mind that these salaries typically don't reflect the value you'd bring as a clinician, so you're likely to earn on the higher side if you join companies that want your experience.
Anecdotally, we've heard many clinicians take roughly what they were earning in the clinic when they enter the CS space. Some will take slight pay cuts in the short term, but will quickly outpace their old salaries within a few years.
Builtin.com: ~ $83k for CS specialist, $83k for CS manager
Salary.com: ~$50k for CS specialist, ~$113k for CS manager
Payscale.com: ~$50k for CS specialist, ~$71k for CS manager
Glassdoor.com: ~$80k for CS specialist, ~$89k for CS manager
What does a typical day in client/customer success look like?
The morning
You'll likely check emails, checking for high-priority issues. You'll reach out to any team members who might need to get involved to resolve said issues. Being timely is a big part of a client success role, so you'll respond to time-sensitive customer emails quickly, setting up calls and software/product demos if needed.
As the morning moves on, you'll likely follow up on existing/ongoing tasks. If you're responsible for onboarding, or perhaps you hold a title like "implementation specialist" or "onboarding manager," you'll check up with clients to make sure everything is going smoothly. You might wind up on some calls to kick off the onboarding process.
The afternoon
Afternoons might involve more emails or process improvements. You may train new people who join the team. Maybe you'll review some client accounts to ensure things are going well. You'll likely have some meetings during the day. Maybe with new clients, or perhaps with your own manager, having a 1-1 check-in.
You'll also need to continually check up on those time-sensitive issues that might come in. Time management is a huge part of being good at client success. As is communication!
The end of day
As you round out the day, you'll set things up for the next day, ensuring time-sensitive issues have been resolved and other departments are notified of any help you'll need from them.
It's a fun job, and it really plays well upon the natural people-friendly nature of clinicians like occupational therapists, speech-language pathologists, physical therapists, nurses, and the like.
Is client/customer success a good career for assistants? (PTAs, OTAs, SLPAs, CNAs, etc.)
Assistants (PTAs, OTAs, SLPAs, CNAs, etc.) tend to do especially well in this work, as they're used to receiving "handed off clients" (patients), and guiding them through set plans to ensure they reach their goals.
Check out this spotlight on Jessica Manson, PTA, who now works as Customer Success Representative at BrainCheck!
You can also learn more in these spotlights:
So, how do you get started in client success?
This is a great question. If you want to start in client success, you can apply for a job. Right now.
But you probably won't get far. You probably won't even land an interview.
That's because clinical resumes and client success resumes are very different! You have all the skills you need in terms of partnership, account management, education, problem solving, time management, …..
Yet it's really hard to figure out how to put that information into a resume that says "customer success."
We recommend the following actions to set yourself up for success when you pursue these careers 🙂
1. Get your ducks in a row with the Client/Customer Success Crash Course
First of all, start getting your resume up to date using a client success resume template that shows how to reword clinical experience in a way that highlights CS responsibilities. We provide this and more in our Client/Customer Success Crash Course, which we created to help rehab professionals get a big-picture idea of the wonderful world of client success.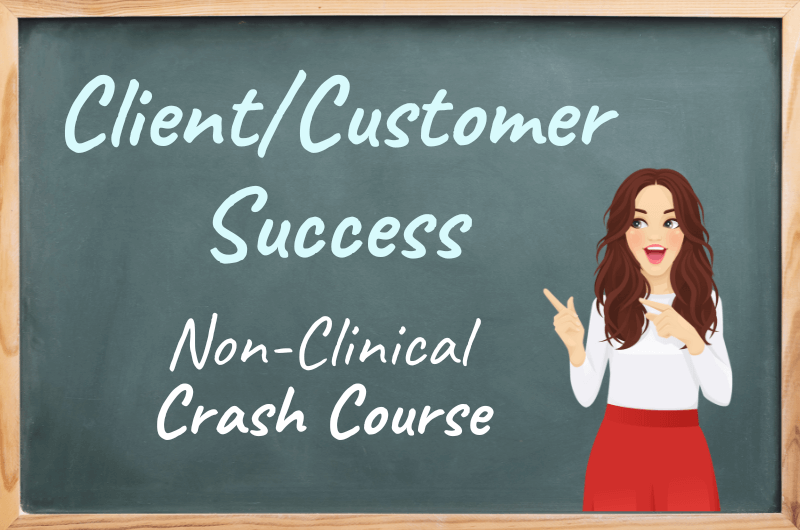 Some people can make the switch doing this alone!
However, as more and more clinicians enter the CS space, it's getting more competitive. So, if you are still struggling to get traction and land interviews, you can enroll in a fantastic program we'll discuss below.
2. "Upskill" and learn hard skills
Some customer success roles expect you to be a whiz at Excel. Other roles want you to know Salesforce or Hubspot or another type of CRM (customer relationship management) software. In some positions, you'll be doing a lot of presenting, so being familiar with PowerPoint or a similar program is essential.
Most positions will expect you to use a communication tool like Slack, and you'll likely use project management programs like Asana or Trello or Monday to collaborate with other departments.
You can explore sites like Udemy or Coursera to learn specific hard skills. You can also find low-cost courses that tell you more about CS, such as the ones listed below. These are great to help you learn more terminology and discover if this career path is right for you.
Is your head spinning? It's OK! The customer success industry is growing quickly, and different niches and companies want you to know different platforms. Trying to piecemeal everything together can feel totally overwhelming, especially after long, draining days filled with being "on" in the clinic.
That's why we think it's really, really smart to learn from a program that is focused entirely on teaching people how to enter the customer success field.
The Aspireship Customer Success Career Transition Program
We LOVE Aspireship. It's a great platform that specifically targets career changers and teaches them the skills to be successful in the client success space. Because this is all they do—meaning upskill and teach career changers how to enter client success careers (or sales, if you prefer)—they really, really know their stuff.

Taking an Aspireship course means you're fast-tracking yourself to a CS career, without all the confusion about where to spend your time and energy trying to know what companies want. Aspireship has a finger on the pulse, and they update their programs to reflect the latest industry trends. It's a HUGE time-saver and money-saver.
Here's what comes with the Aspireship Customer Success Platform:
In-depth career training. This is…well…what you need. Someone to walk you through the systems and processes and granular details of what is involved in client success. You will come out of this program prepared to work in CS.
Self paced and learn from home. This is also key. Healthcare professionals have crazy schedules and hours, and sometimes the work is EXHAUSTING. Aspireship's platform lets you learn from wherever.
Unlimited (LIFETIME) access. One of the best things we offer students of our own flagship Non-Clinical 101 course is unlimited/lifetime access. It's so nice to be able to revisit core principles of a program over and over, and Aspireship's Unlimited option is perfect for doing exactly that.
Interview preparation. This is GOLD. There's nothing quite like being actually prepared to answer the tough questions like the ones covered in our crash course. With Aspireship Unlimited, you'll be able to speak with the Aspireship team regarding roles with their hiring partners—and, once per month, attending a 60-minute interview prep Q+A session. This is an open forum where multiple people join and get to ask questions. One Non-Clinical 101 grad recently reported this session played a huge role in securing employment with an EMR company!
Assistance with job placement. Working with a company that has established contracts with solid companies is key. Aspireship has lots of contracts, with more coming all the time.
Affordable. Part of Aspireship's mission is to democratize access to career upskilling, so they don't charge an arm and a leg for what they do. I love this philosophy so much!
Certification. Upon graduating, you're issued a verified certificate to show you've been upskilled 🙂
Community. Aspireship offers its own Slack community for networking and support.
Monthly events: As mentioned above, Aspireship provides live interview preparation and office hours so you can get your questions answered in real time.
---
---
SO, there you have it! It's really not hard to go from clinician to client success. But you do have to make sure that you get a solid resume in place, understand how to find jobs, and really have a good grasp on the actual skills and daily responsibilities so you can nail your interviews AND succeed in your CS job.
Whether you start with our Client Success Crash Course, combine it with Aspireship's CS Unlimited Training Program (HIGHLY RECOMMEND), or piecemeal things together DIY fashion, you can do this!
---
Have you pursued a client success career?
We'd love to hear how you went from healthcare to client/customer success! Please comment below 🙂