This week's non-clinical spotlight features an old friend and former colleague, whom you might remember from an early spotlight, which I'll link below. As you can see, she's come a long way in her career—she's now director of enterprise client success at Doctor.com—and I'm so thrilled to share her story with you!
---
This post may contain affiliate links or codes. This won't increase your cost, but it helps keep TNCPT alive, and free of annoying ads! Thank you for your support. 🙂
What is your full name and title at your current job?
My name is Lily Belcak, PT, DPT.
I am the Director of Enterprise Client Success at Doctor.com, a healthcare technology company.
Where are you located?
New York City
Where did you go to PT school, and what year did you graduate?
I graduated from Columbia University's Program in physical therapy in 2016.
What did you do when you first finished school, and for how long?
Immediately after graduation, I started working at an outpatient physical therapy practice in New York City that focused on treating runners and long-distance athletes.
As a runner myself, I was really excited about working with this population. I ended up leaving this job after about 1.5 years to pursue a career in healthcare technology.
What did you enjoy about your first clinical role? What didn't you enjoy?
In my first role as a clinician, I loved educating patients and helping them achieve their goals. I found it extremely gratifying to see a patient evolve and be able to return to doing what they loved.
I received nearly all of my job satisfaction from building relationships with my patients—in fact, I am still in touch with several of my patients from that first clinical job today!
There were also parts of being a clinician that I really didn't enjoy.
I found the healthcare system to be a barrier to optimal care delivery. I was constantly frustrated by insurance companies and by the fee-for-service model in outpatient orthopedics.
The staggered schedule of outpatient orthopedics was also tough for me. I am a creature of habit, so working early some days and late other days was nearly impossible for me to get used to. I never felt truly rested or healthy.
When these negative aspects of patient care started to outweigh the positives for me, I decided to look into other career options.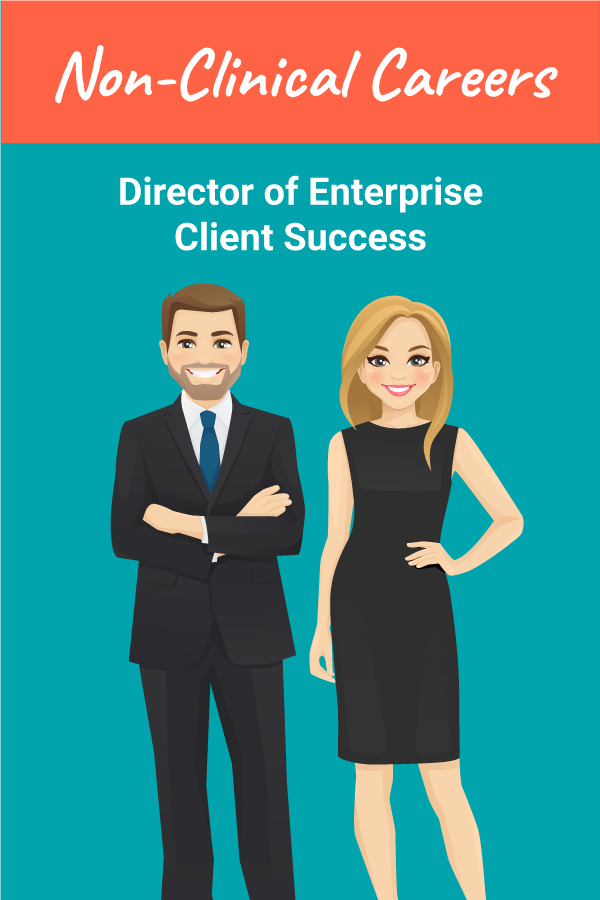 What did you pursue when you left clinical care?
After I left my job in outpatient orthopedics, I joined a telemedicine startup as an account executive, as you can see in this old spotlight of mine from 2017.
At the time, the startup was very small, so I worked on a ton of different projects that were technically outside my job description.
My days consisted of helping the business development team find new leads, setting up email campaigns, organizing educational webinars, and working with the client success team to develop client engagement strategies.
Did you stay in that role for awhile?
After only a few months into this role, I was able to switch to the marketing team and take on a position as a marketing manager. This was a natural transition because the work I was doing mostly fell into the realm of marketing and I was interested in helping this department grow.
When I made this switch, I started a blog for our company, I began running ads for our services, and I worked on marketing for new product launches. I also took on client facing work at this time—part of my job as a marketing manager was to work with clients directly to help them market their telemedicine services.
For example, I helped clients with social media strategy, I wrote press releases on their behalf, and I worked with them to publish white papers and case studies.
After one year into this role, I was promoted to the director of marketing. When I became director, I retained many of my responsibilities, but I also started working with a larger team to help me scale my efforts.
How long did you stay in that role, and what came next?
I spent almost two years at this telemedicine company before leaving to become a client success manager at another health tech company in NYC.
I found that I really enjoyed the client-facing aspects of my job and I felt that working with clients played into my strengths as a PT (building relationships with people, educating them, and earning their trust).
In my role as a client success manager (sometimes called a client success associate, customer success manager, or success manager), I worked directly with clients to ensure they were receiving the value they expected from our product. I would train them on best practices, conduct business reviews, advise on product workflows, and occasionally visit the clients to deliver trainings or to present new product features.
I was ultimately promoted to senior manager of client success at this same company.
At that time, I continued to manage clients and I took on some managerial responsibilities as well. I began managing several members of the client success and client support team, and I worked with the leadership team to develop high-level customer engagement strategies.
And that brings me to today! I am now the director of enterprise client success at another health tech company. More on that below!
What's a typical day or week in the life like for you as director of enterprise client success?
As a director of enterprise client success, I now manage a team of client success managers and I also manage relationships with a small handful of clients. I am largely responsible for creating processes to help our team run more efficiently.
This includes things like:
Creating and documenting processes for business reviews and client renewals
Working with each of my direct reports to ensure they have the necessary tools to manage our clients
Reporting any relevant client/product feedback up the chain to our executive team
Serving as a point of escalation for any client issues, so if one of my direct reports has a large issue with a client, I will jump in to mitigate
Providing feedback to our product and engineering teams on how clients are using our technology and what can be improved
When did you realize you wanted to do something non-clinical, and why?
If I am being honest with myself, I started feeling apprehensive about clinical work when I was in PT school. I ignored the signs at the time, but looking back it's now obvious to me that I knew pretty early on that patient care would be a struggle for me.
I loved my classes in PT school. Seriously, I LOVED sitting in neuro, kinesiology, anatomy, cardiopulm—the list could go on. However, I dreaded going to our lab sessions.
I liked the science behind what we were doing as PTs, but I didn't like the practice. When I first realized this, I started thinking about potentially pursuing a career in research after PT school, so I got involved in some research projects during my second and third year.
My desire to take a non-clinical path continued to build during my final clinical rotations. When I was in the clinic, I became frustrated with the healthcare system, and I was increasingly unsure of how happy and successful I would be as a clinician.
As graduation approached, I made a deal with myself to work in a clinical setting for at least one year. If I continued to feel this way after one year in the clinic, I would make a change and leave patient care.
Are you still treating patients, or are you solely non-clinical?
I am solely non-clinical, but I still have an active license in New York State.
How long have you been working as director of enterprise client success?
I have been in my current role since December 2019, but I have been working in the healthcare technology space since 2017.
How did you find your jobs in healthcare technology? Did you apply or find them through connections?
I found my first non-clinical job by applying online—I had to apply to hundreds of jobs to land my first job outside the clinic!
However, once I had a few years of health tech experience under my belt, things got easier. I landed a job at my second health tech company as a client success manager by applying online as well, but the process was more straightforward.
And for my current role—I guess you could say it found me! The company reached out to me on LinkedIn to see if I would be interested in joining them as the director of enterprise client success.
My experience matched up, and the rest is history. Finding this last job couldn't have been more different than trying to get that first job in health tech many years ago!
Did you do anything special to your resume and cover letter to land your first non-clinical job?
Absolutely. While PTs are incredibly smart and competent people, companies are hesitant to hire someone with only clinical experience.
I initially found this to be frustrating, but I eventually accepted it as a fact and decided to play the game. I needed to show these companies that I was capable of more than clinical work.
First, I thought of anything I had done outside the clinic. I was a TA in PT school and I had some published research. Rather than hiding that experience in bullet points, I listed them on their own lines as experience on my resume. "Teaching Assistant" and "Clinical Research" were now visible under my work experience section, just like "Physical Therapist."
I wanted someone who was quickly scanning my resume to see a range of experience.
To better highlight how I changed up my resume, I went back and found one of my old resumes from 2016 and took a screenshot of a portion of the "Experience" section. See how I draw on all of my experience to make my resume look more varied to potential employers?
Note: I have learned a lot about resume writing since these early days, so these bullet points aren't the best. Use this as an example of how to highlight your range of experience, but don't take my content as a best practice!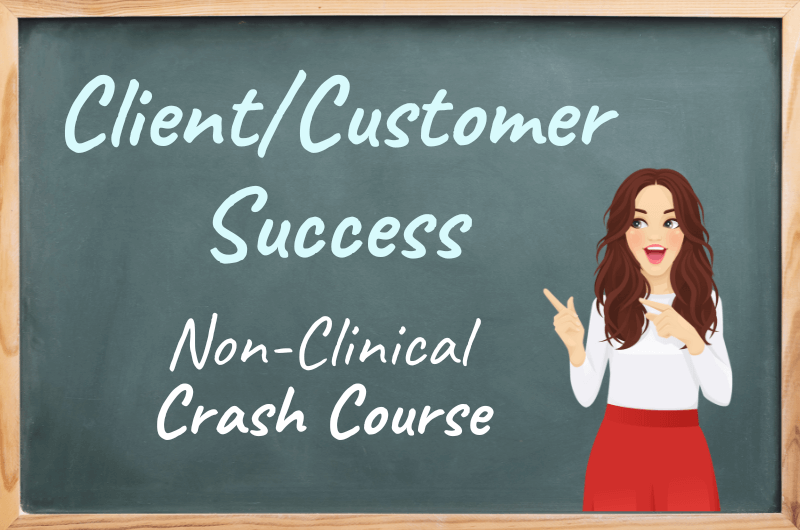 Tell them how we met, Lily!
I took on some freelance work writing and editing for the website Meredith was running at the time, NewGradPhysicalTherapy. This let me put another line on my resume that was different from clinical experience. While taking on freelance work outside of my full-time job definitely required me to put in hours on nights and weekends, it was 100% worthwhile.
I don't think companies would have trusted my ability to work in tech if I hadn't had this experience working with another website.
What was the interview like for your first non-clinical role? How have they changed now that you have worked in health tech for several years?
I want to emphasize the importance of your story during the interview.
(Editor's note: we refer to this as "your narrative" in Non-Clinical 101, and we delve deep into this subject!)
Many companies are confused as to why a clinician is applying for a non-clinical role, so you need to get your narrative down. Mine looked something like this:

"I am passionate about enhancing healthcare and care delivery. As a clinician, I have found that there are many gatekeepers to optimal care delivery—insurance and antiquated technology are just a few. This is frustrating to me, so I'd like to use my experience as a physical therapist to help change things for the better. I feel that technology is the best way to move healthcare forward. By joining a health tech company, I have the potential to help even more patients than I would as a clinician."
The rest of the interview is typically focused on highlighting your transferable skills as a clinician, and on learning your work style (i.e. the way you approach tasks and problems, work with others, etc.).
Many interviewers will ask you to provide examples of something you have done that relates to the role. You can prepare examples by looking at the job description and by talking to other people in the role you are applying for.
The interviews since my first non-clinical role have been mostly focused on prior experience in health tech, but the story about my transition is still important.
I have told some version of the story I mentioned above in every health tech interview I've ever had. However, as I've moved up, this story is used less to explain my choice and more to demonstrate my breadth of experience.
Did you get any special certifications or training to help you get into healthcare technology or to move up within the field?
Prior to my first job in health tech, I did not get any certifications, but I did take on the extra freelance work I mentioned above.
Shortly after I started my non-clinical job, I enrolled in some free online courses to help me gain more client engagement and marketing skills. HubSpot was a great resource to me at this time—they have so much free content within their HubSpot Academy program and they give you certificates when you complete certain courses. I wish I had known about these free resources when I was still practicing as a PT. The certifications are a great addition to your resume and LinkedIn if you are trying to make a transition to a non-clinical role.
I also enrolled in a part-time digital marketing course at General Assembly after about one year with my first health tech company. I found this to be incredibly helpful for career advancement. Gaining this knowledge also made me feel more confident at work.
Pro tip: most companies (even start ups) will help you pay for these types of courses, so it's not all coming out of your pocket.
It's also worth mentioning that prior to PT school, I received my MS in human nutrition from Columbia. As part of this program, I did some public health research too. I used this experience to help me in my transition.
If you have anything you did prior to PT school, you should find a way to spin it up as a transferable skill!
You have moved up within many of the companies you have worked at. What are some of the things you did to stand out, take initiative, and advance?
I believe that I have been able to move up internally because of my willingness to say "yes" and take on projects that are outside my traditional job description.
I have reached across teams to help on various initiatives and I have volunteered to own projects that don't clearly live in one department. This has allowed me to demonstrate that I can add value to the entire organization.
How did people react to you leaving patient care?
Initially, I was very self-conscious about leaving patient care. I had been an enthusiastic PT student who developed good relationships with my teachers and I took a highly coveted clinical job after graduation. At first, I didn't tell many people that I was working on the side to land a non-clinical job.
However, when I ultimately made the switch, everyone (including my PT boss) was supportive. My worst fears didn't end up coming true! By that time, I was so sure of my decision that I was able to confidently explain why I was making the switch.
Since then, several PT colleagues have come to me for advice on how to do what I did. The response from the PT community has been overwhelmingly positive and continues to grow.
What are some of the challenges of your role as a director of enterprise client success?
One of the biggest challenges of my role is dividing my time between the needs of the people I manage and the needs of the clients. While these needs are usually aligned, they do require me to think differently, so I have to switch my thought processes several times a day.
Additionally, I work for a tech startup, which comes with its own set of challenges. We are often understaffed and working with limited resources, so I have to be creative in establishing processes for my team that are both efficient and scalable.
What are the rewards?
Overall, I find client success to be an extremely rewarding career. Much like PT, you are responsible for helping a client achieve their goals and become independently successful.
It makes me happy to introduce technology and workflows that make a client's life easier and helps them do better work. Additionally, showing clients how much their businesses or initiatives have progressed over time because of the technology is rewarding too.
I also love managing a team. This has become one of my favorite parts of my career thus far. I love helping people succeed at work and I find it rewarding to set them up for future career advancement.
How did PT prepare you for a career in client success/account management? Which skills transferred?
I always say that PTs would make great client success managers! My experience as a PT taught me a lot about the importance of understanding how to connect with people, educate them, and demonstrate value to them. I essentially do the same thing as a client success manager.
Staying in healthcare has also been integral to my success. All of our clients are in the healthcare space, so the fact that I deeply know the system has helped me gain respect from my colleagues and establish trust with the clients.
Roughly speaking, how are the hours in and pay in healthcare technology compared to patient care?
My hours in health tech fit much better with my personality than those of patient care. As opposed to a staggered schedule, I usually work within a typical workday (9ish to 5ish) and I have a bit more flexibility because I can work from home.
My financial growth has also been quicker than it was as a physical therapist. Based on my experience, I have found that the earning potential in healthcare technology is higher and the rate at which you can increase your compensation is much faster.
Do you work remotely or on-site as director of enterprise client success?
I primarily go into an office, but I will occasionally work from home. This has been true for all of my jobs in healthcare technology. It's a nice balance.
Do any of the health tech companies you have worked for hire rehab professionals into non-clinical roles?
While these companies won't list clinical work as "desired experience", I do think that any health tech company (particularly a startup) would be willing to consider candidates with a clinical background, especially for client-facing roles.
However, it's critical to demonstrate that you have done something besides clinical work (teaching, research etc.). And as I've mentioned, getting your story down is a must as well.
I would recommend looking at websites that focus on startups like Angel List or Built In (based in NYC) and filtering for healthcare to find companies that would be great non-clinical jumping-off points.
What is a typical career path for someone in client success/account management?
Within client success, most people will start as a client success manager working directly with clients and then move to a position where they are managing other client success managers (i.e. senior manager or director). Senior managers and directors are also responsible for making more high-level strategy decisions for the team and the company.
With that being said, I didn't take this direct path. I moved from a client-facing marketing position, to a traditional client success manager role, and then up to a director position.
Once you are in health tech, it's a little easier to move around. This is especially true if you are at a startup.
What is next for you? What do you want to do with your career long-term?
I'd like to grow within my role of director of enterprise client success for the foreseeable future.
In the long-term, I'd like to be more connected to the PT community than I am now. While I have always stayed in the healthcare space, the technology I currently work with is pretty removed from physical therapy. I'd eventually like to take my skills as a client success manager and use it within an organization or technology that more closely relates to physical therapy.
What do you recommend to those considering going into healthcare technology—specifically, account management?
I want PTs to know that they have all of the necessary skills to become client success managers. As a physical therapist, you are essentially a patient success manager!
To make the transition, reach out to client success managers/customer success managers/account managers (remember, they are the same thing) on LinkedIn for advice.
I'd also recommend researching companies that have technology that gets you excited. In my opinion, filtering your research to healthcare companies will set you up for success and ease the transition.
Editor's note: Check out this spotlight on Jessica Manson, PTA, who is now Customer Success Representative at BrainCheck!
What would you like to change most in your profession, and why? How would you propose doing so?
I wish that health tech was more kind to career changers.
My experience as a PT is very valuable now that I have several years of tech experience on my resume.
Employers are often impressed that I have both clinical and tech experience, yet I am not sure all of them would have taken a chance on me for that first non-clinical role.
I want to help employers realize that career changers bring a lot of value to an organization. If someone is smart and willing to develop new skills, companies should hire that candidate and view them as a long-term investment.
If you could give yourself one piece of career advice you wish you had during your PT school program, what would it be?
Keep an open mind. There are so many things healthcare professionals can do in this world. If being a clinician isn't right, something else will be!
If you could teach anything to today's graduate students in your profession, what would it be?
PTs are capable of so much in healthcare, particularly within the booming space of healthcare technology. MDs are very present in health tech, so why can't PTs be visible here too?
We know a lot about the healthcare system and we have a lot to add to the tech community.
Do you have any special advice for those who want to follow in your footsteps?
Be proud of your education. A degree is something that no one can take away from you.
When I was first trying to move to a non-clinical role, it was easy to get down on myself and it was tough to see the value of my degree. However, as I have grown in my career, my degree has been immensely helpful. Every employer has listed it as a reason that I was a compelling candidate.
So in short, the first step of a career change is hard for anyone, but your unique experience as a clinician will ultimately help you as you move up. Trust me!
---
Not only is account management/client success one of the career paths covered in Non-Clinical 101, Lily has also recorded an informative video for us, where she shares answers to your burning questions about account management/client services. It's available exclusively as a bonus video in Non-Clinical 101! Just log into the course and look in the bonus section to learn more about salaries, gaining experience, and career growth in account management.