This week's spotlight features a PT who has successfully risen through the ranks of management, currently working as Manager of Innovation and Onboarding. Learn how she has crafted a career she loves, where she's very much involved with PT—without directly treating patients!
---
This post may contain affiliate links or codes. This won't increase your cost, but it helps keep TNCPT alive, and free of annoying ads! Thank you for your support. 🙂
What is your full name and title at your current job?
Aubree Colorito, PT, DPT
Manager of Innovation and Onboarding at AHN Healthcare@Home

Where are you located?
Pittsburgh, PA
Where did you go to PT school, and what year did you graduate?
Slippery Rock University, 2013
What did you do when you first finished school, and for how long?
My career started at HealthSouth UVA in Charlottesville, VA on the multi-trauma & neuro unit. HealthSouth UVA was a great experience because they are a teaching facility with many specialized clinicians, but my experience there only lasted 6 months before I moved to Georgia when my husband's job took us there.
In Georgia, I worked at a SNF initially before moving into a job at St. Joseph Candler Hospital. The great thing about working in a hospital is you become cross-trained for all units.
My time at Georgia was short-lived before I moved back to Pittsburgh, PA to settle in my hometown. My first job back in Pittsburgh, PA was at Magee Women's Hospital, working across all the units.
I was at Magee for about 2.5 years before taking a position with AHN Healthcare@Home. I treated patients in homecare for 2 years before I moved into Staff Development, where I have now been for nearly three years.
What did you enjoy about your early roles? What didn't you enjoy?
What I enjoyed about working as a treating PT was providing one-on-one care with patients and seeing the impact my therapy had on their lives.
But, with that came the stress of getting emotionally connected with patients, and feeling that I couldn't always help patients due to financial barriers and insurance limitations.
I am also someone who likes to be challenged, and providing therapy can sometimes seem monotonous when you get into a rhythm of treating patients with the same diagnoses.
When, and why, did you decide to pursue a non-clinical path?
I reached a point where I realized I needed to challenge myself again, and the stress of having a fluctuating caseload was weighing on me.
Making the leap really came down to timing because I was at our company office when there was an announcement that a staff development position was opening up.
I realized that one of the reasons I loved therapy so much was because I loved educating patients and their families.
I also loved learning and being able to take what I learned at different trainings and teach my fellow therapists.
So, I realized that a job in staff development made sense because it allowed me to share my experiences with other clinicians, and enabled me to continue to educate others, meet new people regularly, and challenge myself with in a new and dynamic role.
What are you doing these days?
Today I work as a Manager of Innovation and Onboarding, which truly encompasses a broad range of job duties.
I am responsible for providing annual therapy compliance education to staff, onboarding new employees, managing our therapy mentor & nursing program, building clinical programs with our hospital systems, and so much more!
Are you still treating patients, or are you solely non-clinical?
When I first transitioned into staff development, I continued to see new patients on the weekends, but as I took on more program development opportunities and progressed into a supervisor role, my focus began to shift to ensure successful outcomes for both our onboarding and innovation teams.
Initially the idea of fully stepping away from direct patient care was difficult for me to accept, but I now feel that I can make more of an impact in a leadership role, by creating the programs and educational sessions to provide clinical best practices to field clinicians.
What was the interview like for that initial non-clinical role?
The interview for this role was a 1:1 discussion at a local coffee shop, focused on my past experiences with educating others and using different technology platforms.
Overall, I found this interview to be less intimidating than past experiences where I have been interviewed by 10+ people at one time for a clinical PT roles.
I know that you have really risen through the ranks at AHN Healthcare@Home. What are some of your tips for career growth?
It's important to note that I have a personality where I like to stay busy. I love to be involved in new projects, and I am a "yes" person who has no hesitation in taking on a challenge and running with it.
Before I interviewed for my first role in staff development, I was voluntarily completing educational meet-ups with my coworkers to help them navigate our new computer systems. I also volunteered for any learning opportunity our company offered.
This voluntary work gave me exposure to learn new information that was important across the agency, and it also helped me network with others within the organization.
Did you get any special certifications or training along the way to help you get into your current role?
No, I recently obtained my Board Certification in Oncologic Physical Therapy specialty, but this did not land me the role I am in. Instead, the role I am in supported my ability to pursue this specialty.
---
Don't miss Aubree's telehealth course on MedBridge Education!
You can save 40% on unlimited non-clinical CEUs, including courses like these, with my code: TNCPT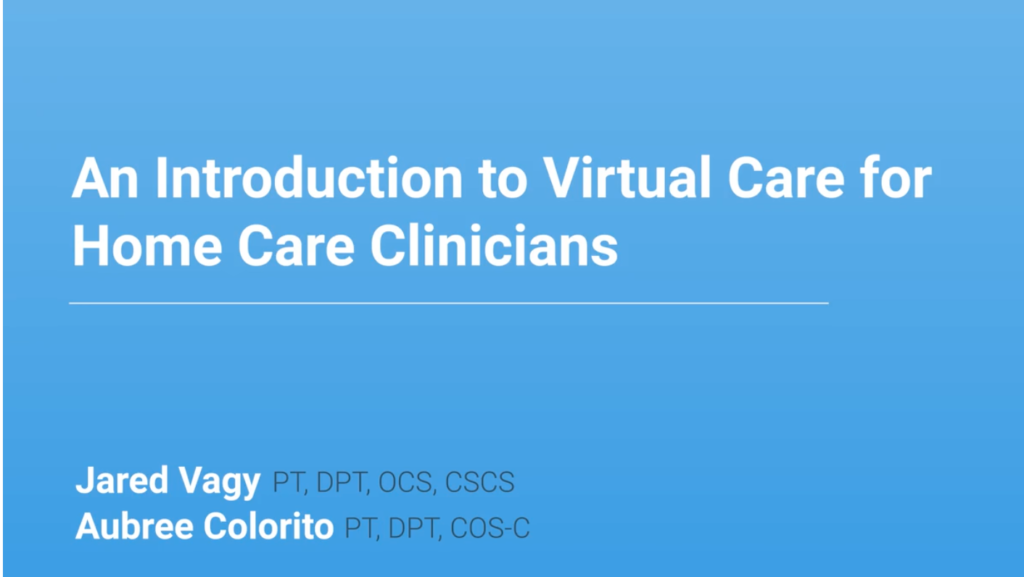 ---
What do you feel really helped you advance through the ranks that you would recommend to others?
Volunteer for anything that interests you. This is a great way to learn more and network with others in the company.
I would also highly suggest building a network of mentors. Determine where you see yourself in 5-10 years and who you could learn from to get there. Mentoring is a great opportunity to learn from others and their experiences.
How have people reacted to you leaving patient care?
Part of my struggle with leaving patient care was the response I received from other peers within the profession. I found that most of the therapists I spoke with could not understand why I would want to leave patient care.
I have since found strength in my decision to leave patient care through networking with the HPA section of APTA, finding mentors within my company and re-evaluating my long-term career goals.
What's a typical day or week in the life like for you? What types of tasks and responsibilities fill your time?
Every day is different from the next, which I love about my role. From the onboarding perspective, I manage a team of staff development specialists who onboard all of our home health clinicians.
Our onboarding experiences range anywhere from 4-8 weeks, with new orientations occurring every other week. The onboarding experience is really a team effort, with continued communication across our staff development, HR, recruiting, operations, and IT departments.
From the innovation perspective, I really have the ability to be creative in developing new projects and programs within our organization. What I love about the innovation role is the ability to come up with an idea, take that idea through the entire process of being built out and educated on and then see the positive impact that idea had on my peers and our patients.
Personally, I love collaborating with others, and I find it extremely important to have our clinicians at the table throughout the entire process.
What are some of the challenges of being the Manager of Innovation and Onboarding? What are the rewards?
The greatest challenge with my role is organization. With 10 or more projects in the works at one time, it can be difficult to keep all of the details straight.
What I find rewarding about my role is the impact the education and programs make on the company as a whole, the individual clinicians, and the patients.
How do you think working as a PT prepared you for this role? Which skills transferred?
My role requires creativity, adaptability, self-determination, seeking out evidence-based practice, the ability to multi-task, and autonomy.
I feel these are characteristics that were important when I was a treating clinician that have continued to help me as I have progressed into a non-clinical career.
Roughly speaking, how are the hours and pay compared to patient care?
Initially I was surprised to learn that moving into management often means you will take a pay cut. For me, I was okay with this transition because I moved to a more stable pay structure.
Also, I saw myself continuing to excel in my career so I knew this role would act as a stepping stone for another role that would continue to grow my earning potential.
What type of person do you think would do well in your role?
Our staff development department has a mix of personalities. I would say the most important qualities are the ability to work independently, be self-driven, and love teaching/helping others.
Do you work remotely or on-site?
Both! Again, my role changes day by day, based on the tasks I am working on. The nice thing about my role is I set my schedule (for the most part), so I can set my schedule to be in the office or working from home, based on what I am working on.
Does your organization hire PT, OT, or SLP professionals into non-clinical roles? If so, what type of roles?
Yes, we have therapists in both staff development and operations.
What is a typical career path for someone in your role?
In my company, most of my coworkers worked their way up from the field to the office, but that is not a requirement. We post our jobs externally, as well, and we are always looking for great talent!
What is next for you? What do you want to do with your career long-term?
I would like to continue to progress within my organization and obtain another advanced degree.
Although I know it is possible to continue to progress to a next level role without obtaining a degree, I will be pursuing an MBA to round out my education and build confidence within myself, specific to business management.
What would you recommend to someone who is considering going into a role like yours?
If a role in staff development or innovation interests you, begin to think outside of the box. What are the skill sets we as physical therapists have that can bring value to an organization from a non-clinical standpoint?
Then, begin to build additional skill sets that would be valuable in a staff development and/or innovation role, such as teaching and comfort with technology.
Reach out to your alma mater and see if they would be interested in having you guest lecture. It is a great way for you to get some practice—and it's a way for the school to show off their alumni!
What would you like to change most in your profession, and why? How would you propose doing so?
I would like to see more therapists in management roles. I think having therapy within management helps to support the profession and ensure that our voices are heard.
If you could give yourself one piece of career advice you wish you had during your PT school program, what would it be?
Evidence-based practice is important. For me, this was my least favorite subject in school to learn, but now I rely on this information to create education and other programs for my company.
If you could teach anything to today's graduate students in your profession, what would it be?
Don't assume you know what you want in life.
When I went to PT school, I wanted to work in pediatrics. The reality is, pediatrics was not in my plan.
When I became a new PT, I said I would never work in homecare. Now I love homecare, and I could never imagine working in any other setting.
When I became a PT, I thought I would always treat patients. Now I feel like I am making a greater impact by giving up patient care.
Do you have any special advice for others who want to follow in your footsteps?
First, make sure that you are doing something you love.
I always say take every opportunity that is presented to you, but the truth is you want to take the opportunities that speak to you, regardless of the challenge.
---
Thanks for your insight, Aubree!
Want to pursue leadership? Intrigued by education? Love the idea of HR? Not sure what the heck you want?
I've got your back!